Hydrocarbons are the organic compounds containing carbon and hydrogen only, e.g., alkane, alkene and alkynes.
Classification of Hydrocarbons

Types of Hydrocarbons
Alkanes:
Alkanes are saturated, open chain hydrocarbons containing carbon-carbon single bonds. e.g., methane (CH4), ethane (C4H6) and propane (C3H8), etc.
These hydrocarbons are inert under normal conditions [i.e.,do not react with acids. bases and other reagents). Hence, they were earlier known as paraffins (Latin : parum-little; affins-affinity).
Alkanes exhibit chain isomerism, position isomerism and conformational isomerism.
Methods of Preparation of Alkanes:
i) From hydrogenation of alkenes and alkynes

Ease of hydrogenation depends on the steric crowding across the multiple bond. More is the steric crowding, the less is the reactivity towards hydrogenation.
(ii) By sodalime
Decarboxylation of sodium or potassium salts of fatty acids. [decarboxylation reaction]

This reaction is used for descending of series as the alkane obtained has one carbon less than the parent compound. CaO is more hygroscopic than NaOH and it keeps NaOH in dry state.—→
(iii) By Wurtz reaction

This reaction is used to increase the length of the carbon chain.
(iv) By reduction of alkyl halides

Reducing agents like Zn/HCl, HI/Red P, H2/Pd can also be used.
(v) By Kolbe's electrolysis

Only alkanes with even number of carbon atoms can be formed.
Alkane and CO2 are liberated at anode while H2 is liberated at cathode.
(vi) Clemmensen's reduction

(vii) From compounds containing oxygen
Alcohols, aldehydes, ketones, carboxylic acids and their derivatives give alkane when treated with hot conc HI and red P in a sealed tube.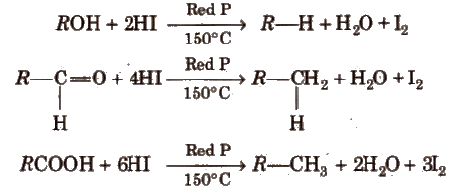 (viii) Wolff-Kishner's reduction

(ix) From carbides

(x) Corey-Bouse synthesis
This method can be used to prepare alkanes having odd number of carbon atoms.