Indian Industry
INDIAN AUTOMBILE INDUSTRY AT A GLANCE IN 2011 - 2012
The Indian auto industry ended the year 2011-12 on a positive note. The total production data for the period shows production growth of 13.83% over the same period last year. In March 2012 as compared to March 2011, production grew at a single digit rate of 6.83%. In 2011-12, the industry produced 20,366,432 vehicles of which share of two wheelers, passenger vehicles, three wheelers and commercial vehicles were 76%, 15%, 4% and 4% respectively.

The growth rate for overall domestic sales for 2011-12 was 12.24 percent amounting to 17,376,624 vehicles. Passenger Cars grew by 2.19%, Utility Vehicles grew by 16.47% and Vans by 10.01% during this period. For the first time in history car sales crossed two million in a financial year. If we compare sales figures of March 2012 to March 2011, the growth for two wheelers was 8.27%.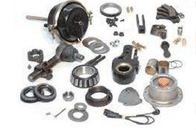 During April to March 2012, the industry exported 2,910,055 automobiles registering a growth of 25.44%. Passenger Vehicles registered growth at 14.18% in this period. Commercial Vehicles, Three Wheelers and Two Wheelers segments recorded growth of 25.15%, 34.41% and 27.13% respectively during April to March 2012. For the first time in history car exports crossed half a million in a financial year.
In March 2012 compared to March 2011, overall automobile exports registered a growth of 17.81%
INDIAN CEMENT INDUSTRY AT A GLANCE IN 2011 - 2012
The demand for cement mainly depends on the level of development and the rate of growth of the economy of the country. There are no close substitutes for cement and hence the demand for cement is price is elastic as far as India is concerned. For the FY 2011 - 12 (Apr - Oct), MT 97.84 was consumed form the 98.91 MT produced.
During the first half of the year, there was marginally poor off take in cement demand due to passive construction activity, which led to excess supply, thus putting downward pressure on
realizations. This has been coupled with rise in input costs, especially prices of coal and petroleum products. As a result, both the top line and bottom line have been affected. This
demand supply mismatch scenario is expected to prevail for quite some time in the years to come. Good infrastructure development will support demand.
INDIAN COPPER INDUSTRY
The Indian copper industry grew by nearly 50% in the year 2011. India has become a net exporter of copper after being a net importer during the last decade, though the country is not a major producer of copper ore. The copper industry in India takes up about 3% of the global market for copper.
In 2011, India's copper demand grew by 7% – following a similar demand in 2010, fed by the power sector. According to India's 11th five year plan (2007-2012), the country's power generation sector is likely to make a huge investment with 150 power projects for the various stages of installation.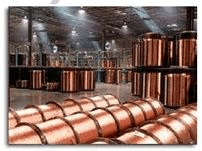 The most favorable contributing factors for the growth of the Indian copper industry include changes in global usage, industrial development in India, domestic increases in the construction, power, telecommunications and automobile sectors. Copper is used broadly in the manufacture of electrical machinery, building, cabling for power and telecommunications, and automobiles. This metal is also used for making brass and other similar alloys.
However, it is the electrical industry that consumes an appreciable bulk of the total amount of copper produced in the world. The industry imports raw copper and exports finished products. Reports suggest that India imports copper ore from Chile, Indonesia, Australia, and Canada. Available figures also suggest that India exports around 400,000 tons of copper which includes raw copper.
INDIAN COTTAGE INDUSTRY
In India, the cottage industry is run jointly by the co-operation of the public and the private sectors. Almost every state in India has its own set of cottage industries whose art and craft items depict the traditional art form and the culture of that region. They prove to be boons for those who are self-employed by providing them with the means to earn their livelihood. The "Prime Minister's Rozgar Yojana Scheme",(PMRYS) which was launched for the educated but unemployed youth by the government of India is providing training and marketing for the cottage industries.
Under the Ninth Five-year Plan Period, a target of training 90,500 persons was made out of which 68,525 persons were actually trained. 73,672 applications were sanctioned for providing financial assistance to the tune of Rs. 380.84 crores and an amount of Rs. 297.21crores was actually dispersed to 59,578 applicants. The subsidy was met entirely by the Government of India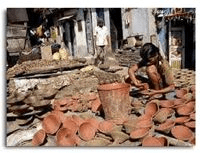 Under the Tenth Five-year Plan, the areas identified by the government for the development of SSIs are "Leather and Leather products", "Textiles and Readymade Garments", "Gems and Jewellery", "Pharmaceuticals", "Information Technology", "Bio-Technology", "Automobile Component", "Food Processing", "Coir Industries", etc. The introduction of Market Development Assistance scheme (M D A), Entrepreneur Development Institute (E . D . I .), State Industries Centers – EDP Training, Women Entrepreneur Development Programme, Construction of DIC building, maintenance, contribution to
specific fund (TTM) etc, Assistance to Coir Industrial Co-operative Societies, Assistance for setting up of Industries (Capital Investment Subsidy to SSI Units) etc, has made it possible for the cottage industries to flourish well. "Handloom Weavers' Co-operative Societies", "Spinning Industry", "Power loom Industry", "Garments Industry", "Knitwear Industry", "Processing Industry", etc have all been set up to encourage the working of these SSIs. The cottage industry in India is making rapid strides in the current fiscal, though there are no certified statistical data supporting the same.
INDIAN COTTON INDUSTRY
India's cotton output is likely to dip by two million bales to 32.3 million in the 2012-13 marketing year as farmers are likely to switch over to better-priced alternative crops amid unclear cotton export policy, according to a report.
India, the world's second biggest cotton grower, had produced a record 34.25 million bales in the 2011-12 marketing year. One bale contains 170 kg of cotton. Cotton production is forecast to decrease by two million bales to 32.3 million bales as the area is expected to drop by 10 per cent.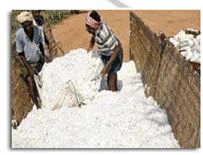 But domestic consumption is expected to increase to 26 million bales from 25.3 million bales. However, India's exportable cotton supply would be only six million bales in 2012-13 against 11.75 million bales this year, given an expected drop in production and higher domestic demand. Several factors suggest that cotton area in 2012-13 will be lower at 10.9 million hectare against the record 12.2 million hectares in 2011-12.
INDIAN DAIRY INDUSTRY
India ranks first in the world in milk production, which went up from 17 million tonnes in 1950-51 to 121.84 million tonnes in 2010-11. The per capita availability of milk has also increased from 112 grams per day in 1968-69 to 281 grams in 2010-11. The world average per capita availability was 284 grams per day in 2009-10 compared to 273 grams per day for India.
The Indian dairy sector acquired substantial growth momentum from the Ninth Plan onwards, achieving an annual output of 121.84 million tones of milk during 2010-11. This represents sustained growth in the availability of milk and milk products for the growing population of the country.
Dairying has become an important secondary source of income for millions of rural families and has assumed an important role in providing employment and income-generating opportunities next to agriculture.
INDIAN DIAMOND INDUSTRY
India is the world's largest diamond processing country with around 1 million processors treating over 57 % of the world's rough diamonds by worth. According to recent reports, 11 out of 12 diamond set in jewelry are cut and polished in India.
Employing over 90 % of the global diamond industry workforce, the country also accounts forabout 90 % of the volume of diamonds prose in the world. Cut and Polished Diamonds witnessed a decline of 17.3% with exports decreasing from US$ 28217 million in 2010-2011 to US$ 23329 million in 2011-2012.
INDIAN FERTILIZER INDUSTRY
India is meeting 80 per cent of its urea requirement through indigenous production but is largely import dependent for its requirements of phosphatic and potassic (P & K) fertilizers either as finished fertilizers or raw materials. Its entire potash requirement, about 90 per cent of phosphatic requirement, and 20 per cent urea requirement is met through imports.
In addition to urea, 25 grades of P & K fertilizers namely di ammonium phosphate (DAP), muriate of potash (MOP), mono-ammonium phosphate (MAP), triple super phosphate (TSP), ammonium sulphate (AS), single super phosphate (SSP) and 18 grades of NPKS complex fertilizers are provided to farmers at subsidized prices under the Nutrient Based Subsidy (NBS) Policy.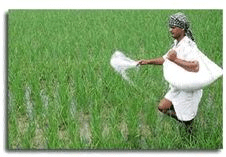 Farmers pay only 50 per cent of the delivered cost of P & K fertilizers, the rest is borne by the Government of India in the form of subsidy. The Government has also included seven new grades of NPKS complex fertilizers under the NBS Policy. At present 25 grades of P & K fertilizers are under the NBS Policy.
The domestic production of urea in the year 2010-11 was 218.80 lakh MT as compared to 211.12 lakh MT in 2009-10. The production of DAP decreased sharply in 2010-11 to 35.37 lakh MT.
NDIAN GARMENT INDUSTR
The Apparel Export Promotion Council reports that the exports have reached $12,145 million in the recent months and the growth is good for the industry and is revealing a profit margin which is more than the profit earned last year. The growth of export is 1.5% more than the export of the last year. In terms of money, the growth of export is 9.8% more than the corresponding month of the last year export
Textile and garment exports by India reached $31 billion to $32 billion in 2011-12, falling short of the target by a tad despite a sharp depreciation of the rupee.The country shipped out textile products and garments worth $26.8 billion in the 2010-11 fiscal. Apparel exports account for nearly half of the total shipments by the textile and garments industry.
The government expected the exports to rise in 2011-12 as demand seemed to have returned after the global financial turmoil in 2008, but the debt crisis in Europe erupted, jeopardizing shipment prospects.
NDIAN INSURANCE INDUSTRY
The total insurance penetration, which is the ratio of insurance premium as a percentage of GDP, has increased from 2.32 in 2000-01 to 5.10 in 2010-11, according to IRDA. Life insurance penetration in 2010-11 was 4.40, whereas the non-life insurance penetration has increased from 0.60 in 2009-10 to 0.71 in 2010-11.
As far as the conventional plans of Life Insurance policies are concerned, there is a growth of 11 per cent in policies and 22 per cent in premium according to the Minister of State for Finance.
The Indian health insurance market accounted for 3.2 per cent of the overall insurance industry in 2011-2012. Key factors driving the growth of the health insurance sector are rising healthcare expenditure, increasing disposable income and the rise in the number of
people with affluent lifestyles. Though the health insurance market is currently dominated by public-sector companies, the top six private health insurance companies increased their cumulative market share from 17.2 per cent to 29.1 per cent during 2007 to 2011.
INDIAN INFORMATION TECHNOLOGY
The IT and IT enabled services (ITeS) sector are giving India the image of a young and resilient global knowledge power. The IT-ITeS industry has four major sub-components: IT services, business process outsourcing (BPO), engineering services and research and development (R&D), and software products.
As per the estimates of NASSCOM, India's IT and BPO sector revenues were US$ 87.6 billion in 2011-12, generating direct employment for nearly 2.8 million persons and indirect employment of around 8.9 million. As a proportion of national GDP, IT and ITeS sector revenues have grown from 1.2 per cent in 1997-8 to an estimated 7.5 per cent in 2011-12.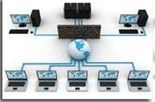 Software exports in 2011-12 are estimated at US$69 billion compared to US$59 billion in 2010-11. While exports continue to dominate the IT-ITeS industry and constitute about 78.4 per cent of total industry revenue, the CAGR of the domestic sector has also been high at 12.8 per cent compared to the 14.2 per cent for exports during the Eleventh Five Year Plan period. The growth rate of the domestic sector in 2010-11 was 20.6 per cent as compared to 18.8 per cent for the export sector; in 2011-12 it was 9.7 per cent for domestic sector and 16.4 per cent for export sector. In 2012-13, as per NASSCOM estimates, export revenues are expected to grow by 11-14 per cent and domestic revenues by 13-16 percent.
These estimates are a pointer to the possibilities of making further forays into the untapped domestic sector for IT and ITeS. Consistent demand from the US and the European countries, which increased its share in total exports of India's IT and ITeS services from 61.5 per cent to 62 per cent, characterized 2011-12.
INDIAN JEWELLERY
The Indian gems and jewellery industry has increased by about 5 per cent at Rs 2,000 billion
(US$ 36.17 billion) in 2011-12, as compared to Rs 1,950 billion (US$ 35.26 billion) in 2010-11. The sector accounts for 14 per cent of the total merchandise exports in India. Gold has always been the jewelers' favourite metal in India.
The total gem and jewelry industry exports were recorded at US$42839 million (INR 204823 crores) in FY 2011-12 as compared to US$ 42995 million (INR 195735 crores) in April 2010 - March 2011. Though in dollar terms there is a marginal drop of .36%, the exports mark an increase of 4.6% in rupee value. The gem and jewelry sector accounted for 14% of India's total merchandise exports in FY 2011-2012.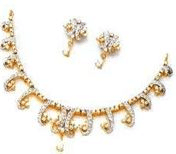 The growth in the sector was primarily driven by Gold Jewelry which registered an increase of 30% in FY '12. The exports grew from US$ 12695 million (INR 57747.67 crores) in 2010-2011 to US$ 16517 million (INR 79430.26 crores) in 2011-2012. Coloured gemstone exports witnessed an increase of 9.10% in dollar terms with sector recording growth from US$ 314.20 million in 2010-2011 to US$ 342.80 million in 2011-2012.
NDIAN JUTE INDUSTRY
Jute production in the country is expected to decline by 12% to 90 lakh bales in the 2012-13 crop year due to poor rains in the growing states, according to the National Jute Board of India.The country had produced 102 lakh bales of jute last year.
As per the Agriculture Ministry data, area sown under jute is lower at 8.40 lakh hectare so far in the ongoing Kharif season, against 8.92 lakh hectare in the year-ago period. Jute is cultivated in seven states" West Bengal, Bihar, Odisha, Assam, Tripura, Meghalaya and Andhra Pradesh.In fact sowing of most kharif crops, both food and cash crops, are lagging behind due to poor rains. Monsoon rains were deficient by 20 per cent till July this year.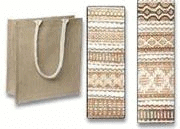 Jute is normally cultivated as an inter-crop between the two main agricultural seasons, kharif and rabi in India. About 5-6% of the total production is used for making 1.6 million tonnes of jute goods every year. Farmers use the remaining fibre for manure and fuel. The jute industry, which employs about 4 million people directly and indirectly, has been mainly focusing on making gunny bags.
INDIAN LEATHER INDUSTRY
Leather is among the top ten foreign exchange earners for the Indian economy. The leather industry in India is based on the abundance of locally available raw materials and skilled manpower. India accounts for 21% of world cattle and 11% of world population of goat and sheep. Indian tanneries produce about 2 billion sq.ft. of leather per annum. The industry employs 2.5 million people. Of them 30% are in the leather products sector. More than 50% of the total turnover of $7.5 billion is from exports. Exports in 2010-11 were worth $3.84 billion. The balance is from sales in the local domestic market. India is the second largest producer of footwear and leather garments in the world. According to an ITC data, India accounted for about 3% in the global leather import trade of $ 115.58 billion.
INDIAN MINING INDUSTRY
India is a storehouse of significant mineral resources, including: four fuel minerals such as coal and uranium; 11 metallic minerals such as iron; 22 minor minerals; and 52 non-metallic minerals. The country ranks among the world's top five nations for its core competency commodity reserves of coal and iron ore.
Iron ore reserves are estimated to be of 23bnt (bn tonnes) and account for 6% of global reserves, while coal reserves are reported to be around 255bnt. India is the world's third-largest producer of coal, fourth-largest producer of iron ore and the fifth-largest producer of bauxite.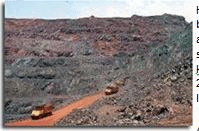 However, only 10% of the country's landmass has been explored due primarily to significant regulation and bureaucratic obstacles. India's mining industry is set to reach US$36.2bn by 2016, as output growth of key minerals remain strong. However, growth in 2012 and beyond will continue to be curtailed by India's poor operating environmentA bright spot, however, is the increasing number of Indian companies venturing overseas to secure stable, long-term supplies of minerals such as coal and iron ore in a bid to meet fast-rising domestic demand.
INDIAN OIL INDUSTRY
During the financial year of 2011-2012, production of crude oil is estimated at 38.19 million metric tonnes (MMT), which is about 1.33 per cent higher than the 37.70 MMT produced during 2010-11. Domestic crude oil production during April-December 2011-12 was 28.70 MMT, showing a growth of 1.9 per cent over the same period of the previous year.
Non-coking coal accounts for more than 90 per cent of coal production in India. The lower growth in production during the current year and last year is primarily due to environmental reasons. Environmental clearances are a real dampener on the industry.
NDIAN PAPER INDUSTRY
The Rs. 25,000-crore Indian paper industry accounts for about 1.6% of the world's paper and paperboard production. The Indian paper industry's market size has been estimated at Rs.321 billion, growing at a CAGR of 10.5% from around Rs. 195 billion in 2003-04 to Rs. 321billion in 2008-09. In 2009-10, the country produced 9.18 million tons of paper, growingat an average 6-7% compared with 2% growth in developed countries.
The paper industry growth is forecast at 8.4% annually, touching 11.5 million tons in 2011-12 and 15 million tons by 2015.In India, paperboard accounts for nearly 47.3% of the total market size, followed bywriting and printing paper (29.6%), newsprint (19.5%) and speciality paper (3.6%)according to CRISIL Research.
India is among the world's fastest growing paper markets; an increase in consumption by one kg per capita can potentially increase annual paper demand by a million tons. India's paper production is forecasted to grow at a CAGR of 8.4% while consumption is pegged at a CAGR of 9% till 2012-13 on account of a growing demand for tissue paper, tea bags, filter paper, light weight online coated paper and medical grade coated paper.
INDIAN PHARMACEUTICAL INDUSTRY
India's pharmaceutical sector is gaining its position as a global leader in the recent years. The pharma market in India is expected to touch US$ 74 billion in sales by 2020 from the current US$ 11 billion, according to a Price water house Cooper (PwC) report.
The domestic pharmaceutical market grew 21.9 per cent to record sales of Rs 5,369 crore (US$ 1.01 billion) in March 2012, as compared to the previous year, according to an analysis by a market research firm, All India Organisation of Chemists and Druggists (AIOCD) AWACS. Exceptional growth in pharma companies resulted in the record sales.
The company Mankind recorded a growth of 32.6 per cent to record sales of Rs 194 crore (US$ 36.67 million), Macleods Rs 132 crore (US$ 24.95 million) and Micro Labs with Rs 109 crore (US$ 20.60 million) grew 40 and 45.1 per cent, respectively.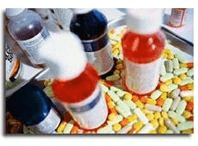 Abbott, with its subsidiaries Abbott Healthcare and Solvay, registered sales of Rs 306 crore (US$ 57.84 million) to retain its number one position in the domestic market. The other market leaders were Cipla, GSK and Sun Pharma with sales of Rs 280 crore (US$ 52.93 million), Rs 254 crore (US$ 48.02 million) and Rs 255 crore (US$ 48.20 million), respectively. Ranbaxy's sales grew 19.2 per cent to Rs 229 crore (US$ 43.29 million) in March 2012.
INDIAN POULTRY INDUSTRY
The poultry sector in India encompasses a range of farming systems from highly industrialized and export-oriented at one end to backyard, small and marginal systems addressing livelihood issues at the other end.
The per capita availability of poultry in India is around 53 eggs per year in the year 2010-11. Exports of poultry products were around 372 crore in 2009-10 as per the Agricultural and Processed Food Products Export Development Authority (APEDA).
Four regional Central Poultry Development Organizations located at Chandigarh, Bhubaneswar, Mumbai, and Hessarghatta are focusing on production of stocks suitable for backyard rearing, and imparting training to the farmers to upgrade their technical skills.
The "Poultry Development" scheme in India comprises three components, namely Assistance to State Poultry Farms, Rural Backyard Poultry Development, and Poultry Estates, which is being implemented on a
larger sccale. Further, in order to encourage entrepreneurship skills of individuals, a central-sector 'Poultry Venture Capital Fund' Scheme is also being implemented on capital subsidy mode since April 2011, covering various poultry activities.
INDIAN POWER INDUSTRY
The power sector in India had an installed capacity of 205.34 Gigawatt (GW) as of June 2012, the world's fifth largest. Captive power plants generate an additional 31.5 GW. Thermal power plants constitute 66% of the installed capacity, hydroelectric about 19% and rest being a combination of wind, small hydro-plants, biomass, waste-to-electricity plants, and nuclear energy. India generated about 855 BU electricity during 2011-12 fiscal
In terms of fuel, coal-fired plants account for 56% of India's installed electricity capacity. After coal, renewal hydropower accounts for 19%, renewable energy for 12% and natural gas for about 9%.
In December 2011, over 300 million Indian citizens had no access to electricity. Over one third of India's rural population lacked electricity, as did 6% of the urban population. Of those who did have access to electricity in India, the supply was intermittent and unreliable. In 2010-2011, blackouts and power shedding interrupted irrigation and manufacturing across the country frequently. . India's total domestic, agricultural and industrial per capita energy consumption estimate vary depending on the source. Some sources place it between 400 to 700 kWh in 2008-2009. As of January 2012, one report found the per capita total consumption in India to be 778 kWh.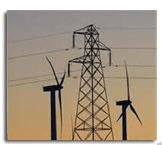 India currently suffers from a major shortage of electricity generation capacity, even though it is the world's fourth largest energy consumer after United States, China and Russia. The International Energy Agency estimates India needs an investment of at least $135 billion to provide universal access of electricity to its population.
The International Energy Agency estimates India will add between 600 GW to 1200 GW of additional new power generation capacity before 2050. The technologies and fuel sources India adopts, as it adds this electricity generation capacity, may make significant impact to global resource usage and environmental issues. India's electricity sector is amongst the world's most active players in renewable energy utilization, especially wind energy As of December 2011, India had an installed capacity of about 22.4 GW of renewal technologies-based electricity.
INDIAN SILK INDUSTRY
India is the second largest silk manufacturer (around 20000 MT) contributing to 18% of the total raw silk production. Sericulture is an important cottage industry in India contributing roughly to 5% of GDP. Majority of the raw silk is produced in Tamilnadu and Karnataka. The market share of Indian silk exports in the global silk trade is 4 to 5% which is quite insignificant. 85% of silk goods produced in India are sold in the domestic market and 15% are exported. In India, this industry provides livelihood to 6 million families spread over 59000 villages.
Innovations like eco-friendly silk where the silk is extracted from the cocoons without killing the silk worms are good trends that indicate the progress of the silk industry. The Sericulture Research Institute of Andhra Pradesh has developed a virus-resistant transgenic silkworm. This silkworm would help in stabilizing silk yield levels by reducing uncertainties like viral outbreaks.
The industry faces three major problems - gap between demand and supply, quality of cocoons and outdated reeling machines. In states like Bihar, where silk is weaved through power looms, shortage of power has crippled the industry.

The domestic demand of silk is about 28000 MT against which the production is around 18000 MT. Development of indigenous mulberry varieties with highest leaf yields in the world, new bivoltine silkworm hybrids suited to the tropical regions of the country, farmerfriendly technologies are positive indicators about the future prospects. Favorable climatic conditions will also propel the growth of this industry northwards.
INDIAN STEEL INDUSTRY
India ranked as the fourth largest producer of crude steel in the world during January-November 2011 after China, Japan, and the USA. After a sharp increase in world consumption of finished steel in 2010, the consumption slowed down to 6.5 per cent for 2011 and 5.4 per cent in 2012 as per World Steel Association estimates.
The country has also been the largest sponge iron producer in the world since 2002. Domestic crude steel production grew at a compounded annual growth rate (CAGR) of 8.4 per cent during 2006-7 to 2010-11.The increase in production is driven by 8.8 per cent growth in crude steel capacity mainly in the private-sector plants and high utilization rates during this period.
The Indian steel industry has diversified its product mix to include sophisticated value-added steel used in the automotive sector, heavy machinery, and physical infrastructure.
INDIAN SUGAR INDUSTRY
For 2011-2012, India was expected to produce about 25-26 million tonnes of sugar, according to Industry based data. But the country had produced 24.3 million tonnes in 2010-11.
India's domestic demand for sugar is almost 21-22 million tonne and the balance is available for exports.
Maharashtra, India's largest sugar producer, may miss its sugar production target of about 9.3 million tonne this season as cane yields are seen falling with farmers probably shifting to other crops due to unfavourable climatic conditions and delayed monsoon.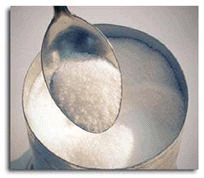 Export of the first tranche in the new season has started under the open general licence. Around 10 factories have got permits as in December , 2011 to export sugar. Probable Chinese imports of sugar from India, in order to shore up their exhausted stocks may have a positive impact on Indian prices.
Other than China, India is expected to sell sugar to Indonesia, east Africa and West Asia.
INDIAN TEA INDUSTRY
The total turnover of the tea industry in India is likely to touch Rs 33,000 crore by 2015 from the current level of about Rs 19,500 crore, as per the industry body ASSOCHAM.
With nearly six lakh hectares area under tea cultivation, the domestic tea industry is growing at a compound annual growth rate (CAGR) of about 15 per cent. India is the world's largest consumer, second largest producer and fourth largest exporter of tea after China and accounts for nearly 30 per cent of global output and nearly 25 per cent of tea produced worldwide is consumed in India .
Branded tea market accounts for nearly 55 per cent of the total market and is growing at about 20 per cent while the unbranded market is growing at 10 per cent annually.
Nearly 35 lakh workers are employed in over 1,500 tea estates across India and about 65 per cent of these are employed indirectly. According to an ASSOCHAM estimate, the tea production during the current year is likely to stay over 950 million kg as against 966.4 million kg in 2010
INDIAN TELECOM
The telecom sector continues to grow,in a steady phase. The total number of telephones increased from 206.8 million on 31 March 2007 to 926.95 million on 31 December 2011. Tele-density is an important indicator of telecom penetration in the country. It has increased from 18.2 per cent in March 2007 to 76.8 per cent in December 2011.
Tele-density varies across areas and there is a significant urban-rural divide. While it reached 167.4 per cent in the urban areas at the end of December 2011, rural tele-density was only 37.5 per cent.
INDIAN TEXTILE
The textile sector in India has so far remained subdued during the current few financial years. The total cloth production has declined by 4.74 per cent during April-December 2011. The decline in production has been due to two major segments, namely power loom (-2.54 per cent) and hosiery (-14.89 per cent).
Cloth production by the mill and handloom sectors increased by 1 per cent and 2 per cent respectively during the period .During April - December 2011, man-made fibre production and filament yarn production recorded a decrease of about 2 per cent and 7 per cent respectively. Production of cotton yarn decreased by 13 per cent during this period. However, blended and 100 per cent non-cotton yarn production increased by 5 per cent .
Textiles and clothing worth US $26.82 billion were exported during 2010-11 as against US$ 22.41 billion during 2009-10, registering an increase of about 19.66 per cent. During April-November 2011, exports of textiles and clothing were of the order of US$ 19.78 billion as against US$15.86 billion during the same period of 2010, registering a considerable growth of 24.73 per cent.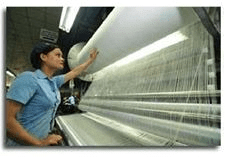 In respect of global exports of clothing, India ranked sixth largest exporter as per the World trade Organization (WTO) trailing behind Turkey, Bangladesh, Hong Kong, EU-27, and China. In respect of global exports of textiles, India ranked third, trailing EU-27 and China.
In view of the recessionary trend in the textiles sector, the government has been supporting the textiles sector exports through various policy initiatives to enable the sector to increase market share in the global textiles markets. Government has introduced several export promotion measures for the textile industry in India.