Industrial policies

 
Industrial Policies - Meaning
Industrial policy means rules, regulations, principles, policies and procedures laid down by government for regulating, developing, and controlling industrial undertakings in the country.
It prescribes the respective roles of the public, private, joint, and co-operative sectors for the development of industries. It also indicates the role of the large, medium and small scale sector.
It incorporates fiscal and monetary policies, tariff policy, labour policy, and the government attitude towards foreign capital, and Role to be played by multinational corporations in the development of the industrial sector.
India's Industrial Policies from 1948 to 1991
Pandit Jawaharlal Nehru laid the foundations of modern India. It is due to his initiative that India now has a strong and diversified industrial base and is a major industrial nation of the world. The goals and objectives set out for the nation by Pandit Nehru on the eve of Independence were as follows:
Rapid agricultural and industrial development of the country
Rapid expansion of opportunities for gainful employment
Progressive reduction of social and economic disparities
Removal of poverty and attainment of self-reliance
These objectives remain as valid today as at the time Pandit Nehru first set them out before the nation.
Industrial Policy Resolution of 1948
The Government of India announced its first industrial policy resolution on 6 April, 1948. The policy resolution laid stress on the role of the state in the development of industry. The industrial activities were divided into four broad areas:
Items under central government control – Manufacture of arms and ammunition, The production and control of atomic energy and Ownership and management of railway transport Further in any emergency, the Government would always have the power to take over any industry vital for national defence.
Items under the state government control (which in this context, includes Central, State Governments and other Public Authorities like Municipal Corporations) - Coal Iron and Steel. Aircraft manufacture. Shipbuilding. Manufacture of telephone, telegraph and wireless apparatus, excluding radio receiving sets. Mineral oils.
Items of basic importance, would be planned and regulated by the Central government :The following are such basic industries: Salt Automobiles and tractors 
Electric engineering Other heavy machinery Machine tools Heavy chemicals, Fertilizers and pharmaceuticals and drugs Rubber manufactures Power Cotton and woollen textiles Cement Sugar Paper and Newsprint Air and Sea transport, and so on
Items for Private Sector: The rest of the industrial field will normally be open to private enterprise. The State will not also progressively participate in this field; nor will it hesitate to intervene whenever the progress of an industry under private enterprise is unsatisfactory.
Highlights of the Policy:
The 1948 resolution accepted the importance of small and cottage industries in industrial development. These industries are particularly suited for the utilization of local resources and for the achievement of the local self-sufficiency in respect of certain types of essential consumer goods like food, cloth and agricultural implements.
The healthy expansion of cottage and small scale industries depends upon a number of factors like the provision of raw materials, cheap power, technical advice, and where necessary, safeguards against intensive competition by large scale manufacture, as the education of the worker in the use of the best available technique. Most of these are receiving the attention of the Governments.
Industrial Policy Resolution 1956
Objectives of the 1956 Industrial Policy
To accelerate the rate of growth and speed up industrialisation
To expand public sector
To develop heavy and machine industry
To curtail the concentration of economic power in few hands
To reduce the disequilibrium in the distribution of income and wealth
To build a cooperative sector
To expand cottage, village and small-scale industry
To achieve balanced regional development and other socio-economic objectives
Major provisions:
Reservation of Industries
Provision of licensing
Expansion of the public sector
Regional Disparity
Emphasis on small industries
Agriculture sector
1) Reservation of Industries
Industry was divided into three categories
Schedule A : includes 17 industries where centre was given complete monopoly.
Schedule B: to be progressively state owned; 12 groups of industries were under it.
Schedule C : included the rest of the industries, to be under ferrate sector.
2) Provision of licensing:
The schedule B &. C industries came under this provision. It established License-quota-Permits regime in the economy.
3) Expansion of public sector
It was pledged for accelerated industrialization & growth in the economy. Emphasis was on heavy Industries.
4) Regional Disparity
To tackle regional disparity the policy committed to setup PSUs in comparatively backward areas.
5) Emphasis of small industries
Emphasis committed on small industries as well as khedi and village industries.
6) Agriculture sector
Agriculture sector was pledged as a priority.
Industrial Policy 1973
Certain structural distortions called for policy changes in IPR 1956
Provide for a closer interaction between the agricultural and industrial sectors
Highest priority to the generation and transmission of power.
Identify products to be reserved for the small scale sector: list of industries exclusively reserved for the small scale sector expanded from 180 items to more than 500 items.
Within the small scale sector, a tiny sector was also defined with investment in machinery and equipment up to Rs.1 lakh & located in towns with a population < 50,000 according to 1971 census figures, and in villages.
Proposal for special legislation to protect cottage and household industries
Compulsory export obligations, merely for ensuring the foreign exchange balance of the project, would no longer be insisted upon while approving new industrial capacity.
In the areas of price control of agricultural and industrial products, the prices would be regulated to ensure an adequate return to the investor.
Industrial Policy 1977
– Producing inputs needed by a large number of smaller units and making adequate marketing arrangements.
–  Upgrading the technology of small units.
– Promoting the development of a system of linkages between nucleus large plants and the satellite ancillaries
– the development of small scale industries, the investment limit in the case of tiny units was enhanced to Rs.2 lakh, of a small scale units to Rs.20 lakh and of ancillaries to Rs.25 lakh.
– building buffer stocks of essential raw materials for the Small Scale Industries for operation through the Small Industries Development Corporations in the States and the National Small Industries Corporation in the Centre.
– Industrial processes and technologies involving optimum utilization of energy or the exploitation of alternative sources of energy for giving special assistance, including finance on concessional terms.
The Industrial Policy Statement 1980
Formulated w.r.t the Industrial Policy Resolution of 1956 to provide for
Optimum utilization of installed capacity;
Maximum production and achieving higher productivity;
Higher employment generation;
Correction of regional imbalances;
Strengthening of the agricultural base through agro based industries and promotion of optimum inter-sectoral relationship;
Promotion of export-oriented industries;
Promotion of economic federalism through equitable spread of investment and dispersal of returns;
Consumer protection against high prices and bad quality.
New Industrial Policy of India, 1991
Govt . recognizes the need for
– social and economic justice, to end poverty and unemployment and to build a modern, democratic, socialist, prosperous and forward-looking India
–  India to grow as part of the world economy and not in isolation
– Greater emphasis placed on building up ability to pay for imports through our own foreign exchange earnings
– Development and utilization of indigenous capabilities in technology and manufacturing as well as its up gradation to world standards.
– Sound policy framework encompassing encouragement of entrepreneurship, development of indigenous technology through investment in research and development, bringing in new technology, dismantling of the regulatory system, development of the capital markets and increasing competitiveness for the benefit of the common man.
– The spread of industrialization to backward areas of the country will be actively promoted through appropriate incentives, institutions and infrastructure investments.
                        – Foreign investment and technology collaboration will be welcomed to obtain higher technology, to increase exports and to expand                                  the production base.
– The Government will ensure that the public sector plays its rightful role in the evolving socioeconomic scenario of the country.
– The major objectives of the new industrial policy package will be to build on the gains already made, correct the distortions or weaknesses that may have crept in, maintain a sustained growth in productivity and gainful employment and attain international competitiveness.
In June 1991, Narsimha Rao Government took over charge and a wave of reforms and liberalization was observed in the economy.
In this new atmosphere of economic reforms, the Government declared broad changes in Industrial Policy on July 24, 1991.
The Industrial Policy initiatives undertaken by the Government since July 1991 have been designed to build on the past industrial achievements and to accelerate the process of making Indian industry internationally competitive.
It recognizes the strength and maturity of the industry and attempts to provide the competitive stimulus for higher growth.
In pursuit of the above objectives, Government have decided to take a series of initiatives in respect of the policies relating to the following areas.
Industrial Licensing.
Foreign Investment.
Foreign Technology Agreements.
Public Sector Policy.
MRTP Act.
Industrial licensing:
Modified industrial licensing policy to ease restrictions on capacity creation, respond to emerging domestic & global opportunities by improving productivity
Abolished industrial licensing for most industries but for 18 categories
Small scale sector reserved
List of Industries Requiring Compulsory Licence:
With the introduction of New Industrial Policy in 1991, a substantial program of deregulation has been undertaken. Industrial licensing has been abolished for all items except for a short list of five industries related to security, strategic or environmental concerns. These are :
Distillation and brewing of alcoholic drinks.
Cigar Cigarettes and other substitutes of prepared tobacco.
Electronics, Aerospace and all types of defence equipment.
Industrial Explosive, including match boxes.
Hazardous chemicals.
Foreign Investment:
 
FDI (up to 51% foreign equity) permitted in high priority industries (high investment and advanced technology) & export oriented companies
Foreign Technology Agreements:
Towards technological dynamism, automatic approval for technological agreements related to high priority industries; eased procedures for hiring foreign technical expertise
Public Sector Policy:
Restructuring pubic sector units, raise resources through pubic participation PSUs, refer sick units to Board of Industrial & Financial Reconstruction
MRTP Act:
Abolished scrutiny of investment decision of MRTP companies etc.

Current Scenario:

Substantial changes:

–  Only six industries require compulsory licensing

–  Only three industries reserved for the public sector

– Relation of restriction on FDI: FDI up to 100 % under automatic route for most manufacturing activities in Special Economic Zones; FDI ceiling in pvt banking sector up to 74%; oil exploration (100%); natural gas and LNG pipelines (100%); telecom (74%)

Small Scale industries sector: reduced number of items reserved from 821 (1991) to 506 (2005).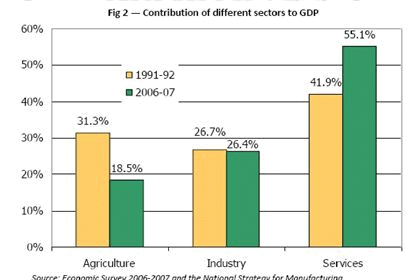 India's Share in Global Trade Up
India has been able to grab a significant portion of the world trade pie with its booming economy and a billion – plus markets, says a report by the World Trade Organization (WTO).
According to the World Trade Statistics report, India's share in the global trade, including trade in merchandise and services sector has increased from 1.1 percent in 2004 to 1.5 percent in 2006.
​