ELECTROLYTES
Solid and liquid substances, which are able to conduct the electric current, can be roughly divided into two categories i.e. metallic conductors and electrolytic conductors.
In metallic conductors or electronic conductors, the electric current is carried by the mobile electrons.
When an electric potential is applied to metallic conductors, the electrons start moving in one direction while the positive ions remain stationary. Thus, the flow of electricity is not accompanied by any appreciabble movement of the matter.
Electrolytic conductors or electrolytes are distinguished from metallic conductors by the fact that the current is carried by ions and not by electrons. The application of an electrical potential causes these charged particles of matter to move, the positive ions move towards the cathode and the negative ions move towards the anode. Thus, passage of an electric current through an electrolyte is always accompanied by transfer of matter. This transfer is manifeasted by changes in concentration, and also by visible separation of material at the points where the electric current enters and leaves the electrolyte.
Electrolytes generally employed are salts in molten form or salts dissolved in water.
ELECTROCHEMICAL CELLS
An electrochemical cell consists of two electrodes (metallic conductors) in contact with an electrolyte (an ionic conductor).
An electrode and its electrolyte comprise an Electrode Compartment.
Electrochemical Cells can be classified as:
(i) Electrolytic Cells: in which a non-spontaneous reaction is driven by an external source of current.
(ii) Galvanic Cells:which produce electricity as a result of a spontaneous cell reaction
Note: In a galvanic cell, cathode is positive with respect to anode.
In a electrolytic cell, anode is made positive with respect to cathode.
ELECTROLYSIS
Electrolysis is a process of chemical decomposition of the electrolyte by the passage of electric current.
It is carried out in a cell called electrolytic cell.
The electrode at which oxidation takes place is called anode and the electrode at which reduction takes place is called cathode. The electrodes are named anode or cathode depending upon the reaction occurring on them and not on te basis of sign of electrodes.
ELECTROLYTIC CELL
This cell converts electrical energy into chemical energy.
The entire assembly except that of the external battery is known as the electrolytic cell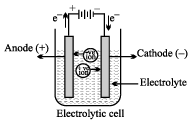 ELECTRODES
Anode
Positive

Loss of electron
or oxidation
takes place

Positive
current
enters
Cathode
Negative
Gain of electron
or reduction
takes place
Current
leaves
FARADAY'S LAWS OF ELECTROLYSIS:
Faraday established the relationship between the quantity of electricity passed through an electrolyte and the amount of material liberated or deposited at the electrode. The quantity of electricity is equal to the product the current strength and the time for which it is passed. The results f Faraday's finding can be put in the form of two laws of electrolysis.
(i) First Law of Electrolysis: When an electric current is passed through an electrolyte, the amount of substance deposited is proportional to the quantity of electricity passed through the electrolyte.
If W be the mass of the substance deposited by passing Q coulomb of charge, then according to the law, we have the relation : W ∝ Q Remember that Q is not the amount of charge passed but it is the amount of charge utilized.
A coulomb is the quantity of charge when a current of on ampere is passed for one second. Thus, amount of charge in coulombs,
Q = Current in amperes × time in seconds
= I × t
So W ∝ I × t
or W = Z × I × t

where Z is a constant, known as electro-chemical equivalent, and is characteristics of the substance deposited.

When a current of one ampere is passed for the one second, i.e., one coulomb (Q = 1), then
W = Z
Thus, electrochemical equivalent can be defined as the mass of the substance deposited by one coulomb of charge or by one ampere of current passed for one second.
(ii) Second Law of Electrolysis: The amount of different substances depositied or disssolved by the same quantity of electricity are proportional to their respective chemical equivalent weights.
W = Z × Q
Thus, E = Z × 96500
or Z =

Charge and Potential Difference: As one g-equivalent of an ion is liberated by 96500 coulomb, it follows that charge carried by one gequivalent of an ion is 96500 coulomb. If the valency of an ion is 'n', the one mole of these ions will carry a charge of nF coulomb. One g-mole of an ion contains 6.02 × 1023 ions.
Then, the charge carried by anion

coulomb

For n = 1, The fundamental unit of charge =


= 1.6 × 10–19 coulomb
or 1 coulomb* = 6.25 × 1018 electrons

The rate of flow of electric charge through a conductor is called the electric current.
1 coulomb = 1 ampere-second
Electric current =

1 ampere =

Volt is a unit of electrical potential difference, it is defined as potential energy per unit charge.
1 volt =

Electrical energy = potential difference × Quantity of charge
= V × Q
= V × I × t (I = ampere; t = second)
= Watt-second
One faraday is the charge required to liberate or deposit one gm equivalent of a substance at corresponding electrode.
Faraday's Law for Gaseous Electrolytic Product We know W = ZQ = Z I t
W =

..(i)
where Z = E/96500
Equation (i) is used to calculate the mass of solid substance dissolved or deposited at an electrode.
For the gases, we use
V =

..(ii)
where V = volume of gas evolved at S.T.P. at an electrode
Ve = Equivalent volume
= Volume of gas evolved at an electrode at S.T.P. by 1 Faraday charge.

Table 1 : Distinction between metallic and Electrolytic conduction.
| | | |
| --- | --- | --- |
| S.No. | Metallic conduction | Electrolytic conduction |
| 1 | Electric current flows by movemnt of electrons. | Electric current flows by movement of ions. |
| 2 | No chemical change | Ions are oxidised or reduced at the electrodes. |
| 3 | It does not involve the transfer of any matter | It involves transfer of matter in the form of ions. |
| 4 | Ohm's law is followed | Ohm's law is followed |
| 5 | Resistance increase with increase of temperature | Resistance decreases with increase of temperature |
| 6 | Faraday law is not followed | Faraday law is followed |