ISOMERISM IN COMPLEXES :
Complex compounds that have the same molecular formula but have different structural and spacial arrangements of ligands are called isomers. These are of two types, namely structural and stereo isomers.


Structural Isomerism
(i) Ionisation Isomerism This type of isomerism is due to the exchange of groups between the complex ion and ions outside it. [Co(NH3)5Br]SO4 is red -violet. An aqueous solution of it gives a white precipitate of BaSO4 with BaCl2 solution, thus confirming the presence of free SO42- ions. In contrast [Co(NH3)5SO4]Br is red. A solution of this complex does not give a positive sulphate test with BaCl2. It does give a cream coloured precipitate of AgBr with AgNO3, thus confirming the presence of free Br- ions. Other examples of ionisation isomerism are [Pt(NH3)4Cl2]Br2 and [Pt(NH3)4Br2]Cl2 and [Co(en)2NO2.Cl]SCN, [Co(en)2NO2.SCN]Cl and [Co(en)2Cl.SCN]NO2.
(ii) Hydrate isomerism These isomers arise by the exchange of groups in the complex ion with water. Three isomers of CrCl3.6H2O are known. From conductivity measurements and quantitative precipitation of the ionised Cl-, they have been given the following
[Cr(H2O)6]Cl 3
[Cr(H2O)5Cl]Cl 2.H2O
[Cr(H2O)4Cl 2]Cl.2H2O
(iii) Linkage Isomerism This type of isomersim arises when the ligand attached to the central metal ion of a complex in different ways. Such ligands are called ambidient ligands. Nitrite ion has electron pairs available for co-ordination both on N and O atoms.

Examples
(a) [Co(NH3)5 ONO]Cl2
pentaamminenitrito-o-cobalt(III) chloride
(red)
and [Co(NH3)5 NO2] Cl2
pentaamminenitrito-N-cobalt-(III)-chloride
(yellow)
(b) [Mn(CO5).SCN] +
pentacarbonylthiocyanto
-S-manganese (II) ion
and [Mn(CO5) (NCS]+
pentacarbonylthiocyanato
-N-manganese (II) ion
(iv) Co-ordination Isomerism When both the cation and anion are complex ions, then isomerism may be caused by the interchange of ligands between the anion and cation. For example [Pt(NH3)4], [PtCl4] and [PtCl(NH3)3] [PtCl3(NH3)]. These isomers are called co-ordination isomers.
(v) Co-ordination Position Isomerism In polynuclear complexes, an interchange of ligands between the metal nuclei gives rise to co-ordination position isomerism, for example.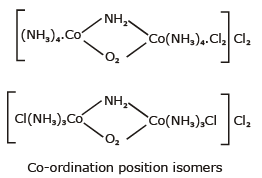 Polymerisation Isomerism : This is not true type of isomerism because it occurs among compounds having the same empirical formula, but different molecular formula. Thus, [Pt(NH3)2Cl2], [Pt(NH3)4], [PtCl4], [Pt(NH3)4], [Pt(NH3)Cl 3]2 and [Pt(NH3)3Cl]2,[PtCl 4] all have the same empirical formula.
Stereo Isomerism
These are the isomers in which ligands have different spacial arrangements around central metal atom /ion in 3-D space.
Geometrical is Isomerism Geometrical isomers are the isomers in which the atoms are joined to one another in the same way but differ in space because some ligands occupy different relative positions in space.
Geometrical Isomerism in complex compound having C.N. = 4
Tetrahedron complexes (sp3 hybridization) never exhibit geometry isomerism, however, it is very common in square planer complexes (dsp2 hybridization).
For Example
(a) [Pt(NH3)2Cl2] can exist as two geometrical isomers.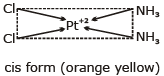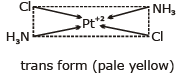 (b) [Pt(Gly)2] also exist in two geometrical isomers.


Geometrical Isomerism in Complex compound having co-ordination number 6
(a) [Co(NH3)4Cl2]+ can exist as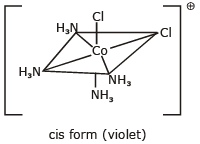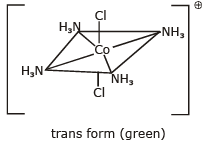 (b) [Pt(NH3)2Cl2Br 2] can exist as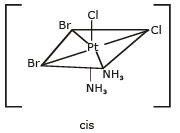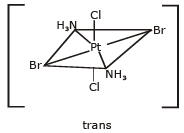 There are many more trans arrangements.
(ii) Optical Isomerism If a molecule is asymmetric then it cannot be superimposed on its mirror image. These forms are called optical isomers. They are called either dextro or laevo compounds depending on the direction in which they rotate the plane polarised light in polarimeter.
(iii) Optical isomerism is common in octahedral complexes involving bidentate ligand.
(iv) [Co(en)2Cl2 +] exist as cis-and trans-isomers. But only cis-isomer can have d and l optical isomers.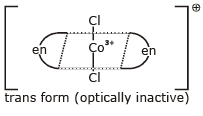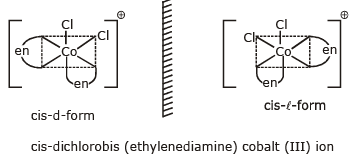 (v) Optical isomers of [Co(en)3]3+ are