High Court: Court above the Circuit Court with full jurisdiction to decide all matters of law and fact. High Court judges – male and female – are normally addressed as "My Lord".
In pari delicto: (Latin: equally at fault) If two parties are equally to blame for a situation (such as both failing to comply with the terms of a contract), a court could refuse to provide a remedy to either of them because they are in pari delicto.
In personam: (Latin: against the person) All legal rights are either in personam or in rem. An in personam right attaches to a particular person.
In rem: (Latin: against the thing) In rem rights relate to property and are not based on any personal relationship.
Incorporeal: Intangible legal rights, such as copyrights or patents.
Injunction: Court order that forbids a party to do something (prohibitory injunction) or compels him to do something (mandatory injunction). It may be enforced by committal to prison for contempt.
Insolvent: Person not able to pay his debts as they become due. Insolvency is a prerequisite for bankruptcy.
Inter alia: (Latin: among other things) Used to precede a list of examples covered by a more general descriptive statement.
Interim order: Temporary court order of very limited duration, usually until the court has heard the full facts of a case.
Interlineation: Addition to a document after it has been signed. Such additions are disregarded unless they are initialized by the signatories and, if necessary, witnessed.
Interlocutory injunction: An injunction which lasts only until the end of the trial during which the order was sought, when it may be replaced by a permanent injunction.
Inter partes: Latin: between the parties.
Inter vivos: (Latin: between living persons) An inter vivos trust is set up to take effect while the settlor is still alive (as opposed to a testamentary trust, which takes effect only on the settlor's death).
Intestate: Person who dies without making a valid will.
Invitation to treat: An offer to receive an offer. Goods advertised by a shopkeeper are open to offers from customers. If goods are mistakenly marked with the wrong price, the retailer is not bound to accept that price because he has not offered the goods at that price: he has invited members of the public to make him an offer which he is entitled to accept or reject. A retailer who deliberately or consistently mispriced goods, however, may be committing an offence under the Consumer Information Act.
IOU: A written confirmation of a debt, signed by the debtor, which implies an undertaking to pay the sum owed at some future date. An IOU is not a negotiable instrument and may not be passed on to a third party.
Joint and several liability: Liability of more than one person, under which each may be sued for the entire amount of damages due by all. The obligation may arise by agreement or may be imposed by law.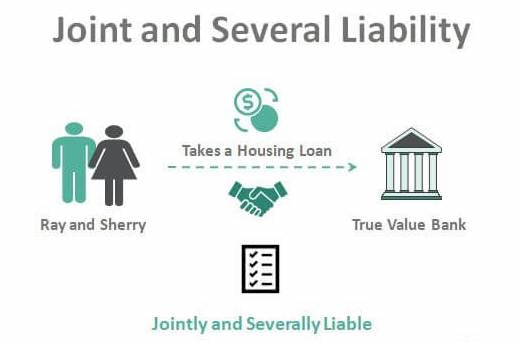 Example of Joint and Several Liability
Joint tenancy: Ownership of property by two or more people with a right of survivorship. If one owner dies, his share passes to the surviving owners so that, eventually, the entire property is held by one person.
A valid joint tenancy requires the four unities: unity of interest (each joint tenant must have an identical interest, including equality of duration and extent), unity of title (the interests must arise from the same document), unity of possession (each joint tenant must have an equal right to occupy the entire property) and unity of time (the interests must have arisen at the same time). Married couples and trustees are frequently joint tenants. (Contrast with tenancy-in- common.)
Judicial review: Proceedings in which a court is asked to rule on a decision of an administrative body or quasi-judicial tribunal. Judicial review is not usually limited to errors in law but may be based on alleged errors on findings of fact or unfair procedures. Judicial review proceedings may not be brought in the area of private law where the disputed decision is a matter of contract or agreement between two sides.
Junior counsel: Barrister who has not "taken silk" or been called to the Inner Bar.
Jurisdiction: Power of a judge or court to act, limited by a defined territory (the jurisdiction of the District Court is restricted to offences committed in that district), by the type of case (the jurisdiction of a criminal court is limited to criminal cases) or to certain persons (a court martial only has jurisdiction over military personnel).
Kin: Relationship by blood.
King's Inns: The body responsible for the training of all barristers in Ireland.
Knock-for- knock: An arrangement between insurance companies whereby each company pays the claim of its own insured, on the basis that neither party will pursue a claim against the other.
Landlord: Owner of a building or land who leases the land, building or part thereof, to another person, who is called the tenant or lessee.
Lease: Contract between a property owner and another person for temporary use of property, in exchange for rent.
Legal Aid: Government scheme providing advice or assistance from a solicitor or barrister free or at a reduced rate.
Liability: Any legal obligation or duty, now or in the future. A person who is liable for a debt or wrongful act is the person responsible for paying the debt or compensating for the wrongful act. If a court finds a person to be contributorily liable, he will bear part of the responsibility for the act or omission.
Licence: Permission to do something on or with someone else's property which, if it were not for the licence, could be legally prevented or could give rise to an action in tort or trespass. A common example is allowing a person to cross the licensor's lands, which would otherwise constitute trespass. Licences, unlike easements, may be revoked at will, unless supported by some form of payment or consideration. Licences which are not based on a contract and which are fully revocable are called simple or bare licences.
Lien: Right to hold property which has been sold, but not finally paid for. It may involve possession of the object until the debt is paid or the lien may be registered against the object (especially land). Ultimately, a lien can be enforced by a court sale of the property to which it is attached, and the debt is paid out of the proceeds of sale.
Limitation of actions: The Statute of Limitations sets down times within which proceedings must be brought. If no action is taken within the prescribed time limits, any future action is said to be statute- barred. In negligence claims, where there is no personal injury, the limit is six years. Where there is personal injury, the limit is three years (reduced to one year by the introduction of a bill in 2004). In a fatal injury case, it's three years from the date of death. In a claim involving breach of a simple contract (not under seal), the limit is six years. With personal injury arising from breach of contract, it's three years (or three years from the date of death). With a specialty contract (under seal), the period's 12 years, as it is for actions involving land. The maximum period for recovery of arrears of tax or rent is six years.
Liquidation: Sale of all the assets of a company or partnership by a liquidator and use of the proceeds to pay off creditors. Any money left over is distributed among shareholders or partners according to their interests or rights.
Locus standi: (Latin: place of standing) Person's right to take an action or be heard by a court.
Mandamus: (Latin: we command) High Court order commanding an individual, organisation, administrative tribunal or court to perform a certain action – usually to correct an earlier illegal action or failure to fulfill some statutory duty.
Mediation: Form of alternative dispute resolution involving an agreed mediator acting as a facilitator to help the parties negotiate an agreement. The mediator does not adjudicate on the issues or force a compromise; only the parties involved can resolve the dispute. The result of a successful mediation is called a settlement.
Mens rea: (Latin: guilty mind) Most crimes require proof of guilty intention before a person can be convicted. The prosecution must prove either that the accused knew his action was illegal or that he was reckless or grossly negligent. Some offences (such as drunken driving) are matters of strict liability, which means that the intention or state of mind of the person committing the offence is irrelevant.
Minor: Person under the age of 18 who is not married (or has not been married). A minor may only enter into certain contracts, such as those for necessaries or an apprenticeship. An Irish resident under the age of 18 may not legally marry without the permission of the Court, even if the ceremony takes place somewhere (such as Northern Ireland) where the minimum age for marriage is under 18.
Misfeasance: Improperly doing something which a person has a legal right to do. Contrast with nonfeasance.
Misjoinder: When a person has been wrongly named as a party to a law suit, a court will usually amend the proceedings to strike out the name of the misjoined party and substitute the person who should have been joined.
Misrepresentation: False material statement which induces a party to enter into a contract; grounds for rescission of the contract.
Mitigation: Facts which, while not negating an offence or wrongful action, tend to show that the defendant may have had some excuse for acting the way he did. For example, provocation may constitute mitigating circumstances in an assault action.
Mitigation of damages: A person who sues another for damages has a duty to minimize his loss, as far as reasonable. For example, in a wrongful dismissal suit, the person who was fired should make some effort to find another job, to minimize the economic damage to himself.
Moiety: Half of anything. For example, joint tenants each hold a moiety of the property.
Mortgage: An interest given on land, in writing, to guarantee the payment of a debt or the execution of some action. It automatically becomes void when the debt is paid or the action is executed. The person lending the money and receiving the mortgage is called the mortgagee; the person who concedes a mortgage as security upon his property is called a mortgagor. The three types of mortgage are a legal mortgage (involving a transfer of the legal interest in the property), an equitable mortgage (by depositing the title deeds) and a judgment mortgage (following a court judgment).
Natural justice: The requirement for application of the tenets audi alteram partem (hear the other side) and nemo judex in causa sua (no-one may be a judge in his own case). The principles of natural justice were derived from the Romans, who believed that some legal principles were natural or self-evident and did not need a statutory basis.
Negligence: Carelessness. A person who owes a duty of care to someone else and breaches it by lack of reasonable care may be liable in damages for negligence. The negligence may involve a positive deed or a failure to act. If no damage results, there can be no action. The standard of care required is usually that of the reasonable man, but a person who claims to have special skills (such as a surgeon) owes a higher duty of care.
Nemo judex in sua causa: (Latin: nobody may be a judge in his own case) Principle of natural justice. A judge must be seen to be free of bias and may not have any interest – personal, pecuniary or otherwise – in a case he is deciding. Also referred to as nemo debet esse judex in propria causa.