Magnetic Dipole
Magnetic dipole is an arrangement of two unlike magnetic poles of equal pole strength separated by a very small distance, e.g., a small bar magnet, a magnetic needle, a current carrying loop etc.
Magnetic Dipole Moment
The product of the distance (2 l) between the two poles and the pole strength of either pole is called magnetic dipole moment.
Magnetic dipole moment
M = m (2 l)
Its SI unit is 'joule/tesla' or 'ampere-metre2'.
Its direction is from south pole towards north pole.
Magnetic Field Due to a Magnetic Dipole
(1) On Axial Line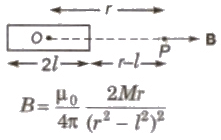 If r > > l, then
B = μo / 4 π 2M / r3
(ii) On Equatorial Line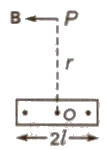 B = μo / 4 π M / (r2 + l2)3 / 2
If r > > l, then
B = μo / 4 π 2M / r3
Torque Acting on a Magnetic Dipole
When a Magnetic Dipole (M) is placed in a uniform magnetic field (B), then a Torque acts on it, Which is given by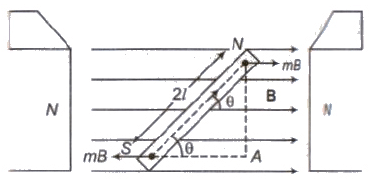 τ = M * B
or τ = MB sin θ
Where θ is angle between the dipole axis and magnetic field.
Potential Energy of a Magnetic Dipole in a Uniform Magnetic Field
The work done in rotating the dipole against the action of the torque is stored as potential energy of the dipole.
Potential Energy, U = W = – MB cos θ = – M . B