Manufacturing Industries
Manufacturing industries
Industry refers to an economic activity that is concerned with production of goods, extraction of minerals or the provision of services.
Thus we have iron and steel industry (production of goods), coal mining industry (extraction of coal) and tourism industry (service provider).
CLASSIFICATION OF INDUSTRIES
Industries can be classified on the basis of

raw materials,
size and
ownership.
Raw Materials
Agro Based Industries: Agro based industries use plant and animal based products as their raw materials. Food processing, vegetable oil, cotton textile are examples of agro-based industries.
Mineral Based Industries: Mineral based industries are primary industries that use mineral ores as their raw materials. The products of these industries feed other industries. Iron made from iron ore is the product of mineral based industry.
Marine Based Industries: Marine based industries use products from the sea and oceans as raw materials. Industries processing sea food or manufacturing fish oil are some examples.
Forest Based Industries: Forest based industries utilise forest produce as raw materials. The industries associated with forests are pulp and paper, pharmaceuticals, furniture and buildings.
Size
It refers to the amount of capital invested, number of people employed and the volume of production.
Based on size, industries can be classified into small scale and large scale industries.
Cottage or household industries are a type of small scale industry where the products are manufactured by hand, by the artisans. Basket weaving, pottery and other handicrafts are examples of cottage industry.
Ownership
Private Sector: Private sector industries are owned and operated by individuals or a group of individuals.
Public sector :which are owned and operated by the government, such as Hindustan Aeronautics Limited and Steel Authority of India Limited.
Joint Sector: Joint sector industries are owned and operated by the state and individuals or a group of individuals. Maruti Udyog Limited is an example of joint sector industry.
Co-operative: Co-operative sector industries are owned and operated by the producers or suppliers of raw materials, workers or both. Anand Milk Union Limited is a success stories of a co-operative venture.
FACTORS AFFECTING LOCATION OF INDUSTRIES
Availability of raw material,
land,
water,
labour,
power,
capital,
transport and
market.
Industries are situated where some or all of these factors are easily available. Sometimes, the government provides incentives like subsidised power, lower transport cost and other infrastructure so that industries may be located in backward areas.
Industrialisation often leads to development and growth of towns and cities.
Iron and Steel Industry
This is a feeder industry whose products are used as raw material for other industries.
The inputs for the industry include raw materials such as iron ore, coal and limestone, along with labour, capital, site and other infrastructure.
The process of converting iron ore into steel involves many stages. The raw material is put in the blast furnace where it undergoes smelting. It is then refined.
The output obtained is steel which may be used by other industries as raw material.
First Steel industry at Kulti, near Jharia, West Bengal 'Bengal Iron Works Company' in 1870.
First large scale steel plant TISCO at Jamshedpur in 1907 followed by IISCO at Burnpur in 1919. Both belonged to private sector.
The first public sector unit was 'Vishveshvarayya Iron and Steel Works' at Bhadrawati.
| | |
| --- | --- |
| Location | Assistance |
| Rourkela ( Orissa ) | Germany |
| Bhilai ( M.P ) | Russian Government |
| Durgapur ( W.B ) | Britain Government |
| Bokaro ( Jharkhand ) | Russian Government |
| Burnpur ( W.B ) | Acquired by Private Sector in 1976 |
| Vishakhapatnam ( A.P ) | Russian Government |
| Salem ( Tamil Nadu ) | - |
| Vijai Nagar ( Karnataka ) | - |
| Bhadrawati ( Karnataka ) | Nationalization of Vishveshvarayya Iron and Steel Limited ( Owned by Central and State Government ). |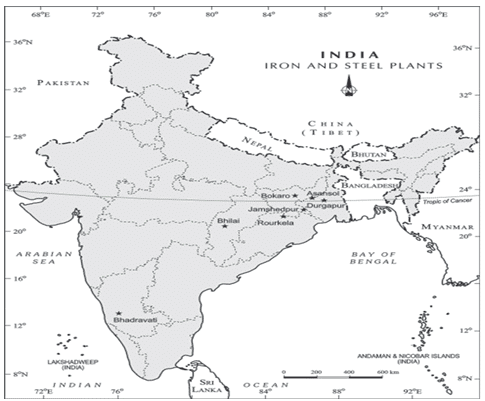 All these are managed by SAIL. ( At present all important steel plants except TISCO, are under Public Sector ).
Steel Authority of India Limited ( SAIL ) was established in 1974 and was made responsible for the development of the Steel Industry.
Bhilai, Durgapur and Rourkela were established during the Second Five Year Plan. Bokaro was established during the Third while the steel plants at Salem, Vijay Nagar and Vishakhapatnam were established in the Fourth Five Year Plan.
Presently India is the fifth largest steel producing country in the world.
Textile Industry
It is the single largest industry in India
Employs 17% of the workforce
Accounts for 20% of India's industrial output and 30% of exports
Indian textile industry is the second largest in the world (behind China)
India is one of the largest producers of cotton in world
It is the largest organized and broad – based industry which accounts for about 4 per cent of GDP 20 percent of manufacturing value added and one – third of total export earnings.
The first Indian modernized cotton cloth mill was established in 1818 at Fort Gloaster near Kolkata but this mill was not successful.
The second mill named Bombay Spinning and Weaving Co. was established in 1854 at Bombay by KGN Daber.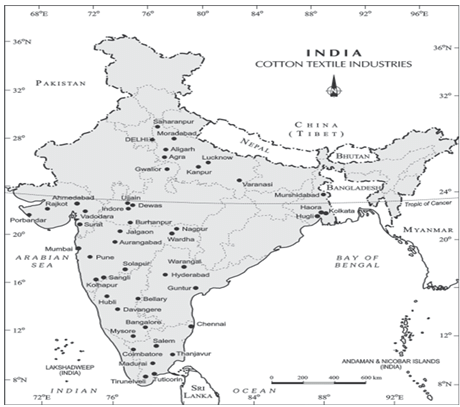 Fertilizer industry
India is the 3rd largest producer of nitrogenous fertilizers in the world
However, India still imports substantial amounts of fertilizers
first fertilizer plant was a Single Super Phosphate plant at Ranipat (TN) in 1906
AUTOMOBILE INDUSTRY
Indian automobile industry is the ninth largest in the world
Annual production of over 2.3 million units
India is the 4th largest exporter of automobiles in Asia, behind Japan, South Korea and Thailand
About Maruti India
Established as Maruti Udyog Limited in Feb 1981
Market leader, credited for bringing an automobile revolution in India
First Managing Direct was R.C. Bhargava
In May 2007, the GoI sold its share in the enterprise, and no longer has a stake in the company
Two manufacturing facilities: Gurgaon and Manesar (near New Delhi)
| | | |
| --- | --- | --- |
| Company | Headquarters | In India |
| Audi | Germany | Aurangabad |
| BMW | Germany | Madras |
| Chevrolet | USA | Pune |
| Fiat | Italy | Pune (joint with Tata Motors), Madras |
| Ford | USA | Madras |
| Honda | Japan | Noida |
| Hyundai | South Korea | Madras |
| Mercedes-Benz | Germany | Pune |
| Mitsubishi | Japan | Thiruvallur (TN) |
| Nissan | Japan | Madras |
| Renault | France | Nasik (with Mahindra), Madras (with Nissan) |
| Skoda (owned by VW) | Czech Republic | Aurangabad |
| Toyota | Japan | Bangalore |
| Volkswagen | Germany | Pune |
PHARMACEUTICALS INDUSTRY
India is in position to meet 70% of drug demand internally
Important drugs produced in India include penicillin, flumeguine, pefloxacin, ramipiril etc
Public sector companies in the pharmaceutical sector include Indian Drugs and Pharmaceuticals, Hindustan Antibiotics Ltd.,
Over 60% of bulk drugs exported
Company

Key people

Headquarters

Notes

Ranbaxy

Atul Sobti

Gurgaon

Largest pharmaceutical company in India

Dr. Reddy's

Anji Reddy

GV Prasad

Hyderabad

Second largest in India

Nicholas Piramal

Ajay Piramal

Bombay

Cipla

YK Hamied

Bombay

Oldest in India

World's largest producer of anti-retroviral (AIDS) drugs

Pioneered AIDS treatment drug (now standard)

Biocon

Kiran Mazumdar-Shaw

Bangalore

India's leading biotechnology company

Serum Institute of Inida

Cyrus Poonawalla

Pune

Fifth largest vaccine maker in the World

World's largest maker of measles and DTP vaccines

Serum vaccines immunize 50% of world's children

Currently manufacturing vaccine for swine flu
INFORMATION TECHNOLOGY (IT)
The information technology industry deals in the storage, processing and distribution of information.
Today, this industry has become global. This is due to a series of technological, political, and socio-economic events.
The main factors guiding the location of these industries are resource availability, cost and infrastructure.
The major hubs of the IT industry are the Silicon Valley, California and Bangalore, India.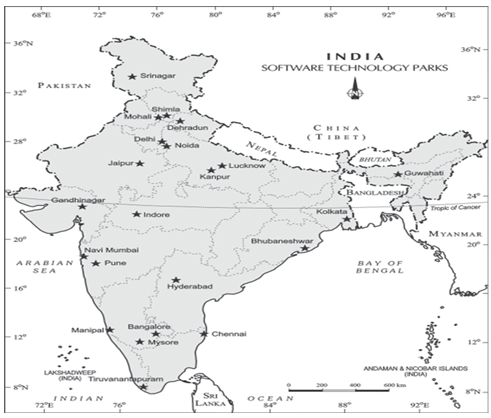 INDUSTRIAL REGIONS
Industries are not evenly distributed in the country.
They tend to concentrate on certain locations because of the favourable location factors.
Major industrial regions of the country are
Mumbai- Pune cluster,
Bangalore-Tamil Nadu region,
Hugli region,
Ahmadabad-Baroda region,
Chhotanagpur industrial belt,
Vishakhapatnam-Guntur belt,
Gurgaon-Delhi-Meerut region and the
Kollam -Thiruvanathapuram industrial cluster.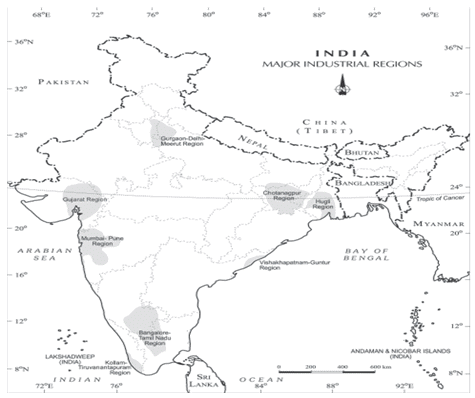 Minor Industrial Regions
1. Ambala-Amritsar,
2. Saharanpur-Muzaffarnagar-Bijnor,
3. Indore-Dewas-Uijjain,
4. Jaipur-Ajmer,
5. Kolhapur-South Kannada,
6. Northern Malabar,
7. Middle Malabar,
8. Adilabad-Nizamabad,
9. Allahabad-Varanasi-Mirzapur,
10. Bhojpur-Munger,
11. Durg-Raipur,
12. Bilaspur-Korba, and
13. Brahmaputra valley.
INDUSTRIAL DISTRICTS