Mineral Resources
A mineral is a naturally occurring substance, representable by a chemical formula, that is usually solid and inorganic, and has a crystal structure.
More than two thousand minerals have been identified and most of these are inorganic, which are formed by the various combination of elements. However, a small proportion of the earth's crust contains organic materials, consist of single elements such as gold, silver, diamond, and sulfur.
Mineral resources can be divided into two major categories.
Metallic Mineral Resources
Non-metallic Mineral Resources


Mineral Resources
1. Metallic Minerals
Metallic Minerals are minerals in which metal elements are present in their raw form. When metallic minerals are melted a new product is formed.
Metallic minerals constitute the second most important group of minerals after fossil fuels. They are reserved in Archean rocks.
Major examples of metallic minerals are iron ore, copper, gold, Zink, Silver, Manganese, Chromites, etc. They constitute 7% of the total mineral value in India.
These minerals provide a strong base for the development of the metallurgical industry, and thereby help the process of industrialization and urbanization. India has a substantial reserve of these minerals.
Metallic minerals are further sub-divided as ferrous and non-ferrous metallic minerals
The minerals containing iron are known as ferrous (Chromites, Iron ore, and manganese), and without iron are known as non-ferrous (lead, silver, gold, copper, bauxite, etc.).
Significance of Metallic Mineral
the standard of living of the people living in a country is judged by the consumption of iron. It is the backbone of modern civilization and the foundation of basic industry.
2. Non-metallic Minerals
Non-metallic minerals do not contain any metal substances in them. Nonmetallic minerals are a special group of chemical elements from which no new product can be generated if they are melted.
Depending upon the origination, non-metallic minerals are either organic (such as fossil fuels also known as mineral fuels, which are derived from the buried animal and plant, e.g. such as coal and petroleum), or inorganic minerals, such as mica, limestone, graphite, etc.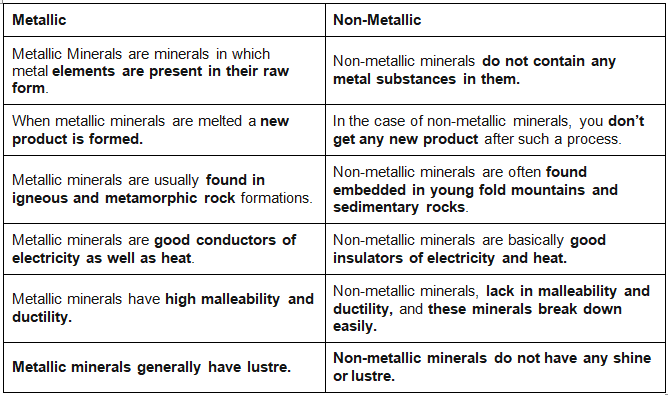 Mineral Resources in India (Mineral Rich Regions)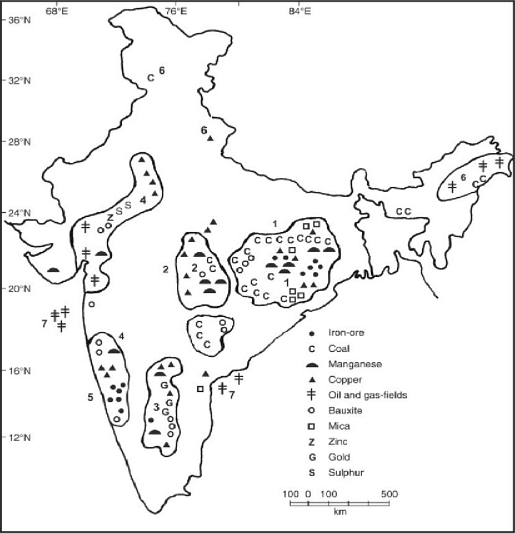 Mineral Rich regions of India
There are five major mineral belts in India namely:
Northern Belt
Central Belt
Southern Eastern region
South Western region
North-Western region
Northern Belt: The Northern Belt comprise of the following regions-
Chhota Nagpur plateau
(i) Minerals found in this region is Kynite(100%), Iron (90%), Chromium(90%), Mica(75%), Coal(70%).
(ii) Manganese, copper, and limestone are some other minerals found in this region.
Assam Petroleum reserve: This region comprises the reserves of petroleum and lignite coal, tertiary coal, etc.
Central belt:
This region comprises the Chhattisgarh and Maharashtra region which is the extension of the Chhota Nagpur plateau.
There are huge reserves of Iron and limestone in Chhattisgarh.
Godavari-Wardha valley with huge coal reserves lies in this region.
South Eastern region
Eastern Karnataka: In this region, Bellary and Hospet are known for their iron reserves
Andhra Pradesh: Cuddapa and Kurnool region are major mining centres. Nellore in Andhra Pradesh is known for Mica reserves.
Telangana: Telangana is known for Bauxite reserves.
Tamil Nadu: Tamil Nadu has the highest lignite coal reserves in India.
South Western region
Karnataka: Dharwad region of Karnataka is known for its high mineral reserves.
Shimoga, Chitradurg, Yumkur, Chikmaglur are some other areas with high mineral reserves.
Goa is known for its rich iron reserves.
Ratnagiri in Maharashtra also has iron reserves.
North Western region
This region consists of the areas Rajasthan and Gujarat along the Aravalli Range.
Gujarat is known for its petroleum deposits. Gujarat and Rajasthan both have rich sources of salt.
Example: Salt from Kutchh and Playa Lake of Rajasthan.
Rajasthan is rich in building stones i.e. sandstone, granite, marble. Gypsum and Fullers earth deposits are also extensive. Dolomite and limestone provide raw materials for the cement industry.
Iron Ore Distribution in India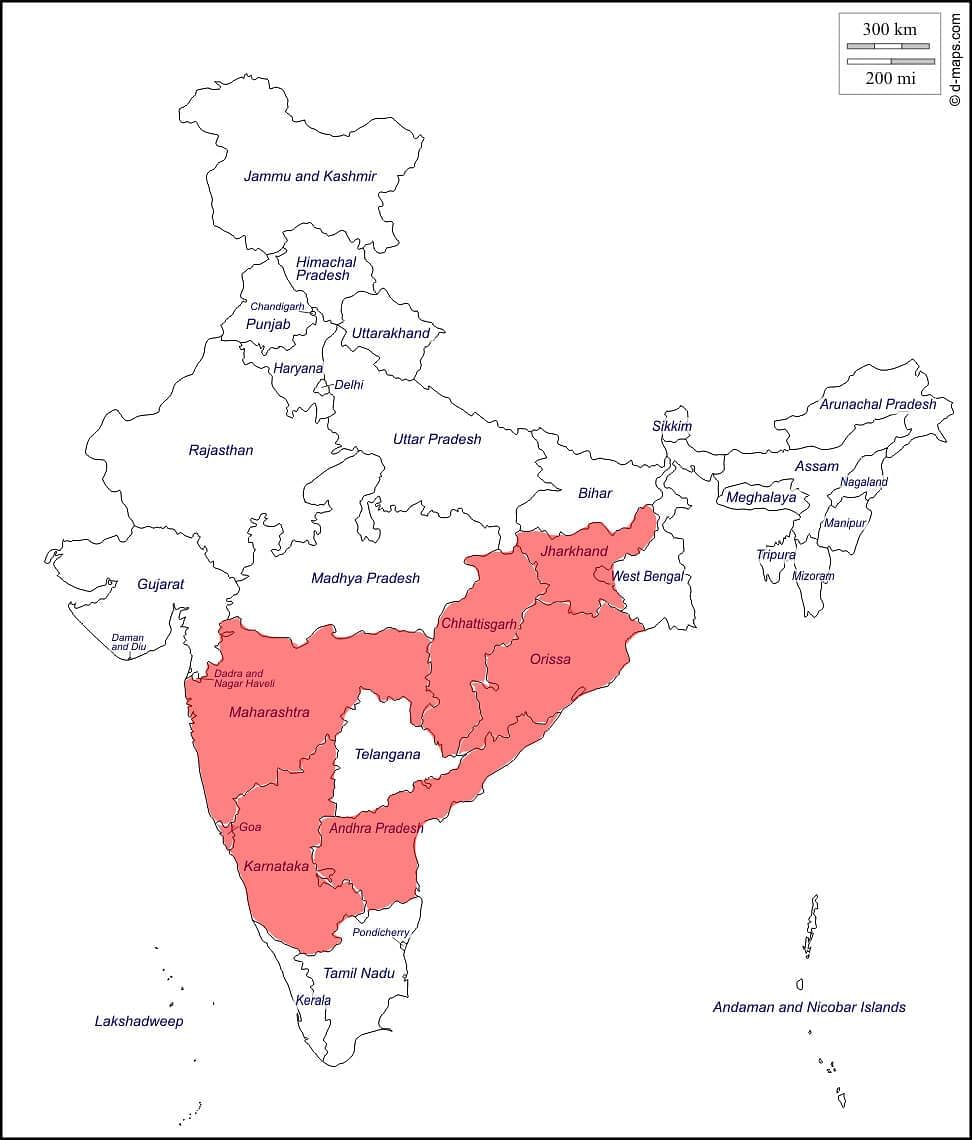 Iron mines in India
Iron ores are rocks and minerals from which metallic iron can be extracted.
India has large iron ore reserves. It occurs in various geological formations but major economic deposits are found in volcano-sedimentary Banded Iron Formation (BIF) from the Precambrian age.
Magnetite is the finest iron ore with a very high content of iron up to 72 percent. It has excellent magnetic qualities, especially valuable in the electrical industry.
Hematite ore is the most important industrial iron ore in terms of the quantity used but has a slightly lower iron content than magnetite.
The highest producer is the Odisha Jharkhand belt, Durg Bastar Chandrapur belt, Bellary-Chitradurga-Chikmagalur-Tumkur belt, and the Maharashtra Goa belt.
The iron ore is found in following four type
Magnetite: It is the most important and best kind of iron ore. It contains about 72 percent metallic iron in it. It is found in Karnataka, Andhra Pradesh, Rajasthan, Tamil Nadu, Goa and Kerala.
Hematite: It is also an important source of Iron. It contains about 60-70 percent metallic iron in it. It is red and brown in colour. It is found in Odisha, Jharkhand, Chhattisgarh and Andhra Pradesh. In the western section, Karnataka, Maharashtra and Goa have this kind of ore.
Limonite: It contains about 30 to 40 percent metallic iron in it. It is mostly yellow in colour. It is low-grade iron ore.
Siderite: It has more impurities. It contains about 48 percent metallic iron content in it. It is brown in colour. It contains a mixture of iron and carbon. It is low-grade iron ore. It is self-fluxing due to the presence of lime.
Reserves and distribution of iron ore
About 95% of total reserves of iron ore is found in the States of Odisha, Jharkhand, Chhattisgarh, Karnataka, Goa, Telangana, Andhra Pradesh, and Tamil Nadu.
Iron Ore in Karnataka: Here Iron ore is mainly Mined in
Chikmagalur District: In Chikmagalur District high-grade iron ore deposits are those of Kemmangundi in Baba Budan Hills (Supply Iron ore to Bhadravati steel plant). On the other hand, the Kudremukh Hills in Chikmagalur District have very large deposits, but they consist of low-grade Magnetite.
At Kudremukh iron ore is mined on large scale for export, which is exported from New Mangalore port.
Bellary-Hospet area and Sandur Ranges have deposits of high grade. (Iron ore of this area serves the Vijaynagar steel plant at Hospet.)
Iron ores are widely distributed in the state, but high-grade ore deposits are those of Kemmangundi in Bababudan hills of Chikmagalur district and Sandur and Hospet in Bellary district (a lot of mining mafias). Most of the ores are high-grade haematite and magnetite.
Other mining areas in Karnataka are Chitradurga, Uttar Kannad, Shimaga, Dharwad, Tumkur, Kumaraswamy, and Ramandurg, etc.
Donimalai Iron Ore Mine

Commissioned in 1977, the mine is located in Bellary region of Karnataka.
It produces 4 million tonnes of Run of Mine ("ROM" means ore in its natural, unprocessed state) ore per year.
The average grade of ore extracted has 65% Iron.
Port of Export
(i) Chennai outer harbour, TamilNadu: linked by 532km Rail
(ii) Marmagao Port, Goa: linked by 370 km Rail
It is being mined by the National Mineral Development Corporation (NMDC).
(i) Recently, for a short period, NMDC stopped its operation because the state government imposed an 80% premium on the iron ore sales from the mine.
(ii) But now lease has been extended for the next 20 years for NMDC and NMDC is resuming its operations.
Iron Ore in Orissa
The ores in Orissa are rich in Hematite. India's richest Hematite deposits are located in Barabil-Koira Valley. This valley lies in Keonjhar and adjoining Sundergarh district.
The most important deposits occur in
Keonjhar
Sundargarh
Mayurbhanj
Koraput
Cuttack
Sambalpur
Iron Ore in Chhattisgarh
Chhattisgarh has about 18 percent of the total iron ore reserves of India.
The iron ores are widely distributed, the prominent deposits being those of Bastar and Durg districts. Bailadila in Bastar district and Dalli Rajhara in Durg district are important producers.
Bailadila mine is the largest mechanized mine in Asia (Ore beneficiation only done here).
A 270 km long slurry (a semi-liquid mixture) pipeline is being constructed to bring the ore from the Bailadila pithead to the Vizag plant. Smelting is done in Vizag (Vishakhapatnam) Iron and Steel plant.
Bailadila produces high-grade ore which is exported through Vishakhapatnam to Japan (there is no iron ore in Japan, but the market is huge due to the Automobile industry) and other countries where it is in great demand.
The Dalli-Rajhara range is 32 km long with significant iron ore reserves with ferrous content of 68 to 69 percent.
Iron Ore in Goa
Production of iron ore in Goa started quite late and it is a recent development.
Goa now produces over 18 percent of the total production of India. There are nearly 315 mines in North Goa, Central Goa, and South Goa.
The richest ore deposits are located in North Goa. These areas have the advantage of river transport (through river Mandovi and Zuari connect through Cumberjua canal) or ropeways for local transport and that of Marmagao port for exporting the ore.
Most of Goa's iron ore is exported to Japan.
Iron Ore in Jharkhand
Jharkhand accounts for 25 percent of reserves and over 14 percent of the total iron ore production of the country. Iron ore mining, first of all, started in the Singhbhum district in 1904 (then a part of Bihar).
Iron ore of the Singhbhum district is of the highest quality and will last for hundreds of years.
The main iron-bearing belt forms a range about 50 km long extending from near Gua to Pantha in Bonai (Orissa). The other deposits in Singhbhum include those of Budhu Buru, Kotamati Burn, and Rajori Buru.
The well-known Noamandi mines are situated at Kotamati Buru. Magnetite ores occur near Daltenganj in the Palamu district.
Less important magnetite deposits have been found in Santhal Parganas, Hazaribagh, Dhanbad, and Ranchi districts.
Iron ore in Other States
Apart from the major producing states described above, iron ore in small quantities is produced in some other states also. They include :
Andhra Pradesh (1.02%): Kumool, Guntur, Cuddapah, Ananthapur, Khammam, Nellore
Maharashtra (0.88%): Chandrapur, Ratnagiri, and Sindhudurg
Madhya Pradesh (0.66%)
Tamil Nadu: Salem, North Arcot Ambedkar, Tiruchirapalli, Coimbatore, Madurai, Nellai Kattabomman (Tirunelveli)
Rajasthan: Jaipur, Udaipur, Alwar, Sikar, Bundi, Bhilwara
Uttar Pradesh: Mirzapur
Uttaranchal: Garhwal, Almora, Nainital
Himachal Pradesh: Kangra and Mandi
Haryana: Mahendragarh
West Bengal: Burdwan, Birbhum, Darjeeling
Jammu and Kashmir: Udhampur and Jammu
Gujarat: Bhavnagar, Junagadh, Vadodara
Kerala: Kozhikode.
Ministry of Mines Annual Report 2019-20
As per this report
India is self-sufficient in Bauxite, Iron Ore and Sillimanite. Magnesite, Rock Phosphate, Manganese and Copper concentrate are the ones which are imported in India.
Now that the mines in Odisha are functional, India can even export iron ore.
India's leading state that produces iron ore is Odisha. It accounts for more than 55% of the total production followed by Chhattisgarh producing almost 17%, this is followed by Karnataka and Jharkhand producing 14% and 11% respectively.
In India, the value of metallic minerals in 2018-19 was at INR 64,044 crores. Among these the principal metallic minerals, iron ore contributed more than 45000 crore rupees. This was equivalent to 70% of the contribution.
Export of iron ore from India
India is the fifth largest exporter of iron ore in the world. We export about 50 to 60 percent of our total iron ore production to countries like Japan, Korea, European countries, and lately to Gulf countries.
Japan is the biggest buyer of Indian iron ore accounting for about three-fourths of our total exports.
Major ports handling iron ore export are Vishakhapatnam, Paradip, Marmagao, and Mangalore.
Problem faced by iron ore mining industry in India
India's iron ore mining face a lot of problems, some of them are:
Lack of adequate mechanization
Infrastructure
Financial Resources
Human Resources
Environmental Concerns
Export orientation
Trade Policy
Global Economic Slowdown
Many of them are found in few states only.
Coal
Coal is a combustible black or brownish-black sedimentary rock with a high amount of carbon and hydrocarbons.
Coal is classified as a nonrenewable energy source because it takes millions of years to form. Coal contains the energy stored by plants that lived hundreds of millions of years ago in swampy forests.
Coal is also called black gold.
Coal contains carbon, volatile matter, moisture, and ash & [in some cases Sulphur and phosphorous].
Mostly used for power generation and metallurgy.
Different varieties of coal arise because of differences in the kinds of plant material (coal type), degree of coalification (coal rank), and range of impurities (coal grade).
The distribution of coal in Indian is in two categories
Gondwana Coalfields that are 250 million years old
Tertiary Coalfields that are 15 to 60 million years old.
Gondwana Coalfields
Gondwana coal makes up to 98% of the total coal reserves in India and 99% of the coal production in India.
Gondwana coal is free from moisture and contains phosphorus and sulphur
The carbon content in Gondwana coal is less compared to the Carboniferous coal(that is 350 million years old which is almost absent in India because of its much younger age).

Coalfields in Jharkhand

Gondwana coal forms India's metallurgical grade as well as superior quality coal.
The Damuda series (i.e. Lower Gondwana) possesses the best-worked coalfields accounting for 80 percent of the total coal production in India.
80 out of 113 Indian coalfields are located in the rock systems of the Damuda series[named after Damodar river].
These basins occur in the valleys of certain rivers viz., the Damodar (Jharkhand-West Bengal); the Mahanadi (Chhattisgarh-Odisha); the Son (Madhya Pradesh Jharkhand); the Godavari and the Wardha (Maharashtra-Andhra Pradesh); the Indravati, the Narmada, the Koel, the Panch, the Kanhan and many more.
The volatile compounds and ash (usually 13 – 30 percent) and don't allow Carbon percentage to rise above 55 to 60 percent.
Tertiary Coal Fields
Carbon content is very low but is rich in moisture and sulphur.
Tertiary coalfields are mainly confined to extra-peninsular regions.
Important areas include Assam, Meghalaya, Nagaland, Arunachal Pradesh, Jammu and Kashmir, Himalayan foothills of Darjeeling in West Bengal, Rajasthan, Uttar Pradesh, and Kerala.
Tamil Nadu and the union territory of Pondicherry also bear tertiary coal reserves [exceptions].
Formation of Coal
Coal is formed when dead plant matter decays into peat and is converted into coal by the heat and pressure of deep burial over millions of years.

Coal was formed around 300 million years ago when the earth was covered with swampy(marshy) forests.
As the plants grew, some died and fell into the swamp waters. New plants grew up to take their places and when these died still more grew.
In time, there was a thick layer of dead plants rotting in the swamp. The surface of the earth changed and water and dirt washed in, stopping the decaying process.
More plants grew up, but they too died and fell, forming separate layers. After millions of years, many layers had formed, one on top of the other.
The weight of the top layers and the water and dirt packed down the lower layers of plant matter.

Heat and pressure produced chemical and physical changes in the plant layers which forced out oxygen and left rich carbon deposits. In time, the material that had been planted became coal.
Coal is classified into four main types, or ranks: anthracite, bituminous, subbituminous, and lignite.
These classifications are based on the amount of carbon, oxygen, and hydrogen present in the coal.
Coal's other constituents include hydrogen, oxygen, nitrogen, ash, and sulfur.
Some of the undesirable chemical constituents include chlorine and sodium.
In the process of transformation (coalification), peat is altered to lignite, lignite is altered to sub-bituminous, sub-bituminous coal is altered to bituminous coal, and bituminous coal is altered to anthracite.
Types of Coal
On the basis of carbon content, it can be classified into the following three types:
Anthracite
This is the best quality of coal and contains 80 to 95 percent carbon. It has very little volatile matter and a negligibly small proportion of moisture.
It is very hard, compact, jet black coal having semi-metallic lustre.
It has the highest heating value and is the most prized among all the varieties of coal
In India, it is found only in Jammu and Kashmir (in Kalakot) and that too in small quantities.
Bituminous
This is the most widely used coal. It varies greatly in composition in carbon content (from 60 to 80 percent) and moisture. It is dense, compact, and is usually of black colour.
It does not have traces of original vegetable material from which it has been formed.
Its calorific value is very high due to high proportion of carbon and low moisture content.
By virtue of this quality, bituminous coal is used not only for steam raising and heating purposes but also for the production of coke and gas.
Most of the bituminous coal is found in Jharkhand, Orissa, West Bengal, Chhattisgarh, and Madhya Pradesh.
Lignite
Also known as brown coal, lignite is lower-grade coal and contains about 40 to 55 percent carbon.
It represents the intermediate stage in the alteration of woody matter into coal. Its colour varies from dark to black-brown.
Its moisture content is high (over 35 percent) so that it gives out much smoke but little heat.
It is found in Palna of Rajasthan, Neyveli of Tamil Nadu, Lakhimpur of Assam, and Karewa of Jammu and Kashmir.
Peat
This is the first stage of transformation of wood into coal and contains less than 40 to 55 percent carbon, sufficient volatile matter, and a lot of moisture.
It is seldom sufficiently compact to make a good fuel without compressing into bricks. Left to itself, it bums like wood, gives less heat, emits more smoke, and leaves a lot of ash after burning.
Distribution of Coal in India
Jharkhand
Most of the coalfields are located in a narrow belt running in the east-west direction almost along the 24°N latitude.
The Jharia coalfield: The Jharia coalfield lies to the southwest of Dhanbad city and covers an area of 453 sq km. It is one of the oldest and the richest coal fields of India and has been recognized as the storehouse of the best metallurgical coal in the country.
The Bokaro coalfield: The Bokaro coalfield in Hazaribagh district lies within 32 km of the western end of the Jharia coalfield.
Other reserves: Girdih, Karanpura, etc.
Chhattisgarh
Orissa
Orissa is the second-largest state with regard to coal reserves but is the third-largest producer of coal contributing a little over 15.31 percent of the total coal production of the country.
Most of the deposits are found in Dhenkanal, Sambalpur, and Sundargarh districts.
The Talcher field-stretching eastward from Talcher town to Rairkhol in Dhenkanal and Sambalpur districts ranks second in reserves after Raniganj. Most of the coal is utilized in thermal power and fertilizer plants at Talcher.
Other coal fields
(i) Rampur-Himgir coalfields in the districts of Sambalpur.
(ii) The lb river coalfield in Sambalpur and Gangpur districts.

Coal in Odisha
Madhya Pradesh
Madhya Pradesh is the fourth largest coal-producing state of India.
Sigrauli coalfield in Sidhi and Shahdol districts is the largest coalfield of Madhya Pradesh. This field supplies coal to thermal power plants at Singrauli and Obra.
Pench-Kanhan-Tawa in Chhindwara district is another important coalfield of Madhya Pradesh.
Andhra Pradesh & Telangana
Andhra Pradesh produces about 9.72 percent of India's coal.
Most of the coal reserves are in the Godavari valley spread over the districts of Adilabad, Karimnagar, Warangal, Khammam, East Godavari, and West Godavari.
The actual workable collieries are situated at Singareni and Kothagudam.
Almost the entire coal is of non-coking variety.
These are the southernmost coalfields of India and a source of coal supply to most of south India.


Coal in Andhra Pradesh
Maharashtra
Though Maharashtra has only 3 percent reserves, the state accounts for over 9 percent of the production of coal in India.
Most of the coal deposits are found in the Kamptee coalfields in Nagpur District; Wardha valley, Ghughus, Ballarpur, and Warora in Chandrapur district and the Wun field in Yavatmal district.
West Bengal
Although West Bengal produces only 6 percent of India's coal, the state has over 11 percent of the coal reserves of the country.
Burdwan, Bankura, Purulia, Birbhum, Darjeeling, and Jalpaiguri are the chief producing districts.
Raniganj is the largest coalfield of West Bengal.
Tertiary Coal
Tertiary coal fields mainly occur in association with limestone and slates of either Eocene or Oligocene-Miocene age (15 to 60 million years).
They are mainly confined to extra peninsular regions. some of which are
Assam
The major coalfields in Assam are the Makum, Nazira, etc
The Makum coalfield in the Sibsagar district is the most developed field.
Assam coals contain very low ash and high coking qualities but the sulphur content is high, as a result of which this coal is not suitable for metallurgical purposes.
Meghalaya
Garo, Khasi, and Jaintia hills are believed to have deposits of tertiary coal belonging to the lower Eocene.
Arunachal Pradesh
The Upper Assam Coal belt extends eastwards as NamchickNamrup coalfield in the Tirap district of Arunachal Pradesh.
Other coal fields are in Jammu and Kashmir and Himachal Pradesh.
Lignite
There was a phenomenal increase in the production of lignite coal after independence.
Areas of lignite production are as follows:
Tamil Nadu accounts for 90 percent of the reserves and about 71 percent of the production of lignite in India. The Neyveli Lignite fields of the Cuddalore district, extending over an area of 480 sq km, have estimated reserves of 4,150 million tonnes are the most important lignite field of India. The other lignite reserves of considerable importance in Tamil Nadu are those of Jayamkondacholapuram of Trichy district, Mannargudi, and East of Veeranam.
Gujarat: Lignite occurs in Kuchchh district at Umarsar, Lefsi, Jhalrai, and Baranda and also in Bharuch district.
Jammu and Kashmir: Lignite deposits belonging to Pliocene or even a newer age have been found here in sufficient quantity. The main lignite fields occur in the Shaliganga River, continuing to the northwest up to the Nichahom area in the Handwara region of the Baramula district. The lignite here is of poor quality.
Kerala, Rajasthan, West Bengal, and Pondicherry also produce some amount of lignite coal.
Peat
Peat is confined to a few areas only. It occurs in Nilgiri hills at an elevation of over 1,800 m.
In the Kashmir valley, peat occurs in the alluvium of the Jhelum and in swampy grounds in higher valleys.
In West Bengal peat beds at depths ranging from 2 to 11 metre have been noted in Kolkata and its suburbs.
In the Ganga delta, there are layers of peat which are composed of forest and rice plants.
Problems of Coal Mining in India
The distribution of coal is uneven. Most of the north plains and western parts of India are devoid of coal. This involves high transport cost to carry heavy commodities like coal over long distances.
Indian coal has high ash content and low caloric value. The ash content varies from 20 to 30 percent and sometimes exceeds 40 percent. This reduces the energy output of coal and complicates the problem of ash disposal.
A large percentage of coal is taken out from underground mines where the productivity of labour and machinery is very low.
There are heavy losses due to fires in the mines and at pit heads. Pilferage at several stages also adds to losses. This leads to a hike in the price of coal and sets off a vicious circle of price spiral in the economy.
Mining and utilization of coal leads to the serious problem of environmental pollution. The open cast mining ravages the whole area converting it into a rugged and ravenous land.
The coal dust in mines and near pitheads creates health hazards to workers and their families.
Safety measures against environmental pollution caused by mining and the utilization of coal are very costly and complicated and are beyond the reach of ordinary entrepreneurs.
Conservation of coal
Conservation of coal implies that every bit of energy that can be obtained from coal must be obtained and every bit of by-product that can be recovered must be recovered. Conservation of coal is an integral part of mine planning and operation.
Following measures are suggested for the conservation of coal in India.
Coking coal should be used for the metallurgical industry only.
Low-grade coal should be washed and blended with superior quality coal in requisite proportion and used in industries.
Selective mining should be discouraged and all possible coal from the mines should be taken out.
New reserves should be discovered and new techniques should be adopted.
Small and uneconomic collieries should be amalgamated and be made economically viable units.
Coking Coal vs. Non-Coking Coal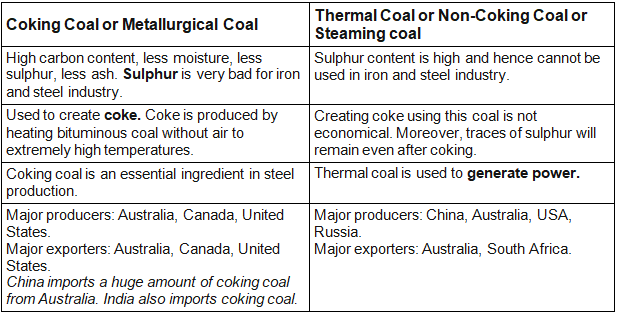 Coal Reserves in India by State

Coal Production in India by State
All data from 2013-2014. For latest data you must follow newspapers/India year Book or Reports published by Ministry of Coal.
Coking Coal Production by State
Jharkhand [More than 90% of India's Coking coal comes from Jharkhand]
West Bengal
Madhya Pradesh
Non Coking Coal Production By State
Chhattisgarh
Odisha
Madhya Pradesh
Jharkhand
Andhra Pradesh
Total Coal Production By State
Chhattisgarh
Jharkhand
Odisha
Madhya Pradesh
Andhra Pradesh
List of Major Coal Fields in India (with few details)
Jharia
Located to the southwest of Dhanbad city and covers an area of 453 sq km
Recognized as the best metallurgical coal in the country
Supplies coal to Jamshedpur, IISCO, Bokaro, Rourkela.
Bokaro
In Hazaribagh district lies within 32 km of the western end of the Jharia coal field
Long but narrow strip in the catchment area of the Bokaro River
Divided into West Bokaro and East Bokaro
Giridih
Also known as Karharbari, lies to the southwest of Girdih in the Hazaribagh district
Has three main seams of varying thicknesses- lower Karharbari, upper Karharbari, Badhua
Lower Karharbari gives one of the finest coking coals in India.
Karanpura
Lies to the west of Bokaro in Jharkhand has two sections- North Karanpura and South Karanpura
Total resurve – 1059 million tonner
Coal is believed to be of inferior quality
According to ONGC, these fields have good reserves of coal-bed methane (CBM)
Ramgarh
Situated about 9 km south of the Bokaro field in Jharkhand
It has 22 seams.
Daltenganj
Lies in the Palamau district of Jharkhand covers a total area of about 51 sq km
Gondwana type bituminous coal is mined.
Korba
Covers an area of 515 sq km in the valleys of Hasdo (a tributary of Mahanadi )
Most of the coals are sent to the Korba thermal power plant and Bhilai steel plant.
Bisrampur
Lies in the Sarguja district of Chhattisgarh
Total reserves- 542 million tonnes
Gondwana type bituminous coal is mined.
Hasdo-Arand
Extends from Rampur in Sarguja district to Arand Valley in Bilaspur district
Covers an area of about 1004 sq km
Total reserves – 4321 million tonnes.
Chirmiri
Lies in the Sarguja district of Chhattisgarh, in the northern part of the state
Area- 128 sq km
Reserves – 362 million tonnes.
Tatapani-Ramkota
Lies between Kanhar and Rehar in the north – eastern part of the Sarguja district of Chhattisgarh
Coals of Tatapani coalfields belong to the Damuda series.
Jhilmili
Lies in the northwestern part of Chhattisgarh in the Koriya district
Total area – 106 sq km
Extension of Sohagpur coalfield of the Shahdol district of Madhya Pradesh
5 coal seams belonging to Talcher and Barakar measures.
Johilla
Lies the Johilla Valley, a tributary of the Son, in the northwestern part of Chhattisgarh.
Sonhat
Lies in the Surguja region of Chhattisgarh
Has high quality coal.
Talcher
Lies near the Talcher town of Odisha
Second largest reserve after Raniganj
Total reserve- 24,374 million tonnes
Coal is utilized in thermal power and fertilizer plants at Talcher
IB River
512 sq km in Sambalpur and Gangpur districts
Coal belongs to middle and lower Barakar systems
Much of the coal is of inferior quality with about 50 per cent fixed carbon.
RAMPUR-HIMGIR :
Belongs to the Ib River system
Coal of the middle and lower Barakar systems
Contains 30.48 million tonnes coal reserves
Bulk of the coal is inferior.
SINGRAULI :
Largest coalfields of Madhya Pradesh in Sidhi and Shahdol districts
Total area – 2337 sq km
Reserves- 9207 million tonnes.
JHINGURDA :
With a total thickness of 131 m is the richest coal seam of the country
It is a seam of the Singrauli coal field
Supplies coal to thermal plants at Singrauli and Obra.
SOHAGPUR :
Lies in the Shahdol district of Madhya Pradesh
Reserves- 2284 million tonnes.
UMARIA :
Situated at a distance of 58 km to the south of Katni in the eastern Madhya Pradesh
Contains 6 seams
Total reserves- 58 million tonnes
Coal is inferior with a high percentage of moisture and ash.
SINGARENI :
185 km east of Hyderabad in the Godawari Basin
4 coal seams have been identified
Contains 56.5 % fixed carbon
Although it is non-coking coal but its quality is improved by the Regional Research Laboratory at Hyderabad.
KOTHAGUNDAM :
Located east of Singareni in Telangana
Has nine coal seams in which Anandghani seam contains A grade coal
Used for the thermal power generation in the region.
Raniganj
The largest coal field of West Bangal, is the continuation of Jharia in Jharkhand
Coal mining started in India at Raniganj in 1774
It produces mainly non-coking steam coal, mainly used for power generation.
Makum
Lies in the Sivsagar district of Assam
Total reserves – 235.6 million tones
Tertiary coal is produced
Part of the Upper Assam coal belt.
Nazira
Located in Assam
Produces the tertiary coal
Part of the Upper Assam coal belt
Northern flank of the Naga Patkai ranges facing Sibsagar.
Lakhuni
Located in Assam
Produces the tertiary coal
Part of the Upper Assam coal belt.
Nanchick namphuk
Lies in the Tirap district of Arunachal Pradesh
The eastward extension of the Upper Assam Coal belt
Tertiary coal is produced
Kalakot
Tertiary coal field located in Jammu and Kashmir, in Jammu Province
Similarly to other tertiary coal deposits in the world, the angiosperm flora contributed chiefly to the development of coal facies in the area.
Nichaom
Lignite coalfield located in Nandwara region of Baramula district of Jammu and Kashmir
Poor quality lignite
Reserve in the region-90 million tonnes.
Umarsar
Lignite coalfield located in the Kuchchh district of Gujarat
Better lignite than other fields of the state.
Palana
Lignite coalfield located in the Barmer district of Rajasthan
4 km long and 0.8 km wide
Will supply coal to 250 MW thermal plant of Bikaner.
Neyveli
Lies in the Cuddalore district of Tamilnadu
Largest deposits of lignite in the country and can sustain power generation for more than hundred years
4150 million tonnes reserves over an area of 480 sq km
Used for thermal power generation in the region.
Jayamkondacholapuram
Lies in the Trichy district of Tamilnadu
Reserves- 1168 million tonnes.