MINISTRY OF COMMUNICATION AND IT
H.1. NATIONAL OPTICAL FIBRE NETWORK
Department of Electronics and IT
Objective

Intended beneficiary

Salient features

 To provide broadband connectivity to over two lakhs Gram Panchayats through optical fibre network.

 To provide a minimum bandwidth of 100 Mbps to each of the 2.5 lakhs GPs.

 

 Link 600 million rural citizens of India across 2.5 lakhs Gram Panchayats of India.

 

 Landmark initiative in taking forward the vision of Digital India

 A digitally empowered society and knowledge economy.

 100 Mbps bandwidth to every GP, thereby facilitating delivery of e-governance, e-health, e-education, e-banking, public internet access, G2C, B2B, P2P, B2C etc., weather, agricultural and other services to rural India.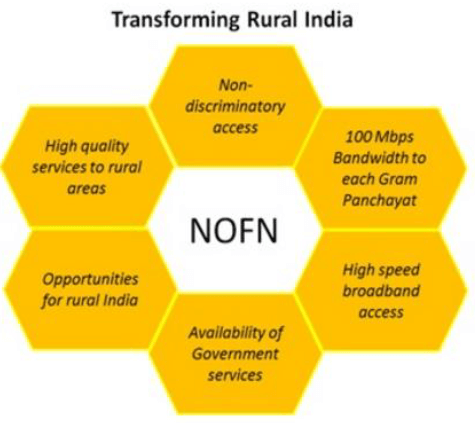 H.2. NATIONAL SCHOLARSHIPS PORTAL
Department of Electronics & Information Technology
Objective

Intended beneficiary

Salient features

 To ease scholarship process right from submission of student application, verification, sanction and disbursal to end beneficiary

 A platform for disbursal for all the scholarships provided by the government of India.

 

 

 Students

 Institutions

 State government departments

 

 Central ministries /departments

 

Simplified process for

 The students common application form for all scholarships

 Onetime registration of students based on eligibility criteria,

 System itself suggests the schemes for which a student is eligible

Improved transparency

Elimination of duplicate applications
Release of scholarship amount directly to bank accounts of students through DBT

SMS and e-mail alerts at every step of scholarship process
 Serve as a decision support system (DSS) as up-to date information is available on demand
 Scalable and configurable platform
H.3. JEEVAN PRAMAAN
Department of Electronics and IT
Objective

Intended beneficiary

Salient features

 To facilitate on-line submission of Life Certificate by pensioners

 To streamline the process of getting Life certificate and making it hassle free and much easier for the pensioneRs.

 

 Pensioners

 

 AADHAR Biometric Authentication based digital life certificates for Pensioners.

 It will do away with the requirement of a pensioner having to submit a physical Life Certificate in November each year, in order to ensure continuity of pension being credited into their account.

 Submission of Digital Life Certificate also ensures authenticity of pension payments.