[Short Answer Type Questions]
Q.1. Suggest separation technique (s) one would need to employ to separate the following mixtures.
(a) Mercury and water
(b) Potassium chloride and ammonium chloride
(c) Common salt, water and sand
(d) Kerosene oil, water and salt
Ans. (a) Separated by separating funnel
(b) Sublimation
(c) Filtration followed by distillation
(d) Separating funnel is used to separate kerosene oil from water and salt. Salt solution is evaporated or distilled to get salt back. On distillation, water will be formed on condensation and salt will be left behind.

Q.2. Which of the tubes in figures (a) and (b) will be more effective as a condenser in the distillation apparatus?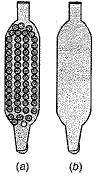 Ans. Figure (a) will be more effective condenser in the distillation process because beads present in condenser will increase surface area. Therefore, it will cause cooling more effectively.

Q.3 . Salt can be recovered from salt solution by evaporation. Suggest some other technique for the same.
Ans. Crystallization is a better technique because it will remove soluble impurities also.

Q.4. The 'sea-water' can be classified as a homogeneous as well as heterogeneous mixture. Comment.
Ans. It is homogeneous as salts are dissolved in water. It is heterogeneous due to presence of suspended impurities like mud, rocky particles, decayed plants, etc.

Q.5. While diluting a solution of salt in water, a student by mistake added acetone (boiling point 56°C). What technique can be employed to get back the acetone? Justify your choice.
Ans. Distillation will be used to remove acetone because it will boil at 56°C and change into vapours and can be removed by condensation.

Q.6. What would you observe when
(a) a saturated solution of potassium chloride prepared at 60°C is allowed to cool at room temperature.
(b) an aqueous sugar solution is heated to dryness.
(c) a mixture of iron filings and sulphur powder is heated strongly.
Ans. (a) Crystals of potassium chloride will be formed.
(b) Sugar will be obtained initially because water will get evaporated but charring of sugar will take place on dry heating.
(c) Black coloured compound iron sulphide will be formed.

Q.7. Explain why particles of a colloidal solution do not settle down when left undisturbed, while in the case of a suspension they do.
Ans. The particles of colloidal solution are smaller and not heavy and they are moving. Therefore, they do not settle due to gravity whereas particles of suspension are larger, heavy and have less movement, thus settle down due to gravity.

Q.8. Smoke and fog both are aerosols. In what way are they different?
Ans. In smoke, solid carbon particles are dispersed in air. In fog, liquid water particles are dispersed in air.

Q.9. Classify the following as physical or chemical property:
(a) The composition of a sample of steel is: 98% iron, 1.5% carbon and 0.5% other elements.
(b) Zinc dissolves in hydrochloric acid with the evolution of hydrogen gas. Zinc reacts with HCl to form ZnCl2 which is soluble in water.
(c) Metallic sodium is soft enough to be cut with a knife.
(d) Most metal oxides form bases on interacting with water.
Ans. (a) It is physical property because mixture is being made and it is a physical process.
(b) It is chemical property because chemical reaction takes place.
Zn(s) + 2HCl (dil) → ZnCl2(aq) + H2(g)
(c) It is physical property as cutting with knife does not form new substance.
(d) It is chemical property as new compound is being formed.




Q.10. The teacher instructed three students 'A', 'B' and 'C' respectively to prepare a 50% (mass by volume) solution of sodium hydroxide (NaOH). 'A' dissolved 50 g of NaOH in 100 ml of water, 'B' dissolved 50 g of NaOH in 100 g of water while 'C' dissolved 50 g of NaOH in water to make 100 ml of solution. Which one of them has made the desired solution and why?
Ans. 'C' has made it correctly because 50% (mass by volume) means 50 g of solute is dissolved in 100 ml of solution and not solvent.

Q.11. Name the process associated with the following:
(a) Dry ice is kept at room temperature and at one atmospheric pressure.
(b) A drop of ink placed on the surface of water contained in a glass spreads throughout the water.
(c) A potassium permanganate ciystal is in a beaker and water is poured into the beaker with stirring.
(d) An acetone bottle is left open and the bottle becomes empty.
(e) Milk is churned to separate cream from it.
(f) Settling of sand when a mixture of sand and water is left undisturbed for some time.
(g) Fine beam of light entering through a small hole in a dark room, illuminates the particles in its path.
Ans. (a) Sublimation
(b) Diffusion
(c) Dissolving/diffusion
(d) Evaporation, diffusion
(e) Centrifugation
(f) Sedimentation
(g) Tyndall effect (scattering of light).