SHORT ANSWER TYPE QUESTIONS
Q.1. What is the role-played by luteinizing hormones in males and females respectively?
Ans. Luteinizing hormones play following roles:
In Males: It stimulates Leydig cell production of testosterone.
In Females: It stimulates ovulation.

Q.2. What is the role of second messenger in hormone action?
Ans. Extracellular substances such as some hormones which do not cross the plasma membrane are called first messenger. In such cases, second messengers are released to enter the cell. Second messengers trigger various physiological changes in a cell. Thus, second messengers play the role of relaying the signals from first messengers.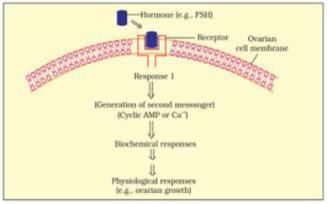 Q.3. On an educational trip to Uttaranchal, Ketki and her friends observe that many local people were having swollen necks. Please help Ketki and her friends to find out the solutions to the following questions.
(a) Which probable disease are these people suffering from?
(b) How is it caused?
(c) What effect does this condition have on pregnancy?
Ans. (a) These people are suffering from goitre.
(b) Goitre is caused by dietary iodine deficiency.
(c) If a woman is suffering from goitre (which is associated with hypothyroidism); it can have deleterious effects on the foetus. It causes defective development and maturation of the growing baby leading to stunted growth (cretinism), mental retardation, abnormal skin, deaf-mutism, etc.

Q.4. George comes on a vacation to India from US. The long journey disturbs his biological system and he suffers from jet lag. What is the cause of his discomfort?
Ans. Body's biological clock follows a set pattern during the 24 hours. This pattern is called circadian rhythm. When a person travels through different time zones encompassing long hours of journey, his circadian rhythm gets disturbed. As a result, the person may suffer from jet lag. This would be manifested in sleep disturbance, bowel habits, anorexia, etc.

Q.5. Inflammatory responses can be controlled by a certain steroid. Name the steroid, its source and also its other important functions.
Ans. Cortisol is the steroid which controls inflammatory responses. This hormone is secreted by adrenal cortex. Cortisol is one of the many corticoids produced by adrenal gland. Cortisol also stimulates RBC production, influences or modulates many of the changes that occur in the body in response to stress etc.

Q.6. Old people have weak immune system. What could be the reason?
Ans. The thymus gland secretes the hormone thymosin which plays a major role in differentiation of T-lymphocytes. T-lymphocytes are responsible for cell mediated immune response. In old age, the thymus gland gets degenerated resulting in reduced production of thymosin. Hence, old people have weak immune system.


Q.7. What are the effects of hypothyroidism (observed during pregnancy) on the development and maturation of a growing baby?
Ans. If a woman is suffering from hypothyroidism; it can have deleterious effect on the development and maturation of the foetus. There can be stunted growth (cretinism) of the foetus which may result in an underweight newborn. The effects of hypothyroidism remains even after birth. The child's brain may not develop properly and show mental retardation. The child can also exhibit abnormal skin and deaf-mutism.

Q.8. Mention the difference between hypothyroidism and hyperthyroidism.
Ans.

| | |
| --- | --- |
| Hypothyroidism | Hyperthyroidism |
| (i) Involves less than normal production of thyroid hormone. | (i) Involves more than normal production of thyroid hormone. |
| (ii) Reduces metabolic rate. | (ii) Increases metabolic rate. |
| (iii) May happen because of iodine deficiency. | (iii) May happen because of development of tumor or nodules in thyroid gland. |
| (iv) Symptoms include fatigue, dry hair, dry skin, muscle cramps, decreased menstrual flow, etc. | (iv) Symptoms include feeling hot, forgetfulness, sweating, increased heart rate, disturbed bowel movement, etc. |
Q.9. You have learnt that a characteristic feature of endocrine system is the presence of feed back loops. By this what is meant if hormone A stimulates gland 'X' to secrete hormone B, the production of 'A' could be modified when the level of B changes in our blood. An example is the relation between hormones LH and estrogen (E2). An old woman exhibits the following features. High levels of LH in blood but low levels of E2 in the blood. Another woman exhibits high level of LH in blood and also high level of E2 in the blood. Where is the defect in both these women? Provide suitable diagram to support this answer.
Ans. Level of LH in blood is usually low before puberty and it increases during reproductive phase. LH levels in blood during the reproductive phase depend on the particular phase of the ovulation cycle. When ovulation is about to happen, the LH level peaks and so does the level of E2. This shows a perfectly normal condition.
But in older women, LH level is higher accompanied by low level of E2. Low level of E2 shows cessation of reproductive phase. We know that menopause marks the end of the reproductive phase. After the menopause, no or negligible oocytes are left in the ovary. Hence, LH is not being utilized the way it was during reproductive phase. This explains the increased level of LH in blood in older women.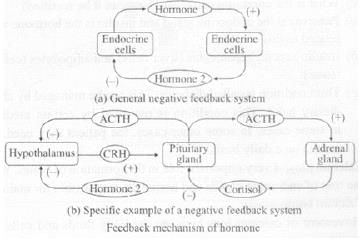 LONG ANSWER TYPE QUESTIONS
Q.1. A milkman is very upset one morning as his cow refuses to give any milk. The milkman's wife gets the calf from the shed. On fondling by the calf, the cow gave sufficient milk. Describe the role of endocrine gland and pathway associated with this response?
Ans. Milk secretion in mammals is stimulated by hormone oxytocin which works on positive feedback mechanism.
(a) When the calf sucks the cow's udder; it triggers nerve impulses.
(b) Nerve impulses send signals to the hypothalamus which starts secreting oxytocin.
(c) Oxytocin causes the contraction of smooth muscles around the alveoli (in udder)and milk is released.
The following figure shows the positive feedback mechanism of oxytocin.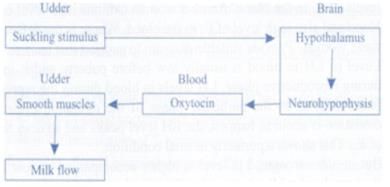 Q.2. A sample of urine was diagnosed to contain high content of glucose and ketone bodies. Based on this observation, answer the following:
(a) Which endocrine gland and hormone is related to this condition?
(b) Name the cells on which this hormone acts.
(c) What is the condition called and how can it be rectified?
Ans. (a) Pancreas is the endocrine gland and insulin is the hormone which is related to this condition.
(b) Insulin acts on hepatocytes (liver cells) and adipocytes (cells of fat tissue).
(c) This condition is called diabetes. This can be managed by changing dietary habit, medications etc. In some cases, the patient may need to take insulin on a daily basis.

Q.3. Calcium plays a very important role in the formation of bones. Write on the role of endocrine glands and hormones responsible for maintaining Calcium homeostasis.
Ans. Movement of calcium ions between the body fluids and cells can be termed as calcium homoeostasis. Calcium plays an important role in various metabolic processes and is also an integral part of the bones. Hence, relative levels of calcium in body fluids, cells and bones are highly important. Both thyroid and parathyroid hormones play significant roles in calcium homeostasis.
Role of Thyrocalcitonin (TCT): This hormone is secreted by thyroid gland. It reduces the blood Ca++ level. Thus, it helps in increasing the availability of calcium to the bones.
Role of Parathyroid Hormone: This hormone is secreted by parathyroid gland. It increases the blood Ca++ level. Thus, it ensures the availability of calcium for many other metabolic functions.
It can be said that the roles of TCT and PTH are antagonistic to each other. Thus, they balance the effects of each other.

Q.4. Illustrate the differences between the mechanism of action of a protein and a steroid hormone.
Ans.
| | |
| --- | --- |
| Protein hormones | Steroid hormones |
| (i) They interact with membrane bound receptors. | (i) They interact with intracellular receptors. |
| (ii) They generate second messenger for further action. | (ii) They do not generate second messenger. |
| (iii) Effect of these hormones alters cellular metabolism. | (iii) Effect of these hormones regulates gene expression or chromosome function. |
| (iv) Examples: insulin, glucagon, etc. | (iv) Examples:cortisol,testosterone,etc. |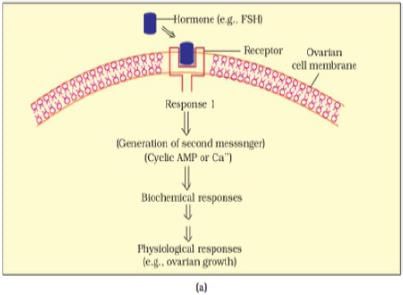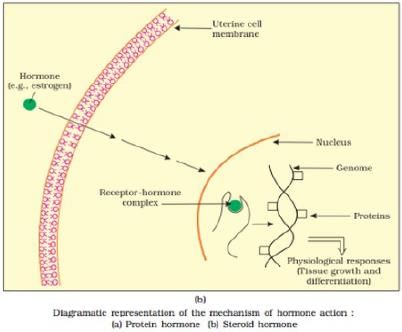 Q.5. Hypothalamus is a super master endocrine gland. Elaborate.
Ans. Hypothalamus contains several groups of neurosecretory cells called nuclei which produces hormones. These hormones regulate the synthesis and secretion of pituitary hormones. It produces two types of hormones, i.e. releasing hormones (that stimulate secretion of pituitary hormones) and inhibiting hormones (that inhibit secretion of pituitary hormones) Pituitary gland secretes the maximum number of hormones. But many hormones secreted from pituitary gland control the function of other endocrine glands. In fact; all the other endocrine glands are controlled by the hormones secreted by the pituitary gland. Following are some examples:
• Thyroid Stimulating Hormone (TSH) controls the function of thyroid gland.
• Adrenocorticotropic Hormone (ACTH) controls the function of adrenal gland.
• Luteinizing Hormone (LS) controls the function of gonads.
Hence, pituitary gland is often termed as the 'Master Gland'. But the hormones secreted by hypothalamus controls the secretion of hormones from the pituitary gland. Due to this, hypothalamus can be termed as the "Super Master Gland".