Some Facts from this Chapter
Lepcha folk song-northern part of West Bengal
The Buxa Tiger Reserve in West Bengal
The Himalayan Yew (Taxus Wallachian) is a medicinal plant found in various parts of Himachal Pradesh and Arunachal Pradesh.
Corbett National Park in Uttarakhand, Sunderbans National Park in West Bengal, Bandhavgarh National Park in Madhya Pradesh, Sariska Wildlife Sanctuary in Rajasthan, Manas Tiger Reserve in Assam, and Periyar Tiger Reserve in Kerala are some of the tiger reserves of India.
Biodiversity or Biological Diversity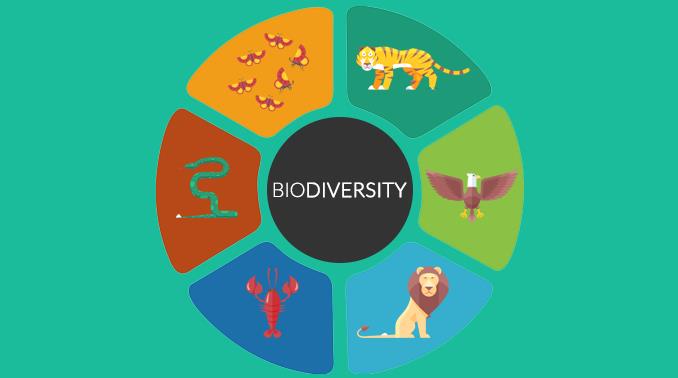 Rich in wildlife and cultivated species, diverse in form and function but closely integrated in a system through multiple networks of interdependencies.
Flora and Fauna in India
India is one of the world's richest countries in terms of its vast array of biological diversity and has nearly 8 percent of the total number of species in the world.
Critical-cheetah, pink-headed duck, mountain quail, forest spotted owlet, and plants like Madhuca insignis (a wild variety of Mahua) and Hubbard Heptaneuron,(a species of grass).
Different categories of existing plants and animal species based on IUCN
➢ Normal Species
Species whose population levels are normal for their survival such as cattle, sal, pine, rodents, etc.
➢ Endangered Species
Species which are in danger of extinction.
The survival of such species is difficult if the negative factors that have led to a decline in their population continue to operate.
Examples of such species are blackbuck, crocodile, Indian wild ass, Indian rhino, lion-tailed macaque, Sangai (brow center deer in Manipur), etc.
➢ Vulnerable Species
Species whose population has declined to levels from where it is likely to move into the endangered category in the near future if the negative factors continue to operate.
Examples of such species are blue sheep, Asiatic elephant, Gangetic dolphin, etc.
➢ Rare Species
Species with a small population may move into the endangered or vulnerable category if the negative factors affecting them continue to operate.
Examples of such species are the Himalayan brown bear, wild Asiatic buffalo, desert fox, and hornbill, etc.
➢ Endemic Species
These are species that are only found in some particular areas usually isolated by natural or geographical barriers.
Examples of such species are the Andaman teal, Nicobar pigeon, Andaman wild pig, Mithun in Arunachal Pradesh.
➢ Extinct Species
These are species that are not found after searches of known or likely areas where they may occur.
A species may be extinct from a local area, region, country, continent, or the entire earth.
Examples of such species are the Asiatic cheetah, pink head duck.
Negative factors that cause such fearful depletion of the flora and fauna
Expansion of the railways, agriculture,

commercial

and scientific forestry, and mining activities.
Substantial parts of the tribal belts, especially in northeastern and central India, have been deforested or degraded by shifting cultivation (Jhum), a type of 'slash and bum' agriculture.
Large-scale development projects, Mining
Grazing and fuel-wood collection
Habitat destruction, hunting, poaching,

over-exploitation, environmental pollution, poisoning, and forest fires
Unequal access, inequitable consumption

of resources,

and differential sharing of responsibility for environmental well-being.
Over-population in third world countries
➢ "Enrichment plantation"
In which a single commercially valuable species was extensively planted and other species eliminated.
For instance, the teak monoculture has damaged the natural forest in South India and Chir Pine (Pinus roxburghii) plantations in the Himalayas have replaced the Himalayan oak (Quercus spp.) and Rhododendron forests.
Conservation of Forests and Wildlife in India
Types and Distribution of Forest and Wildlife Resources
➢ Reserved Forests
1/2 of the total forest land,
Most valuable as far as the conservation of forest and wildlife resources are concerned.
Jammu and Kashmir, Andhra Pradesh, Uttarakhand, Kerala, Tamil Nadu, West Bengal, and Maharashtra have large percentages of reserved forests
➢ Protected Forests
1/3 of the total forest area
Protected from any further depletion.
Bihar, Haryana, Punjab, Himachal Pradesh, Odisha, and Rajasthan have a bulk of it under protected forests
➢ Un-classed Forests
Other forests and wastelands belonging to both government and private individuals and communities.
➢ Permanent Forest
Reserved and protected forests
Maintained for the purpose of producing timber and other forest produce, and for protective reasons.
Madhya Pradesh has the largest area under permanent forests, constituting 75 percent of its total forest area.

All Northeastern states and parts of Gujarat have a very high percentage of their forests as unclassed forests managed by local communities.
➢ Sacred groves- a wealth of diverse and rare species
The Mundas and the Santhal of Chota Nagpur region worship mahua (Bassia latifolia) and kadamba (Anthocaphalus cadamba) trees, and the tribals of Odisha and Bihar worship the tamarind (Tamarindus indica) and mango (Mangifera indica) trees during weddings.
➢ Community Afforestation
The famous Chipko movement in the Himalayas.
Farmers and citizen's groups like the Beej Bachao Andolan in Tehri and Navdanya have shown that adequate levels of diversified crop production without the use of synthetic chemicals are possible and economically viable.
➢ Joint Forest Management
Depends on the formation of local (village) institutions that undertake protection activities mostly on degraded forest land managed by the forest department.