MASS COMMUNICATION SYSTEM
Radio: Radio broadcasting started in India in 1923 by the Radio Club of Bombay. Since then, it gained immense popularity and changed the socio cultural the life of people. Within no time, it made a place in every household of the country. Government took this opportunity and brought this popular mode of communication under its control in 1930 under the Indian Broadcasting System. It was changed to All India Radio in 1936 and to Akashwani in 1957.
All India Radio broadcasts a variety of programmes related to information, education and entertainment. Special news bulletins are also broadcast at specific occasions like session of parliament and state legislatures.
Television (T.V.): Television broadcasting has emerged as the most effective audio-visual medium for disseminating information and educating masses. Initially, the T.V. services were limited only to the National Capital where it began in 1959. After 1972, several other centres became operational. In 1976, TV was delinked from All India Radio (AIR) and got a separate identity as Doordarshan (DD). After INSAT-IA (National Television- DD1) became operational, Common National Programmes (CNP) were started for the entire network and its services were extended to the backward and remote rural areas.
Satellite Communication: Satellites are mode of communication in themselves as well as they regulate the use of other means of communication. However, use of satellite in getting a continuous and synoptic view of larger area has made satellite communication very vital for the country, due to the economic and strategic reasons. Satellite images can be used for the weather forecast, monitoring of natural calamities, surveillance of border areas, etc. On the basis of configuration and purposes, satellite system in India can be grouped into two: Indian National Satellite System (INSAT) and Indian Remote Sensing Satellite System (IRS).
The INSAT, which was established in 1983, is a multipurpose satellite system for telecommunication, meteorological observation and for various other data and programmes.
The IRS satellite system became operational with the launching of IRS-IA in March 1988 from Vaikanour in Russia. India has also developed her own Launching Vehicle PSLV (Polar Satellite Launch Vehicle). These satellites collect data in several spectral bands and transmit them to the ground stations for various uses. The National Remote Sensing Agency (NRSA) at Hyderabad provides facilities for acquisition of data and its processing. These are very useful in the management of natural resources.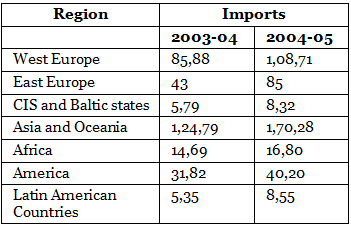 International Trade
The exchange of goods among people, states and countries is referred to as trade. The market is the place where such exchanges take place. Trade between two countries is called international trade. It may take place through sea, air or land routes. While local trade is carried in cities, towns and villages, state level trade is carried between two or more states. Advancement of international trade of a country is an index to its economic prosperity. It is, therefore, considered the economic barometer for a country.
As the resources are space bound, no country can survive without international trade. Export and import are the components of trade. The balance of trade of a country is the difference between its export and import. When the value of export exceeds the value of imports, it is called a favourable balance of trade. On the contrary, if the value of imports exceeds the value of exports, it is termed as unvfavourable balance of trade.
India has trade relations with all the major trading blocks and all geographical regions of the world. Among the commodities of export, whose share has been increasing over the last few year till 2004-05 are agriculture and allied products (2.53 per cent), ores and minerals (9.12 per cent), gems and jewellery (26.75 per cent) and chemical and allied products (24.45 per cent), engineering goods (35.63 per cent) and petroleum products (86.12 per cent).
Table: India'sMajor Trading Partner's
Percentage share in total trade
(Export + Import)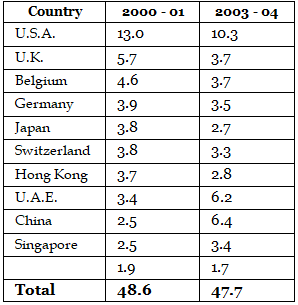 The commodities imported to India include petroleum and petroleum products (41.87 per cent), pearls and precious stones (29.26 per cent), inorganic chemicals (29.39 per cent), coal, coke and briquettes (94.17 per cent), machinery (12.56 per cent). Bulk imports as a group registered a growth accounting for 39.09 per cent of total imports. This group includes fertilizers (67.01 per cent), cereals (25.23 per cent), edible oils (7.94 per cent) and newsprint (5.51 per cent). International trade has under gone a sea change in the last fifteen years. Exchange of commodities and goods have been superseded by the exchange of information and knowledge. India has emerged as a software giant at the international level and it is earning large foreign exchange through the export of information technology.
Direction of Trade
India has trade relations with most of the countries and major trading blocks of the world.
India aims to double its share in the international trade within the next five years. It has already started adopting suitable measures such as import liberalization, reduction in import duties, de-licensing and change from process to product patents.
Asia and Oceania accounted for 47.41 per cent of India's export followed by West Europe (23.80 per cent) and America (20.42). Similarly, India's imports were highest from Asia and Oceania (35.40 per cent) followed by West Europe (22.60 per cent) and America (8.36 per cent) in 2004-05.
The U.S.A. is India's largest trading partner and the most trading partner and the most important destination of India's export. Other countries in order of significance include the U.K., Belgium, Germany, Japan, Switzerland, Hong Kong, the U.A.E., China, Singapore and Malaysia.
Most of India's foreign trade is carried through sea and air routes. However, a small portion is also carried through land route to neighbouring countries like Nepal, Bhutan, Bangladesh and Pakistan.
Ports: Today Indian ports are handling large volumes of domestic as well as overseas trade. Most of the ports are equipped with modern infrastructure. Previously the development and modernization was the responsibility of the government agencies, but considering the increase in function and need to bring these ports at par with the international ports, private entrepreneurs have been invited for the modernization of ports in India. The capacity of Indian ports increased from 20 million tonnes of cargo handling in 1951 to more than 500 million tonnes at present.
Kandla Port situated at the head of Gulf of Kuchchh has been developed as a major port to cater to the needs of western and north western parts of the country and also to reduce the pressure at Mumbai port. The port is specially designed to receive large quantities of petroleum and petroleum products and fertilizer. The offshore terminal at Vadinar has been developed to reduce the pressure at Kandla port.
Demarcation of the boundary of the hinterland would be difficult as it is not fixed over space. In most of the cases, hinterland of one port may overlap with that of the other.
Mumbai is a natural harbor and the biggest port of the country. The port is situated closer to the general routes from the countries of Middle East, Mediterranean countries, North Africa, North America and Europe where the major share of country's overseas trade is carried out. The port is 20 km long and 6-10 km wide with 54 berths and has the country's largest oil terminal. M.P., Maharashtra, Gujarat, U.P. and parts of Rajasthan constitute the main hinterlands of Mumbai ports.
Jawaharlal Nehru Port at Nhava Sheva was developed as a satellite port to relieve the pressure at the Mumbai port. It is the largest container port in India.
Marmagao Port, situated at the entrance of the Zuari estuary, is a natural harbor in Goa. It gained significance after its remodeling in 1961 to handle iron-ore exports to Japan. Construction of Konkan railway has considerably extended the hinterland of this port. Karnataka, Goa, Southern Maharashtra constitutes its hinterland.
New Mangalore Port is located in the state of Karnataka and caters to the needs of the export of iron-ore and iron-concentrates. It also handles fertilizers, petroleum products, edible oils, coffee, tea, wood pulp, yarn, granite stone, molasses, etc. Karnataka is the major hinterland for this port.
Kochchi Port situated at the head of Vembanad Kayal, popularly known as the "Queen of the Arabian Sea," is also a natural harbor. This port has an advantageous location being close to the Suez-Colombo route. It caters to the needs of Kerala, southern- Karnataka and south western Tamil Nadu.
Kolkata Port is located on the Hulgi river, 128 km inland from the Bay of Bengal. Like the Mumbai port, this port was also developed by the British. Kolkata had the initial advantage of being the capital of British India. The port has lost its significance considerably on account of the diversion of exports to the other ports such as Vishakhapatnam, Paradwip and its satellite port, Haldia.
Kolkata port is also confronted with the problem of silt accumulation in the Hugli river which provides a link to the sea. Its hinterland covers U.P, Bihar, Jharkhand, West Bengal, Sikkim and the north-eastern states. Apart from this, it also extends ports facilities to our neighbouring land-locked countries such as Nepal and Bhutan.
Haldia Port is located 105 km downstream from Kolkata. It has been constructed to reduce the congestion at Kolkata port. It handles bulk cargo like iron ore, coal, petroleum, petroleum products and fertilizers, jute, jute products, cotton and cotton yarn, etc.
Paradwip Port is situated in the Mahanadi delta, about 100 km from Cuttack. It has the deepest harbor specially suited to handle very large vessels. It has been developed mainly to handle large-scale export of iron-ore. Orissa, Chhattisgarh and Jharkhand are the parts of its hinterland.
Visakhapatnam Port in Andhra Pradesh is a land-locked harbor, connected to the sea by a channel cut through solid rock and sand. An outer harbor has been developed for handling iron-ore, petroleum and general cargo. Andhra Pradesh is the main hinterland for this port.
Chennai Port is one of the oldest ports on the eastern coast. It is an artificial harbor built in 1859. It is not much suitable for large ships because of the shallow waters near the coast. Tamil Nadu and Pondicherry are its hinterland. Ennore, a newly developed port in Tamil Nadu, has been constructed 25 km north of Chennai to relieve the pressure at Chennai port. Tuticorin Port was also developed to relieve the pressure of Chennai port. It deals with a variety of cargo including coal, salt, food grains, edible oils, sugar, chemical and petroleum products.
Tourism as a Trade: Tourism in India has grown substantially over the last three decades. Foreign tourist's arrivals in the country witnessed an increase of 23.5 per cent during the year 2004 as against the year 2003, thus contributing Rs. 21,828 crore of foreign exchange. Over 2.6 million foreign tourists visit India every year. More than 15 million people are directly engaged in the tourism industry. Tourism also promotes national integration, provides support to local handicrafts and cultural pursuits. It also helps in the development of international understanding about our culture and heritage. Foreign tourists visit India for heritage tourism, eco tourism, adventure tourism, cultural tourism, medical tourism and business tourism.
Rajasthan, Goa, Jammu and Kashmir and temple towns of south India are important destinations of foreign tourists in India. There is vast potential of tourism development in the north-eastern states and the interior parts of Himalayas, but due to strategic reasons these have not been encouraged so far. However, there lies a bright future ahead for this upcoming industry.