NEET (National Eligibility and Entrance Test) is the exam for filling about 54,000 medical seats across the country. Now, this is the only national-level entrance exam in India for admission in medical colleges for MBBS and BDS courses.
As per the Supreme Court's order in 2016, NEET would be the only examination to fill the All India Quota Seats as well as the State Level Quota seats across the country. The examination is also valid for filling the private college seats across the country.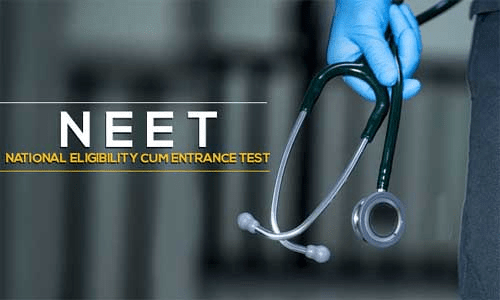 General Details regarding NEET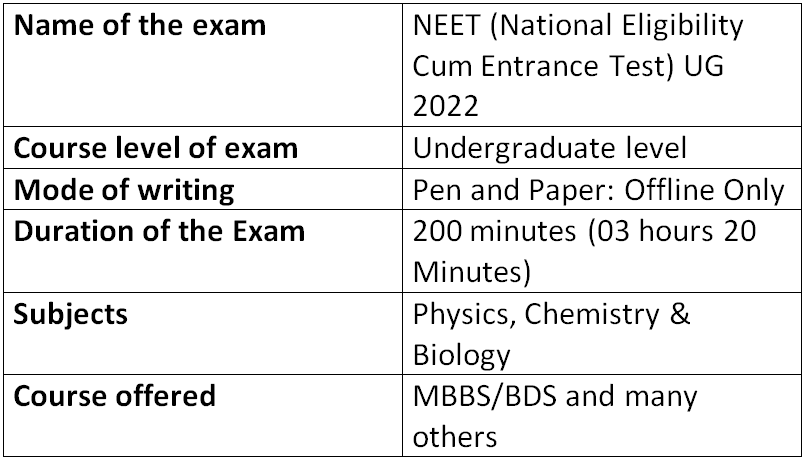 NEET Pattern Change: Choice in Section B
As per the NEET 2022 exam pattern, NEET will be conducted for 180 multiple choice questions from Physics, Chemistry, and Biology (Botany and Zoology).
Each of the three subjects will have two sections – A and B.
While Section A will be mandatory and will consist of 35 questions, Section B will have 15 questions, out of which students will have to answer only 10.
Subject Wise Weightage and Number of Questions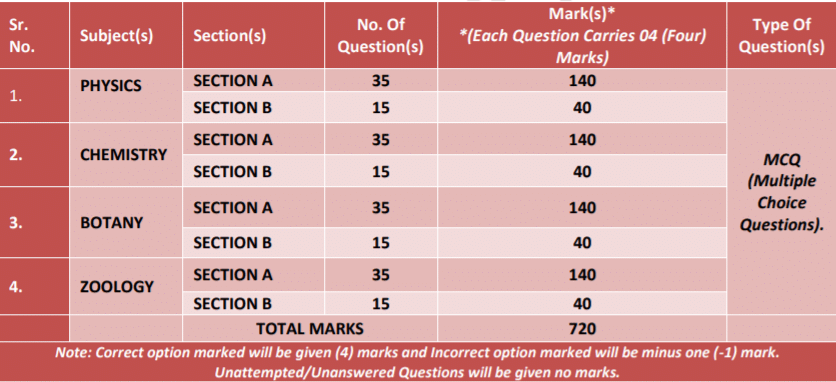 Marking Scheme for NEET

Total Marks: The total marks for the exam is 720 (all papers).
Marking Scheme: For each right answer, candidates will get 4 marks.
Negative Marking: 1 mark will be deducted from the total for any wrong answer. For multiple answers to a single answer, 1 mark will also be taken away.
Important Dates for NEET 2022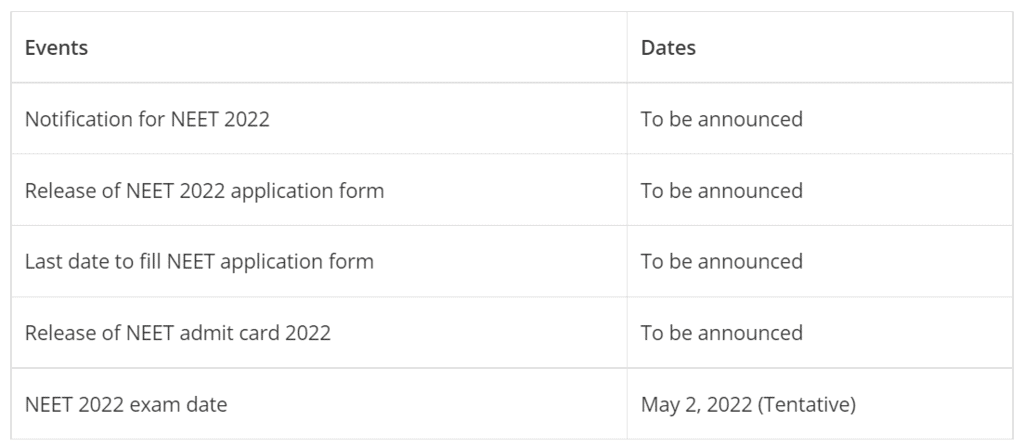 NEET score is applicable for admission to the following seats:

All India Quota Seats.
State Government Quota Seats.
Central Institutions/Universities/Deemed Universities.
Central Pool Quota Seats.
State/Management/NRI Quota Seats in Private Medical/Dental colleges or any Private University.
What are the All India Quota Seats?
The subject of All India Quota Seats is very important to understand before filling the NEET Application form. Three different kinds of seats are available in all Medical Colleges across the country.
There is a 15 percent All India Quota in the Government Medical Colleges of the country. Students from any part of the country can apply for the 15 percent seats.
This can be understood better in this way: If one government medical college in a state has a total of 100 seats, then out of these 100, 15 seats would be reserved for All India Quota.
NEET Reservation Criteria
The seats are divided into different categories as:
Scheduled Caste (SC) candidates - 15 % of these seats are reserved.
Scheduled Tribe Candidates and another - 7.5 %
OBC (non creamy layer) candidates - 27 %
Economically Weaker Section

-

10%
Physically Handicapped - 5%
Note

Students would be asked to provide their preference while filling the NEET forms. Both the All India Quota Seats as well as the State Level seats can be opted for. However, the selection would be based on the Merit Lists that would be made by CBSE.
Two Merit Lists - one for the All India Rank and another for the State Level Ranks are created and released by CBSE. Counselling process would be done accordingly.
So, students should know every minute detail while filling the forms for NEET. The allotment of seats is, therefore, important to understand as it can help you decide which colleges to opt for.
Language: NEET Question Paper 2022
English will be the main language for the questions. All the vernacular questions will be the mere translation of the English question.
The other languages included are Hindi, Bengali, Oriya, Assamese, Tamil, Telugu, Marathi, Gujarati, Kannada, and newly included Urdu.
While filling the Application Form for NEET, the candidates need to decide the language.
The English question booklet will also be provided for any preferred vernacular language.
The English language question paper will be considered as final in case of any discrepancy.
NEET 2022 Eligibility

For NEET, the following are the eligibility criteria that must be fulfilled by the candidates:
Nationality: Indian nationals, OCI, PIO, NRI and foreign candidates can apply.
Minimum Age limit: 17 years as of 31st December 2022.
Upper age limit: 25 years for general and 30 years for SC, ST and OBC candidates on the date of examination.
Educational Qualification: Students must have passed the 12th or equivalent exam from any recognized board.
Subjects Studied in the Qualifying Exam: Physics, Chemistry, Biology/ Biotechnology, and English subjects.
Minimum marks obtained in PCB Stream: 50% marks (for general), 45% marks (for general PH) and 40% marks for SC/ST & OBC candidates.
Candidates appearing in the qualifying exam are also eligible to apply.
Number of Attempts
A candidate can attempt the NEET exam three times.
Indian Nationals, Non-Resident Indians (NRIs), Overseas Citizen of India (OCIs), Persons of Indian Origin (PIOs) & Foreign Nationals are eligible to appear in NEET (UG) 2022.
Eligibility for seats under the control of States/ Universities/ Institutions/ AFMC/ Central Pool Quota:
Candidates eligible for admission in Medical/ Dental Colleges: Indian Nationals, Non-Resident Indians (NRIs), Persons of Indian Origin (PIOs), Overseas Citizen of India (OCIs) & Foreign Nationals. Those aspirants are eligible for 15% All India Quota Seats.
Foreign nationals can confirm their eligibility from the concerned Medical/Dentals college/state.
Qualifying Percentage
The qualifying percentage will depend on the candidate's category. Graphical representation for the same is given below: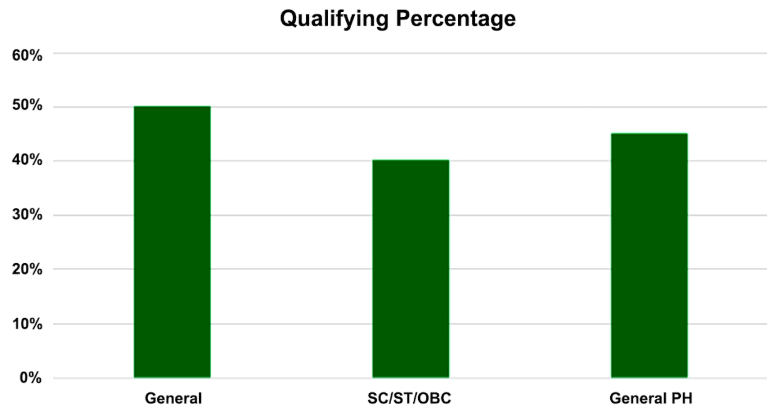 Mock Tests
To help you score better in the exam, EduRev provides various topic-wise practice tests, NEET Mock Tests and NEET Past Year Papers are provided for evaluating yourself by practicing only in the right question. Attempt various tests and previous year question papers which are added in the EduRev's course of NEET Mock Test Series to enhance your preparation for the final exam.
Tips for NEET Exam

All the NEET aspirants must be aware of all the tips and tricks that will help them to achieve the best possible results. The students must be aware of all the current trends and must analyse the NEET previous year papers to know everything about what they need to study and how to accomplish it.


NEET 2020 & 2021 Cutoff Statistics

Details of the candidates who qualified for the test on the basis of the minimum qualifying criteria of NEET-UG, 2020 & 2021 are as follows: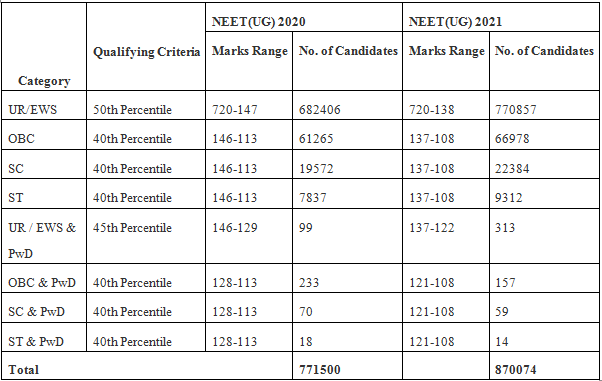 NEET Previous Year Trend
The qualifying marks for General Category ranged from 138 to 720 for NEET 2021, while for SC/ST/OBC it is 137-108.
NEET result was announced on November 1, 2021.
NEET replaced AIPMT as the qualifying medical entrance exam in 2016.
About NTA Test Practice Centres
Many steps are being taken by the agency for the benefit of the students who will be taking the NEET exam. 2,697 Test Practice Centres (TPCs) have been established by NTA across the country for students to make the most of these centres from September 1st, 2019.
This facility can be used by any student who is a NEET aspirant free of cost. An app will also be launched by NTA through which the candidates will be able to choose the nearest Test Practice Centre.


NEET Cut-off trends for some well-known medical institutes in India.
NEET 2022 Application Form

Step 1: Registration
Register on the NEET website in order to access the application form. You will receive your ID and password on the registered ID or Mobile No. for future logins.
Step 2: Filling the Application Form
Fill in the required details – Personal details, Choice of Examination Centre, Academic Details and Address and Details of Parents.
Step 3: Uploading Documents
After carefully filling in the above-mentioned details, upload your passport-sized Photograph, Signature, and Left-Hand Thumb Impression.
Step 4: Fee Payment
This is the final step where you will make the payment via any one of the following methods:
Debit/Credit Card
Net Banking
E-Wallets of different service providers
Offline Mode- Via challan
The fees for the various categories are as follows: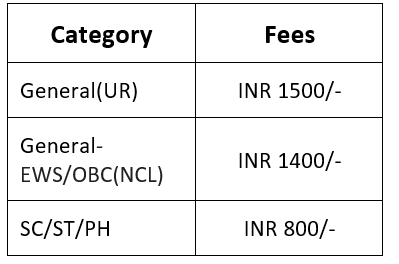 Step 5: Confirmation Page
After successful payment, a confirmation page will be generated.
Take a print out of the page and keep it safely for future use. Make note that the confirmation page is NOT to be sent to the board.
Keep it until the end of the admission and counselling process.
NEET 2022 Admit Card
Candidates who have successfully submitted their application will be able to get the NEET 2022 Admit Card.
Some of the details regarding Admit card are provided here:
NEET hall ticket 2022 will be released from May 2022(Tentative).
The Admit Card would be issued online to each candidate.
A format for affixing of postcard size photograph will be released along with the admit card.
In case of any discrepancy found in the admit card, contact with the officials.
When a student will download their hall ticket, a PDF copy of the same will be send to the candidate's registered email ID.
Failing to produce necessary documents, the candidate might not be allowed to appear for the exam.
NEET Results 2022
The result can be checked online by the students who appeared for the exam.
NEET 2022 Result date is yet to be announced.
The result will not be prepared category-wise.
There will be no provision of re-evaluation/re-checking of the answer sheets.
Earlier, the result of NEET had been released by CBSE on November 1, 2021.
NEET 2022 Counselling Procedure

NEET Counselling will be conducted for 15% All India Quota Seats and 85% for State Quota Seats. Seat Allocation will be done as per the rank and score obtained in the exam.
The basic process of NEET Counselling is indicated below for reference:
The counselling procedure requires qualified candidates to register online.
Once you've registered online, you can select the course and colleges as per your preference. Save and lock your choices once you're done with the selection.
The process of seat allotment will be conducted in three rounds based on your rank and the choices filled during the online registration.
While most institutes follow a centralized counselling process, some may have their own counselling procedures.
NEET 2022 Admission Process

After counselling, candidates must report to their allotted colleges within the specified time period. For the admission process, candidates must take original documents for verification along with self-attested photocopies.
Documents Required:
High School & Intermediate Marksheets
High School & Intermediate Passing Certificate
NEET Admit card
NEET Rank Letter
Category Certificate (For reserved category candidates)
Birth Certificate
8-10 Passport Sized Photographs
Provisional Allotment Letter generated online
Identity proof
Frequently Asked Questions (FAQs)

Q. How many marks is the NEET exam?
Ans: Total Marks: The question paper will bear a total of 720 maximum marks.
Marking Scheme: Each question will contain four marks. Total four marks will be given for each correct answer.

Q. What is the NEET dress code?
Ans: There is strict rules and regulations for the dress code for NEET Exam. The candidates have to follow them blindly.
The rules for the dress code are:
Candidates have to wear light half sleeves clothes not having big buttons, brooch/badge, flower etc. with Salwar/Trouser.
Candidates have to wear Slippers not shoes.
Things not allowed in NEET Exam:
Any stationery item like textual material, bits of papers, Geometry/Pencil Box, Plastic, Pouch, Calculator, Pen, Scale, Writing Pad, Pen Drives, Eraser, Calculator, Log Table, Electronic Pen/Scanners etc.
Any communication device like mobile phones, digital watches, Bluetooth, earphone, Microphone, pager, health band etc.
Other barred items include wallet, goggles, handbags, hairpin, hair band, belt, cap, scarf, charm/tabeez etc.
Any metallic item.
Any Watch or camera.
Any other item that can be used for unfair means.
Q. What is the eligibility for the NEET exam?
Ans:
Candidates who have completed their schooling through open and distance mode have now been allowed to appear for NEET 2022. Moreover, candidates who have not studied Biology as a regular subject in 10+2 will also be eligible to apply for

NEET 2022

.
The minimum eligibility requirement mandates that the applicant should have passed the 10+2 examination. The upper age of candidates applying for NEET should not exceed 25 years on the examination date (5 years relaxation for the SC/ST/OBC candidates).
Q. What are the courses in NEET?
Ans:
The National Eligibility cum Entrance Test (NEET ) is conducted for those medical candidates who want to take admission in MBBS and BDS courses.
By scoring good marks in the

NEET Exam

, students can get admission into almost all the private and government medical colleges to pursue MBBS and BDS courses.
Q. What all courses does EduRev offer for NEET preparation?
EduRev offers courses for NEET preparation for all the subjects and each course offers topic-wise tests, complete chapter tests, detailed notes & video lectures. All these courses are strictly based on NCERT to help students excel during the NEET exam. You can check out EduRev's subject-wise courses through these links:
Class 11 Biology
Class 12 Biology
Class 11 Chemistry
Class 12 Chemistry
Class 11 Physics
Class 12 Physics

Q. Does EduRev offer chapter-wise tests for NEET preparation?
Yes, EduRev courses offer topic-wise tests and complete chapter tests for each topic and chapter.


Q. What is the use of the NEET exam?
Ans: National Eligibility Cum Entrance Test, popularly known as NEET is an entrance exam for Science stream (Class 11 & 12) and want to do higher studies in health science-related courses like MBBS, BDS, BAMS, BHMS etc.

Q. How do I prepare for NEET?
Ans: Dedicated practise and revision are the major factors that lead to success in competitive exams like NEET.
Here are some tips that might be helpful during your NEET preparation:
Know the syllabus well: Even before you embark on the actual theory, spend a good amount of time understanding the syllabus.
Regularity: Clearing NEET is only in your hand; no coaching class and no preparation material can help you qualify for the exam if you don't put 100 per cent. Daily preparation and practise are essential if you are planning to rely only on self-study for NEET.
Quality study material: Yes, that's the most important element! While selecting the right study material for NEET is a little confusing, with the help of teachers and online expert assistance, you can choose the right one. Solve previous year question papers and take mock tests to improve your speed and accuracy.
Make an effective study plan: Goal setting can be used as a strategy to help aspirants bring positive changes into their lives. Plan for the week in advance and figure out chapters that you need to prepare from the beginning.
Work on weaker areas: It is possible that you are very strong in one subject and weak in the other. Do not get discouraged by the same. Try and work hard more on the weaker areas to strengthen them. If required, take help from a friend or senior or take extra classes for the subject. It will help in overcoming the fear of your weakness effectively.
Practice mock test papers: One of the greatest challenges of the NEET examination is the time limitation. Students have to finish 180 questions in 180 minutes (3 hours). It means they can give a maximum of 1 minute per question. Time management is a mandatory skill that is required for this exam. While practising at home, make sure that you keep the time limitation in mind. See complete solution of NEET previous year question paper; focus on the frequently asked questions, topics and pattern. You can mock tests through EduRev's

NEET Mock Test Series
Q. What is the minimum percentage required for NEET?
Ans: Students must have secured a minimum of 50% marks in the PCB group for general candidates and 45% (for General-PH) and 40% (for SC/ST/OBC candidates).

Q. What is the category rank in NEET?
Ans: You get an AIR (All India Rank) and a Category rank(General/OBC/ST/SC/Physically Handicapped) depending on the category you belong to.

Q. How many times can we attempt NEET?
Ans: In order to appear in the NEET, the candidate must fulfil the attempt limit. From the year 2018, candidates can get the maximum attempt limit. There may be 9 attempts (GEN/OBC category) & 14 attempts (Reserved category) to qualify for the NEET exam.

Q. Why is the NEET exam necessary?
Ans: NEET Exam is necessary to get admission for any medical college whether in India or Abroad. NEET stands for National Eligibility cum Entrance Test. The purpose of the NEET is exam is to streamline the process of admission in MBBS and BDS courses.

Q. Is Neet necessary for BHMS?
Ans: Yes, NEET Examination is necessary for MBBS, BAMS and BHMS. And only NEET qualified students can take admission in this course not in India anywhere in the world.

Q. Which book is best for NEET?
Ans:
Best Biology Books for NEET Preparation:
NCERT Biology of Class XI and XII
Trueman's Biology Vol 1 and 2
Objective Biology by Dinesh
Pradeep Publication's Biology
GRB Bathla's Publication's for Biology
Best Physics Books for NEET Preparation:
Concepts of Physics by H. C. Verma
NCERT- Physics Part 1 and Part 2
DC Pandey Objective Physics
Fundamentals of Physics by Halliday, Resnick and Walker
Problems in General Physics by I. E. Irodov
Best Chemistry Books for NEET Preparation:
NCERT Chemistry
Physical Chemistry by O.P. Tandon
Organic Chemistry by Morrison and Boyd for Organic Chemistry
Modern's ABC of Chemistry for class 11th and 12th
Concise Inorganic Chemistry by J. D. Lee for Inorganic Chemistry
Dinesh Chemistry
Q. What is the minimum percentage required for MBBS? How much percentage is required for AIIMS?
Ans: As per AIIMS MBBS cutoff 2019, candidates belonging to General Category were required to score at least 50% marks in the AIIMS MBBS exam, while those belonging to OBC were required to score at least 45% and SC/ST candidates were required to score a minimum of 40% in order to qualify the exam.

Q. How many students appeared in NEET 2020?
Ans: Over 15 lakh candidates have registered to sit for NEET 2021. Exam centres for NEET 2021 have been increased from 3,843 to 3,862 to ensure distancing.

Q. How many seats are there in NEET?
Ans: Students can choose from 5 medical colleges and 3 dental colleges. Overall, there are 119 seats for MBBS and 21 seats for BDS.

Q. What is category rank?
Ans: Category rank is your rank in a specific or particular category. Suppose, you have scored 100 marks out of 120 marks and your overall rank is 20 out of 120 total students it may not be the same in your category.

Q. Is NEET necessary to study abroad?
Ans: Yes, For abroad admission in MBBS, now Neet is mandatory and you need to qualify in exam then only you will get NOC(No objection certificate) from MCI to apply in universities abroad. Yes, NEET is made mandatory if one wants to pursue medical courses abroad.