AWARDS GIVEN BY GOVERNMENT OF INDIA
BHARAT RATNA
(i) It literally means 'Jewel of India'
(ii) Highest Civilian award bestowed by Republic of India.
(iii) Is awarded to exceptional individuals who have performed in the highest order.
(iv) First given in 1954.
(v) Was originally given to artists who had outstanding achievements in art, science, literature & public service, but in December 2011,criteria was expanded to include 'any field of human endeavour'.
(vi) Prime Minister of India makes recommendations to the President of India who chooses not more than three people in a particular year for the award.
(vii) No money is given to awardees- a peepal-leaf shaped medal & a certificate (sanatl).
(viii) As per Indian Order of Precedence, those who are given Bharat Ratna are ranked seventh.
(ix) Award cannot be used as a prefix or suffix to the recipientsname under Article 18(1) of the Constitution.
(x) Prominent awardees: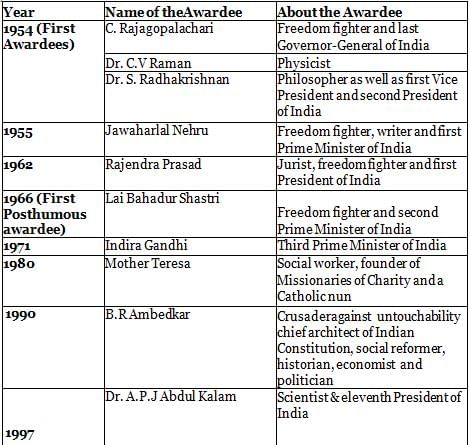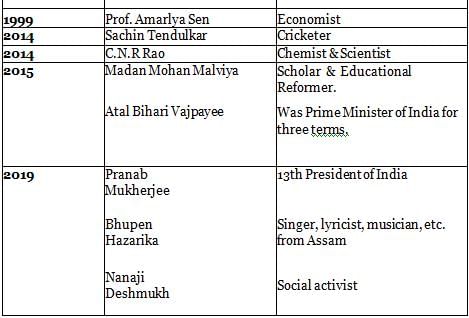 PADMA AWARDS
(i) Introduced in 1954
(ii) Are given to deserving individuals for their exceptional services in their chosen fields like Sports. Art, Social work, Civil Service, Literature and Education, Public Affairs, Science and Technology, Trade and Industry, etc.
(iii) Names of the awardees are announced every year on Republic Day.
(iv) Padma Awards have been given every year expect three times: 1977, 1980 and between the vears 1993-199.
(v) Several rules concerning Padma awards:
- a recipient of lesser degree of Padma awards,can be awarded a higher degree of award only after five or more years since the last conferment.
- awards are rarely given posthumously, but exceptions can be made, if the case highly deserves.
- there ought to be an element of public service in the achievements.
- Government servants including those working in PSUs, except doctors & scientists, are not eligible for these awards.
(vi) Awards are of three categories:
| | |
| --- | --- |
| Padma Vibhushan | For exceptional & distinguished service (Second Degree Honour) |
| Padma Bhushan | For distinguished service o f a high order (Third degree Honour) |
| Padma Shri | For distinguished service (Fourth Degree Honour) |
(a) Padma Vibhushan
- second highest civilian award.
- the awardees are given a citation certificate & a medal, which has a lotus flower in the middle and the words 'Desh Seva', embossed on obverse.
(b) Padma Bhushan
- third highest civilian award given to those who have contributed to India's reputation in global scenario.
- President confers it in an elaborate ceremony held at Rashtrapati Bhawan in March or April.
(c) Padma Shri
- fourth highest civilian award
- is given for distinguished contribution to various subjects like arts, literature, sports, politics, industry, medicine, social service, etc.
- awardee is not given cash but a certificate & a medallion with a three-leafed flower on one side and on the obverse Padma (lotus) and Shri (Mr. or Ms.) is written in Devanagiri script.

National Film Awards
(i) Most prominent awards given to those who have created cinematic excellence.
(ii) Are annual awards & had started in 1954.
(iii) 1973- Directorate of Film Festivals was made responsible for organising these awards.
(iv) Government appoints a national selection panel, which decides the winners.
(v) President of India presents awards.
(vi) Are not given to the best amongst Indian Bollywood
(vii) Cinema but even to the best films from regional categories.
(viii) Following are the five major categories, which receive this award: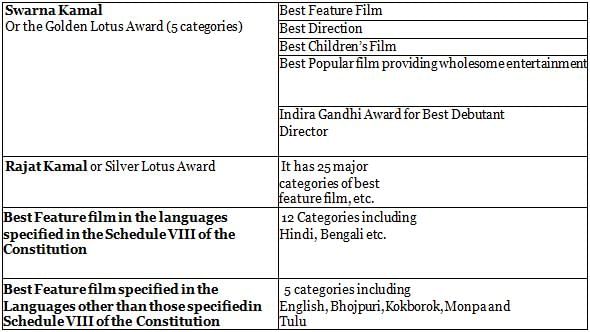 (ix) National Film Awards also include very prestigious Dadasaheb Phalke Lifetime Achievement Award which is presented to those who have spent their entire career to contribute to Indian Cinema.
(x) Several awards in nonfeature film category - Best Book on Cinema Award and Best Film Critic on Cinema Award.

Sahitya Akademi Award
(i) Given to those who achieve brilliance in literature.
(ii) Was instituted in 1954 and is given by the 'Sahitya Akademi' the National Academy of Letters of our country.
(iii) Given annually to those who have achieved literary merit by publishing their works, prose or poetry, in any of 24 major languages recognised by Akademi.
(iv) Besides the 22 languages in the Constitution of India, Academi has recognised English & Rajasthani also.
(v) Comprises a cash prize of 1 lakh rupees & a plaque which says 'Sahitya' in Devanagiri script.
(vi) Indian filmmaker Satyajit Ray designed the plaque.
(vii) Most outstanding reciepients of this award:
1959 - Ramdhari Singh Dinkar (Hindi)
1960 - R.K Narayan (English)
1968 - Harivansh Rai Bachchan (Hindi)
1956 - Amrita Pritam (Punjabi)
1988 - Vikram Seth (English)
1975 - Kaifi Azmi (Urdu)
2004 - Ghulam Nabi Firaq (Kashmiri)
1967 - Buddhadeb Basu (Bengali)
2012 - K. Satchidanandan (Malayalam)

Other Literary Honours
Sahitya Akademi Fellowship
(i) Akademi also offers prestigious fellowship- 'Sahitya Akademi Fellowship'.
(ii) Highest honour conferred by Akademi where they select 'Fellows and Honorary fellows' for their outstanding contribution to literary arts.
(iii) Becoming a fellow of the Sahitya Akademi is a higher honour than even receiving the award.

Bhasha Samman
(i) Also given by the Sahitya Akademi.
(ii) Every year Akademi chooses writers who have made significant contribution to Indian languages other than the 24 major languages.
(iii) Comprises a plaque & a cash prize of one lakh twenty thousand rupees.
(iv) First Bhasha Sammans- Sri Dharikshan Mishra for Bhojpuri, Sri Chandra Kanta Mura Singh for Kokborok, Sri Bansi Ram Sharma & Sri M.R. Thakur for Pahari (Himachali), Sri K. Jathappa Rai and Sri Mandara Keshava Bhat for Tulu for their contribution to the development of their respective languages.

Translation Awards
(i) Given by Sahitya Akademi to those who attempt translation of major works from other languages to 24 major languages.
(ii) Special importance to those who attempt translation of ancient & medieval literature.
(iii) Cash prize of rupees fifty thousand & a plaque.

Jnanpith Award
(i) Also known as Gyanpeeth Award (Seat of Knowledge) & is given for outstanding literary achievement.
(ii) Was instituted in 1961 by Bharitya Jnanpith, a trust run by Jain family that is founder of newspaper The Times of India.
(iii) Given to those Indian citizens who compose literature in one of 22 languages of Schedule VIII & English.
(iv) Cash prize of 11 lakh rupees, a plaque & a bronze statue of Goddess Saraswati is given.
(v) It is not given posthumously.
(vi) Hence, its given in 23 languages.

Saraswati Samman
(i) Annual award for outstanding prose or poetry literary works in any of 22 Indian languages.
(ii) Is consdidered to be among highest literary awards in India.
(iii) Was instituted in 1991 by K. K. Birla Foundation.
(iv) Consits of Rs 15 lakh, a citation and a plaque.
(v) Candidates are selected from literary works publised in previous ten years by a panel that includes scholars & former award winners.

Vyas Samman
(i) Literary award
(ii) First awarded in 1991.
(iii) Awarded annually by K. K. Birla Foundation & includes a cash payout of Rs. 250,000.
(iv) Eligibility criteria- literary work must be in Flindi language & should have been published in past 10 years.

Dada Saheb Phalke Award
(i) Introduced in 1969
(ii) Is India's highest award in cinema
(iii) Given to commemorate Dada Saheb Phalke (1870-1944), legendary fdm-maker who made India's first full-length feature film, Raja Harishchandra (1913).
(iv) Awarded by Directorate of Film Festivals, an organization by Ministry of Information and Broadcasting.
(v) Given for outstanding contribution to growth & development of Indian cinema
(vi) Selected by a committee consisting of eminent personalities from Indian film industry.
(vii) Award comprises a Swama Kamal (Golden Lotus) medallion, and a cash prize of Rs 10 lakhs.

The Fukuoka Prize
(i) Established by city of Fukuoka (Japan) to honor the outstanding work of individuals or organizations in preserving or creating Asian culture.
(ii) Three prize categories: Grand Prize, Academic Prize, and Arts & Culture Prize.
(iii) Few Indian winners- A.R. Rahman(2016), Ramchandra Guha (2015), Romila Thapar (1997), Amjad Ali Khan (2004) etc.