Introduction

Circus in modem sense of the term is fairly a new industry.
As per Philip Astley, an English circus master, the first Indian circus was born around 1880.
The Great Indian Circus

First modern Indian circus
Founded by Vishnupant Chatre, an accomplished equestrian and singer.

Vishnupant Chatre

Flourished under the patronage of Raja of Kurduwadi, under whom Chatre worked as a stable master.
Its first performance- March 20, 1880, after which it toured extensively throughout the country as well as in foreign shores such as Ceylon & South East Asia.
Tour to North America was a failure.
Keeleri Kunhikannan

Keeleri Kunhikannan
During his tour to city of Tellicherry on Malabar Coast, Chatre met Keeleri Kunhikannan, who worked as a martial art & gymnastics teacher.
Keeleri started training acrobats at his academy.
In 1901, he opened circus school at Chirakkara near Tellicherry (Kerala), which became the epicentre of circus revolution in India.
1904, one of Kunhikannan's students, Pariyali Kannan started his own circus company called Grand Malabar Circus.
Other companies by his students- Whiteway Circus (1922), Great Ramayan Circus (1924), The Great Lion Circus, the Eastern Circus, the Fairy Circus, etc.
Kerala-'Cradle of Indian Circus'.
His academy- gave rise to a number of acrobats like Kannan Bombayo, a Ropedancer who later went on to perform for several European and American circus companies.

Kannan Bombayo on left

After Kunhikannan's death (1939), his student M. K. Raman continued his legacy.

2010, Government of Kerala started a Circus Academy in Thalassery in honour of Keeleri Kunhikannan, who has been conferred epithet of 'The father of Indian Circus'.
Major Circus Companies in India

Indian circus companies failed to compete with American & European competitors but remained a major source of entertainment till late 1990s.
Major Indian circuses are:
1. Three Ring Circus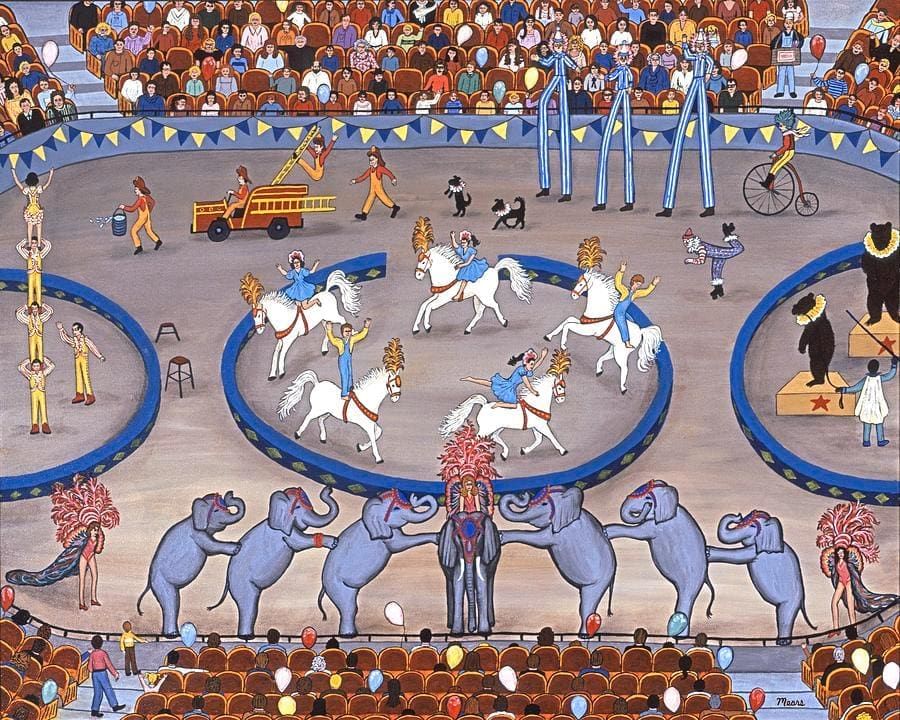 Three Ring Circus(i) Started as a two-pole circus by K. Damodaran in the 1930s.
(ii) Gained popularity in South India.
(iii) Later became first & only six-pole three-ring circus of Asia.
2. Great Royal Circus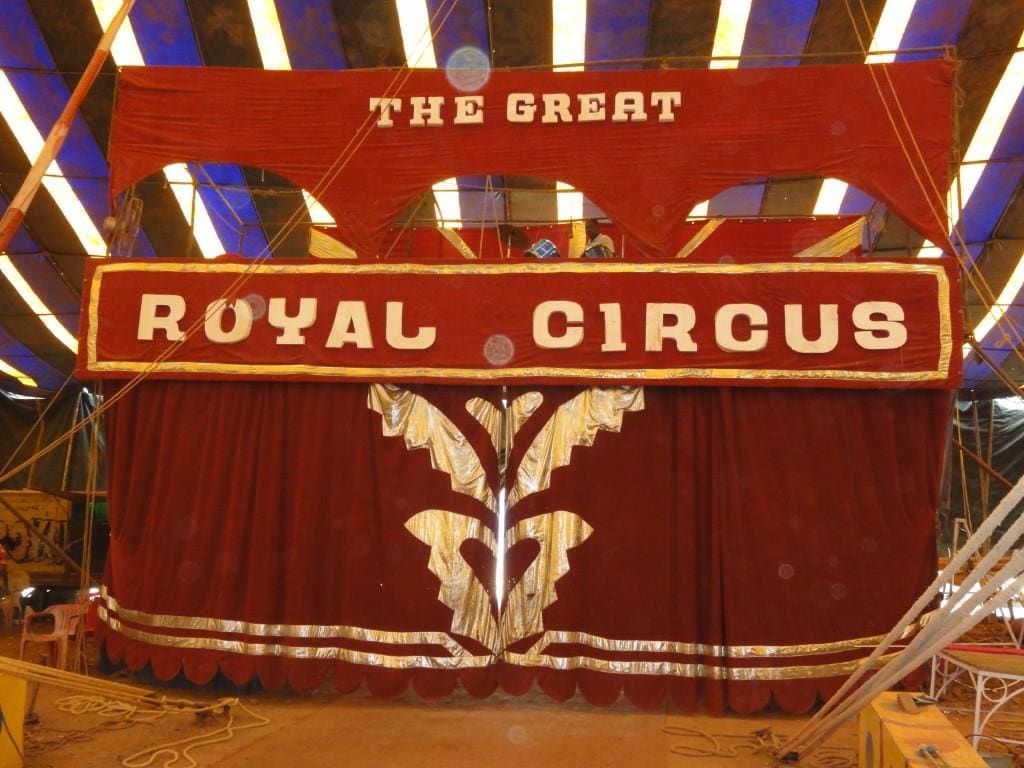 (i) One of the oldest circus troupes in India.
(ii) Started as Madhuskar's Circus in 1909. Later- taken over by N.R. Walawalker & renamed as Great Royal Circus.
(iii) Toured successfully through Africa, Middle East & South-East Asia.
3. Great Bombay Circus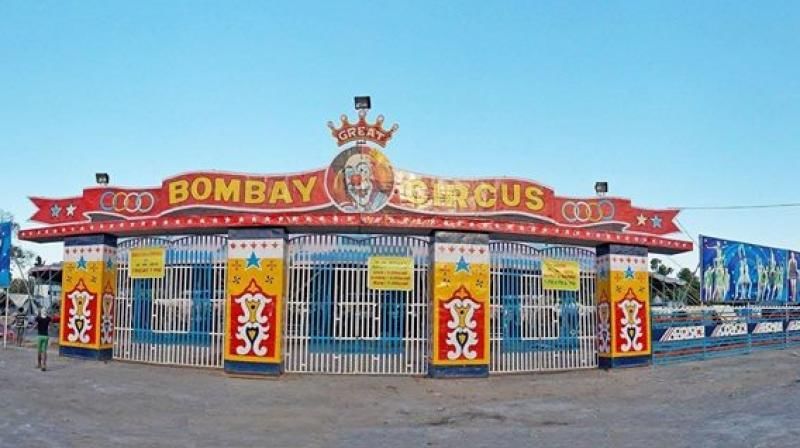 The Great Bombay Circus(i) Started in 1920 by Baburao Kadam.
(ii) Initially known as Grand Bombay Circus.
(iii) 1947, K. M. Kunhikannan, nephew of Keeleri merged his circus company with Grand Bombay Circus & renamed it as Great Bombay Circus.
(iv) Became one of the largest circus companies of India, with a troupe comprising of 300 performers & 60 animals.
4. Gemini Circus
(i) Came into existence at Bilimora in Gujarat (1951).
(ii) Helmed by M. V. Shankaran, an ex-army man, who became popular as Gemini Shankarettan.
(iii) 1964, it became the first Indian circus to attend International Circus Festival in USSR.
(iv) Held shows at Moscow, Sochi and Yalta.
(v) Was the backdrop of many Indian movies like Raj Kapoor's Mera Naam Joker.
5. Jumbo Circus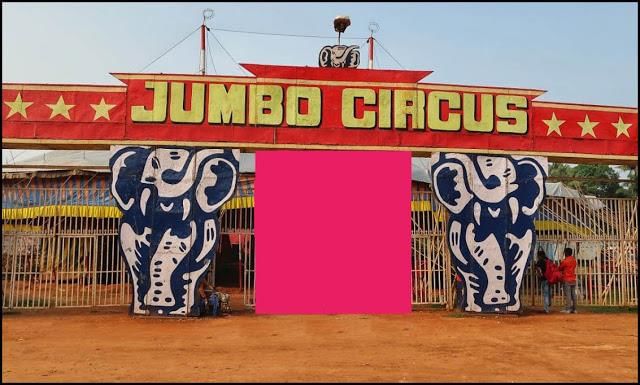 (i) "The Pride of India"
(ii) Largest Indian circus of modem times.
(iii) Started in Bihar (1977).
(iv) It was later acquired by Shankaran family and included Russian acrobats & performers.
➢ Damoo Dhotre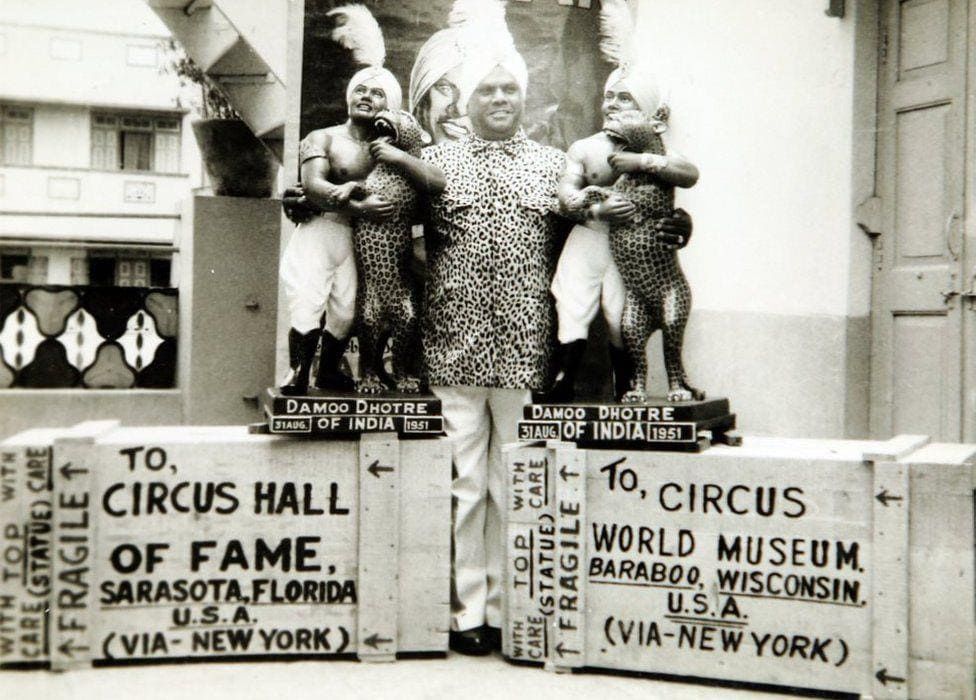 Damoo Dhotre(i) One of the most popular Indian ring masters of all time.
(ii) Bom in Pune in 1902, he joined Isako's Russian Circus as a proprietor.
(iii) 1939, he moved to France with Bertram Mills Circus & then to world famous Ringling Brothers and Barnum and Bailey Circus in USA.
(iv) Their show was known as "The Greatest Show on Earth."
(v) Later served in the US army from 1943 to 1946.
(vi) Known as "Wild Animal man" & was granted US citizenship in 1960. (vii) Returned to Pune after serving Circus Industry for 40 years & died in 1973.


Circus: A marginal Industry

Since late 90s, circus industry- declined owing to a variety of reasons.
300 Indian circuses in 1990 came down to just 30 in 2017.
➢ Reasons for decline
(i) Trade kept as a guarded secret by Indian circus companies & have made it a hereditary affair so good managers don't enter circus business.
(ii) Indian circus companies feel that circus acrobatics require intensive training from childhood.
(iii) Supreme Court's ban on hiring children below the age of 14 in 2011, this limited the resource pool of circus companies.
(iv) Government of India banned the use of wild animals for entertainment in 1997, which decreased the attraction for the audience.
(v) Circus- seen as a dangerous profession. So, families are unwilling to let their children choose it as a viable professional career.
(vi) Access to world-class gymnastics & other forms of entertainments, interest in traditional Indian circus, was lost.


Possible Remedies

Indian Circus Academy at Thalassery in 2010 on the verge of closure due to less number of trainees & financial constraints.
Possible remedies for revival:
(i) Increased emphasis on safety regulations & strict enforcement of the same would improve perception of circus as a career opportunity.
(ii) Government protection for the circus performers and companies.
(iii) Security and compensation for artists after retirement should be provided.
(iv) Presently circuses are under the ambit of the Department of Sports and Youth Affairs. It should be brought under the Ministry of Culture for its revival.