Introduction
Ancient form of entertainment.
One of the most ingenious inventions of mankind.
Indian Origin
For entertainment and educational purposes.
Excavation sites at Harappa & Mohenjo-Daro- puppets with sockets attached to them found.
Around 500 B.C- references of marionette theatre found.

Marionette Theatre

Oldest written reference to puppetry- Tamil classic Silappadikaram (written around 1st & 2nd century B.C.)
It has been of philosophical importance in Indian culture.
Bhagwata, describes God as a puppeteer, controlling the universe with the three strings - Satta, Raja & Tama. In Indian theatre, narrator was called Sutradhar or 'holder of strings'.
Variety of puppetry traditions have developed ill various parts across India but lack of devoted audience and financial security has led to a steady decline of this art form in modern times.
Puppetry in India can be classified into four categories as follows:
1. String puppet
Kathputli
Kundhei
Gombeyatta
Bommalattam
2. Shadow puppet
Tholu Bommalata
Ravanchhaya
Togalu Gombeyatta
3. Glove puppet
4. Rod puppet
Try yourself:The oldest written reference to puppeting is found in -
➢ String Puppets

(a) Important Features
Puppets are 8-9 inch miniature figures chiselled out of wood.
Oil colour is used to paint the wood.
Small wooden pipes used to form limbs.
Body is covered with colourful miniature dress and stitched.
Miniature jewellery and other accessories are also used.
Strings are attached to small holes in the hands, head and back of the body
(b) Popular Examples
(i) Kathputli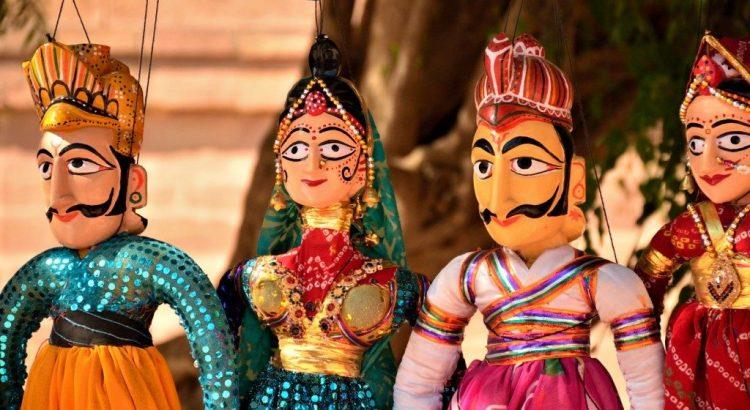 Kathputli
Traditional string puppets of Rajasthan.
'Kath' means wood & 'putli' means doll.
Covered in traditionally bright Rajasthani dress.
Accompanied by dramatic folk music.
Unique feature- Absence of legs.
(ii) Kundhei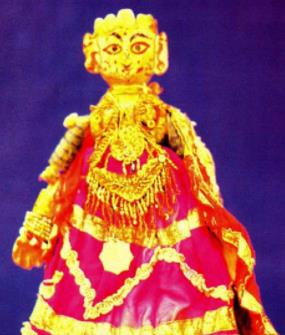 Kundhei
String puppets of Odisha.
Made of light wood & are dressed in long skirts.
Have more joints, thus more flexibility.
Strings attached to a triangular prop.
Marked influence of Odissi on these shows.
(iii) Gombeyatta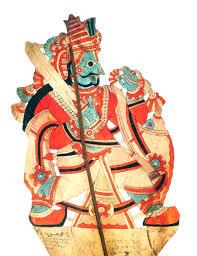 Togalu Gombeyatta
Karnataka
Styled on various characters of Yakshagana theatres.
Unique feature- more than one puppeteer is used.
(iv) Bommalattam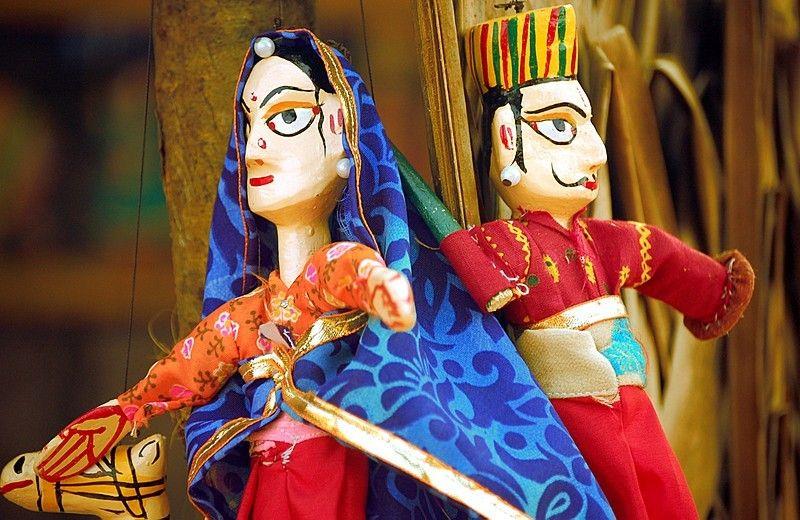 Bommalattam
Tamil Nadu
Combines features of rod and string puppetry.
Strings attached to an iron ring, worn by puppeteer on his head.
These are the largest & heaviest marionettes found in India.
These could be as large as 4.5 ft in height & 10 kg in weight.
Four distinct stages - Vinayak Puja, Komali, Amanattam & Pusenkanattam.
Try yourself:Consider the following statements about Indian puppetry
1. The narrator is called sutradhar
2. Kathputli is a string puppet
Which of the above is/ are correct?
➢ Shadow Puppets
(a) Important Features
These are flat figures cut out of leather.
Painted identically on both sides of the leather.
Placed on a white screen with light falling from behind, creating a shadow on the screen.
Figures are manipulated so that the silhouettes created on the blank screen create telling imagery.
Try yourself:Absence of legs is a unique feature of
(b) Popular Examples
(i) Togalu Gombeyatta
Karnataka
Unique feature - Variation of puppet size based on social status, i.e. kings &religious figures are large puppets while common people & servants are smaller puppets.
(ii) Ravanachhaya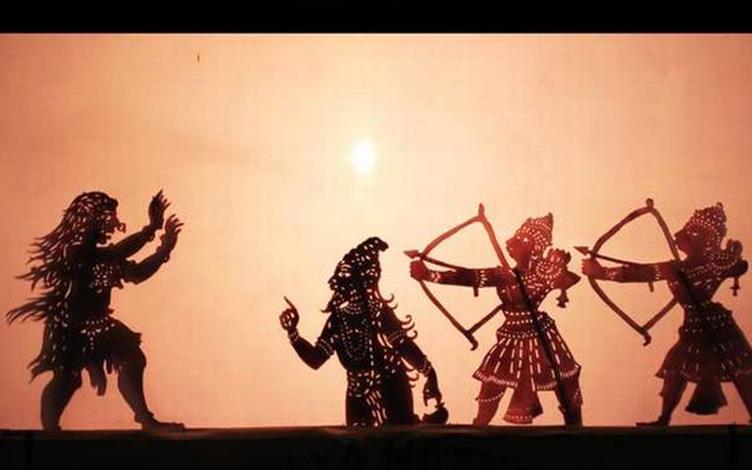 Ravanachhaya
Most theatrical of shadow puppetry.
Odisha
Made of deerskin & depict bold, dramatic postures.
Do not have any joints attached to them, making it complex.
Use of non-human puppets like trees & animals.
Ravanchhaya artists- create a lyrical & sensitive theatrical narration.
(iii) Tholu Bommalata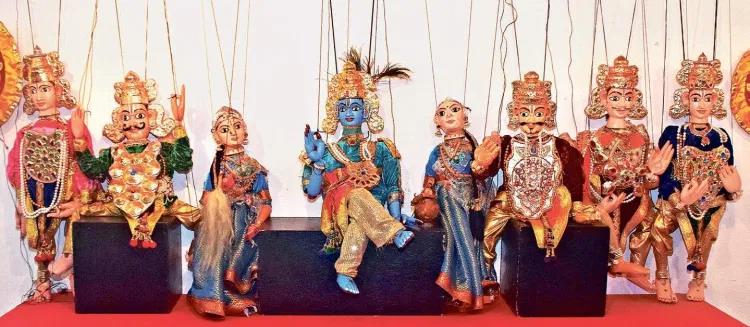 Tholu Bommalata
Andhra Pradesh
Accompanied by classical music.
Themes- mythological & devotional tales of epics and Puranas.
Puppets are larger in size & coloured on both sides.
Try yourself:Yampuri is a
➢ Glove Puppets

(a) Important Features
Also known as sleeve, hand or palm puppets.
Small figures with head & arms wearing a long, flowing skirt.
Made of cloth or wood, but variations of paper puppet also seen.
Puppeteer wears puppet as glove, manipulating the head with his index finger.
Two hands are manipulated using thumb & middle finger - giving life and expression to originally limp puppets.
Accompanied by rhythmic beats of drum or dholak.
(b) Popular Examples
(i) Pavakoothu
Kerala
Origin- 18th century A.D.
Decorated with colourful headgears, feathers & face paints, which depicts heavy influence of Kathakali.
Themes: Ramayana & Mahabharata.
Try yourself:Which of the following is not correctly matched?
➢ Rod Puppets

(a) Important Features
Larger variations of glove puppet.
Controlled by rods.
Popular in Eastern India.
(b) Popular Examples
(i) Yampuri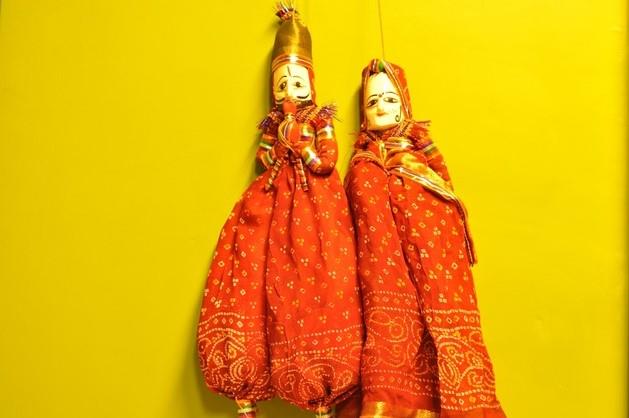 Yampuri
Bihar
Made of wood & are without joints.
Carved out of a single piece of wood & painted and dressed in bright colours.
(ii) Putul Nach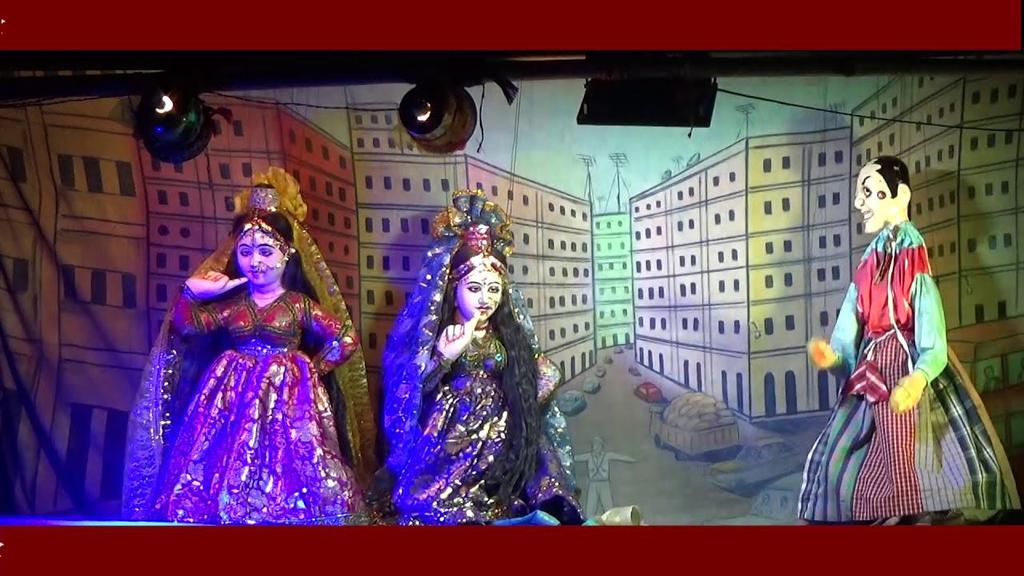 Putul Nach
Bengal-Odisha-Assam region.
3-4 ft. high & dressed like characters of Jatra.
Have three joints - at neck & at the shoulders.
Each puppeteer controls a single puppet by means of a rod attached to his waist. He moves around behind the curtain, imparting similar movements to puppets.
Accompanied by musical troop of 3-4 musicians playing harmonium, cymbals & tabla.
Try yourself:Which of the following is not correctly matched?