Nuclear Fission
The process of the splitting of a heavy nucleus into two or more lighter nuclei is called nuclear fission.
When a slow moving neutron strikes with a uranium nucleus (92U235), it splits into 56Ba141 and 36Kr92 along with three neutrons and a lot of energy.

Nuclear Chain Reaction
If the particle starting the nuclear fission reaction is produced as a product and further take part in the nuclear fission reaction, then a chain of fission reaction started, which is called nuclear chain reaction.
Nuclear chain reaction are of two types
(i) Controlled chain reaction
(ii) Uncontrolled chain reaction

Nuclear Reactor
The main parts of a nuclear reactor are following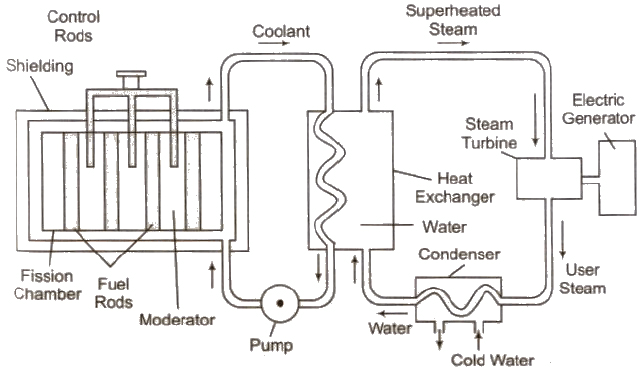 (i) Fuel Fissionable materials like 92U235, 92U238, 94U239 are used as fuel.
(ii) Moderator Heavy water, graphite and beryllium oxide are used to slower down fast moving neutrons.
(iii) Coolant The cold water, liquid oxygen, etc. are used to remove heat generated in the fission process.
(iv) Control rods Cadmium or boron rods are good absorber of neutrons and therefore used to control the fission reaction.
Atom bomb working is based on uncontrolled chain reaction.
Nuclear Fusion
The process of combining of two lighter nuclei to form one heavy nucleus, is called nuclear fusion.
Three deuteron nuclei (1H2) fuse, 21.6 MeV is energy released and nucleus of helium (2He4) is formed.


In this process, a large amount of energy is released.
Nuclear fusion takes place at very high temperature approximately about 107 K and at very high pressure 106 atmosphere.
Hydrogen bomb is based on nuclear fusion.
The source of Sun's energy is the nuclear fusion taking place at sun.
Thermonuclear Energy
The energy released during nuclear fusion is know as thermonuclear energy. Protons are needed for fusion while neutrons are needed for fission process.