Nuclear Physics
Nuclear Fission
It is the phenomenon of splitting a heavy nucleus into two or more smaller nuclei.
92U235 + 0n¹ ⇒ 56Ba141 + 36Kr92 + 30n¹ + Q

where, Q = 200 MeV (nuclear energy)

Nuclear reactor uses nuclear energy for peaceful purpose. It is based on phenomenon of controlled nuclear chain reaction.
Moderators like heavy water; graphite and deuterium slow down neutrons. Rods of cadmium or boron serve as control rods. Ordinary water and heavy water serve as coolants.
What is a nuclear reactor?
A nuclear reactor is a system that contains and controls sustained nuclear chain reactions.
Reactors are used for generating electricity, moving aircraft carriers and submarines, producing medical isotopes for imaging and cancer treatment, and for conducting research.
The first nuclear reactor was made by Fermi who used U235 as fuel.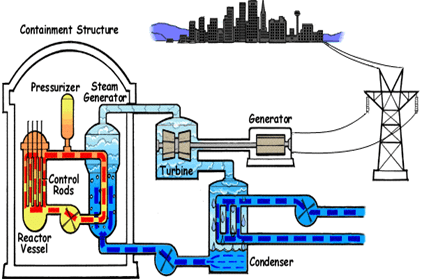 Critical Mass
The minimum mass of uranium needed to sustain chain reaction is called critical mass. Critical mass of uranium is 10 kg.
To form atom bomb two or more pieces of uranium or plutonium are used. The mass of each piece is less than the critical mass but combined mass is more than the critical mass.
Main components
The core of the reactor contains all of the nuclear fuel and generates all of the heat. It contains low-enriched uranium (<5% U-235), control systems, and structural materials. The core can contain hundreds of thousands of individual fuel pins.
The coolant is the material that passes through the core, transferring the heat from the fuel to a turbine. It could be water, heavy-water, liquid sodium, helium, or something else.
The turbine transfers the heat from the coolant to electricity, just like in a fossil-fuel plant.
The containment is the structure that separates the reactor from the environment. These are usually dome-shaped, made of high-density, steel-reinforced concrete.
Cooling towers are needed by some plants to dump the excess heat that cannot be converted to energy due to the laws of thermodynamics. These are the hyperbolic icons of nuclear energy. They emit only clean water vapour.
Nuclear Fusion
It is the phenomenon of fusing of two or more lighter nuclei to form a single heavy nucleus.
Mass defect in the process appears as energy.
41H¹ ⇒ 2He4 + 2 (+1e0) + 26.7 MeV
Fusion takes place at high temperature of 107 or 108 °C. The pressure required is also high.
Hydrogen Bomb
It is based on the phenomenon of nuclear fusion and was made in 1952 by American scientists.
The central core of a hydrogen bomb is a uranium (or plutonium) fission bomb which is surrounded by a compound of heavy hydrogen, like lithium hydride (LiH2).
When the fission bomb is exploded, it produces such a high temperature and pressure that the heavy – hydrogen nuclei come extremely close and fuse together, liberating huge energy.