CONCEPT OF OSMOTIC PRESSURE
In the process of Osmosis, solvent moves from a region of its higher concentration to a region of its lower concentration through a semi-permeable membrane, which allows the free passage of only solvent molecules.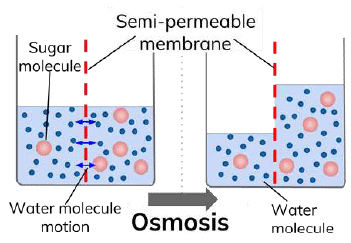 Osmosis is the phenomenon of solvent flow thorough a semi permeable membrane to equalize the solute concentrations on both sides of the membrane. Osmotic pressure is a colligative property of a solution equal to the pressure that, when applied to the solution just stops osmosis. It is denoted by π.
Osmotic Pressure can be defined as the minimum pressure which should be applied on the solution, so as to prevent the migration of solvent molecules into the solution through a semi-permeable membrane.
The osmotic pressure p of a solution is related to the molar concentration of solute M.
π = MRT , Where R is the gas constant and T is absolute temperature.
Van't Hoff equation for dilute solution is similar to ideal gas equation,
πV= nRT
Where π = osmotic pressure
R = gas constant
Some typical examples of osmosis and osmotic pressure are:
(i) The climbing of water up a tall tree from the soil.
(ii) Bursting of red-blood cells when placed in water.
(ii) Swelling of dry raisins when placed in water.

TYPES OF OSMOSIS
(a) Exosmosis: Is the outward flow of water from a cell containing an aqueous solution through a semipermeable membrane, e.g. grape in NaCl solution.
(b) Endosmosis: Is the inward flow of water into a cell containing an aqueous solution through a semipermeable membrane, e.g. grape in water.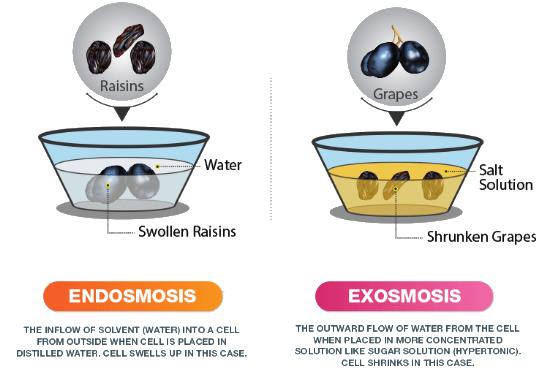 Fig: Difference between Endosmosis and Exosmosis
Key concept: The semipermeable membranes allow a selective passage to only the solvent molecules. Cellophane, parchment paper and animal protein membranes are typical semipermeable membranes.
The most frequently used semipermeable membrane in laboratory is that of copper ferrocyanide, Cu2[Fe(CN)6] because it is very strong and can withstand very high pressure.
Remember that semipermeable membrane of Cu2[Fe(CN)6] does not work in non-aqueous solution because it gets dissolved is nonaqueous solvents.
Other synthetic semipermeable membrane is that of calcium phosphate.
Natural semipermeable membranes are cell walls, pig's bladder, skin surrounding white of an egg, membrane surrounding RBCs etc.
The hydrostatic pressure set up as a result of osmosis is a measure of the osmotic pressure of the solution.
For instance, if the solution of density d rises to height h, then osmotic pressure is expressed as
π = h × d × g, where g is the acceleration due to gravity.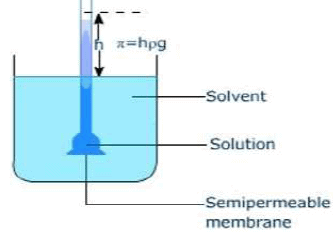 ISOTONIC SOLUTION
A pair of solutions having the same osmotic pressure are known as isotonic solutions.
If two such solutions are separated by a semipermeable membrane, there will be transference of solvent from one solution to the other.
Isotonic solutions have the same concentration.
0.85% NaCl solutions is found to be isotonic with blood, while 0.9% NaCl solution isotonic with human RBCs.
For isotonic solution, π1 = π2
Or C1 = C2 ⇒ n1/V1 = n2/V2
or W1/m1V1 = W2/m2V2
A solution having lower or higher osmotic pressure than the other is to be HYPOTONIC or HYPERTONIC respectively in respect to other solution.
(i) When placed in water or hypotonic solutions, cell swell and burst (haemolysis).
(ii) When placed in hypertonic solutions, the fluid from the plant cells comes out and thus the cells contract in size (plasmolysis). When excess of fertilizers (like urea) are applied, plasmolysis takes place and plants dry up (wilt).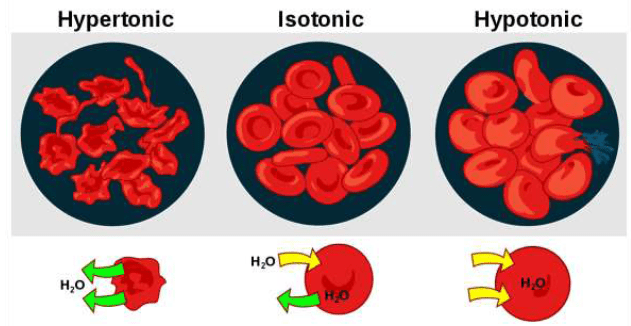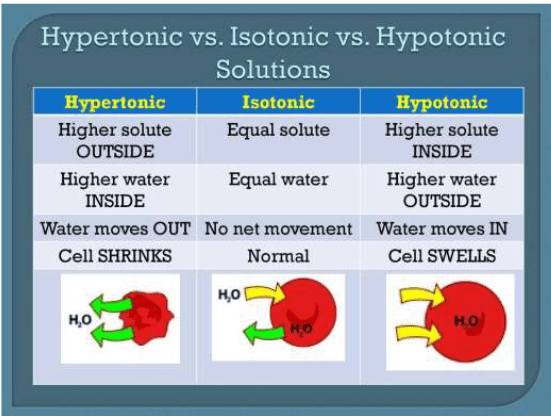 COMPARISON BETWEEN DIFFUSION AND OSMOSIS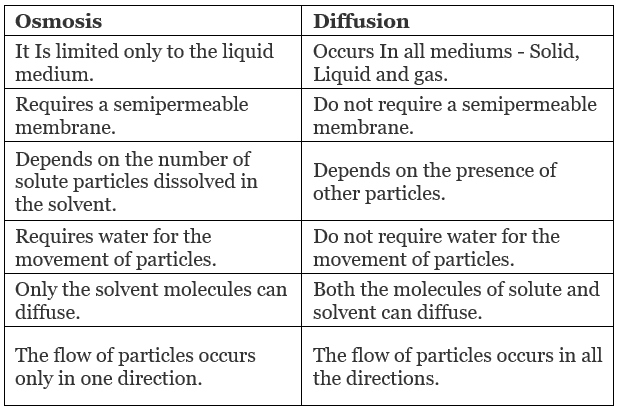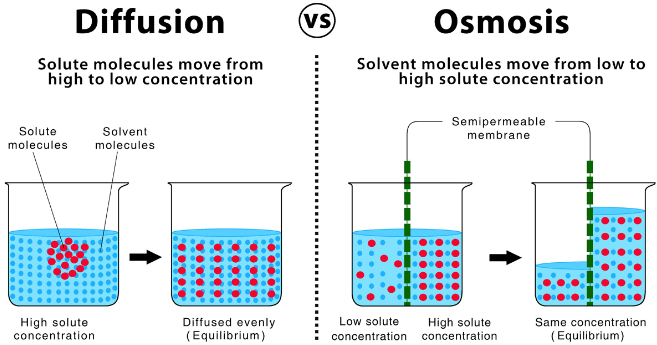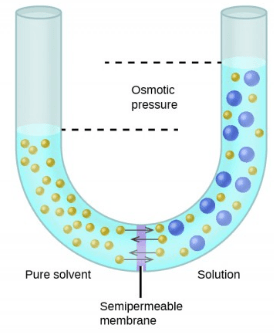 Fig: Osmotic pressure.
Difference between Osmotic Pressure and Vapour Pressure



Example 1. Calculate the osmotic pressure and vapour pressure of 0.6% aqueous solution of a non-volatile, non-electrolyte solute, urea (NH2CONH2) at 25˚C. The vapour pressure of pure water at 25˚C is 24 mm Hg. Take densities to be 1 g mL-1 and assume ideal behaviour of the solution. Gas constant, R = 0.082 L atm. mol-1 K-1.
Key concept: Please refer to difference between osmotic pressure and vapour pressure while solving this illustration.
Solution.
Concentration of urea solution = 0.6%
This means, solution contains 0.6 g of urea per 100 g, and hence 100 mL of the solution,
So,
Mass of urea per litre of solution
= 0.6/100 × 100 = 6 g
Molar mass of urea, M = 60 g/mol
Concentration of urea in solution
= 6/60 mol/L = 0.1 mol/L

Example 2. At 25˚C, the osmotic pressure of human blood due to the pressure of various solutes in the blood is 7.65 atm. Assuming that molarity and molality are almost same, calculate the freezing point of blood. Kf = 1.86 K kg/mol.
Solution.
According to the Van't Hoff equation,
p = CRT
c = 7.65/(0.082)(298) = 0.313 mol/L
Since molarity and molality are same,
ΔTf = Kfm
ΔTf = 1.86 × 0.313 = 0.582
Freezing point of blood is - 0.582˚C.

Example 3. At 27°C, 36 g of glucose per litre has an osmotic pressure of 4.92 atm. If the osmotic pressure of solution is 1.5 atm at the same temperature, what should be its concentration?
Solution.
Given that,
π1 = 4.92 atm, π2 = 1.5 atm



π1V1 = n1RT1
π2V2 = n2RT2
At same temperature,




∴ C2 = 0.061 mol/litre

Example 4. At 25°C, a solution containing 0.2 g of polyisobutylene in 100 mL of benzene developed a rise of 2.5 mm at osmotic equilibrium. Calculate the molecular weight of polyisobutylene if the density of solution is 0.88 g/mL.
Solution.
Height developed = 2.4mm
Osmotic pressure = h.d.g



207.187 dyne cm−2
Now πV = nRT
207.187 × 100



(R in erg; V in mL, using CGS system)
M = 2.39

Try yourself!
Q.1. At 300 K, two solution of glucose in water of concentration 0.01M and 0.001 M are separated by semi permeable membrane with respect to water. On which solution, the pressure need be applied to prevent osmosis? Calculate magnitude of this applied pressure.
Ans. 0.02463 atm

Q.2. A 5% solution (wt./vol.) of cane-sugar is isotonic with 0.877% (wt./vol.) of urea solution. Find m. wt. of urea, if m. wt. of sugar is 342.
Ans. 59.99