1. The parental generation provides information for basic body design for next generation, which is accompanied by small changes.
2. Different variations would provide different advantages to different individuals.
3. Selection of variants by environmental factors forms the basis for evolutionary process.
4. Both parents contribute equal amount of genetic material to the child i.e., for each trait, there will be a maternal and a paternal chromosome.
5. Gregor Johann Mendel, through consistent studies on Garden Pea arrived at laws of inheritance.
6. He used plants that were pure breeding for a trait and considered contrasting characters like - tall and short plant size, round and wrinkled seeds, white and violet flowers etc. for his studies.
7. In his experiments, he crossed plants with contrasting characters, studied the progeny of first-generation (F1) and second-generation (F2) and calculated ratios of plants with contrasting characters that were original parental type or different.
8. For example, he crossed a tall pea plant with a dwarf pea plant. He found that in first generation (F1) all the plants produced were tall. This led mendel to propose that two copies of factors(now we know them as genes) that control a trait, are present in each sexually reproducing organism
9. But when plants of F1 were crossed to get second generation, he found that 3/2 of plants were tall while 1/4 were short.
10. Since an offspring receives half its genetic material from either parent and if we represent tallness as T ' and dwarfness as 't' then -
Tall parent can be represented as TT and dwarf parent can be represented as tt. This is genotypic representation of pure plants for their respective traits. Hence, both the chromosomes are same making the organism homozygous for that trait.
11. Thus, FI generation can be shown as—



12. When progeny of F1 were self-pollinated the resultant progeny F2 showed a ratio of 3 :1, i.e., three tall and one dwarf pea plant.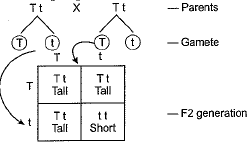 13. A single copy of 'T' is enough to make the plant tall while both copies of T for the plant to be dwarf.
14. The trait which is expressed in F1 i.e., in heterozygous condition, is called dominant the one which remains hidden is termed recessive. F1 generation is the result of cross between two pure individuals for contrasting characters. Hence, it will have one chromosome from either parent (for e.g., Tt), making it heterozygous.
15. Similarly, when two pairs of contrasting characters were studied simultaneously, it was found that two traits are inherited independent of each other.
16. For example, a plant with round seeds of yellow colour (RRYY) was crossed with a plant with wrinkled seeds of green colour (rryy), the result was as follows :



17. Here, in F1 generation, all plants produced resembled the dominant parent.
18. However, on selfing F1 x F1 to get F2 progeny, the result showed that the two traits i.e., round/wrinkled seeds and yellow/green colour were inherited independently.
19. It also show that new combinations of traits are formed in F2.





This shows that the two traits are inherited independent of each other.