1. The various life processes which takes place in the living organisms are called metabolic activities or metabolism. These life processes can either be anabolic or catabolic in nature.
2. Nutrition, respiration, transportation and excretion are some of the life processes that are essential for the functioning as well as maintenance of living organisms.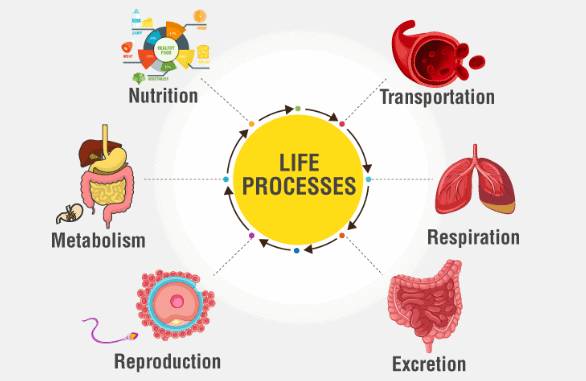 Fig: Life Processes
3. Energy is needed to maintain a state of order in any living organism.
4. Nutrition is defined as a process by which living organisms procure food or synthesize it and convert it into simple absorbable form by a series of biochemical processes,
5. Nutrient can be defined as the substance which an organism obtains from its surroundings and use it as a source of energy as well as provides raw materials for the biosynthesis of body constituents.
6. There are two basic modes of nutrition: autotrophic and heterotrophic.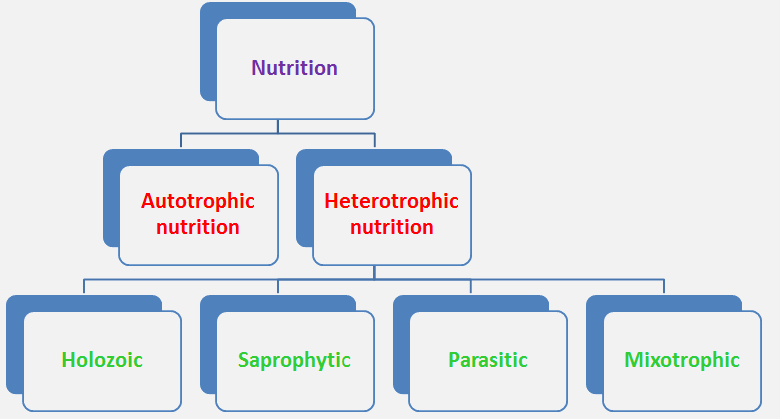 Fig: Types of Nutrition
7. In Autotrophic nutrition organisms manufacture their own food from simple inorganic raw materials. Majority of green plants are capable of manufacturing their own food in the presence of light by using water and carbon dioxide.
8. Heterotrophic organisms cannot prepare their own food. They are dependent on plants, animals or on dead decaying organic materials for their food. Saprophytes derive their nourishment from dead decaying matter.
9. Holozoic nutrition is a mode of nutrition which involves swallowing of solid food material. Ingestion, digestion, absorption, assimilation and egestion are the various steps involved in holozoic nutrition.
10. Photosynthesis can be defined as the synthesis of organic compound (carbohydrates) from CO2 and H2O u sin g rad ian t energy or so lar energy by chlorophyll molecules. The process of photosynthesis involves two phases: Light Reaction and Dark Reaction.
The following events occur during the process of photosynthesis :
(i) Absorption of light energy by chlorophyll.
(ii) Conversion of light energy to chemical energy as well as splitting of water molecules into hydrogen and oxygen.
(iii) Reduction of carbon dioxide to carbohydrates.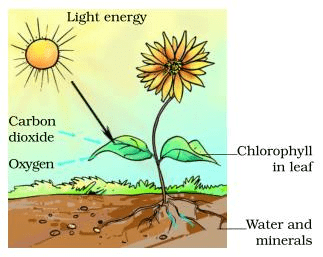 Fig: Photosynthesis
12. In animals, procurement of food is highly variable. The process of nutrition becomes more complex in multicellular organism as compared to unicellular organisms. In single- celled organisms like Amoeba, the food is taken in through the general body surface.
13. In humans, the digestive system consists of a long alimentary canal and digestive glands. Various parts of alimentary canal in sequence are mouth, oesophagus, stomach, small intestine and large intestine.
14. In mouth, food is crushed by teeth and mixed with saliva, secreted by salivary glands. Saliva contains an enzyme called salivary amylase that breaks down starch into simple sugar.
15. When we swallow the food (bolus), it is further pushed forward by rhythmic contraction and relaxation of muscles present in lining of alimentary canal. These movements are called peristaltic movements. Thus, the food is carried to stomach through food-pipe or oesophagus.
16. Stomach is a large C-shaped hollow organ which expands when food enters it. The muscular walls of the stomach help in mixing the food thoroughly, with the gastric secretions.
17. The gastric glands present in the wall of the stomach secrete hydrochloric acid, a protein digesting enzyme called pepsin and mucus.
18. Hydrochloric acid facilitates the action of the enzyme pepsin as this enzyme works in acidic medium. Apart from it, hydrochloric acid prevents fermentation of food and also kills harmful microorganisms present in the food. Mucus protects the inner wall of stomach from excoriation by highly acidic HCl.
19. From stomach, the partially digested food (chyme) enters the small intestine. The exit of food from the stomach is regulated by a sphincter muscle which releases it in small amounts into the small intestine.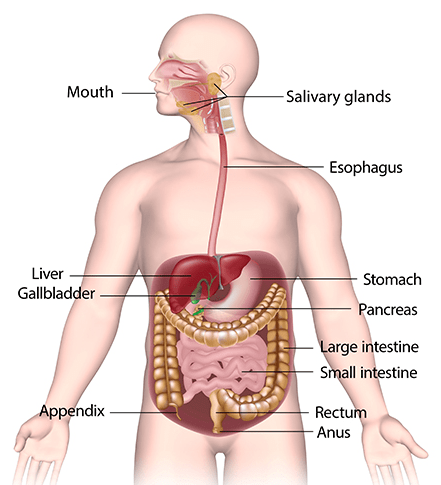 Fig: Digestive system
20. The length of the small intestine differs in various animals depending on the feeding habit. Herbivores have longer small intestine (due to high bulk of vegetal matter and cellulose) as compared to carnivores (due to smaller bulk of animal food).
21. The small intestine is the site of complete digestion of carbohydrates, proteins and fats. The proximal part of small intestine referred as duodenum receives partially digested acidified food from stomach. Duodenal glands secrete an alkaline mucus containing juice that helps in neutralising the chyme and protects the duodenal wall from corrosion.
22. A common hepatopancreatic duct opens into duodenum. It is formed of common bile duct from liver and gall bladder as well as a pancreatic duct from pancreas.
23. Fats are present in the form of large globules in small intestine which makes it difficult for enzymes to act on them. Bile juice from the liver contains bile pigments and bile salts. Bile salts break fats into small globules by a process called emulsification and thus increases the efficiency of enzyme action (lipase).
24. Pancreas secretes slightly alkaline pancreatic juice which contains three major following enzymes:
(i) Trypsin which digests proteins.
(ii) Lipase which digests fats.
(iii) Amylase which digests carbohydrates.
25. The walls of the small intestine contain glands which secrete intestinal juice. The enzymes present in it, finally convert the proteins into amino acids, complex carbohydrates into glucose and fats into fatty acids and glycerol.
26. The inner lining of the small intestine has numerous finger-like projections called villi which increase the surface area for absorption of digested food. The villi are richly supplied with blood vessels which take the absorbed food to each and every cell of the body, where it is utilised for obtaining energy, building up new tissues and the repair of the old ones.
27. The undigested food is sent into the large intestine where more water is reabsorbed from undigested food. The rest of the undigested food material is removed from the body via anus. The exit of this waste material is regulated by the anal sphincter.
28. The food material taken in during the process of nutrition is used by cells to provide energy for various life processes.
29. Some organisms use oxygen to bring about complete break-down of glucose in cells into carbon dioxide and water (Aerobic respiration). Respiration is a biochemical catabolic process that involves
(i) Intake of molecular oxygen from environment
(ii) Stepwise oxidation of food with incoming oxygen
(iii) Elimination of carbon dioxide produced during oxidation and
(iv) release of energy.