An overview of the chapter Metal & Non-metals-1 is provided in this document, which will help you quickly review the topic and get a good grasp of it with the help of all the activities explained in this document.
Metals
Metals show metallic lustre, are generally hard, malleable and ductile. They are good conductors of heat and electricity.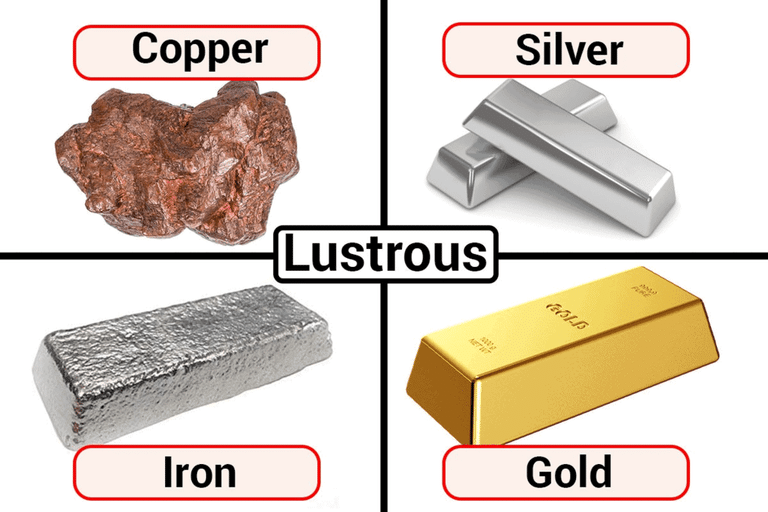 The following activities prove the above points:
Activity-1
Aim: Perform an activity to show that metals possess lustre.
Materials required: Copper strip, blade, piece of cloth.
Procedure:
Take a copper strip that has remained exposed to moisture and atmosphere for a long time. It will have a greenish coating of copper oxide and copper carbonate.
Rub the strip with a blade patiently for about five minutes.
Clean the surface with a clean cloth piece.
Results:
We shall find that the surface which was dull earlier become shining red-brown which is the colour of copper.
The activity proves that metals have lustre.
All metals have lustre, but the colours might be different.

Activity-2
Aim: Perform an activity to prove that metals are malleable (can be beaten into sheets) and ductile (can be drawn into wires).
Materials required: Metals such as iron, copper, aluminium, hammer.
Procedure:
Take a small piece of iron metal. Place it on an iron block.
Strike the iron piece with a hammer about ten times. We observe that the iron piece is flattened into a thin sheet. This property is known as malleability. Most of the metals are malleable. Gold and silver are the most malleable metals.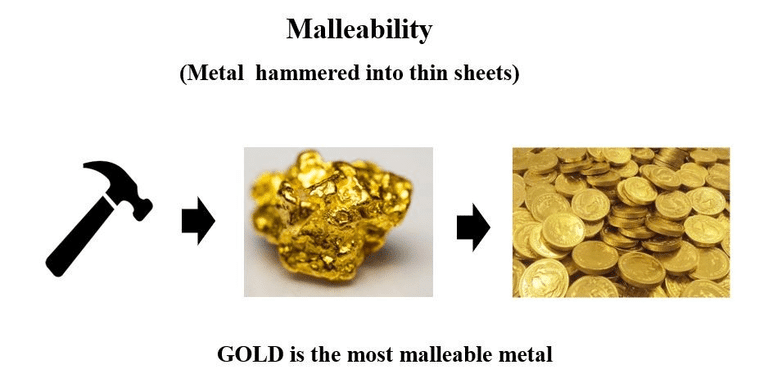 Note: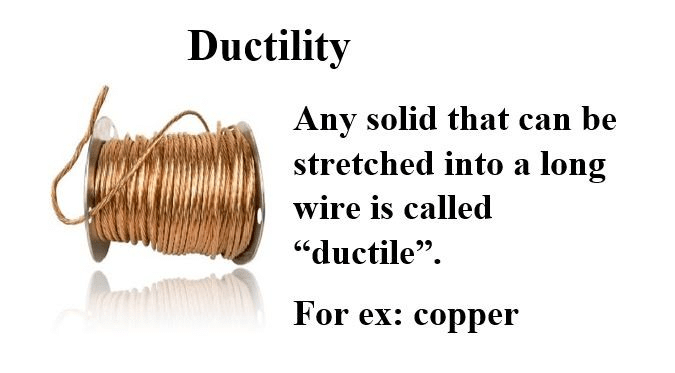 Activity-3
Aim: Perform an activity to show that metals are good conductors of heat.
Materials required: Iron stand, clamp, iron wire, pin, wax, burner.
Procedure:
Take long straight ironware about 30 cm long.
Clamp it to an iron stand as shown.
Fix a pin to the free end of the wire using wax.
Heat the wire using a burner near the place where it is clamped.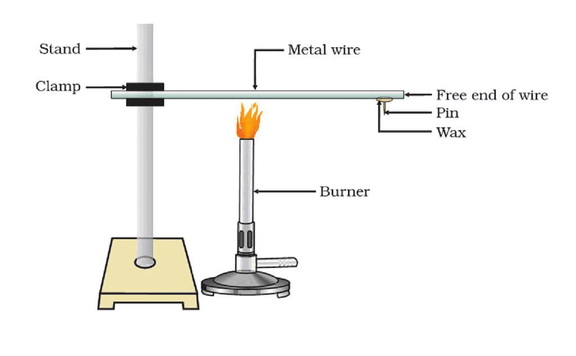 Experiment Setup Result:
We observe that after some time, the pin that was fixed to the free end of the wire with wax falls down.
We observe the same with other metals. This is because the wax gets melted because of heat.
This proves that metals are good conductors of heat. The best conductors of heat are silver and copper. Lead and mercury are comparatively poor conductors of heat.

Activity-4
Aim: Perform an activity to show that metals are good conductors of electricity.
Materials required: Battery, bulb, switch, clips, samples of metals.
Procedure:
Set up an electric circuit as shown.

Place a piece of copper metal between terminals A and B.

We find that the bulb in the circuit glows. This is because the copper metal passes on the current from clip A to clip B.
Result:
Copper metal is a good conductor of electricity.

We observe the same phenomenon with other metals also.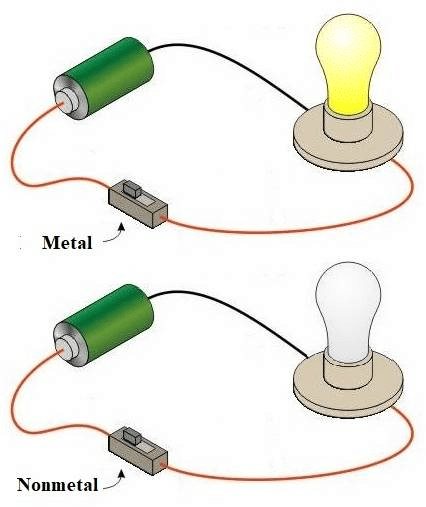 Metals conduct Heat and Electricity easily
Metals are Sonorous
Metals produce a sound when they strike a hard surface. We express it by saying that metals are sonorous.
That is why school bells are made of metals.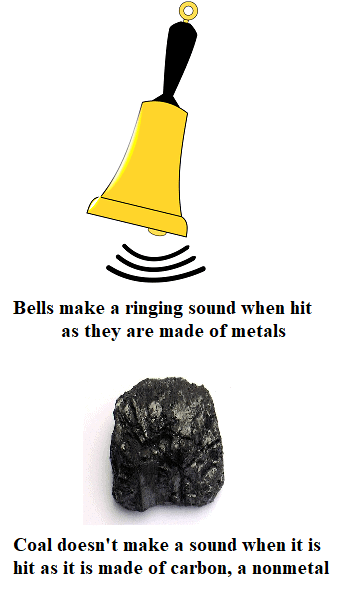 Question for Overview: Metals & Non-metals - 1
Try yourself:

Which property of metals is used for making bells and strings of musical instruments like Sitar and Violin?
Non-Metals
Substances like carbon, sulphur and iodine are non-metals.

They are either solids or gas with the exception of bromine which is a liquid.
Non-metals, in general, do not possess metallic lustre, do not conduct heat and electricity and are not sonorous.
They are comparatively softer substances.

Exceptions
Metals, in general, have high melting points. But mercury, gallium and caesium have low melting points and are liquids at room temperature.
Iodine, a non-metal, shows lustre.
Diamond, an allotrope of carbon, is the hardest natural substance known. Graphite, another allotrope of carbon, is a conductor of electricity.
Alkali metals like sodium and potassium (metals) are soft and can be cut with a knife. They have low densities and low melting points.
Activity-5
Aim:
Perform an experiment to decide whether the given substance is a metal or a non-metal.
Materials required:
A piece of magnesium ribbon, sulphur powder, pair of tongs, an iron sheet, burner, test tube, blue and red litmus papers.
Procedure:
Hold the Mg ribbon with a pair of tongs. It burns and forms a white residue.
Collect the white residue and dissolve it in water in a test tube.
Dip red litmus paper into it. It turns blue showing that the solution was alkaline. It means metals on burning form basic oxides.
Now bum sulphur powder on a thick sheet of iron. Collect the fumes produced (SO2) into an inverted test tube over it.
Immediately add water to the test tube and shake.
Now dip a blue litmus paper into the solution. It turns red.
That means the solution in the test tube was acidic.
That means sulphur, a non-metal on burning forms oxide which is acidic.
Result:
Thus metals form basic oxides, and non-metals form acidic oxides.