THE PENINSULAR PLATEAU
It extends from the Delhi ridge in the northwest to the Rajmahal hills in the east, Gir range in the west and Cardamom hills in the south mark the outer extension. An extension of it is also seen in the north-east.
It can be divided into 3 parts:
(i) The Deccan Plateau: Average elevation is 1500 metres with height increasing from north to south. Anamudi is the highest peak is located in the Anaimalai hills followed by the Doddabetta on the Nilgiri hills. The eastern and western ghats meet at the nilgiri hills.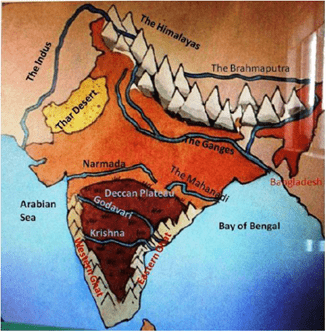 Deccan plateau
(ii) The Central Highlands: Average elevation is 700-1000 metres and it slopes towards the north and northeast. It is bounded by the Aravali Hills in the west from where the river Banas originates.
(iii) The North-eastern Plateau: It comprises the Meghalaya and Karbi Anglong plateau. It is rich in mineral resources like coal, iron ore limestone, and uranium.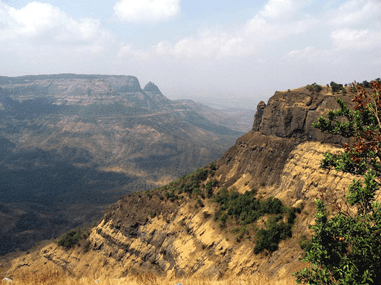 Western Ghats
THE INDIAN DESERT
It lies to the west of the Aravali hills. It receives less than 150mm rainfall, is arid and without vegetation. It is also known as MARUSTHALI. Desert features like mushroom rocks, shifting sand dunes, and oasis are common. The northern part slopes towards Sindh and the southern towards the Rann of Kachchh. The rivers here are Ephemeral. The lakes have brackish water which is the main source of salt.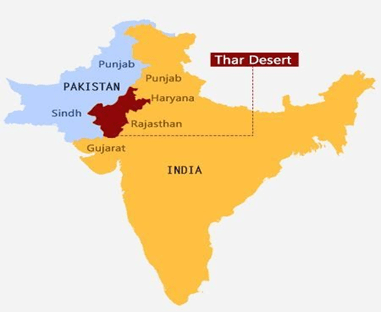 The Thar Desert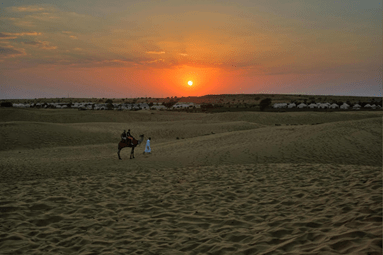 Topography near Jodhpur
THE COASTAL PLAINS
They are divided into:
(i) The Western Coastal Plains: They are submerged plains so they provide natural conditions for the development of ports and harbours. Kandla, Mazgaon, JLN port etc. They extend from Gujarat in the north to Kerala in the south. The Malabar coast in Kerala has formation of 'KAYALS' or backwaters which are used for fishing and tourism.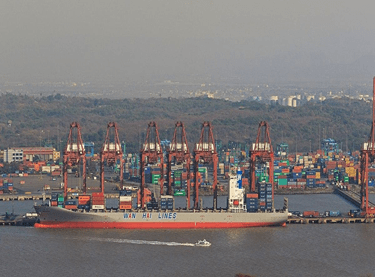 JLN port near Mumbai
(ii) The Eastern Coastal Plains: These are broader than the western plains and is an example of an emergent coast. There are well developed deltas in this region formed by the rivers flowing eastward into the bay of Bengal. These include the Godavari, Krishna and Kaveri. It has less number of ports.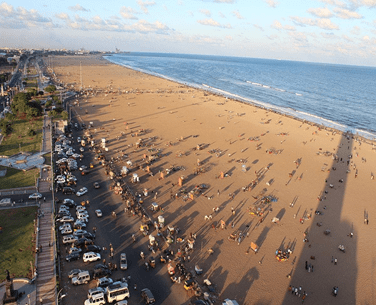 Marina beach in Chennai
THE ISLANDS
There are 2 major groups of islands:
(i) Bay of Bengal Islands: Situated between 6-14 degree north and 92-94 degree east. Principal groups include Ritchie's archipelago and Labyrinth island. Andaman in the north and Nicobar in the south separated by the Ten degree channel. They have equatorial type of vegetation.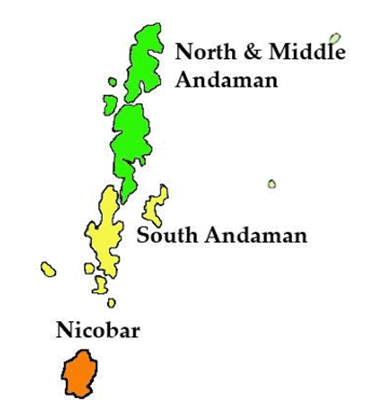 Andaman and Nicobar Islands
(ii) Arabian Sea Islands: These include the Lakshadweep and Minicoy

Arabian sea Islands.
They lie between 8-12 degree north and 71-74 degree south. They are built of coral deposits. Minicoy is the largest island. Entire group is divided by Eleven degree channel. The Nine degree channel divides Lakshadweep and Minicoy.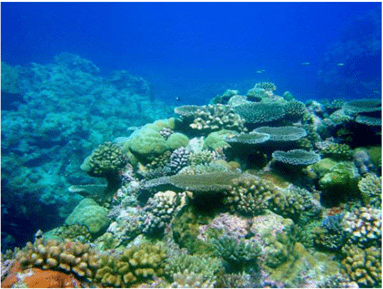 Corals in Lakshadweep