Physical Properties:
(a) It is a colourless inflammable liquid. It's boiling point is 19ºC.
(b) It has fishy ammonical odour.
(c) It is highly soluble in water. Its aqueous solution is basic in nature and turns red limus blue.
The solubility in water is due to hydrogen bonding with water moelcules.
ChemicalProperties:
(i) Basic nature : It is more basic than ammonia. Following reactions prove its basic nature.
(a) It forms ethyl ammonium hydroxide when dissolved in water.

Ethyl ammonium hydroxide ionises to give OH- ions.
C2H5NH3OH

C2H5 + NH3 + OH-
(b) It reacts with acids to form salts.
C2H5NH2 + HCl

C2H5NH3Cl or C2H5NH2.HCl
Ethyl ammonium chloride
or
Ethylamine hydrochloride
C2H5NH2 + H2SO4

(C2H5NH3)2 SO4
Ethyl ammonium sulphate
(c) Its aqueous solution behaves like ammonium hydroxide. The aqueous solution of ethylamine precipitates iron, chlromium and aluminium as hydroxides when salts are treated with it.

(d) It's hydrochloride, like ammonium chloride, forms double salts with PtCl4 and AuCl3.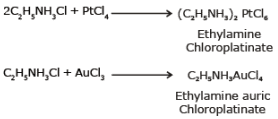 These double salts decompose on heating to pure metal and this method is used to determine the molecular mass of amines.
(ii) Reaction with alkyl halides (Alkylation) :
Ethylamine reacts with alkyl halides and form secondary, tertiary amines and quaternary ammonium salt.


(iii) Reaction with acetyl chloride or acetic anhydride : Acetylation takes place when ethylamine combines with acetyl chloride or acetic anhydride.


(iv) Carbylamine Reaction:

Nucleophilic RNH2 attacks electrophilic intermediater [:CCl2] dichlorocarbene.
This reaction is used for the detection of primary amines.
Mechanism-


(v) Reaction with sodium : Hydrogen is evolved when ethylamine is heated with sodium.
2C2H5NH2 + 2Na

2C2H5NHNa + H2
Sodium derivative
of ethylamine
(vi) Reaction with Grignard's reagent: Ethylamine reacts with Grignard's reagent to form alkanes.


(vii) Hofmann's mustard oil reaction : Carbon disulphide reacts with ethylamine in presence of HgCl2 to form ethyl isothiocyanate which has a mustard oil like smell.
C2H5NH2 + CS2 + HgCl2

C2H5N = C = S + 2HCl
Ethyl isothiocyanate
(viii) Reaction with aldehydes: Ethylamine reacts additively with aldehydes to form α-hydroxyl amines which are changed to Schiff bases with the elimination of water molecule.

DISTINCTION BETWEEN PRIMARY, SECONDARY AND TERTIARY AMINES
| | | | |
| --- | --- | --- | --- |
| Test | Primary amine | Secondary amine | Tertiary amine |
| 1. Action Test CHCl3 and alcoholic KOH. | Bad smelling carbyl-amine (Isocyanide is formed) | No action. | No action. |
| 2. Action of CS2 and HgCl2. (Mustard Oil test | Alkyl isothiocyanate is formed which has pungent smell like mustard oil. | No action. | No action. |
| 3. Action of Nitrous acid. | Alcohol is formed with evolution of nitrogen. | Forms nitrosoamine which gives green colour with phenol and conc. H2SO4 (Liebermann's test.) | Forms nitrite in cold which on hearing gives nitrosoamine which responds to Liebermann's test. |
| 4. Action of acetyl chloride. | Acetyl derivative is formed | Acetyl derivative is formed | No action. |
| 5. Action of Hinsberg's reagent | Monoalkyl sulphon-amide is formed which is soluble in KOH. | Dialkyl sulphonamide is formed which is insoluble in KOH. | No action. |
| 6. Action of methyl iodide. | 3 molecules (moles) of CH3I to form quaternary salt with one mole of of primary amine. | 2 moles of CH3I to form quaternary salt with one mole of secondary amine. | One mole of CH3I to form quaternary salt with one mole of tertiary amine. |
General Chemical Properties of Aromatic Amines:
Reaction with nitrous acid:
1. Primary Amines : Primary amines react with nitrous acid to produce diazonium ion as follows.
ArNH2 + HNO2

Ar — N+ ≡ N :
R — NH2 + HNO2

R — N+ ≡ N
But the diazonium ions of aliphatic amines are very unstable and produce carbocation immediately, which can produce different products.
R — N+ ≡ N

R+ (Carbocation)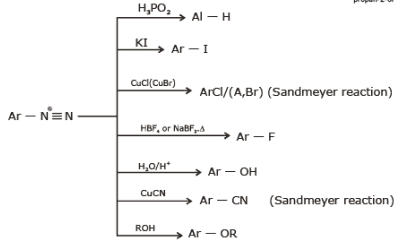 Ring Reactions of Aromatic Amines:
NH2 — NHR and —NR2 strongly activate the benzene ring toward electrophilic substitution.
1. Haogenation : For monohalogenation, —NH2 is first acetylated, because

is only moderately activating and is o and p-director in nature.

2. Sulfonation :

The dipolar ion structure of sulfanilic acid account for its (a) high melting point, (b) insolubility in H2O and organic solvents, (c) solubility in aqueous NaOH, (d) insolubility in aqeous HCl.

will not exists as a dipolar ino since, -COOH is too weakly acidic to transfer an H to the weakly basic -NH2 attached to the electron withdrawing benzene ring. When attached to an aliphatic C, the NH2 is sufficiently basic to accept H- from COOH.


(i) The Hinsberg Test
Ths test can be used to demonstrate whether an amine is primary, secondary or tertiary. Primary amines react with benzenesulfonyl chloride to form N-substituted benzenesulfonamides. These, in turn, undergo acid-base reactions with the excess potassium hydroxide to form water - soluble potassium salt. Acidification of this solution will, cause the water-soluble in the next stage, cause the water-insoluble N-substituted sulfonamide to precipitate.


Secondary amies react with benzenesulfonyl chloride in aqueous potassium hydryoxide to form insoluble, N - N-disubstituted sulfonamides that precipitate after the first stage. N3N-
Disubstituted sulfonamides do not dissolve in aqueous potassium hydroxide.

If the amine is a tertiary amine and if it is water insoluble, no apparent change will take place in the mixture as we shake it with benzenesulfonyl choride and aqueous KOH. When we acidify the mixture, the tertiary amine dissolves because it forms a water soluble salt.