PHYSICAL WORLD
1. Science: Science is a systematic and organised attempt to acquire knowledge about the surroundings through observations, experiments and verification.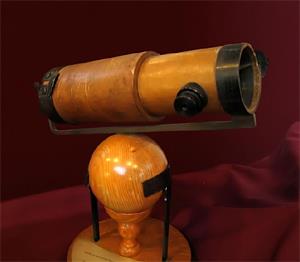 Fig. Newton's Reflector
2. Scientific Method: Several interrelated steps are involved in the scientific method. Some of the most significant steps are as follows:
The systematic observations
Reasoning
Mathematical modelling
Theoretical prediction
3. Physics: Physics is a fundamental science concerned with understanding the natural phenomena that occur in our universe. It has many branches such as Mechanics, Electromagnetism, Thermodynamics, Modern Physics, etc.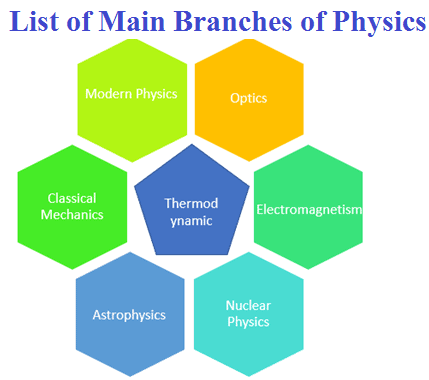 Between 1600 and 1900, three broad areas were developed, which is together called Classical Physics. These three areas of study are classical mechanics, thermodynamics and electromagnetism. But by 1905 it became apparent that classical ideas failed to explain several phenomena. Then some new theories were developed in what is called Modern Physics such as Special Relativity, Quantum Mechanics, etc.
Physics is the study of nature and its laws. Feynman has given a wonderful description of what is "understanding the nature". Suppose we do not know the rules of chess but are allowed to watch the moves of the players. If we watch the game for a long time, we may make out some of the rules. With the knowledge of these rules we may try to understand why a player played a particular move. However, this may be a very difficult task. Even if we know all the rules of chess, it is not so simple to understand all the complications of a game in a given situation and predict the correct move. Knowing the basic rules is, however, the minimum requirement if any progress is to be made.
One may guess at a wrong rule by partially watching the game. The experienced player may make use of a rule for the first time and the observer of the game may get surprised. Because of the new move some of the rules guessed at may prove to be wrong and the observer will frame new rules.
Physics goes the same way. The nature around us is like a big chess game played by Nature. The events in the nature are like the moves of the great game. We are allowed to watch the events of nature and guess at the basic rules according to which the events take place. We may come across new events which do not follow the rules guessed earlier and we may have to declare the old rules inapplicable or wrong and discover new rules.
4. Scope and Excitement of Physics
The scope of Physics is very broad and covers a wide range of magnitude of physical quantities such as length, mass, time, energy, etc.
It deals with the macroscopic worlds like galaxies and the universe as well as microscopic world like the nucleus of an atom and fundamental particles like electrons, protons, neutrons etc.
Immense excitement is involved in the study of physics since it explains every naturally occurring phenomenon with a set of rules, so that clear understanding can be achieved. The challenge to carry out imaginative new experiments to unlock the secrets of nature, to verify or refute theories, is really exciting.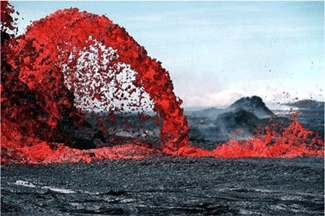 Fig. Parabola-shaped lava flow illustrating application of mathematics in physics - Galileo's law of falling bodies
5. Physics in Relation to Other Sciences: Physics is a very significant branch of science which plays a crucial role in understanding the developments pertaining to the other branches of science such as Chemistry, Biology etc.
(i) Physics in relation to Mathematics: Study of physical variables led to the idea of differentiation, integration and differential equation. Meaningful interpretation of Mathematics becomes Physics.
(ii) Physics in relation to Chemistry: The concept of X-ray diffraction and radioactivity has helped to distinguish between the various solids and to modify the periodic table.
Understanding the bonding and the chemical structure of substances is easy with the help of the concept of interactions between various particles.
(iii) Physics in relation to Astronomy: Optical telescopes of reflecting and refracting type enabled man to explore the space around. Discoveries like radio telescopes have revolutionized the study of Astronomy.
(iv) Physics in relation to Biology: The conceptual study of pressure and its measurement has helped us to know blood pressure and hence the functioning of the heart. The invention of X-rays developed the field of diagnosis. Electron and optical microscopic designs have revolutionized the study of medical science.
(v) Physics in relation to Meteorology: The discoveries regarding the study of pressure variations help us to forecast the weather.
Various other inventions of physics have opened new vistas of study in the field of sciences and social sciences.
6. Physics in Relation to Technology and Society: Advancement in physics has led to new technologies and vice-versa. Sometimes technology gives rise to a new dimension of physics; at other times physics generates new technology.
In fact, technological development is closely related to the application of science and physics in particular. Physics has a dominant influence on society. It has helped the human beings to develop their ideas. Development of digital communication systems, rapid mass transport system, lasers making bloodless surgeries, etc., has made human life easy and pleasant.
IMPORTANT TABLES
Table 1.1 Some Physicists from Different Countries of the World and their Major Contributions: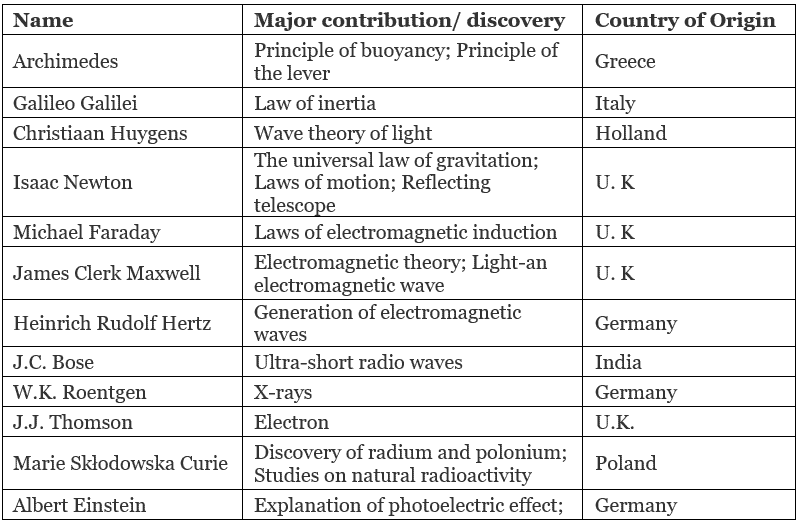 Theory of relativity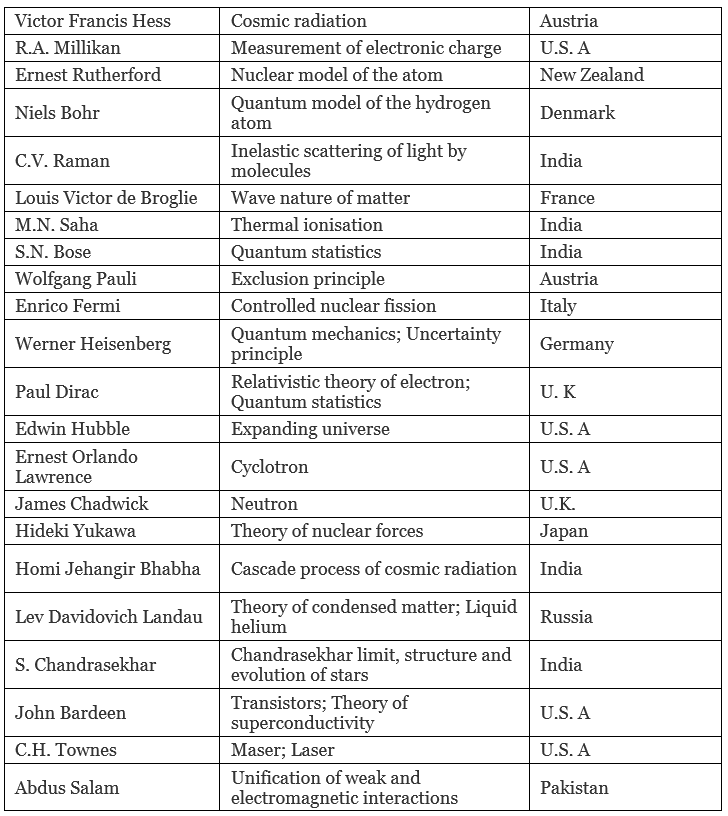 Table 1.2. Progress in the unification of different forces/domains in nature: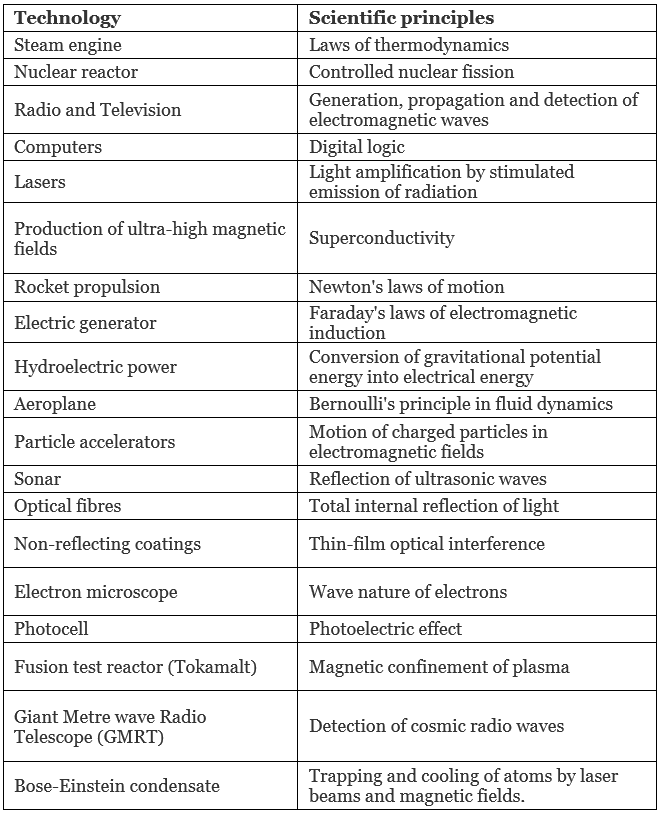 Table 1.3. The link between technology and physics: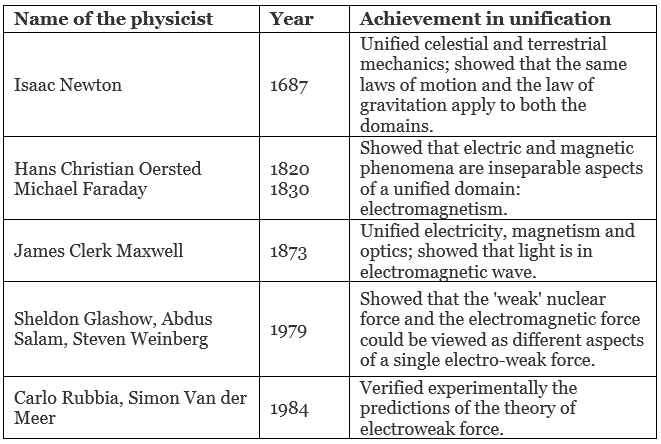 BRANCHES OF PHYSICS
(i) Classical Mechanics: Classical mechanics is a model of the physics of forces acting upon bodies. It is often referred to as "Newtonian mechanics" after Isaac Newton and his laws of motion. It deals with the motion of particles and general system of particles. Almost 95% of our pre-university syllabus in Class 11th and 12th falls under this branch of study.
(ii) Quantum Mechanics: Quantum mechanics is the branch of physics treating atomic and subatomic systems and their interaction based on the observation that all forms of energy are released in discrete units or bundles called "quanta". Remarkably, quantum theory typically permits only probable or statistical calculation of the observed features of subatomic particles. The study of this field is beyond the scope of our syllabus.
(iii) Relativistic Mechanics: The special theory of relativity enjoys a relationship with electromagnetism and mechanics; that is, the principle of relativity and the principle of stationary action in mechanics can be used to derive Maxwell's equations, and vice versa. Again, this field is way out of bounds for us to study at present.