Q.1. The plant hormone used to destroy weeds in a field is: (2021)
(a) 2, 4-D
(b) IBA
(c) IAA
(d) NAA
Ans. (a)
2, 4-D, widely used to kill dicotyledonous weeds, does not affect mature monocotyledonous plants.

They help to initiate rooting in stem cuttings, an application widely used for plant propagation. Auxins promote flowering e.g. in pineapples. They help to prevent fruit and leaf drop at early stages but promote the abscission of older mature leaves and fruits.
In most higher plants, the growing apical bud inhibits the growth of the lateral (axillary) buds, a phenomenon called apical dominance. Removal of shoot tips (decapitation) usually results in the growth of lateral buds (Figure 15.11). It is widely applied in tea plantations, hedge-making. Can you explain why?

Q.2. Plants follow different pathways in response to environment or phases of life to form different kinds of structures. This ability is called: (2021)
(a) Plasticity
(b) Maturity
(c) Elasticity
(d) Flexibility
Ans. (a)

Plants follow different pathways in response to environment or phases of life to form different kinds of structures.
This ability is called plasticity, e.g., heterophylly in cotton, coriander and larkspur.
Q.3. The site of perception of light in plants during photoperiodism is: (2021)
(a) Axillary bud
(b) Leaf
(c) Shoot apex
(d) Stem
Ans. (b)
The site of perception of light/dark duration are the leaves.
Q.4. Name the plant growth regulators which upon spraying on sugarcane crop, increases the length of stem, thus increasing the yield of sugarcane crop. (2020)
(a) Ethylene
(b) Abscisic acid
(c) Cytokinin
(d) Gibberellin
Ans. (d)
Gibberellin hormone regulates the growth, elongation of stem.

Structure of Gibberellin

It is able to promote the internode elongation because of which the size of sugarcane increases.
Q.5. The process of growth is maximum during : (2020)
(a) Senescence
(b) Dormancy
(c) Log phase
(d) Lag phase
Ans. (c)
Period of growth characterized by the number of cells increasing at an exponential rate.
Q.6. Match the organism with its use in biotechnology. (2020)



Select the correct option from the following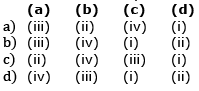 Ans. (d)
(a) Bacillus thuringiensis produces the cry proteins, which are Bt toxins and have insecticidal properties.
(b) The highly thermostable DNA polymerase from Thermus aquaticus is ideal for both manual and automated DNA sequencing because it is fast & highly processive and remain active during the high temperature induced denaturation of double stranded DNA.
(c) The tumor-inducing (Ti) plasmid of Agrobacterium tumifaciens has been modified into a cloning vector. It is used to deliver required genes into plants.
(d) Salmonella typhimurium is the first recombinant DNA that cut the piece of DNA from a plasmid carrying antibiotic resistance gene in the bacterium and linked it to the plasmid of E.coli.
Q.7. It takes very long time for pineapple plants to produce flowers. Which combination of hormones can be applied to artificially induce flowering in pineapple plants throughout the year to increase yield? (2019)
(a) Cytokinin and Abscisic acid
(b) Auxin and Ethylene
(c) Gibberellin and Cytokinin
(d) Gibberellin and Abscisic acid
Ans. (b)
Synthetic auxins like NAA and 2, 4-D are often employed for inducing flowering in pineapple, Ethylene also stimulates Powering in pineapple and related plants. Hence, both auxin and ethylene can be applied artificially to induce flowering in pineapple plants throughout the year to increase yield.
Q.8. What is the site of perception of photoperiod necessary for induction of flowering in plants? (2018)
(a) Leaves
(b) Lateral buds
(c) Pulvinus
(d) Shoot apex
Ans. (a)
Shoot apices modify themselves into flower apices prior to flowering, but they themselves cannot perceive photoperiods. Leaves are the site of perception of light/dark photoperiods. It has been hypothesised that leaves contain a hormonal substance responsible for flowering, which migrates from leaves to short apices for inducing (lowering only when plants are exposed to necessary inductive photoperiods.
Q.9. Fruit and leaf drop at early stages can be prevented by the application of (2017)
(a) Ethylene
(b) Auxins
(c) Gibberellic-acid
(d) Cytokinins
Ans. (b)
In low concentrations, auxins such as 2, 4-D (2,4- Dichlorophenoxy acetic acid) is useful in preventing pre-harvest fruit drop and leaf drop.
Q.10. You are given a tissue with its potential for differentiation in an artificial culture. Which of the following pairs of hormones would you add to the medium to secure shoots as well as roots? (2016)
(a) IAA and gibberellin
(b) Auxin and cytokinin
(c) Auxin and abscisic acid
(d) Gibberellin and abscisic acid
Ans. (b)
Cytokinin and auxin are two plant hormones that are supplied to the tissue culture medium in definite proportions. They bring about cell division and differentiation of callus. A low auxin to cytokinin ratio promotes shoot formation whereas a high auxin to cytokinin ratio promotes rooting of callus.
Q.11. Phytochrome is a (2016)
(a) Flavoprotein
(b) Glycoprotein
(c) Lipoprotein
(d) Chromoprotein
Ans. (d)
Phytochrome is a chromoprotein i.e., plant pigment that can detect the presence or absence of light and is involved in regulating many processes that are linked to day length (photoperiod), such as seed germination and initiation of flowering. It consists of a light detecting portion, called a chromophore, linked to a small protein and exists in two inter-convertible forms with different physical properties.
Q.12. The Avena curvature is used for bioassay of (2016)
(a) IAA
(b) ethylene
(c) ABA
(d) GA3
Ans. (a)
Avena curvature test is a test based on the experiments of Went (1928) which can measure auxin upto 300 μg/litre, Indole 3-acelie acid (IAA) is a universal natural auxin and Avena curvature test serves as an accurate bioassay for this plant hormone.
Q.13. Typical growth curve in plants is: (2015)
(a) Linear
(b) Stair-steps shaped
(c) Parabolic
(d) Sigmoid
Ans. (d)
Sigmoid growth curve maintains equilibrium with carrying capacity, it forms asymptote stage in plants.
Q.14. What causes a green plant exposed to the light on only one side, to bend toward the source of light as it grows? (2015)
(a) Green plants seek light because they are phototropic
(b) Light stimulates plant cells on the lighted side to grow faster
(c) Auxin accumulates on the shaded side, stimulating greater cell elongation there.
(d) Green plants need light to perform photosynthesis
Ans. (c)
Auxin stimulates cell elongation. It accumulates on shaded side which results in more elongation of cells towards shaded side of the plant. This causes bending of the plant towards source of light.
Q.15. Auxin can be bioassayed by: (2015)
(a) Hydroponics
(b) Potometer
(c) Lettuce hypocotyl elongation
(d) Avena coleoptile curvature
Ans. (d)
Avena coleoptile curvature is used for the bioassay of auxin.
Q.16. Dr. F. Went noted that if coleoptile tips were removed and placed on agar for one hour, the agar would produce a bending when placed on one side of freshly-cut coleoptile stumps. Of what significance is this experiment? (2014)
(a) It made possible the isolation and exact identification of auxin.
(b) It is the basis for quantitative determination of small amounts of growth-promoting substances.
(c) It supports the hypothesis that IAA is auxin.
(d) It demonstrated polar movement of auxins.
Ans. (b)
Charles Darwin and his son Francis Darwin observed that the coleoptiles of Oat (Avena sativa) and canary grass (Phalaris canariensis) responded to unilateral illumination by growing towards the light source (phototropic curvature or phototropism). After a series of experiments, it was concluded that the tip of the coleoptile was the site of production of a substance, that caused the bending of coleoptile.
Q.17. A few normal seedlings of tomato were kept in a dark room. After a few days they were found to have become white-coloured like albinos. Which of the following terms will you use to describe them? (2014)
(a) Mutated
(b) Embolized
(c) Etiolated
(d) Defoliated
Ans. (c)
Etiolation is depigmentation of leaf when plant is placed in dark for more than 36 hrs.
Q.18. Which one of the following growth regulators is known as 'stress hormone'? (2014)
(a) Abscissic acid
(b) Ethylene
(c) GA3
(d) Indole acetic acid
Ans. (a)
Abscisic Acid (ABA) is called stress hormone which works in adverse environmental condition when there is low water content in atmosphere or in drought conditions. ABA causes the stomatal closure of leaves due to which the water loss by the plant is minimized.
Q.19. Non-albuminous seed is produced in: (2014)
(a) Maize
(b) Castor
(c) Wheat
(d) Pea
Ans. (d)
Exalbuminous (non-endospermic) seeds usually store reserve food material in cotyledons. In these seeds, the endosperm is used up and not present in mature seeds
Example: Bean, Gram and Pea.