Polyhalogen derivatives:
Trichloromethane (Chloroform), CHCl3
Preparation:
CH4 + Cl2

CH3Cl + HCl
Chloromethane
CH3Cl + Cl2

CH2Cl2 + HCl
Dichloromethane
CH2Cl2 + Cl2

CHCl3 + HCl
Trichloromethane
CHCl3 + Cl2

CCl4 + HCl
Tetrachloromethane
The mixture of CH3Cl, CH2Cl2, CHCl3 and CCl4 can be separated by fractional distillation.
2. From chloral hydrate, Pure chloroform can prepare.
NaOH + CCl3CHO → HCOONa + CHCl3
chloral
NaOH + CCl3CH(OH)2 → HCOONa + CHCl3 + H2O
Chloral hydrate sodium formate Chloroform
3. Laboratory Method : From ethanol or acetone, by reaction with a paste of bleaching powder and water.
In case of ethanol, the reaction occurs as follows:
CaOCl2 + H2O → Ca(OH)2 + Cl2
CH3CH2OH + Cl2

CH3CHO + 2HCl
CH3CHO + 3Cl2

CCl3CHO + 3HCl
Chloral
Ca(OH)2 + 2CCl3 CHO

2CHCl3 + (HCOO)2Ca
Chloroform Calcium formate
4. From carbon tetrachloride:
CCl4 + 2[H]

CHCl3 + HCl (partial reduction)
5. Haloform reaction:


(Haloform)
Step 1 : Attack of the
Step 2 : Elimination
Step 3 : Proton transfer
nucleophile of the leaving group
Prob. Compare rate of elimination (Dehydro halogenation in presence of alcoholic KOH ) i.e., E2 :
1. (a)

(b)

(c)

(d)

c > b > a > d
2. (a)

(b)

(c)

c > b > a
3. (a)
(b)

(c)

c > b > a
4. (a)

(b)

(c)

b > a > c
Dehalogenation : - (-X2) E2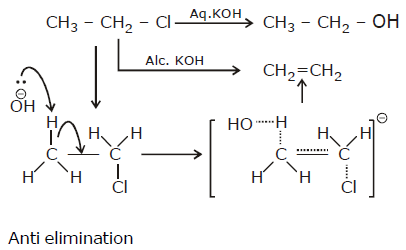 Dehalogenation : - (-X2) E2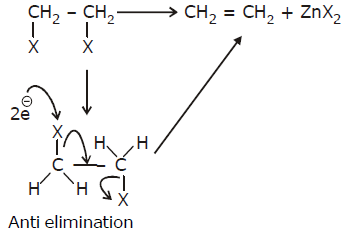 Ec or Ei (Intramolecular or cyclic elimination mechanism):
(1) Lg and Base present in same molecule.
(2) It proceeds by cyclic transition state.
(3) Overall it is syn elimination.
(4) Hoffmann is major product as it is obtained by least hindered site of cyclic transition state.
(5) No rearrangement.
Example of Ec/Ei:
Pyrolysis of Ester:




1.

2.

1.8.2 Physical properties of chloroform
Chloroform is a colourless, heavy liquid which has sweetish, sickly odour and taste. It boils at 334º K and is slightly soluble in water. It is heavier than water. As inhaling of the vapours of chloroform induces unconsciousness therefore it can be used as an anaesthetic agent for surgery.
1.8.3 Chemical properties of chloroform:
1. Action of sun light and air-
2 CHCl3 + O2

2COCl2 + 2HCl
Phosgene
As chloroform is used for anaesthetic purposes, therefore in order to maintain a high purity of chloroform, this reaction can be avoided by storing it in dark bottles, completely filled upto the brim. The use of dark bottles (brown or blue) cuts off active light radiations and filling upto brim keeps out air. Apart from this a small amount of ethanol (1%) is usually added to bottles of chloroform. Addition of a little ethanol fixes the toxic COCl2 as non-poisonous diethyl carbonate.
COCl2 + 2C2H5OH

O = C(OC2H5) + 2HCl
diethyl carbonate
2. Hydrolysis :
H - CCl3 + (aq.) 3KOH


HCOOK
3. Reduction :
Zn + 2HCl

ZnCl2 + 2[H]
CHCl3 + 2[H]

CH2Cl2 + HCl
Dichloromethane
(Methylene chloride)
CHCl3

CH4 + 3HCl
4. Reaction with acetone :
(CH3)2C = O + CHCl3


Chlroetone
Use : Chloretone is used as hypnotic (a sleep inducing) drug.
5. Reaction with nitric acid:
2CHCl3 + HONO2

CCl3. NO2 + H2O
(Chloropicrin)
Use: Chloropicrin is used as an insecticide and war gas.
6. Reaction with silver powder :

7. Chlorination :
CHCl3 + Cl2

CCl4 + HCl
8. Reimer-Tiemann reaction:

+ CHCl3 + 3NaOH


+ 2NaCl + 2H2O
1.8.4 Uses of chloroform
1. As solvent in oils and varnishes.
2. As preservative for anatomical specimens.
3. As laboratory reagent.
4. As an anesthetic.