POLYSACCHARIDES
Polysaccharides are the polymers of monosaccharides. The natural polysaccharides generally contain about 100-3000 monosaccharide units. The three most abundant natural polysaccharides-cellulose, starch and glycogen are derived from the same monomer, i.e., glucose.
Starch: It is a polymer of glucose. Its molecular formular is (C6H10O5)n where the value of n(200 - 1000) varies from source to source. It is the chief food reserve material or storage polysaccharide of plants and is found mainly in seeds, roots, tubers, etc. Wheat, rice, potatoes, corn, bananas etc., are rich source of starch.
Starch is not a single compound but is a mixture of two components - a water soluble component called amylose (20%) and a water insoluble component called amylopectin (80%). Both amylose and amylopectin are polymers of α-D glucose.
Amylose is a linear polymer of α-D glucose. It contains about 200 glucose units which are linked to one another through a-linkage involving C1 of one gluose unit with C4 of the other.
Amlopectin, on the other hand, is a highly branched polymer. It consists of a large number (several branches) of short chains each containing 20-25 glucose units which are joined together through α-linkages involving C1 of one glucose unit with C4 of the other. The C1 of terminal glucose unit in each chain is further linked to C6 of the other glucose
unit in the next chain through C1-C6 α-linkage. This gives amylopectin a highly branched structure as shown below: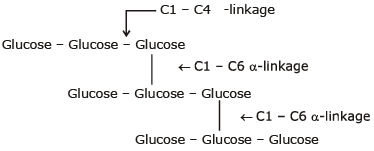 Hydrolysis:
Hydrolysis of starch with hot dilute acids or by enzmyes give dextrins of varying complexity, maltose and finally D-glucose. Starch does not reduce Tollen's reagent and Fehling's solution.
Uses:
It is used as a food. It is encountered daily in the form of potatoes, bread, cakes, rice etc. It is used in coating and sizing paper to improve the writing qualities. Starch is used to treat textile fibres before they are woven into cloth so that they can be woven without breaking. It is used in manufacture of dextrins, glucose and ethyl alcohol. Starch is also used in manufacture of starch nitrate, which is used as an explosive.
Cellulose:
Cellulose is the chief component of wood and plane fibres; cotton, for instance, is nearly pure cellulose. It is insoluble in water and tasteless; it is a non-reducing carbohydrate. These properties, in part at least, are due to extremely high molecular weight.

Cellulose
Cellulose has the formula (C6H10O5)n . Complete hydrolysis by acid yields D( )-glucose as the monosaccharide. Hydrolysis of completely methylated cellulose gives a high yield of 2, 3, 6-tri-O-methyl-D-glucose. Like starch, therefore, cellulose is made up of chains of D-glucose units, each unit joined by a glycoside linkage of C-4 of the next.
Cellulose differs from starch, however, in the configuration of the glycoside linkage. Upon treatment with acetic anhydride and sulphuric acid, cellulose yields octa-O-acetylcholine, there is evidence that all glycoside linkages in cellulose, like the one in ( ) cellobiose, are beta linkages.
Physical methods give molecular weights for cellulose ranging from 250000 to 1000000 or more; it seems likely that there are at least 1500 glucose units per molecule. End group analysis by both methylation and periodic acid oxidation gives a chain length of 1000 glucose units or more. X-ray analysis and electron microscopy indicate that these long chains lie side by side in bundles, undoubtedly held together by hydrogen bonds between the numerous neighbouring -OH groups. These bundles are twisted together to form.
Rope like structure which themselves are grouped to form the fibers we can see. In wood, these cellulose "ropes" are embedded in lignin to give a structure that has been linked to reinforced concrete.
Properties of Cellulose:
We have seen that the glycoside linkages of cellulose are broken by the action of acid, each cellulose molecule yielding many molecules of D(+)-glucose. Now let us look briefly at reactions of cellulose in which the chain remains essentially intact. Each glucose unit in cellulose contains three free -OH groups; these are the positions at which reactions occur.
These reactions of cellulose, carried out to modify the properties of a cheap, available ready-made polymer, are of tremendous industrial importance.
Like any alcohol, cellulose forms esters. Treatment with a mixture of nitric and sulphuric acid converts cellulose into cellulose nitrate. The properties and uses of the product depend upon the extent of nitration. Guncotton, which is used in making smokeless powder, is very nearly completely nitrated cellulose, and is often called cellulose trinitrate (three nitrate groups per glucose unit). Pyroxylin is less highly nitrated material containing between two and three nitrate groups per glucose unit. It is used in the manufacture of plastics like celluloid and collodion, in photographic film, and in lacquers. It has the disadvantage of being flammable, and forms highly toxic nitrogen oxides upon burning.
Industrially, cellulose is alkylated to ethers by the action of alkyl chlorides (cheaper than sulfates) in the presence of alkali. Considerable degradation of the long chain is unavoidable in these reactions. Methyl, ethyl, and benzyl others of cellulose are important in the production of textiles, films, and various plastic objects.