Short Answer Questions
Q.1. What other factors besides politics keep federations united ? [CBSE 2016-17]
Ans. Mutual trust and agreement to live together are the other factors that keep federations together.
Q.2. What is the nature of Indian federal system ? [CBSE 2016-17]
Ans. Indian federal system is an example of holding together' type of federation.


Q.3. How many languages are recongnised as scheduled languages by the Indian Constitution ? [CBSE 2016-17]
Ans. 22 languages are recognised as scheduled languages by the Constitution.

Long Answer Questions
Q. 1. Describe the three-fold distribution of legislative powers between the Union government and State government.
OR
How is sharing of power between the union and the State governments basic to the structure of the constitution of India? Explain. [CBSE 2019, 32/2/3]
Ans. It contains three lists:
(i) Union List: It includes subjects of national importance such as defence of the country, foreign affairs, banking, communications and currency. They are included in this list because we need a uniform policy on these matters throughout the country.
(ii) State List: The list contains subjects of state and local importance such as police, trade, commerce, agriculture and irrigation. The state governments alone can make laws relating to the subjects mentioned in the state list.
(iii) Concurrent List: Includes subjects of common interest to both, the Union government as well as the State government such as education, forests, trade unions, marriage, adoption and succession. Both the Union as well as State governments can make laws on the subjects mentioned in this list. If their laws conflict with each other, the law made by Lhe Union government prevails.
Q.2. How is federal government different from unitary government ? [CBSE 2016-17]
Ans.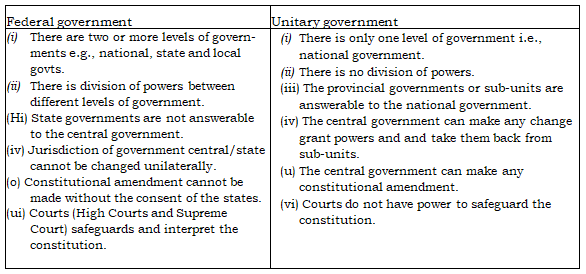 Q.3. How is rural local government known in India ? What are its different institutions ?
Or
Differentiate between Gram Sabha and Gram Panchayat. [CBSE 2016-17]
Ans. (a) Rural local government is popularly known by the name Panchayati Raj.
(b) Gram Sabha consists of all the voters in the village and meets twice or thrice in a year to approve the annual budget of the gram panchayat and to review its performance.
(c) Panchayat:
(i) There is a panchayat in each village or group of villages.
(ii) It is a council which has several ward members (panch) and a president (sarpanch). (Hi) They are directly elected by all the adult population living in that ward or village.
(iv) Panchayat is a decision-making body for the entire village.
(v) It works under the overall supervision of gram sabha.
(d) Panchayat Samiti or block or mandal :
(i) A few gram panchayats are grouped together to form a panchayat samiti or block or mandal.
(ii) The members of this body are elected by all the members of the panchayats in that area.
(e) Zilla Parishad :
(i) All the panchayat samities or mandals in a district constitute Zilla Parishad, whose members are elected.
(ii) Members of the Lok Sabha and MLAs of that district and some other officials of other district level bodies are also its members.
(iii) Zilla Parishad chairperson is the political head of the Zilla Parishad.