Nuisance:
Nuisance is of two kinds:
(i) Public Nuisance is an offense, which affects the public at large, or some considerable portion of them. It depends on the number of houses and the concourse of people in the vicinity; and the annoyance or neglect must be of a real and substantial nature. Acts which seriously interfere with the health, safety, comfort or, convenience of the public or, which tend to degrade public morals, have always been considered public nuisance if it is shown that they render enjoyment of life and property uncomfortable. No prescriptive right can be acquired to maintain a public nuisance.
Example: pollution, drug activity, explosives storage, and possession of dangerous animals.
(ii) Private Nuisance is anything done to the annoyance or to hurt another and not amounting to trespass. It is an act affecting some particular individual or individuals as distinguished from the public at large.
Example: vibration, pollution of a stream or soil, smoke, foul odours, excessive light, and loud noises.
A person is guilty of nuisance when he:
(i) does any act, or is guilty of an illegal omission, and
(ii) such act or omission:
(a) must cause any common injury, danger or annoyance;
(I) to the public, or
(II) to the people in general who dwell or occupy property in the vicinity, or
(b) must necessarily cause injury, obstruction, danger or annoyance to any person who had rights to use. Whoever causes nuisance shall be punishable with imprisonment, or fine, or both depending upon the discretion of the court.
Estoppels:
It is a legal doctrine recognized both at common law and in equity in various forms. It is meant to complement the requirement of consideration in contract law. In general, it protects a party who would suffer detriment if:
(i) The defendant has done or said something to induce an expectation;
(ii) The plaintiff relied (reasonably) on the expected; and
(iii) would suffer detriment if those expectations were false.
Volenti non fit injuria:
It is a Latin expression meaning "to a willing person, injury is not done".
It operates when the claimant either expressly or implicitly consents to the risk of loss or damage.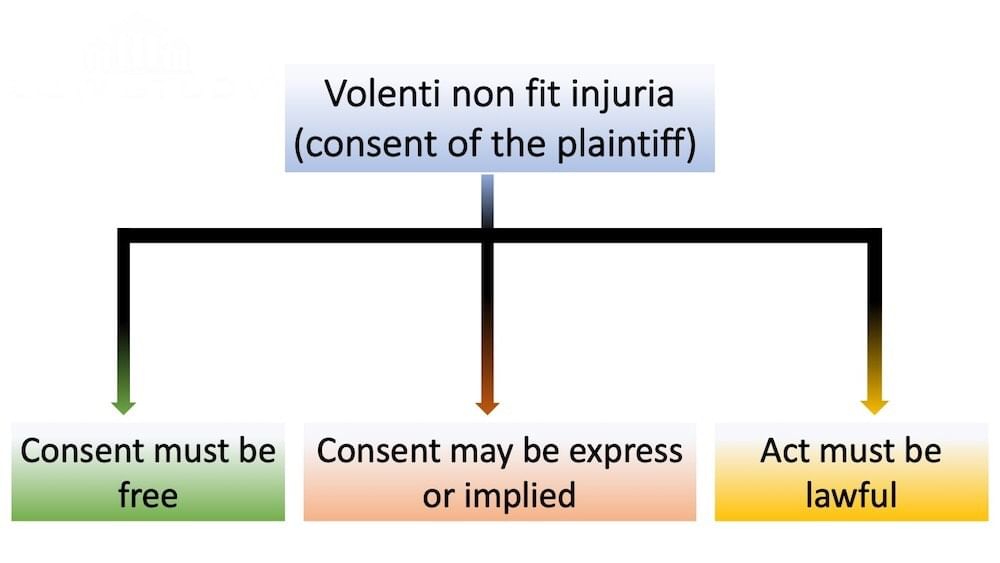 Conditions for Volenti non fit injuria
For example, if a regular spectator at a cricket match is injured when a batsman hits a six and in the ordinary course of play, and the ball comes out of field and hits him or her, this is a foreseeable event and regular spectators are assumed to accept that risk of injury when buying a ticket.
A slightly more limited defense may arise where the defendant has been given a warning, whether expressly to the plain/claimant or by a public notice, sign or otherwise, that there is a danger of injury. The extent to which defendants can rely on notices to exclude or limit liability varies from country to country. This is an issue of policy as to whether the defendants should not only warn of a known danger but also take active steps to fence the site and take other reasonable precautions to prevent the known danger from befalling those foreseen to be at risk.
Ex turpi causa non oritur actio
It is a Latin expression meaning " from a dishonorable cause an action does not arise".
It is a legal doctrine which states that a plaintiff will be unable to pursue legal remedy if it arises in connection with his own illegal act. If the claimant is involved in wrong-doing at the time the alleged negligence occurred, this may extinguish or reduce the defends liability.
For example, if a burglar is verbally challenged by the property owner and sustains injury when jumping from a second story window to escape apprehension, there is no cause of action against the property owner even though that injury would not have been sustained but for the property owners; intervention.