UPSC : Respiratory System - Notes, Biology, IAS UPSC Notes | EduRev
All you need of UPSC at this link:
UPSC
RESPIRATORY SYSTEM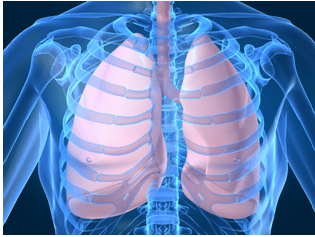 All physical and chemical reactions in which atmospheric air oxidizes food in the body cells resulting in production of energy and liberation of CO2 are included in respiration.
Types of Respiration
Anaerobic Respiration
II. Aerobic Respiration
1. Anaerobic Respiration
When nutrients are oxidized without using O2 (also called fermentation).
In yeast, glucose forms ethyl alcohol and CO2.
In bacteria and muscles, glucose is converted into lactic acid.
Endoparasites like Ascaris, Fasciola, Taenia also respire anaerobically.
It is a low energy yielding process.
2. Aerobic Respiration
Cells utilize O2 for oxidizing nutrients.
O2 is used either from atmospheric air or from water.
It is found in most plants and animals.
It provides much more energy than the anaerobic one.
It involves:
External Respiration: Gaseous exchange of O2 and CO2 between blood and air (or water).
Transport of gases to the tissues.
Internal Respiration: Gaseous exchange between blood and tissues.
Cellular Respiration: Oxidation of nutrients in the cells and liberation of energy.
Respiratory Organs in Human Body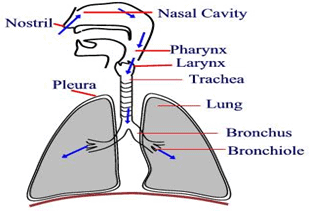 I. Nasal Cavity
It opens to the exterior through nostrils.
The small hair present in the cavity help to filter particles of dust and other foreign matter.
The air in the nasal cavity gets warmed (because nasal cavity has a very good blood supply) and moistened before it enters lungs.
II. Pharynx
From the nasal cavity the air enters the pharynx.
It serves as a common passage for both air and food.
The opening into the wind pipe or trachea is a narrow slit, the glottis.
The glottis is protected against the entrance of food by a triangular flap of tissue, the epiglottis.
III. Larynx (Voice Box)
Called Adam's apple in man. It is the first part of trachea present in the neck.
When air is forced into the larynx, the vocal cords present in it vibrates and sound is produced.
The pitch of a sound is determined by the tension on the vocal cords – the greater the tension, the higher the pitch.
IV. Trachea
It is four and a half inch long tube with C – shaped ring of cartilages in its walls.
These tings of cartilage make the wall non – collapsable.
The trachea branches into two bronchi on to each lung and these branches within the lung into many smaller bronchioles.
V. Lungs
Surrounding each lung is a double walled sac, the pleural cavity. Hence, the covering of lungs are called pleural membrane.
The right lung is divided into three lobes and left into two.
The left lung is smaller than the right and has a concavity, the cardiac notch, where the heart lies.
Inside the lung, each bronchi divides into numerous bronchioles, each of which terminates into an elongated saccule, the alveolar duct, which bears on its surface air sac or alveoli.
The latter provide a large surface for gaseous exchange.
Respiratory Disorders in Human Body
Asphyxia : It is a condition caused by increase in CO2 concentration in tissue.
Hypoxia : Shortage of oxygen supply to body.
Hypopnoea : Slow breathing.
Hyperpnoea : Rapid breathing.
Apnoea : No breathing.
Dyspnoea : Painful breathing except in upright position.
Orthopnoea : Difficult breathing.
Tachypnoea : Rapid shallow breathing.
COPD : Chronic Obstructive Pulmonary Disease which includes Emphysema, Chronic bronchitis and Asthma.
Emphysema : A situation of 'short breath' due to die break down of alveolar walls and reduction of respiratory area as it happens due to smoking.
Tuberculosis : A bacterial disease caused by Mycobacterium tuberculosis.
Pneumonia : Infection of lungs by Diplococcus pneumonia and leads to accumulation of mucous and lymph in alveoli, impairing gaseous exchange.
Whooping cough or Pertussis : An infectious disease caused by bacterium Bordetella pertussis.
Asthma : Difficult breathing due to spasm in bronchial muscles and narrowing of bronchi.
Sleep Apnoea Syndrome (SAS) : Persons with snoring habit suffer with sleep apnoea syndrome because their upper respiratory tract closes on inhalation leading to apnoea and sleep breaks.
Hypercapnia : Excess of CO2 in the body.
Cyanosis : Means blueness of skin because of excessive amount of deoxygenated haemoglobin.
Pleurisy : Inflammation of pleural membrane causing severe chest pain.
Respiratory Pigments
Name of the Respiratory Pigment

Metal Present

Colour

Features

Hoemogobin

Iron

Red

Plasma of some Annelids (e.g., Earthworm and Nenes)

Haemocyanin

Copper

Blue

Plasma of Crustaceans (e.g., prawn), Some snails (Pila), Cephalopods(e.g.,
Sepia)

Haemoerythrin

Iron

Red

Blood Cells of some Annelids (e.g., Polychaete Magelona)

Chlorocruorin

Iron

Green

Plasma of some Annelids (e.g., Polychaete sabella)