Transport System in India
The transport system in India includes Rail transport, Road transport, Air transport, water transport, and portal connectivity. India has one of the largest road networks in the world, the largest railway system in Asia, and the second-largest in the world.
The use of transport and communication depends upon our need to move things from place of their availability to the place of their use. Human-beings use various methods to move goods, commodities, ideas from one place to another.
The following diagram shows the major means of transportation.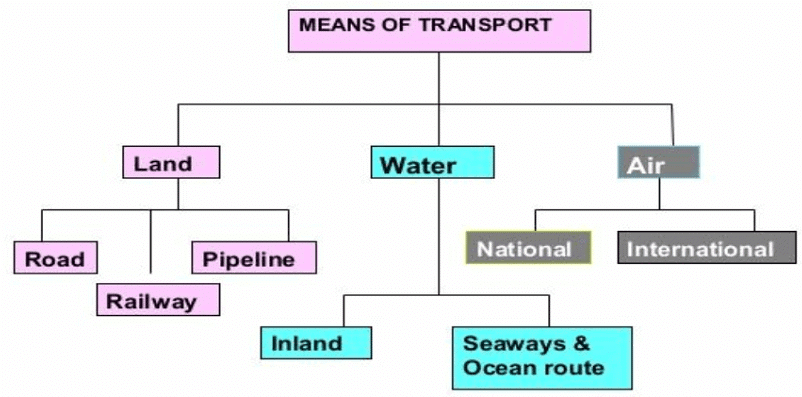 Data and figures will vary because of development in each year.
Road Transport in India
The pathways and unmetalled roads have been used for transportation in India since ancient times. With the economic and technological development, metalled roads and railways were developed to move large volumes of goods and people from one place to another. Roads happen to be the most popular mode of transportation.
India has one of the largest road networks in the world with a total length of 5,897,671 kilometers (3,664,643 mi) as of 31 March 2017. About 85 percent of passengers and 70 percent of freight traffic are carried by roads every year. Road transport is relatively suitable for shorter distance travel.
For the purpose of construction and maintenance, roads are classified as
(i) National Highways (NH),
(ii) State Highways (SH),
(iii) Major District Roads, and
(iv) Rural Roads.
National highways
The main roads which are constructed and maintained by the Central Government are known as the National Highways.
These roads are meant for inter-state transport and movement of defence men and material in strategic areas.
These also connect the state capitals, major cities, important ports, railway junctions, etc.
India has 142,126 km (88,313 mi) of National Highways as of April 2019. The National Highways constitute only 2 percent of the total road length but carry 40 percent of the road traffic.
Golden quadrilateral: Golden Quadrilateral comprises construction of 5,846 km long 4/6 lane, high-density traffic corridor, to connect India's four big metro cities of Delhi-Mumbai-Chennai-Kolkata. With the construction of the Golden Quadrilateral, the time-distance and cost of movement among the megacities of India will be considerably minimized.
North-South and East-West Corridor: North-South corridor aims at connecting Srinagar in Jammu and Kashmir with Kanyakumari in Tamil Nadu (including Kochchi-Salem Spur) with a 4,076 km long road. The East-West Corridor has been planned to connect Silchar in Assam with the port town of Porbandar in Gujarat with 3,640 km of road length.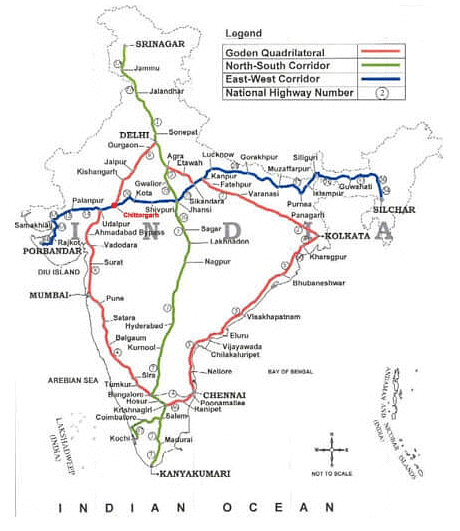 Some important National Highways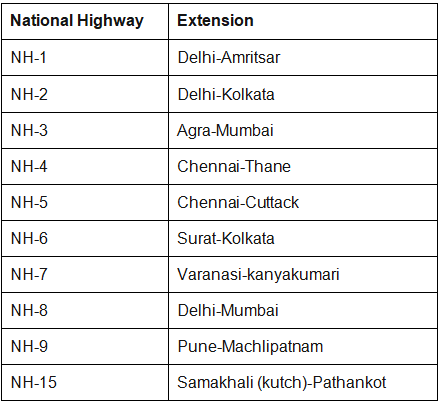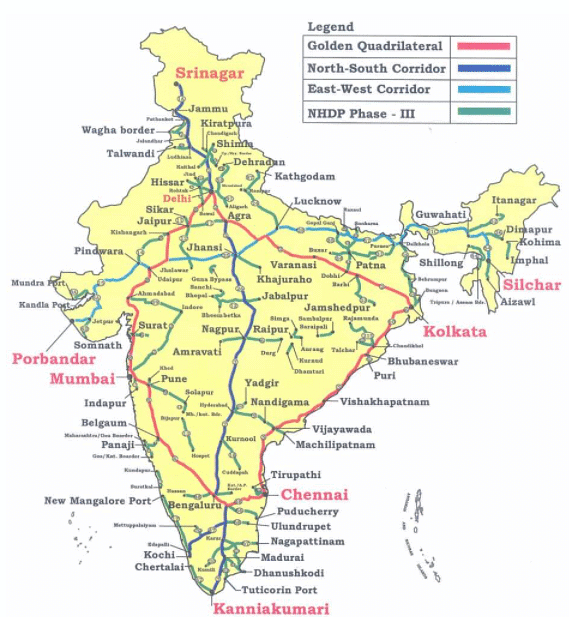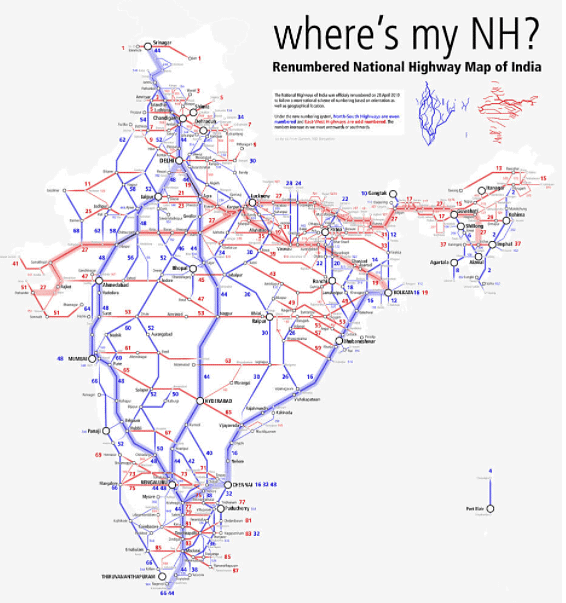 State highways
These are constructed and maintained by state governments (PWDs). They join the state capitals with district headquarters and other important towns.
These roads are connected to the National Highways.
These constitute 4 percent of the total road length in the country.

District roads
These roads are the connecting link between District Headquarters and the other important nodes in the district.
They account for 14 percent of the total road length of the country.
Rural roads
These roads are vital for providing links in the rural areas.
About 80 percent of the total road length in India are categorized as rural roads.
There is regional variation in the density of rural roads because these are influenced by the nature of the terrain.
Other Roads – Border roads and international highways
Other roads include Border Roads and International Highways.

The Border Road Organisation (BRO) was established in May 1960 for accelerating economic development and strengthening defence preparedness through rapid and coordinated improvement of strategically important roads along the northern and north-eastern boundary of the country.
It is a premier multifaceted construction agency. It has constructed roads in high altitude mountainous terrain joining Chandigarh with Manali (Himachal Pradesh) and Leh (Ladakh). This road runs at an average altitude of 4,270 metres above the mean sea level.
Apart from the construction and maintenance of roads in strategically sensitive areas, the BRO also undertakes snow clearance in high altitude areas. The international highways are meant to promote a harmonious relationship with the neighbouring countries by providing effective links with India.

The distribution of roads is not uniform in the country. The density of roads (length of roads per 100 square km of area) varies from only 12.14 km in Jammu and Kashmir to 517.77 km in Kerala with a national average of 142.68 km in 2011.
The density of roads is high in most of the northern states and major southern states. It is low in the Himalayan region, north-eastern region, Madhya Pradesh and Rajasthan.
Areas factors influence in roadways
Terrain: Nature of terrain and the level of economic development are the main determinants of the density of roads. Construction of roads is easy and cheaper in the plain areas while it is difficult and costly in hilly and plateau areas
Climate: Quality of roads is relatively better in plains as compared to roads in high altitude areas, rainy and forested regions.
Economic development: Areas with a high level of economic development will have more road density as compared to areas with a low level of economic development. E.g. Maharashtra has more road density than Himanchal Pradesh
Industries: Areas with more industrial concentration will have more road density as compared to areas with low industrial concentration. E.g. Jamshedpur is having more road density than Patratu in Jharkhand.
Cities and towns: Cities and towns will have more road density than rural areas.
Importance of Roads
Port connectivity

Roadways serve for the special links for feeder roads to important railway routes and ports. This is essential for the development of domestic and international trade.
Road connectivity for about 50 minor ports and road connectivity for 24 Airports serves the purpose of connecting basic infrastructure.

Rural areas

All villages will be connected with all-weather roads by the end of the 12th five-year plan. They serve an important purpose in the growth of the rural economy.

Tribal areas

Roads in Left-Wing Extremism (LWE) affected districts will be continued and works taken up earlier in the Eleventh Plan will be completed during the 12th five-year plan.
Special Package for development of roads of around 1000 km length in the Scheduled Areas (under Fifth Schedule) has been taken up under Tribal Sub- Plan.

JK and North East

Road Development in the North-East has been boosted by the initiation of the Trans-Arunachal Pradesh Highway Project. The capacities of NHAI and BRO would be further development for this purpose.
State road projects in the state of J&K are being developed from strategic considerations.
Reforms in Motor Vehicles Act have been taken up to simplify inter-state movement with simplified procedures. There has been the creation of truck terminals to ease traffic congestion.
Some current initiatives in Roadways
Electronic Toll Collection (ETC)

A committee was set up under the chairmanship of Shri Nandan Nilekani for reforms in road infrastructure in India.
Recommendations of the Committee have been accepted and notified by the Ministry of Road Transport and Highways for the use of National Highways.
A Pilot project on ETC was inaugurated in 2012 on a section of NH-5 between Delhi and Parwanoo. The second pilot project will be on the Mumbai and Ahmadabad routes.

NATRIP

The National Automotive Testing and R&D Infrastructure Project (NATRIP) will be under the Department of Heavy Industry (with representatives from the automobile sector)
It aims to set up testing, validation, and R&D infrastructure across seven locations in India.

SARDP-NE

The special accelerated road Development program for North Eastern Region has been rolled out for improving road connectivity between State Capitals and District HQs in North Eastern Region.

Road Network
The "Bharat Mala" Project
The "Bharat Mala" project envisaged across 13 states on a 5300 km stretch – starting from Gujarat & passing through Rajasthan, Punjab, J&K, Uttarakhand, UP, Bihar, Sikkim, Assam, Arunachal Pradesh & ending across the Indo-Myanmar border of Manipur & Mizoram.
It involves an expenditure of Rs 12000 – 14000 crores during a three-year timeframe.
The road adorns the country like a Garland & hence the name "Bharat Mala"
This has a strategic component that includes countering the impressive Chinese network build-up across the border & to provide accessibility to the border hugging regions & improve border trade.
Costs could increase if Nitin Gadkari's suggestion of using cement instead of bitumen is accepted.
Private participation to fund the difference may not fructify – considering their stretched balance sheets & therefore the onus shall be on the govt. to fund the project after accelerating the environmental clearances & land acquisition to complete the stretch within the stated timelines.
This project in fact, is a late realization & a delayed response to the Chinese seamless road infrastructure on the other side & a dire necessity to prevent a repeat of the ignominy of the Indian defeat to the Chinese in 1962.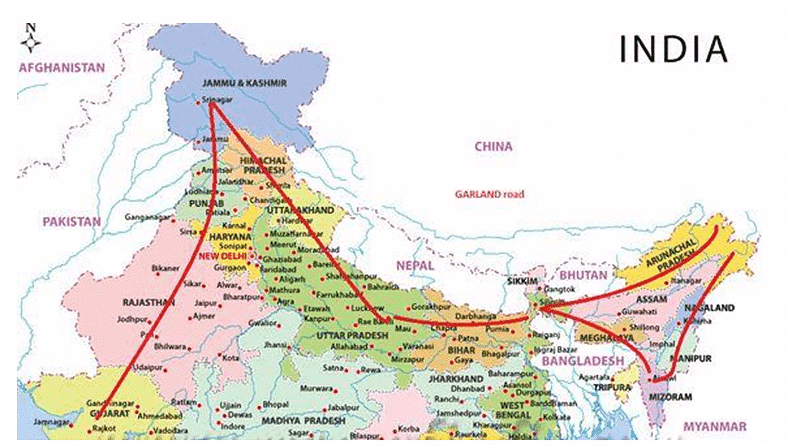 The "Sagar Mala" Project
The Sagar Mala project, announced with much fanfare, on Aug 15th, 2003, by PM Vajpayee, remained in limbo during the UPA tenure till it was revived again under Modi's tutelage.
The new policy envisages a uniform policy framework for major parts – owned by the center & non-major ports owned by the states to develop a holistic policy encompassing the needs of industrialization trade, tourism & transportation,
It involves the development of 10 CER (Coastal Economic Region) along with India's vast 7000 Km coastline freight options – rail, land & inland waterways – for the smooth evacuation of cargo to & from ports.
This plan includes the development of port-based industrial parks, captive industries, and ancillary facilities such as ship repair, shipbuilding, ship-recycling, logistics parks, warehousing, maritime zones/ services, offshore storage, drilling platforms, bunkering, container freight stations, industries requiring significant import of raw materials and industries with large export potential to create more jobs.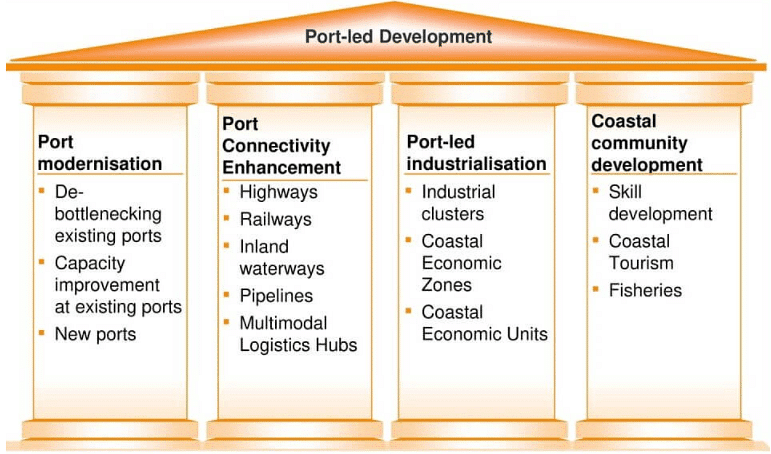 Indian Railways
Indian Railways is among the world's largest rail networks. Indian Railways route length network is spread over 1,23,236 km, with 13,452 passenger trains and 9,141 freight trains plying 23 million travellers and 3 million tonnes (MT) of freight daily from 7,349 stations.
India's railway network is the 4th largest railway network in the world and 2nd largest in Asia, under single management.
Indian Railway is the main artery of the country, it is also called as lifeline of India which provides both freight and passenger mode of transportation.
It contributes in the national growth and economic integration of the country.
Significance of Railways in India
Railways provide the cheapest and most convenient mode of passenger transport both for long-distance and suburban traffic.
Railways have played a significant role in the

development and growth

of industries. The growth of the textile industry in Mumbai, jute industry in areas surrounding Kolkata, coal industry in Jharkhand, etc is largely due to the development of railway networks in these areas. Railways help in supplying raw materials and other facilities to the factory sites and finished goods to the market.
Agriculture also owes its growth to railways to a great extent. Commercialization of agriculture has been possible only by the contribution of the railway. Now farmers can sell their agricultural produce to distant places and even sell them in the world market at remunerative prices. Railway helps in quick transport of perishable goods agricultural implements etc to a larger distance.
Railways are also helpful in removing isolation between cities and countryside (rural areas) and have played a significant role in disseminating innovations and new ideas.
Railways help in providing the national market by stimulating the process of equalization of prices. The railway is connected with major ports which are helpful in promoting international trade.
Railway helps in the defense and internal security of the country by ensuring the quick movement of troops, defense equipment, etc to remote places.
Railways play a vital role in mitigating the sufferings of the people in the event of natural calamities like droughts, floods, famines, earthquakes, etc. This is done by carrying relief and rescue teams and essential items to the affected areas and save people from suffering and starvation.
Growth and development of Indian railways
The first railway line in India was opened for public traffic on 16 April 1853 between Mumbai and Thane over a distance of 34 km.
Meanwhile, the construction of the railway lines was going on in the eastern part of the country, and the first section of the East Indian Railway, from Howrah to Hugli, a distance of 37 km was inaugurated on 15 August 1854.
The line from Kanpur to Allahabad was opened in 1859.
The southern part of the country did not lag behind and got its first 105 km long railway line from Royapuram to Arcot in 1856.
In 1870, the all-rail route between Kolkata and Mumbai started functioning and the mainline from Mughal Sarai to Lahore (now in Pakistan) was completed.
In 1871, the Mumbai-Chennai route was also opened.
Thus within a short span of 18 years from 1853 to 1871, most of the important cities of India were connected by rail.
At present India has the second-largest railway network in Asia and the fourth largest in the world after the USA (2, 27,736 km), Russia (2, 22,293 km), and China (87,157 km). But India tops the world's leading countries with regard to passenger/kilometer earned.
The railway is the largest public sector undertaking of the country comprising a vast network of 6,906 stations spread over a route length of 63,122 km with a fleet of 7,681 locomotives, 39,852 passenger service vehicles, 4,904 other coaching vehicles and 2,14,760 wagons.
Today Indian Railways is operating in one of the most difficult terrains in the world, for e.g. 55 km long rail route-length between Jammu and Udhampur, 837 km route length is added with the completion of the Konkan railway route.
Indian railway is the largest government undertaking and is the largest employer with more than 10 lakh employees working in operational and commercial sections of railways.
The longest rail route in India is from Dibrugarh in Assam to Kanyakumari in Tamil Nadu.
Factors affecting Railways
Geographical factors

The North Indian plain: The North Indian plain with its level land, high density of population, and rich agriculture present the most favorable conditions for the development of railways. However, the presence of a large number of rivers makes it necessary to construct bridges that involve heavy expenditure.
The plateau region of south India: The plateau region of south India is not as much suitable for railways as the North Plain area. The undulating terrain makes it difficult for railways to construct new projects along with operational difficulties. The concentration of population is also less.
The Himalayan region: The Himalayan region in the north is almost entirely devoid of railways due to its rugged topography. Some railway terminals such as Jammu Tawi, Kotdwar, Dehra Dun, Kathgodam, etc. are found on the foothills. Some narrow gauge railway tracks are found in the Himalayan region.
The sandy areas of Rajasthan: The sandy areas of Rajasthan are also not much favorable for railways. There was no railway line between Jodhpur and Jaisalmer till 1966. The reasons for less concentration of railway include the presence of less population, lack of industries, hostile terrain, etc.
Forested areas: Forested areas of Madhya Pradesh and Orissa, deltaic swamps of West Bengal, marshy areas of Rann of Kachchh, and hilly tract of Sahyadri are also unfavorable for the development of railways. Sahyadri can only be crossed through gaps like Thalghat, Bhorghat, and Palghat to reach coastal trailheads like Mumbai, Vasco-de-Gama, Mangalore, and Kochi

Economic factors

Railways develop more in economically advanced areas where the need for railway networks is felt more. E.g. Delhi, Northern Plains, Mumbai, etc.
This is because of the economic linkages that we find the highest density of railways near big urban and industrial centers like Jamshedpur and in areas that are rich in mineral and agricultural resources.

Political and Administrative factors

The present railway system in India is the legacy of British rule. The British administration planned the direction and pattern of the railway lines in such a way that they could exploit the valuable raw materials of India for the benefit of their industries and flood the Indian markets with the finished goods from Britain.
Besides, the British wanted to maintain their military supremacy, for which quick movement of troops and arms was necessary and construction of railways became unavoidable. Thus, the top priority was given to the big ports of Mumbai, Kolkata, and Chennai. These ports were connected with their hinterlands by railway lines to facilitate imports and exports. It is from the ports that the railway network spread to the other parts of the country.
The rail coach factory in Rai Bareli is mainly because of political factors (since it is the constituency of some of the major politicians of the country).
Government initiatives
Foreign Direct Investment (FDI) inflow in Railways Related Components stood at US$ 1,107.60 million from April 2000 to March 2020
The Government is going to come up with a 'National Rail Plan' to enable the country to integrate its rail network with other modes of transport and develop a multi-modal transportation network.
A 'New Online Vendor Registration System' has been launched by the Research Designs & Standards Organisation (RDSO), the research arm of Indian Railways, to have digital and transparent systems and procedures.
Facts about Indian Railways
The Fairy Queen is the oldest functioning steam engine in the world. It is plying between New Delhi and Alwar in Rajasthan.
Four sites of Indian Railways have been declared as "World Heritage sites" by UNESCO. They are Darjeeling-Himalayan Railway, Nilgiri Mountain, Mumbai CST, and Kalka-Shimla Railways.
Indian Railways was nationalized in 1951
Toilets were introduced on Indian Railways in 1909.
Indian Railways started computerized reservations in New Delhi in 1986.
Indian Railways is the world's second-largest network operated under a single administration and the largest rail network in Asia.
In 2000, Mamata Banerjee was the first woman to become Railway Minister.
Privatisation of Railways
The Indian Railways initiated the process to allow private firms to operate passenger trains on its network through 151 new trains. While these trains will form a minuscule portion of the entire railway network, this marks the beginning of private sector participation in passenger train operations.
The privatization of Indian railways has been recommended for many decades, by the erstwhile Planning Commission of India and now by Niti Aayog.
Liberalising the entry of new operators in the public transport that remains a government monopoly, may be the path for improving services, and facilitating growth of the sector. However, the idea of privatisation has its own merits and demerits.
Recommendations by Bibek Debroy Committee: The Bibek Debroy Committee, which was set up to suggest ways to mobilize resources for the Indian Railways and restructure the Railway Board, had favored privatization of rolling stock: wagons and coaches.
Objectives of the initiative
To introduce modern technology rolling stock with reduced maintenance.
Reduce transit time.
Boost job creation.
Provide enhanced safety.
Provide a world-class travel experience to passengers.
Reduce demand-supply deficit in the passenger transportation sector.
Pros of Privatization of Indian Railways
Improved Infrastructure

Niti Aayog's strategy for New India @75 envisages many targets in railway infrastructure such as increasing the speed of infrastructure creation from the present 7 km/day to 19 km/day, 100% electrification of broad gauge track by 2022-23.
Given this, a strong argument in favour of privatization is that it will lead to better infrastructure which in turn would lead to improved safety, reduction in travel time, etc.

Improved Quality of Services

Indian Railway services are marred by issues like lack of punctuality, mismanagement in the form of stinking washrooms, lack of water supply and dirty platforms.
Privatisation may solve these issues, as the move would foster competition and hence lead to overall betterment in the quality of services.

Technology Infusion

The privatization will also help in accommodating the latest technology in railways coaches, safety and travelling experience. Thereby, it may help Indian Railways to become a world-class network.
Cons Related to Privatization of Indian Railways
Coverage Limited to Lucrative Sectors

An advantage of Indian Railways being government- owned is that it provides nation-wide connectivity to bring regional development.
This would not be possible with privatisation since routes which are less popular may be neglected, thus having a negative impact on connectivity.
It may also render some parts of the country virtually inaccessible and omit them from the process of development.
For example, regions with rugged terrain and low population density like Himalayan states and North eastern states.

Increased Fares

Given that a private enterprise runs on profit, thus it may be assumed that the easiest way of accruing profits in Indian Railways would be to hike fares.
This would render the service out of reach for lower income groups.
Also, this would defeat the purpose of the Indian railways which is meant to serve the entire population of the country irrespective of the level of income.

Issue of Cross-Subsidisation

Indian Railways tend to cross-subsidise passenger fares through freight revenue.
This translates to below cost pricing, which will make it difficult for private players to compete.

Conflict of Interest

Currently, the Ministry of Railways is effectively the policy maker, regulator and service provider.
This, as the Bibek Debroy committee pointed out, is a clear conflict of interest and would undermine the fair competition between private and government railway operations and impede the efficient privatisation process of Indian Railways.

Social Welfare Concerns

As the Indian Railways plays a vital role in the transportation of goods in the country, it provides a low cost of transportation of many final and intermediate goods.
Thus, the privatization of the system motivated by profit-making, will have an inflationary effect and thereby affect the common people.
Way Forward
Sustainable Pricing: There is a need to revisit the Indian Railways pricing model to make the passenger and freight segments sustainable. The tariffs should be competitive with the cost of road transportation.
Independent Regulator: Setting up an independent regulator will be critical for creating a level playing field for private players.
In this pursuit, there is a need to expedite the process of establishing the Rail Development Authority, as it is already approved by the government.
Modernization of Railways: There is a need to implement the recommendations of the Bibek Debroy committee, such as the expansion of the Indian Railways manufacturing company, the Corporatization of core functions of railways, etc.
The need of the hour is to find a balanced solution that would incorporate the pros of both private and government enterprises and enhance the image of Indian Railways as it continues to serve the world's largest democracy.