Rocks & Minerals
CHAPTER 7
MINERALS AND ROCKS
MATERIALS ON THE EARTH CRUST
Rocks & Minerals
Classification of Rocks:
-Igneous rocks (Igneous rock bodies: Batholith, laccolith, Dykes, sill) -Sedimentary rocks.
3. Rock Cycle.
ROCK AND MINERALS
Rocks are made up of individual substances, which are called minerals found mostly in a solid state. Each mineral usually contains two or more simple substances called elements of which the whole earth is made. Out of about 2000 different minerals, only 12 are common all over the earth these 12 are called rock- formers.
The common minerals are formed of eight most abundant elements in nature. Out of these, silicates, carbonates and oxides make up large group of them. As many as 87% of the minerals in the earth's crust are silicates, Quartz, for example has two elements, silicon and oxygen, united together form a compound known as carbonate of lime.
Each mineral is a naturally occurring non-living solid substance possessing certain physical properties and a definite chemical composition. Minerals are thus chemical substances found in nature, may be either elements or compounds. These are minerals like Cu, Pb. as well as non-metallic like gypsum, quartz, & mica.
CLASSIFICATION OF ROCKS
Three major types (on the basis of formation)
GNEOUS
SEDIMENTARY
METAMORPHIC.
IGNEOUS ROCKS
The rocks which are formed by the cooling down of magma below or on earth's surface. Igneous rocks are Parent of all rocks and are also known as primary rocks. They are of two (2) types: - Extrusive & Intrusive
EXTRUSIVE IGNEOUS ROCK:-extrusive igneous rock is the name given to magma erupting and solidifying after escape of gases as lava on reaching the surface of earth.
As the lava cools down rapidly on the surface, the mineral crystal change their structure and are very small, making them look like fine grained, e.g. Basalt .
The basaltic material is used for building roads. On weathering, it yields a fertile black soil locally known as 'Regur'.
INTRUSIVE IGNEOUS ROCKS (Plutonic rocks): formed by the solidification of magma at moderate depths beneath the earth's surface. Due to slow cooling at greater depths the crystal formed are large. eg. Granite, Dolerite
The granite is formed on the ocean plateau in South India, in Madhya Pradesh, Chhotanagpur, and Rajasthan, and in parts of the Himalaya.
All Igneous rocks are massive having no layers, hard, compact, free of fossils and dark as basalt or light-coloured as granite depending upon greater or lesser amount of silica present in them.
Those with high proportion of silica are said to be acidic and others with a high proportion of basic oxides are denser and darker in appearance.
These are crystalline rocks because each has crystal formed as a result to the process of Crystallisation for a longer or shorter period.
The minerals of great economic value found in them.
Igneous Rock Bodies:-
BATHOLITHS; are the largest intrusive igneous rock bodies. They may be 50 to 80 km across and hundreds of kilometers in length. They are so thick that their bottoms are not visible. Their upper surface is irregular and dome shaped.
The batholiths are great granite masses forming the cores of world's mountain systems. The batholiths covering small areas are called STOCKS having somewhat rounded form and same general characteristics.
LACCOLITHS; are other huge masses of igneous rocks that have been formed between horizontal or slightly titled layers of sedimentary rock nearer the earth's surface. The dome shaped masses of magma due to rapid movement upwards appear in the form of a mushroom. It may be regarded as a miscarried volcano when the magma failed to break through the surface.
THE DYKES; are near vertical formations, form a few metres to kilometres in length and form a few centimeters to hundreds or metres in thickness. They come into existence when liquid material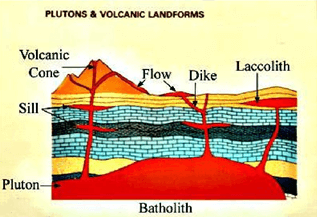 passes through cracks in the country rocks and gets hardened in to a rock. They are not easily eroded and stand like great walls after the country rock is eroded.
SILL: sometimes magma trying to reach the surface squeezes between two rock layers and solidifies into a thin sheet in horizontal position parallel to the layers of already existing rocks. Such an intrusion is termed as a sill.
SEDIMENTARY ROCKS
Any rock on the earth's surface is exposed to weather changes and to the agents of erosion. It thus gets broken into fragments, further reduced into small particles called sediments.
These are derived from igneous, metamorphic or older sedimentary rocks. For this reason these are known as sedimentary or fragmental rocks.
Some sediments are of sand, some of clay and others are of different bits of rocks making pebbles or gravel. The sediments get sorted by the transporting agents like running water, winds, and waves. The loess is one example of fine sand carried by wind and deposited by wind- borne sedimentary rocks in with western China and Indian subcontinent. An unsorted mixture of clay and boulders known as boulder clay or TILL is an example of ice- deposited sedimentary rock as in plain of Northern – Europe.
Very often, loose and unconsolidated rock material such as sand and clay, in course of time, get converted into hard and compact rocks such as sandstone and shale respectively. While sand and clay generally turns into compact rocks by pressure, conglomerate and breccia are the examples of sedimentary rocks formed by because of the process of cementation. Such a process of formation places all these rocks under the category of mechanically formed sedimentary rocks.
The organic matter derived from plant of animal remains is also the raw material for the formation of sedimentary rocks in course of time. Two well known examples of sedimentary rocks of organic origin are coal and the limestone.
Still another category is the result of direct precipitation of minerals from their solution in water. The rock salt, gypsum and saltpeter are examples of such chemically formed sedimentary rocks as a result of evaporation of substances held in solution by water.
All sedimentary rocks are layered, lying in horizontal beds. As sediments are deposited in distinct layers or strata, these rocks are termed as stratified rocks.
The minerals of economic value are less in sedimentary rocks. But these are the source of hematite iron ore, a number of building stones, coal, petroleum and materials for making cement.
Sedimentary rocks also yield some of the rich soils. In the Indian sub-continent, the alluvial deposits in the Indo-Geographic plain is of sedimentary accumulation.
Although derived from pre- existing rocks, some sedimentary rocks are older than either igneous or metamorphic rocks as found in Greenland.
3. METAMORPHIC ROCKS
When the original character of the rocks- their colour, hardness, texture and mineral composition is partly or wholly changed, it gives rise to metamorphic rocks, under favourable conditions of heat and pressure.
• The formation of metamorphic rocks under the stress of pressure is known as dynamic metamorphism. In this case, granite is converted into gneiss, clay and shale are transformed into schist at great depths or the earth's crust.
• The change of form of re- crystallization of minerals of sedimentary and igneous rocks under the influence of high temperatures prevailing within the earth's crust is known as the process of thermal or contact metamorphism.
The metamorphic rocks are recognized by their great hardness, closely banded structures and inter locking of crystals. During the process of change not only new and precious minerals like gems, rubies and sapphires are born but crystals are enlarged and re-arranged and the addition of new elements from magma changes the rock composition.
ROCK CYCLE
All rock materials originating from beneath the earth's surface form igneous rocks. As soon as igneous rock is exposed to weather on the surface of earth, it is eroded by various agents. The material changes into sedimentary rocks at some place and at some point of time.
A change into sedimentary rock takes place at the earth's surface and conversion into a metamorphic rock takes place within the crust of earth. The sedimentary rocks may again be buried so deep that they melt forming igneous rocks. The change of one rock into another type under different conditions is known as rock cycle.