Section-A
Q.1. Read the following passage carefully :
1. Once a man saw three masons along with some labourers constructing a temple. He observed the masons for three days and found that though the three of them were doing the same kind of work, there was a marked difference in their approach to their job.
2. He saw that the first mason reported for his work late, did his work half-heartedly and sluggishly, enjoyed a longer respite, frequently checked the time on his wristwatch and left the work before time.
3. The second mason was very punctual in arriving and leaving, and did his work methodically. The third mason, however, would come before time, take little rest in the interval and often worked overtime.
4. The man naturally got curious and wanted to know the three masons' outlook on their work. He asked them what they were doing. The first mason tapped his big belly with his hand and said, "I am earning food for myself." The second said, T am constructing a building'. The third mason looked at the huge building and said, "I am building the house of God."
On the basis of your understanding of the above passage, answer any eight of the following questions :
(a) The three masons were constructing _______________
(b) A man observed them for _______________
(c) The man was curious because _______________
(i) they were constructing a temple
(ii) they were earning a livelihood
(iii) they were building a house of God
(iv) there was a marked difference in their approach to their job
(d) The word closest to 'carelessly' in para 3 is ______________
(i) heedlessly
(ii) haphazardly
(iii) methodically
(iv) irresponsibly
(e) Working 'lazily' in para 2 means_______________
(f) How did the first mason do his job ?
(g) What was the second mason's approach towards his job ?
(h) How did the third mason view his job ?
(i) With whom among those can you associate the phrase 'Work is Worship' ?
Ans. (а) a temple
(b) three days
(c) (iv) there was a marked difference in their approach to their job.
(d) (iii) methodically.
(e) sluggishly.
(f) The first mason did his job half-heartedly and sluggishly.
(g) The second man's approach towards his job was to earn his livelihood.
(h) The third mason viewed his job as service to God.
(i) 'Work is worship' can be associated with the third mason's attitude towards his work.

Q.2. Read the passage given below and answer the questions that follow :
My love for trains might have begun when I was a kid; when we were taken once or twice every year to long-distance train journeys. Of course the window seat was a treat, and if you saw the engine turn while looking out of it, the purpose of the entire trip was served.
But the real affair began when I was in college and regularly travelled in the trains' general compartment between Chennai and Bangalore. It was then that I started noticing people around me (unavoidable when you're shoulder to shoulder) and was fascinated by the insight into human behaviour that those train journeys provided.
My college had a railway track passing through the campus. For two years, my hostel room window overlooked the tracks, and my roommates and I soon knew which train to expect at what time, depending on the day of the week. We saw never-ending goods trains (the coaches of which I would count), blue-and-silver trains, red trains, trains with banian ads on them, and lone engines that chugged along. I think it was sometime around then that it actually hit me that there are so many people in India. Never once did we see a train with only a few people in it. They were always packed, with elbows sticking out of windows, people sitting and standing at the doors.
Sometimes, while walking to class, a train would pass by and I would catch someone's eyes. I could not help but wonder about the stories of these people. So many stories must've passed us by; coal from Dhanbad, oil tankers, humble locals and powerful cross-country trains.
Travelling by sleeper class helps one understand the sights, smells and sounds of India and her people. Having open windows is a plus — looking out from behind a rain-stained A/C window doesn't quite do justice. I also find the lack of privacy on sleeper coaches part amusing, part endearing and part annoying.
There is a bewildering variety of people on trains whom I keenly observe to collect material for my comics and writing. Someone throws food out of the window (something that makes my blood boil); someone else collects the trash and deposits it in the waste bin. There are tentative smiles that quickly grow into animated chats, there is the sharing of packed food, switching of berths and bonding over chai. 'Native' places are discussed, common ground is discovered, and everybody relaxes once the initial ice is broken.
Being on a train somehow makes me get into long conversations with myself - it gives me the time and mental space to think about where I'm going in my life.
2.1 On the basis of your reading of the passage answer the following questions in 30-40 words:
(a) When did the narrator start travelling regularly in trains? What did he do during his journeys?
(b) Describe narrator's feelings while travelling in a sleeper coach?
(c) What made the narrator realise that India had a huge population?
(d) When did the narrator develop liking for trains? What made the narrator happy during his train journeys?
Ans. (a) It was during college that the narrator started travelling regularly in trains During his train journeys, the narrator noticed people around me and the different set of behaviour they possessed.
(b) The narrator felt that travelling in a sleeper coach curtailed his privacy. The journey in a sleeper coach was partly amusing, part endearing and part annoying.
(c) The trains that the narrator saw were filled to the capacity. They were always packed with elbows sticking out of windows, people sitting and standing at the doors. He never saw a train with very few people in it.
(d) The narrator developed loved for train journeys during his childhood. As a child, the narrator enjoyed sitting at the window seat and was fascinated to see the train engine turning.
2.2 Answer the following questions in one or two words:
(i) What did people throw out of the train windows?
(ii) What kind of people travelled in the train?
Ans. (i) Food
(ii) Bewildering variety
2.3 Choose the correct option:
(i) Which of the following words mean the same as 'indefinite'? (Para 5)
(a) Bewildering
(b) Tentative
(c) Variety
(d) Animated
(ii) Which of the following words is the OPPOSITE of 'foreign'? (Para 5)
(a) Keen
(b) Collect
(c) Discover
(d) Native
Ans. (i) (b) Tentative
(ii) (d) Native
Section-B
Q.3. You are Shalini/Shashank living at 39, Kailash Colony, New Delhi. You have noticed that children are working in tea stalls, begging at intersections, etc., in spite of laws prohibiting child labour. Write a letter in 100-120 words to the Commissioner, Delhi Police, showing your concern about it and requesting strict implementation of law. (8 marks)
Ans.
39, Kailash Colony
New Delhi
e-mail : shi420-n@yahoo.com
2-02-20..................
To
The Police Commissioner
Delhi
Subject: Exploitation of Children.
Sir
There are stringent laws protecting the rights of children but, in spite of that, one can see them working at tea stalls and begging at intersections, right under the nose of the police. The tendency of the police constables, on duty, is to conveniently look the other way and let exploitation of chidren, continue, undeterred. Needless to say, gangs are active in all metropolises in kidnapping children and forcing them to take to begging. But, when we ignore chidren, begging at intersections, we encourage crime. Laws not implemented are worthless. It is action at the ground level which is required and only the beat constable, or patrolling police, can ensure compliance. I am confident that a strong message from your office could help protect the rights of these defenceless urchins.
Thanking you
Yours truly
Shalini
Or
Your friend Reema was teased by a male co-passenger in a bus. She asked for help but no one helped her in this embarrassing situation. Write an article in 100-120 words on 'Safety and Protection of Women in our - Country'. You are Fatima/Faizal.
— by Fatima
Ans. Safety and Protection of Women in our Country Safety of women in our country is a big concern. Women, being the weaker sex, frequently become targets of sexual harrassment, be it at home, in schools, colleges or in the workplace. Only yesterday, my friend was teased by a few boys, travelling in the same bus, as ours. The worst part was that no one from the public stood up to stop this vulgar display of masculinity. Increase in number of rape case, is also an indication of a sick society. A country, where its women are not respected and safe, has no right to be called civilised. The public should not remain mute spectators of such incidents, after all one needs to understand that the police cannot be omnipresent. Till the time such hooliganism is tolerated, without evoking public outrage, there is no hope for women to feel safe. Condemning such acts whenever and whereever they happen, by those present, is the best way to discourage such unruly elements from targeting women.

Q.4. Write a story in 150-200 words with the help of the given outline. Give it a suitable title also.
On Sunday I was watching TV. Suddenly I heard people shouting outside....
OR
Write a story based on the input given below:
Hints : Travelling in metro - tunnel - lights went out - general panic - pushing and shoving - screams - phone flashlights switched on - an old man...
Ans. Rescuing A Girl
On Sunday I was watching T.V, enjoying my favourite serial 'Crime Control' when all of a sudden I heard people shouting outside. I at once switched off the T.V. to know what all the commotion was about. I asked one of the neighbours why the people had gathered in large number and who they were running after. I was told that a girl had been kidnapped by a gang of ruffians and that they were carrying her in a car to an unknown place. The guard of the building spotted them on hearing the anguished cry of the girl. He at once fired at the car, bursting one of its tyres. This stopped the car at once. The men in the car at once began to run to their heels. In the meanwhile the girl got a chance to jump out of the car and shrieked - help ! help ! help. The painful cry of the girl made the people of the building to rush to the spot. They nabbed the culprits and informed the police. The girl was released and handed over to the parents. It was a gesture of goodwill shown by the people.
OR
Panic In The Metro
It was 10 in the night on a cold December night. We - my sister Rani and myself- were travelling in a Delhi metro. Everything seemed to be normal.
The train entered a tunnel, and then all of a sudden lights went out. There was a pitch darkness. The train seemed to sway and there were loud sounds as it passed on the rails.
It seemed the train was going to meet an imminent accident. There was general panic. Some passengers moved as if to escape the disaster. There was pushing and shoving among those who rushed to the doors. I heard a few ladies scream.
Luckily, a few youngsters switched on the flashlights on their phones. The train was still running...
An old man was seen fainted on his seat. No one of his family was with him, it seemed. No one knew what to do.. A middle-aged person turned up and told that he was a doctor. He inspected the old man, felt his pulse and lifted his eyelids, and declared that there was nothing serious. He took hold of a water bottle from a lady and sprinkled some water on his face, and shook the old man. The old man stirred and slowly opened his eyes. Everyone heaved a sigh of relief. After a few minutes . the lights came back. There was an announcement on the audio-system that there was nothing to worry, and regretted the inconvenience.
When we reached our destination, we thanked God for our safety.

Q.5. Complete the paragraph given below by filling in the blanks using the correct option from those that follow :
The modem student (a) ..................... the importance (b) ..................... physical exercise. He spends one to two hours in open air (c) .................. he takes part in different sports. However care should (d) .................... not to overstrain the body.
(a) (i) understood
(ii) understand
(iii) have understand
(iv) under stands
(b) (i) of
(ii) by
(iii) from
(iv) with
(c) (i) how
(ii) which
(iii) where
(iv) why
(d) (i) betaken
(ii) took
(iii) takes
(iv) has taken
Ans.
(a) (iv)
(b) (i)
(c) (iii)
(d) (i)

Q.6. The following paragraph has not been edited. There is one error in each line. Identify the error and write down its correction against the correct blank number. The first one has been done for you. Attempt any four.



Ans.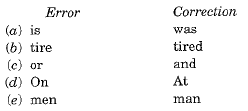 Q.7. The following paragraph has not been edited. There is one error in each line. Identify the error and write it along with corrections as shown below. Underline the correct word supplied by you.



Ans.
EDITING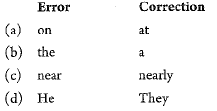 Section-C
Q.8. Read the extract given below and answer the questions that follow :
It sits looking
over harbour and city
on silent haunches
and then moves on.
Ques.
(a) It, here, refers to ..............
(i) the poet
(ii) fog
(iii) clouds
(iv) cat
(b) The figure of speech is .............
(i) simile
(ii) hyperbole
(iii) metaphor
(iv) repetition
(c) Where does it settle over ?
(d) What is 'It' compared to ?
Ans. (a) (ii) fog
(b) (iii) metaphor
(c) 'It' settles over the harbour.
(d) The fog is compared to a cat sitting on its haunches.
Or
The moon was coming up in the east, behind me, and stars were shining in the clear sky above me. There wasn't a cloud in the sky. i was happy to be alone high up above the sleeping countryside.
Questions :
(i) Choose the correct option :
The pilot was flying__________.
(a) a helicopter
(b) a boeing plane
(c) an old Dacota aeroplane
(d) a fighter plane
(ii) Which type of weather conditions are being discussed in the above lines ?
(iii) Explain the term 'the sleeping countryside' ?
(iv) Choose the correct option : Do you think the narrator is happy because__________. (a) he is alone high up above the countryside
(b) he is flying back to England
(c) he is flying a plane for the first time
(d) the weather was clear
Ans.
(i) (c) an old Dakota aeroplane.
(ii) The sky was clear and weather conditions were favourable.
(iii) It was one thirty in the morning and everyone was fast asleep.
(iv) (b) he is flying back to England.

Q.9. Answer the following questions in 30-40 words:
(a) Why would the children run to meet the baker as soon as he arrived?
(b) Describe the scene on the aeroplane when Mijbil came out of the box.
(c) What do 'fire and ice' stand for?
(d) Why was Dr Herriot confident that Tricky will be in hospital soon?
(e) Why did Ebright lose interest in tagging butterflies?
Ans. (a) TWO GENTLEMEN OF VERONA
The children were attracted to the sweet fragrance of the bread loaves. They liked to eat the bread- bangles or the special sweet breads meant for them. Moreover, they treated the baker as their friend.
(b) PROSE-MIJBIL THE OTTER
When Maxwell opened the box, Mijbil-the Otter disappeared at a high speed in the aircraft. He caused a great hue and cry n the aircraft. There were sounds of shrieks across the flight.
(c) POETRY - FIRE AND ICE
The poet describes the two harsh realities of the present world wherein 'fire' is used as an allegory for greed, cruelty, and lust, 'Ice' on the other hand is a representation of rigidity, hatred, coldness, and indifference.
(d) CHAPTER - A TRIUMPH OF SURGERY
Tricky was wobbling slowly in the house and was not even eating his favourite dishes. He had bouts of vomiting. Dr Herriot was sure that if a health regime was not followed for Tricky, he would be really ill soon.
(e) CHAPTER - THE MAKING OF A SCIENTIST
Initially, Elbright starting collecting butterflies out of curiosity to seek information. However, later, he lost interest in tagging butterflies because it was a tedious work that did not provide much feedback.

Q.10. "I wish I had the faith of the man". Describe Lencho's character in the light of the above statement.
Or
The Bakers of Goa were polite and courteous. They could rightly be called friends, philosophers and guides. Discuss the statement with special reference to the traditional bakers in Goa.
Ans. Lencho is a hardworking farmer. He is a firm believer in God. His unshaken faith m God is one of the sterling qualities of his character. His crops get perished. He and his family are in a miserable condition. His only fear is how to keep up until the other harvest when he has nothing left to sow seeds for the future crop. Despite this disappointing situation he remains firm and positive. He decides to write a letter to God asking for1 one hundred, pesos. This letter addressed to God so impresses the postmaster that he resolves to keep Lencho's faith intact by coming to his help. Lencho is simple and naive. Unlike others, he never wavers in his faith. His only weakness is that he does not have faith in other human beings. When he receives seventy instead of hundred pesos as demanded by him, he at, once blames the post office people for having kept the rest of the money. Little does he know that he is blaming the very persons who have sent him these seventy pesos.
Or
The profession of a baker was much more popular in Goa among the Portuguese. Even today baking bread is quite popular. In traditional Goan life bakers used to carry a musical bamboo that announced their arrival. They visited the streets twice a day.
The bakers were polite and courteous. They greeted the lady of the house. Children treated them as their friend, philosopher and guide. Bakers also knew the tastes of the all age groups for bread. They brought special bread for children and elders. The bakers used to wear a peculiar dress. It was a kind of long frock. It reached their knees. They used to wear trousers longer than half pants and shorter than full length pants.
The bakers earned enough to meet the needs of their family. They were happy and prosperous. They had plump physique.

Q.11. Answer the following questions in 100-150 words :
People should always try to live within their means. Aspirations have no limits but one should never forget the ground realities. Elaborate on the basis of the chapter, "The Necklace".
Ans. Aspirations have no limits and those who try to meet unrealistic expectations face disapointments and failures in life. Happiness is a result of contentment in life. Moreover, the desire to aspire for what is beyond ones means is an invitation to misfortunes. "The Necklace' is the story of a housewife who is unhappy with her middle class life. She tries in vain to copy the lifestyle of the rich and so, lives beyond her means. Her attraction to material things and not being able to afford them makes her feel depressed and dissapointed. Ultimately, her circumstances force her to lead the life of a lower middle class housewife, who has to slog it out throughout the day, to save money. Had she been satisfied with what she had, she would not have burrowed a necklace from her triend to attend a ball. Had she not forgotten the ground realities of her life and been honest, she would also not have fallen into a debt trap. She would have led a peaceful and happy life with her husband who loved her dearly.
Or
Bholi was believed to be a 'dumb cow'. What turned her into a fearless, bold and confident girl ?
Ans. Bholi was a simple village girl who was physically challenged. But she had got the opportunity to receive education inspired by an empathetic teacher. This changed her from a meek, submissive girl into a confident one, who had the courage to take a stand against unjust social practices. Education had empowered her and so when her bridegroom, an old man with kids, almost her own age, demanded dowry from her father, she refused to marry him. She boldly announced that she would work in a school and look after her parents. It had made her independent enough to fearlessly face the struggles of life. Education had transformed her from a 'dumb cow5 into a mature, fearless, confident girl, with a mind of her own. She proved she could live life on her own terms and could give a befitting reply to those, who are conditioned to treat women, based on an outdated traditional value system, social customs and beliefs.