Section-A (Reading)
Q.1. Read the passage carefully:
1. Even before the independence of India, father of the nation, Mahatma Gandhi had said that, "Sanitation is more important than Independence." He had emphasized the importance of cleanliness and sanitation in daily lives. However, he failed in his aim because of the incomplete participation of the people. After; many years of independence of India, a most effective campaign of cleanliness has been launched to call people for their active participation and complete the mission of cleanliness. The President of India, Pranab Mukherjee while addressing the Parliament in June 2014 said, "For ensuring hygiene, waste management and sanitation across the nation, a Swachh Bharat Mission will be launched. This will be our tribute to Mahatma Gandhi on his 150th birth anniversary to be celebrated in the year 2019." In order to fulfil the - vision of. Mahatma Gandhi and make India an ideal country in the world, the Government of India initiated a campaign called 'Swachh Bharat Abhiyan' on the birthday of Mahatma Gandhi (2nd of October). This campaign aims at completing the mission by 2019.
2. Through this campaign the Government of India would solve the problem of lack of sanitation by improving the waste management techniques. Clean India movement is completely linked with the economic strength of the country. The basic goal behind the launch of the 'Swachh Bharat Abhiyan' is to provide the country with enough sanitation facilities as well as to eliminate all the unhealthy practices of people in their daily routine. The completion of this mission would indirectly draw the attention of business investors to India, enhance the GDP growth, draw tourists from all over the world, create a variety of avenues of employment, reduce health costs, reduce death rate, and reduce fatal disease rate and many more. It has been requested that every Indian devote at least 100 hours per year to cleanliness in India which is sufficient to make this country a clean country by 2019. The cleanliness drive also ensures cleanliness in the official buildings. Spitting paan, gutka and other tobacco products in the government offices has been banned.
1.1. On the basis of your reading of the passage given above, answer the following questions.
(a) The passage is about________.
(i) Mahatma Gandhi
(ii) Pranab Mukherjee
(iii) Swachh Bharat Abhiyan
(iv) 150th birth anniversary of Mahatma Gandhi
Ans: (iii)
(b) Mahatma Gandhi failed in his aim of cleanliness because of the incomplete______.
(i) instructions given to officials
(ii) participation of the people
(iii) efforts made in this direction
(iv) enthusiasm of people
Ans: (ii)
(c) Gandhiji said that sanitation is more important than______.
(i) eating
(ii) ensuring hygiene
(iii) independence
(iv) anything else for our country
Ans: (iii)
(d) It is requested that every Indian should devote at least______to the cleanliness in India.
(i) one week a year
(ii) one month a year
(iii) 100 hours per year
(iv) 1000 hours per year
Ans: (iii)
(e) For the success of clean India mission, it is essential to improve_______.
(i) the methods of sanitation
(ii) public awareness
(iii) the waste management techniques
(iv) the lifestyle of the people
Ans: (iii)
(f) Clean India movement is completely linked with the _________.
(i) education of the masses
(ii) economic growth of the country
(iii) awareness of the masses
(iv) latest techniques of sanitation
Ans: (ii)
(g) Mahatma Gandhi emphasized the importance of______.
Ans: sanitation
(h) Swachh Bharat Mission will be our tribute to Mahatma Gandhi on his 100th birth anniversary. (T/F)
Ans: F

Q.2. Read the passage given below and answer the questions that follow:
Peer Pressure
1. Peer pressure is a phenomenon wherein we tend to get influenced by the lifestyle and the ways of thinking of our peers. Peer pressure can prove beneficial but it is most often observed to have negative effects.
2. The thought, behaviour and taste in fashion, music, television and other walks of life of the masses are often seen to have a deep impact on society. We tend to get influenced by the lifestyle of our peer group. The changing ways of life of our peers often force us to change our ways of looking at life and leading it. It's a human tendency to do what the crowd does. Few have the courage to resist the peer pressure and be their own selves rather than being one among the lot. Peer pressure is bound to affect most of us both positively and negatively. The distinction between positive and negative peer pressure lies in a thoughtful analysis of the views of the masses. Following your peers blindly leaves a negative impact on your life while an analytical approach of looking at peer behaviour can help you act positively. Peer pressure is not always bad. It can help you analyse yourself and contemplate on your ways of life. Some of the practices that the masses follow may actually teach you the way of living. You may be able to change yourself for the better. Looking at what others do, can help you bring about a positive change in your way of thinking. If you can pick selectively, peer pressure can actually result in a positive change in your way of life.
3. Teenage is that phase of life when you are exposed to the world outside. These are the years when you spend most of your time with your friends. Teenage is the phase of beginning to become independent in life; the years of forming your ideals and principles, the years that shape your personality and the years that introduce you to your own self. As adolescents you often spend most of your daily time with friends and owing to this, you tend to imitate your friends. The people around you are bound to influence you. However, the effect of the influences of the masses is greater during your teen years. Parents have a vital role to play during this phase of your life. Parents and teachers need to be careful while dealing with teenagers, as they are most susceptible to succumb to peer pressure during these years of their life. Teenage individuals need to be taught to distinguish between the good and the bad, the right and the wrong and should be taught to be thoughtful in life.
4. A strong support from family, an ability to differentiate between the positive and the negative and a skill to choose friends from among the peers - this three-pronged strategy is the best way to keep away from negative peer pressure.
2.1. On the basis of your reading of the passage, answer any four of the following questions in 30-40 words each :
(i) How can changing ways of life of our peers affect us ?
Ans: The changing ways of lives of our peers often forces us to change our ways of looking at life and leading it.
(ii) What needs courage ?
Ans: It takes courage to resist peer pressure and be our own selves rather than being one among the lot.
(iii) Name any two factors which can help you gain from peer pressure.
Ans: Two factors which can help us gain from peer pressure are the ability to analyse ourselves, contemplate on our ways of life and change for the better.
(iv) State any two characteristics of teenage.
Ans: The two characteristics of teenage are exposure to the world outside and it is a beginning to become independent.
(v) Why are teenagers snore likely to be affected by peer pressure ?
Ans: Teenagers are more likely to be affected by their friends because they spend most of their daily time with them.

2.2. On the basis of your reading of the passage, answer the following:
(а)Negative peer pressure is a result of________.
(i) following peers blindly
(ii) resisting peer pressure
(iii) trying to be ourselves
(iv) thoughtful analysis of the views of the masses
Ans: (i) following peers blindly
(b) Negative peer pressure can be avoided by________.
(i) remaining away from friends
(ii) by focussing only on studies
(iii) by analysing peer behaviour
(iv) always doing the opposite of what your friends do
Ans:(iii) by analysing peer behaviour
(c) The word which means the same as 'affected' in para 1 is_________.
(i) phenomenon
(ii) beneficial
(iii) effects
(iv) influenced
Ans: (ii) beneficial
(d) The word which means the same as 'give in to' is_______.
(i) susceptible
(ii) influence
(iii) succumb
(iv) exposed
Ans: (iii) succumb
Section-B (Writing and Grammar)
Q.3. You had been to a tourist spot and were disappointed at the way the place was being maintained. Write a letter in 100-150 words to the editor of a newspaper on how places of tourist interest should be made tourist-friendly. You are MayV Mohan, 48 Court Road, Trichur.
Or
"A man's good manners are a mirror in which he shows his portrait". This quote highlights the importance of good manners in life. Write an article in 100-150 words, for your school magazine on "Good Manners". You may use the following hints with your own ideas.
Ans: 48 Court Road Trichur
10th September, 20...
The Editor
The Hindustan Times New Delhi
Subject: Regarding places of tourist interest.
Sir,
I shall be thankful to you if you kindly publish the following lines in the columns of your newspaper.
During this summer vacation I happened to visit Shimla in the company of my friends. I was disappointed to see the indifferent attitude of the administration in maintaining the cleanliness at this famous tourist spot. I found the drains blocked with plastic bags. Dirty water was overflowing the drains and spreading mud on the roads. The tourists were fed up with the foul smell coming out of the open drains. The roadside 'dhabas' were unhygienic and dirty. The owners threw the waste on the roads. The vendors did not care for the cleanliness. There were no garbage dumps in which the tourists could throw the waste material. Plastic vans and empty bottles were lying on the sides of the roads. The administration failed to take care of the healthy environment of the place. Indiscriminate felling of the trees and interference with natural system had led to the ecological imbalance. Tourists' vans playing on the roads spread air-pollution. Several 'dhabas' had encrouched the government land and were hindering the free movement of the tourists.
The government should ensure that the places of tourist interest are made tourist-friendly. It can be done by keeping these places clean, healthy and free of pollution.
Encroachers should be severely dealt with and haphazard growth of resorts should be checked.
I hope the authorities concerned will take necessary steps to make places of tourist interest tourist-friendly.
Yours faithfully
Maya/Mohan
Or
Good Manners
Good manners cost nothing but pay rich dividends. They are like oil to the machine of life. They make life smoothsailing even in the rough weather of discourtesy displayed by others. Speaking politely and behaving in a friendly way in our day-to-day interaction with the people will have good impact on others who are sure to be infected by our good manners as manners, good or bad, are infectious in nature. The use of words like 'Please', 'Thank you', Tm sorry' shows our nice upbringing and can easily dub us as gentlemen or ladies. Moreover, a man's good manners are a mirror in which he shows his portrait. The innocent smile, a helping hand and sweet words are the mark of well-cultured and goodmannered person. He wins even his foes with his demeanour and pleasant, polite talk. Good manners are essential even in trying situations as they make our life go easily.

Q.4. Write a short story in 150-200 words, with the help of the cues given below. Give a suitable title to the story.
It is not always true that slow and steady wins the race - this was discovered by Rohan/Renu. when________.
Ans:
Rohan the slow and steady
It is not always true that slow and steady wins the race - this was discovered by Rohan when he was participating in a quiz competition, Rohan was very meticulous and always wanted to be sure of whatever answers he wrote, be it in the Exams, Classwork or Homework. Yes, he took more time than others but he always got the highest marks in his class. His teacher always gave his example to the class and said 'Look! Slow and steady wans the race."
Rohan's name was forwarded for a quiz on a TV show. The T)' day arrived - smartly dressed in his school uniform he along with Vijay reached the studio. Rohan was confident and cool as usual. The quiz started, Rohan and Vijay did well and reached the finals. Then came the nail biting finish. There was a tie between Team A and D. A tricky question appeared on the screen
- Rohan and Vijay discussed, Vlijay was about to press the button but Rohan stopped him -they could not go wrong at this stage.
Meanwhile, Team D appeared confused. On seeing Vijay ready to press the button they pressed it before him, guess work on their part turned out to be the right answer.
Vijay threw an exasperated glance at Rohan - why did he have to stop him - they knew the answer! But now nothing could be done - they had to be satisfied with the Runners Up Trophy
- not bad but the shine had gone______Guess work, quick action, won, with Rohan, the
slow and steady, looking sheepishly at Vijay.
Moral of the story : Slow and Steady does not always win.
Or
Deep inside the forest lived a good witch — she loved kids — but the kids were afraid to come near her —
Ans:
The Good Witch
Deep inside the forest lived a good, kind witch. Kids were fascinated by her little pumpkin cottage. But they were afraid because of her strange appearance. Her long black hat and black dress, made her look very intimidating. She used to wave to them but they would run away, frightened. One day a little girl wandered away from her home and could not find her way back. Alone, lost in the jungle, she sat under a tree, crying, when the kind witch noticed her. The girl, on seeing her, started crying all the more. The witch, just to make the girl happy, started dancing. The girl forgot her fright and started giggling at the funny dance movements of the witch. The witch also made her sit on her broom and gave her a ride. She then took her to her cottage, gave her pies to eat and a lot of gifts. She flew her back home, through the open window of her room, leaving her there safe and sound. Next day the little girl told all the children about the witch. They were excited to see the beautiful gifts and sneaked into the beautiful cottage. To try their luck, they too were given gifts by the kind witch. She told them she was not like the other witches and wanted to be their friend.
Moral of the story : Appearances can be deceptive.

Q.5. Rearrange the following words and phrases into meaningful sentences. The first one has been done as an example for you.
respect/said that/demanded/it/but/is/given/that/is not
It is said that respect is not demanded but given.
(a) if/something/then/in return for/should be/it is so,/it
Ans: If it is so, then it should be in return for something,
(b) self-respect/ come out of/is something/has/our self/that
Ans: Self-respect is something that has come out of our self.
(c) people/look at/tend to/you look at/the way/yourself/you
Ans: People tend to look at you the way you look at yourself.
(d) self image/ have/ so,/ a/ always/positive
Ans: So, always have a positive sell image.

Q.6. The following paragraph has not been edited. There is one error in each line.Write the incorrect word and the correction in your answer sheet against the correct blank number.



Ans: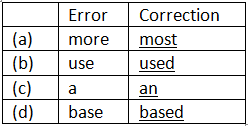 Q.7. Rearrange any four of the word clusters to make meaningful sentences :
(i) stormy/scary/a/was/and/night/dark/it
Ans: It was a dark, stormy and a scary night.
(ii) to/the visibility/road/dri ve/on the/was/too poor
Ans: The visibility on the road was too poor to drive.
(iii) way/fallen/obstructing/a/the/tree/was
Ans: A fallen tree was obstructing the way.
(iv) to/the/be/driver/needed/careful/very
Ans: The driver needed to be very careful.
(v) succeed/only/driver/an/would/experienced Ans.
Ans: Only an experienced driver would succeed.
Section-C (Literature)
Q.8. Read the extract given below arid answer the questions that follow:
Pairs was about 150 kilometres behind me when I saw the clouds. Storm clouds. They were huge. They looked like black mountains standing in front of me across the sky. 1 knew I could not fly up and over them and I did not have enough fuel to fly around them to the north or south.
"I ought to go back to Pairs, " I thought, but I wanted to get home. I wanted that breakfast. T'll take the risk', I thought, and flew that old Dakota straight into the storm.
(a) He could not fly up and over the stormy clouds because________.
(i) he was scared
(ii) his old Dakota was damaged
(iii) the storm was ferocious
(iv) he Hadn't enough fuel
Ans: (iv)
(b) Why did he not go back to Paris ? It was because________.
(i) he didn't like Paris
(ii) Paris was far away
(iii) he wanted homely breakfast
(iv) of the direction of the storm clouds
Ans: (iii)
(c) The storm clouds were______.
Ans: huge
(d) 'Enough fuel to fly'means______'.
Ans: Sufficient fuel so that he could fly and reach his destination
Or
This afternoon the two servants, who remained in the Grange while the family was in London, had gone to the movies. Horace saw them go, and he felt happy in spite of a little tickle of hay fever in his nose. He came out from behind the garden wall, his tools carefully packed in a bag on his back.
(a) Which physical trouble was bothering Horace ?
(i) cough
(ii) allergy
(iii) hay fever
(iv) bronchitis
Ans: (iii)
(b) What were his tools for ? They were for________.
(i) repairing locks
(ii) breaking locks
(iii) opening locks
(iv) breaking into houses
Ans: (iii)
(c) The two servants had gone to the________.
Ans: movies
(d) The phrase 'a little tickle' means________.
Ans: a slightly uncomfortable feeling

Q.9. Answer the following questions in 30-40 words each. Attempt any five.
(a) Why did Hari Singh feel bad after stealing the money ?
Ans: Hari Singh felt bad after stealing the money because he had betrayed the trust that we bestowed upon him by Anil. He knew he would feel sad when he would come to know about the theft. Most importantly, Hari Singh would be deprived of the opportunity to learn how to read and write from Anil.
(b) What shows that Mrs Pumphrey loved Tricki like a child ?
Ans: Mrs Pumphrey loved Tricki like a child and so she pampered and overfed him. He had loads of toys, cushions, coats and bowls. When the vet took Tricki to the hospital she wailed and almost fainted. She rang the hospital a dozen times to enquire about him.
(c) What was the most fascinating pastime of Valli ?
Ans: Valli's favourite pastime was to stand in front of the doorway of her house and watch the happenings in the street outside. It gave her many unusual experiences. The most fascinating was to see the bus which travelled from her village to the nearest town.
(d) How did Custard, the dragon fight with the pirate ?
Ans: Custard, the dragon, jumped up, snorting and clashing his tail and attacked the pirate. He squirmed, made a lot of clatter and danker, which terrified the pirate. He fired at Custard and missed. Custard killed him by swallowing him up. It shows that he was brave and courageous.
(e) How, according to the poet, can one identify an Asian Lion ?
Ans: The Asian Lion can be identified on the basis of its location i.e., the jungles of East Asia. And also by its tawny brown hide and his frightening roar. When one goes near him and is dying of fear due to its roar, he would know it is an Asian Lion.
(f) How did Mandela's understanding of freedom change with age and experience ?
Ans: As a student, he wanted the freedom to stay out at night, read what he pleased and go where he wanted. As a young man, he wanted basic and honourable freedom to achieve his potential, to earn his livelihood, to marry and have a family. But he found all these had been taken away from him even before he was born.
(g) What is the poet comparing human beings with and why ?
Ans: The poet is comparing the human beings with animals. Human beings have lost their basic goodness, honesty, simplicity, peace and contentment. The animals on the other hand are good, honest, simple and contented.

Q.10. 'The postmaster made efforts to ensure that Lencho's faith in God is maintained'.
Explain.
OR
How does the poem 'The Trees' make a strong plea against deforestation?
Ans:
PROSE - A LETTER TO GOD
The postmaster was a kind, generous, helpful, amiable and God-fearing man. One day, when a post office employee handed him a letter addressed to God he initially had an uncontrollable laughter. However, a few moments later he became serious as he was impressed as well as astonished looking at one's faith in God. In order to preserve this faith, the post master chalked out a plan wherein he himself gave a part of his salary and requested the other post office employees to do the same.. Even friends were made to contribute for a cause of charity and he managed to collect 70 pesos. He sent the money to Lencho along with a reply and signed the letter as 'God'. He did so in order to protect the man's faith in God.
OR
POETRY - THE TREES
The poem, 'The Trees' sends home a strong message against deforestation. It highlights the importance of trees by saying that due to non availability of trees there is no place for birds to sit, insects to hide. The poetess has emphasised on the fact that any aspect of nature particularly the trees are only comfortable in their original habitat. She stresses on the fact that many components of the eco system are dependent on trees. She personifies trees as revolting.
The poetess points out that it will be difficult to have a world without forests (trees) as it would disturb the ecological balance and lead to several problems.
Therefore, human beings need to stop the act of deforestation in the name of development as in the long run this development is gradually going to take us backwards.

Q.11. How did one old book of nursery rhymes save the earth from a Martian invasion ?
Or
Give a character-sketch of the hack driver.
Ans: Historian states that it was a simple book of nursery rhymes ("Mother Goose") which saved the planet earth , from a Martian invasion. The mighty Think-Tank (Commander-in-chief) of Mars Space Control was all set to invade the earth with a fleet of space-ships. But before he could do that, he came to know about the advanced state of civilisation on the earth. Actually, his trusted officers like Captain Omega, Lt. lota, Sergeant Oop and Noodle were able to decipher and decode a book of nursery rhymes. They enjoyed reading the nursery rhymes and laughed happily. But Think-Tank misinterpreted the rhymes and became serious after hearing them. He came to the conclusion that the Earthlings had reached a very advanced state of civilisation and hence it was not safe to invade them. He ordered Noodle to prepare a space capsule for him so that he could run away to Alpha Certauri which was a hundred million miles away from the earth. Thus a single book saved mankind from a Martian attack.
OR
Lutkins is the central character in the story "The Hack Driver". He is a clever and crafty person. He is able to befool the narrator when the latter goes to serve summons on him. He is wanted as a witness in a legal case. But he has been avoiding the authorities. He has ignored all the letters sent to him. That is why, the narrator (who is a young lawyer) is asked to go to New Mullion to serve a notice to him.
Lutkins is a good actor. He is very clever. He plays his part so well that the young lawyer does not suspect him at all. Lutkins poses as Bill in order to deceive the young lawyer. He tells him that Lutkins is always up to one mischief or the other. He pretends that Lutkins owes him money. He takes the young lawyer to Fritz's, Gustaffs and Gray's shops. He charges two dollars per hour for the hack ride. He also persuades the young lawyer to buy lunch from his place. Thus, he earns some dollars also.
Lutkins" behaviour proves that appearances are deceptive. We should never take anybody at his face value. We can be misled by rogues and scoundrels like Lutkins.