(Section - A)
Q.1. Read the passage carefully :
The dragon played an influential and beneficial role in Chinese culture. An amalgam of several creatures, including monitor lizards, pythons and the Chinese alligator, the dragon was a water spirit, responsible for bringing the rains and thus ensuring the survival of crops. The dragon was a symbolic guardian to the gods and was the source of true wisdom. The dragon represented two of the ancient elements, Earth and Water, endowing the creature with powers of illusion and strength. Shaolin Buddhists saw him as a vision of enlightened truth, to be felt, but never to be held. Certain very old men were called dragons,being well versed in the life-supporting skills of herbal medicine, agriculture and kung fu. In early China, these skills were surely a matter of life or death and those so educated were held in high esteem.
Southern Dragon kung fu is essentially an internal, qi cultivating method, but initial training is far more like a hard, external style. In learning the moves, the student will strike hard, block hard and stomp into each position, with the idea of learning the proper place to be, once each movement is complete.
Eventually, the method of transmitting power is retained, and the physically strengthened body is able to make transitions in the proper, fluid manner. In turn, this dragon-like smoothness helps disguise the attack, making it extremely difficult for an adversary to effectively counter. Once a purely physical semblance to flow has been mastered, the disciple incorporates the deep hissing sounds to train qi flow. Inhaling is silent, but exhalation is deliberate, tense and controlled. Inhaling lightens the body for aerial manoeuvres while exhaling drives power into each technique. Blocking is dispensed with and parries or simple strikes substituted. At this point, novice and advanced students show very little in common.
At the highest level, an opponent is allowed to tire himself out> evasion becoming the Dragon's key defence. Qi control is highly developed and the degree to which the body must be moved to redirect or avoid impact is under greater control.
On the basis of your reading of the passage given above answer the following questions :
(a) The dragon played a ............. role in Chinese culture.
(i) significant
(ii) beneficial
(iii) responsible
(iv) powerful
Ans. (ii) beneficial
(b) The dragon represented two elements. Which were they ?
(i) Water and fire
(ii) Earth and fire
(iii) Earth and water
(iv) Earth and air
Ans. (iii) Earth and water
(c) Inhaling lightens the body for ....................
(i) jumping
(ii) quick movements
(iii) aerial manoeuvres
(iv) agility
Ans. (iii) aerial manoeuvres
(d) At the highest level, an opponent is allowed to ..... ...............
(i) attack
(ii) withdraw
(iii) tire himself out
(iv) learn new techniques
Ans. (iii) tire himself out
(e) Dragon was .......................... for bringing the rains.
(i) useful
(ii) harmful
(iii) responsible
(iv) hindrance
Ans. (iii) responsible
(f) Dragon is endowed with powers of illusion and ...........
(i) grace
(ii) weakness
(iii) temptation
(iv) strength
Ans. (iv) strength
(g) At the highest level, evasion become the dragon's .......................
Ans. keydefence
(h) The dragon was a symbolic guardian to the gods. (True/False)
Ans. True

Q.2. Read the passage given below carefully and answer the questions that follow :
1. We need to eat healthy in order to stay healthy. Let's start by walking to the nearest grocery or vegetable market for shopping in the old way, rather than stepping out of the house and getting into the car. Grocery shopping will be an easier experience and you will bring home healthier foods if you start with a healthy grocery shopping list. With a grocery list in-hand, you won't wonder what to buy !
2. Fresh vegetables and fruits should make up the largest part of your healthy shopping. Vegetables and fruits have vitamins, minerals, anti-oxidants, and they are usually low in calories. Choose a variety of fruits and vegetables that everyone in your family will enjoy. Among fresh vegetables, go for lettuce, cucumbers, carrots, tomatoes, onions, peas, potatoes, and cauliflower, to name a few. Include fruits like bananas, apples, oranges, pomegranates, pears, etc.
3. Most of your grain and cereal products should be made from whole grains and not from refined flours. This part of your list includes whole grain breads, pastas, and breakfast cereals. Whole grains are important for vitamins, minerals, and fibre, which is often lacking in modern diets.
4. Protein and meat choices should consist mostly of fish, poultry and lean meats. Eggs, nuts, seeds and legumes are also good protein choices. Choose fresh food over frozen food. Beverages should be kept simple. Water, low fat milk, juices, and herbal teas are all good choices. If you opt for soft drinks, choose diet sodas and diet soft drinks to avoid extra sugar. Dairy products should include yogurt, cheese, and low-fat milk. Probiotic curd and yogurt are a great new option for a healthy meal.
5. Olive oil is a natural juice that preserves the taste, aroma, vitamins, and properties of the olive fruit. Olive oil is the only vegetable oil that can be consumed as it is — with salad and as a dip with breads. The healthy benefits of using olive oil are due to its high content of mono- unsaturated fatty acids and its high content of anti-oxidants. Studies have shown that olive oil offers protection against heart problems by keeping cholesterol levels low. Olive oil is very well tolerated by the stomach, and it also fights against cancer.
6. Frozen foods are a convenient way to keep vegetables on hand but as a rule we should try to avoid all processed food and focus only on fresh produce. Foods in cans and jars are also very convenient. Look for low sodium, low fat, and low calorie, if it is necessary for you to buy them.
2.1. On the basis of your understanding of the above passage, answer any four of the following questions in 30-40 words each :
(a) Why should we include fresh fruits and vegetables in our shopping list ?
(b) What are the different fruits and vegetables we should include in our list ?
(c) Why should we include whole grains in our diet ?
(d) What are the health benefits of using olive oil ?
(e) What are good protein choices ?
Ans. (a) We should include fresh fruits and vegetables in our shopping list because they have vitamins, minerals, anti-oxidants, and are usually low in calories.
(b) Different fruits and vegetables which we should include in our list are lettuce, cucumbers, carrots, tomatoes, onions, peas, potatoes, and cauliflower. Fruits like bananas, apples, oranges, pomegranates, pears etc. can be included.
(c) Whole grains should be included because they are rich in vitamins, minerals and fibre which is often lacking in modem diets.
(d) Health benefits of using olive oil are that it contains high content of monounsaturated fatty acids and antioxidants. It offers protection against heart problems by keeping the cholesterol levels low. It is well tolerated by the stomach and also fights against cancer.
(e) Good protein choices are fish, poultry, lean meat, eggs, nuts, seeds, legumes, dairy products such as yogurt, cheese and low fat milk.
2.2. Attempt any two. Choose the most appropriate option :
(a) The word which means the same as drinks is _____________. (para 4)
(i) juices
(ii) water
(iii) beverages
(iv) soft drinks
Ans. (iii) beverages
(b) Milk products (para 4) come under ____________ products.
(i) Cheese
(ii) Yoghurt
(iii) Probiotic curd
(iv) dairy
Ans. (iv) dairy
(c) The antonym of 'rejected ' (para 6) is _____________
(i) accepted
(ii) live with
(iii) tolerated
(iii) endured
Ans. (i) accepted
2.3. Attempt any two. Fill in the blanks
(i) ____________ should be kept simple.
(ii) Diet soft drinks are low in _________
(iii) ______ and yoghurt are a great new option for a healthy diet.
Ans.
(i) Diet
(ii) sugar
(iii) Probiotic curd
(Section - B)
Q.3. Influence of friends can have Both positive and negative impact on the students.
Write a letter to the editor of a national daily in 100-150 words discussing how we can make it more positive and productive. You are Arun/Aruna 24, Mall Road Chennai.
Or
The pledge taken by school children of a cracker free Diwali did not meet with much success. Write an article in 100-150 words giving reasons for this. Suggest measures to curb the use of crackers to make it a crackerfree and green Diwali.
You are Arun/Aruna.
Ans.
24, Mall Road Chennai .
16th May, 20...
The Editor
The Hindustan Times
Chandigarh
Sir
Sub : Impact of friendship
Kindly publish my views on the above mentioned topic in the columns of your newspaper.
There is no doubt that friendship is a valuable relationship which exerts a great impact on one's mind.
Friendship establishes a bond of companionship. Young boys and girls share their intimate feelings with their friends. They discuss with their friends even those things which they can't discuss with their parents. If the friends are class-fellows also, there is healthy competition among them. It boosts their happiness and reduces their stress. Happily, they help each other in studies.
But friendship sometimes has a negative impact also. It results in wastage of time and development of vices like smoking and drinking.
Friendship can be useful if friends use their time in a productive way. They can learn from one another and take up projects and social work. They can encourage each other by being supportive and not jealous.
Yours faithfully
Arun
Or
A Cracker-Free Green Diwali
The pledge taken by the school children of a cracker free Diwali did not meet with much success. It failed to generate enough awareness. It appears that more motivation is required to prepare the students for this.
It must be put in the minds of children that crackers have an adverse effect on the atmosphere. They pollute not only the air but also the soil and water. This pollution is very harmful, especially for children and the old people.
In order to encourage the children to enjoy a cracker-free Diwali, awareness campaigns, highlighting the disastrous effects of pollution, should be started. Nature conservation should be encouraged. If at all they want to enjoy with crackers, they should prefer crackers with less sound and less emission. This campaign must be popularized through media. Only then will it be a success.

Q.4. Develop a short story with the help of the given visual/starting line. Give a suitable title to your story. (150-200 words)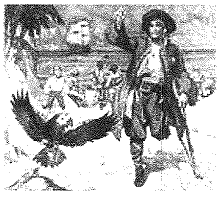 Or
it was an amazing day, full of fun and frolic. We all stood aghast to see a strange flying object over our heads. We started guessing... (write in 150-200 words)
Ans. The Adventures of Captain Cook
Captain Cook and his crew landed on an island. After months of sailing, landing in the middle of nowhere, was such a welcome sight. Tom, the stowaway, 11 years old, was excited to see an island. He just couldn't wait to climb trees and chase crabs on the beach. Monkeys, on trees, were quietly watching men, who had intruded into their island. Captain Cook's parrot was in high spirits, "Captain, Captain!" Tommy' Tommy". "O shut up, you wretched bird!" scolded Captain Cook.
Captain Cook ordered his crew to make a bonfire and pitch tents. He instructed that no one should venture out into the island alone. Tom was getting restless. He so wanted to explore this beautiful place! After all, months of being on the ship, and the tiresome sight of water everywhere, was so boring.
The crew was busy pitching tents and getting food supplies from the boat and Tom found it an opportune time to sneak out of the camping site, unnoticed. He had just gone a few metres into the forest when he heard something. Someone was behind him. He turned around, saw nothing, and so decided to move ahead, when something hit him from behind! Scared, he ran. He heard a voice "Tommy scared! Tommy scared!" "Go back, go back" Oh! It is the Captain's wretched bird. It wouldn't leave him alone and the Captain would thrash him black and blue for disobeying his orders. He turned back and luckily for him, no one had noticed his absence.
Or
The Weird Bird
It was an amazing day, full of fun and frolic. We all stood aghast to see a strange flying object over our heads. We started guessing, "What is it ?" "Could it be a weird bird ? Or could it be a UFO T Everyone on the playground stood agog! We had not even recovered from our surprise when once more it whizzed past over us and this time a little closer. Some one, with an oxygen mask, as it appeared to us, from where we were standing, waved to us. Oh, God! an alien! but a friendly one.
A few schoolmates, especially girls, shrieked and ran inside. John, quite amused at their behaviour said, "Oh, come on! He is a friendly alien, he just waved to us." Martin said, "John, they always behave like this." He then shouted at the top of his voice," Sorry Man! Welcome to our planet Earth!" The object stopped and blew a loud whistle, as if acknowledging hie greetings.
John shouted in excitement, "It is a UFO, Guys. How exciting!" All, but me, were waving like mad. I noticed that the object had two front lights and two back lights and looked more like a car but with wings. I said "No, It is not a UFO."
Everyone looked at me. And now, a window rolled down and the head of a man, wearing a helmet, popped out. He yelled "Don't be surprised, I am driving the first flying car of the century'. I clapped and with me the others - we were witnessing another scientific wonder of the twenty first century!

Q.5. Rearrange the following words and phrases into meaningful sentences.
The first one has been done as an example for you.
Ex. knew/father/nobody/who/was/his
Nobody knew who his father was.
(a) died/mother/his birth/his/soon/after
(b) brought up/ run by/Oliver/was/ in an orphanage / the workhouse
(c) was/ there/ children/ always/ hungry/the
(d) smallest/ was/ the orphanage / Oliver/ boy/ in/the
Ans. SENTENCE REORDERING
(a) His mother died soon after his birth.
(b) Oliver was brought up in an orphanage run by the workhouse.
(c) The children there were always hungry.
(d) Oliver was the smallest boy in the orphanage.

Q.6. In the following passage one word has been omitted in each line. Write the missing word along with the word that comes before and the word that after it against the correct blank number.



Ans. (a) by the British
(b) when they began
(c) men had begun
(d) worked their way

Q.7. Rearrange any four of the following groups of words/phrases to make meaningful sentences :
(а) food is/the way/is/very important/cooked
(b) different/there/are/ways/of cooking
(c) over boiling/is cooking/water/food/steaming
(d) steamed food/healthy/to/is considered/be
(e) food/open fire/over/grilling/is cooking
Ans. (а) The way food is cooked is very important.
(b) There are different ways of cooking.
(c) Steaming is cooking food over boiling water.
(d) Steamed food is considered to be healthy.
(e) Grilling is cooking food over fire.
(Section - C)
Q.8. Read the extract given below and answer the questions that follow :
I finished my poem, and it was beautiful ! It was about a mother duck and a father swan with three baby ducklings that were bitten to death by the father because they quacked. too much. Luckily, Mr Keesing took the joke the right way. He read the poem to the class, adding his own comments, and to several other classes as well. Since then I've been allowed to talk and haven't been assigned any extra homework. On the contrary, Mr Keesing is always making jokes these days.
(a) Who helped Anne to write her essay in verse ?
(i) Anne's father
(ii) Anne's friend Sanne
(iii) Anne's English teacher
(iv) Anne herself
Ans. (ii) Anne's friend Sanne
(b) Mr. Keesing was Anne's.............................
(i) English teacher
(ii) Science teacher
(iii) Social science teacher
(iv) Maths teacher
Ans. (iv) Maths teacher
(c) Anne's beautiful poem was about..................................
Ans. a mother duck and a father swan
(d) The phrase 'bitten to death' means ..................................
Ans. they were killed cruelly
Or
He escaped easily enough from the boys who followed his footprints in London. But his
adventures were by no means over. He had chosen a bad time of the year to wander about London without clothes. It was mid-winter. The air was bitterly cold and he could not do without clothes. Instead of walking about the streets he decided to slip into a big London store for warmth.
(a) In spite of cold winter,; why was 'he' without clothes ?
(i) he had no clothes
(ii) he wanted to escape without being seen
(iii) he hated wearing clothes
(iv) his clothes got burnt in the fire
Ans. (ii) he wanted to escape without being seen
(b) Why did he want to go to a big store in London ?
(i) He could get mixed up with crowd
(ii) He could steal some clothes to wear
(iii) He could feel warm in the store
(iv) He could buy woollen clothes to wear
Ans. (iii) He could feel warm in the store
(c) The boys were following his .......................
Ans. footsteps
(d) The phrase'a bad time of the year'means ..........................
Ans. an inappropriate time, not suitable for such a job

Q.9. Answer any five of the following questions in 30-40 words each :
(а) What special characteristic of Mijbil did Max well learn after he took him to the bathroom ?
Ans. Maxwell learnt that Mijbil loved to play with water after he took him to the bathroom. Mijbil loved to splash, roll and plunge in water. He realised that otters love to see water on the move and so every drop of water must be spread about. When static, water for them was wasted and provoking.
(b) How can a baker be recognised ?
Ans. A baker can be recognised by his dress which is a shirt and trousers shorter than full lengths ones and longer than half pants. Moreover, he carries a specially made bamboo staff which makes a 'jhang jhang' sound and has a basket on his head.
(c) What lesson did Ebright learn when he could not win a prize at the science fair ?
Ans. When Ebright was in the seventh grade he entered a county science fair and lost because his entry was slides of frog tissues. He realised that the winners had tried to do real experiments, not just make neat displays.
(d) Why was the lawyer not happy with his job ?
Ans. The lawyer was not happy with his job because it did not involve preparing legal briefs rather he had to go to shady places, seek out his victims and serve summons, just like a cheap private detective. He was also beaten up by some of the larger and more confident ones.
(e) Who is the mermaid in 'Amanda' ? What does 'she' wish to do ?
Ans. Amanda is a small school going girl who imagines she is a mermaid. She wishes to be free and enjoys the bliss of the silent sea. She imagines that she is the sole inhabitant of the sea drifting around without any restrictions. She wants to escape from the endless nagging of her mother.
(f) Do you think the title 'The Proposal' is apt for the play ? Why/why not ?
Ans. Ivan comes to propose to Natalya but the proposal gets lost in their quarrels. Ivan, unable to take it any longer, faints but recovers. Afraid of another fight breaking out, Chubukov, hurriedly puts Lomov's hand into Natalya's land and makes Ivan and Natalya kiss each other and pronounces them husband and wife. Thus the title is apt.
(g) What kind of a welcome did the lawyer receive at Oliver's mother's house ?
Ans. Oliver's mother initially refused to have any knowledge of his whereabouts. She went inside the kitchen, seized an iron rod from the stove, and rushed at them, thretening to burn them, if they did not leave. When they made a frightened retreat she shouted and laughed at them.

Q.10. "Paper has more patience than people." Elucidate.
Or
'A determined desire can help us in achieving our goals' Taking cues from the chapter, 'Madam Rides the Bus', comment.
Ans.
PROSE- FROM THE DIARY OF ANNE FRANK
Anne Frank felt lonely in the world. She had loving parents, an elder sister and a number of friends. But she was not close with anyone. She could talk to them about common everyday matters. But she could not express her innermost feelings to them. She wanted a patient listener with a sympathetic heart. But she found that people had no patience to listen to her. She could not reveal the feelings of her heart to anyone. Anne wanted to lighten the burden of ideas in her heart. So she decided to maintain a diary. A diary is not a human being. It has a lot more patience than man. One can express one's thoughts freely. The diary does not get bored. It is a true friend. It never rejects the offer of friendship. That is why Anne Frank says that paper has more patience than people.
Or
PROSE-MADAM RIDES THE BUS
Valli is an eight-year-old village girl. She is fascinated by the bus that comes to the village every hour. She develops a desire and then a longing turning into a firm determination to ride the bus. She scrupulously plans for it and saves money for the bus journey. Then she boards the bus without anyone's help. She travels all alone, confidently and independently and finally returns home successfully. Her self-dependence and self-respecting nature helps her to nurture her goal. She enjoys her journey. Similarly, to achieve goals in life, we need to have such values in us. One should be confident and self- dependent. Proper planning and strong determination lead to success. Enthusiasm and excitement to achieve the goal are also needed to nurture our goals in life. Moreover, the ardent desire added with an undefeated attitude ensures victory in the long run. It has been this determination only that led human beings to reach the moon.

Q.11. Comment on the aptness of the title of the story 'A Triumph of Surgery' (100 -150 words).
Or
What made Horace lose his trust for other thieves ?
Ans. The title of the story ' A Triumph of Surgery' is ironic and aptly suited to the situation where Tricki, a greedy dog, falls sick because of being over-pampered and overfed. As a result, Tricki becomes fat and lazy. Mrs Pumphrey seeks medical help as she does not realize that ;Tricki's state was her own doing. She is frantic as she thinks something is drastically wrong with Tricki. In spite of repeated warnings by the narrator, she had failed to give a healthy grooming to Tricki. She does not realize that pets need a disciplined lifestyle like humans. When Tricki recovers under the narrator's watchful eye, she thinks it is a triumph of surgery. Ironically, the doctor has used no medicine or surgery to cure the dog. The lady's remark amuses us.
Or
Horace Danby had always believed in the phrase "honour among thieves". It means that thieves blindly trust other thieves. It is a point of honour among thieves to trust one another. No thief reports against another thief. But Horace Danby had a bitter experience. At Shotover Grange when he was going to commit a theft a lady who pretended to be the mistress of the house had cheated him. Actually this lady was also a thief. She got Horace to open the safe. Horace trusted her and opened the safe without gloves. Later on, this lady got him arrested. He was sent to jail.This incident made Horace lose trust for other thieves.