PROJECT TIGER
Project Tiger centrally sponsored scheme was launched in 1973 with the following

Objectives:
To ensure maintenance of available population of Tigers in India for scientific, economic, aesthetic, cultural and ecological value
To preserve, for all times, the areas of such biological importance as a national heritage for the benefit, education and enjoyment of the people
Aim
Conservation of the endangered species and harmonizing the rights of tribal people living in and around tiger reserves.

Tiger Reserve
Tiger reserves are areas that are notified for the protection of the tiger and its -prey, and are governed by Project Tiger which was launched in the country in 1973-2016 the number is grown up to fifty (50).
A total area of 71027.10 km2 is covered by these project tiger areas.( Latest Update Year :2018)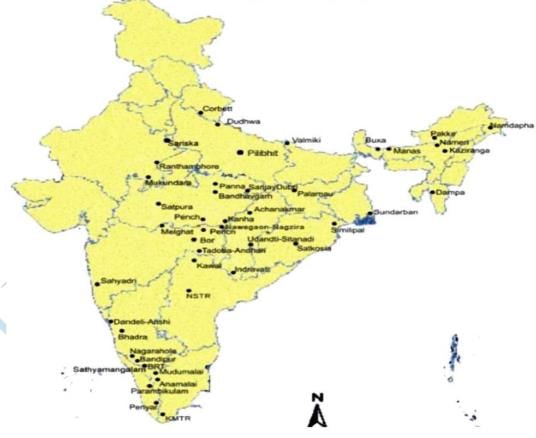 PROJECT ELEPHANT
Project Elephant was launched in February, 1992 as centrally sponsored scheme to assist states having free ranging populations of wild elephants and to ensure 'long term survival of identified viable populations of elephants in their natural habitats.
Implemented in 13 States/LITs, viz., Andhra Pradesh, Arunachal Pradesh, Assam, Jharkhand, Karnataka, Kerala, Meghalaya, Nagaland, Orissa, Tamil Nadu, Uttaranchal, Uttar Pradesh and West Bengal. Small support is also being given to Maharashtra and Chhattisgarh.
Objectives
To protect elephants, their habitat & corridors
To address issues of man-animal conflict Welfare of domesticated elephants
Monitoring of illegal Killing of Elephants (MIKE) Programme
Mandated by COP resolution of CITES, MIKE program started in South Asia in the year 2003 with following, purpose
To provide information needed for elephant range States to make appropriate management and enforcement decisions, and to build institutional capacity within the range States for the long-term management of their elephant populations.
Main objectives
to measure levels and trends in the illegal hunting of elephants;
to determine changes in these trends over time;
to determine the factors causing or associated, with such changes, and to try and assess in particular to what extent observed trends are a result of any decisions taken by the Conference of the Parties to CITE
Haathi Mere Saathi
Haathi Mere Saathi is a campaign launched by the Ministry of environment and forest (MoEF) in partnership with the wildlife trust of India.
To improve conservation and welfare prospects of the elephant - India's National Heritage Animal.
The campaign was launched at the "Elephant- 8" Ministerial meeting held in Delhi on 24th May 2011 The E-8 countries comprise of India, Botswana, the Republic of Congo, Indonesia, Kenya, Srilanka, Tanzania, and Thailand (12T2BCKS)
The campaign mascot 'Gaju'.
The campaign focuses on various target audience groups including locals near elephant habitats, youth, policy makers, among others.
It envisions setting up of Gajah (the elephant) centres in elephant landscapes across the country to spread awareness on their plight and invoke people's participation in addressing the threats to them Tiger, faces threat of extinction, whereas the elephant faces threat of attrition elephant particularly the tuskers (male), in India is as threatened as the tiger.
There are just about 1200 tuskers left in the country.
E-50:50 forum
The umbrella of elephant-50:50 forum. It is the shared vision of 50 states to promote conservation, management and welfare of elephants in the next 50 years. E-50:50 forum The E-8 countries decided to hold the 1st International Congress of E 50:50 forum in early 2013 at New Delhi, India for adopting a common global vision on conservation, management and welfare of elephants across all range countries.
VULTURE
India has nine species of vultures in the wild. They are the
Oriental White-backe d Vulture (Gyps bengalensis),
Slender billed Vulture (Gyps tenuirostris),
Long billed Vulture (Gyps indicus),
Egyptian Vulture (Neophron percnopterus),
Red Headed Vulture (Sarcogyps calvus),
Indian Griffon Vulture (Gyps fulvus),
Himalayan Griffon (Gyps himalayensis),.
Cinereous Vulture (Aegypius monachus)
Bearded Vulture or Lammergeier (Gypaetus barbatus)
(i) Decline of vulture populations in India was first recorded at the Keoladeo Ghana National Park, Rajasthan Red-headed vulture or king vulture, Slender billed Vulture and Long billed Vulture are listed as critically endangered.
(ii) Populations of Egyptian vultures and White- backed Vulture have also undergone decline in India and are now classified as Endangered. ( Egypt people are white) decline in population was due to the drug diclofenac
(iii) Meloxicam-An Alternative-Meloxicam is a second generation NS AID and rated better than Diclofenac for the treatment of livestock, with reduced risk of side effects, and is also approved for human use in more than 70 countries. Meloxicam is licensed as a veterinary drug in India, Europe and USA.
Vulture Safety Zones
Aim of developing VSZs is to establish targeted awareness activities surrounding. 150 km radius of vultures' colonies so that no diclofenac or the veterinary toxic drugs are found in cattle carcasses, the main food of vultures (to provide safe food).
Zones
The zone between Uttarkhand to Nepal, which spans from Corbett to Katriya Ghat, a Tarai belt, covering 30,000 square kilometers will be earmarked as Vulture Safe zone. Slender-billed vulture and white-backed vulture are Found hi this area, which is marshy grassland, savannas and forests.
Similarly, a belt between Dibrugarh in Assam to North Lakhimpur in Arunachal Pradesh will also be conserved as a vulture safe zone where slender-billed and white-backed species of vultures are found.
The third zone would be in central India, covering Chhatisgarh, where white-hacked and long-billed vultures are found
ONE HORN RHINO
Indian Rhino Vision 2020
Indian rhino vision 2020 implemented by the department of environment and forests,
The program will be supported by WWF - India; WWF areas (Asian rhino and elephant action strategy) programme, the international rhino foundation (IRF), save the rhino's campaign of zoological institutions worldwide.
The vision of this program is to increase the total rhino foundation in Assam from about 2000 to 3000 by theyear2020 and to ensure that these rhinos are distributed over at least 7 protected areas. (PA) to provide long term viability of the one-horned rhino population. Translocations are the backbone of the IRV 2020 program
The goal set was, to populate the potential rhino habitat areas identified viz. Manas NP, Dibru Saikhowa WLS, Laokhowa Bura Chapori WLS with a viable population of rhino through translocations from Kaziranga NP and Pobitora WLS.
PROJECT SNOW LEOPARD
SNOW LEOPARD:
The mystical apex predator The snow leopard is a globally endangered species. Merely 7,500 are estimated to be surviving over two million square kilometres in the Himalaya and Central Asian mountains, where they are facing tremendous human pressures.
India is perhaps home to 10% of the global population in less than 5% of its global range, having a substantial proportion of its global population.
Distribution in India-in Indian Himalayas, high altitude areas located above the forests, in the five Himalayan states of Jammu & Kashmir, Himachal Pradesh, Uttarakhand
Sikkim and Arunachal Pradesh. Most snow leopard occurring in China, followed by Mongolia and India Jan 2009- The Project Snow Leopard is an Indian initiative for strengthening wildlife conservation in the Himalayan high altitudes
Goal:
To safeguard and conserve India's unique natural heritage of high altitude wildlife populations and their habitats by promoting conservation through participatory policies and actions
The high altitudes of India (> 3000 m. to 130,000 km2, including the Himalaya and Trans-Himalaya biogeographic zones) support a unique wildlife assemblage of global Conservation importance.
This includes highly endangered populations of species such as the snow leopard, two species of bears, wolf, red panda, mountain ungulates such as the wild yak, chiru, Tibetan gazelle, Tibetan argali, Ladakh urial, two species of musk deer, the hangul, three species of goral, serow, and takin, etc. High altitude lakes and bogs provide breeding grounds for a variety of fauna including the black- necked crane, barheaded Geese, brahminy ducks, and brown-headed gulls, etc.
In 2003, the Convention on International Trade in Endangered Species (CITES) expanded the scope of the CITES Tiger Enforcement Task Force to include all Asian big cat species including the snow leopard.
SEA TURTLE PROJECT
A significant proportion of world's Olive Ridley Turtle population migrates every winter to Indian coastal waters for nesting mainly at eastern coast. Conservation of olive ridley turtles and other endangered marine turtles,
Ministry of Environment & Forests initiated the Sea Turtle Conservation Project in collaboration of UNDP in November, 1999 with Wildlife Institute of India, Dehradun as the Implementing Agency Implemented in 10 coastal States of the country with special emphasis in State of Orissa.
One of the important achievements have been demonstration of use of Satellite Telemetry to locate the migratory route of Olive Ridley Turtles in the sea and sensitizing the fishermen and State Government for the use of Turtle Exclusion Device (TED) in fishing trawlers to check turtle mortality in fishing net
INDIAN CROCODILE CONSERVATION PROJECT
The Indian Crocodile Conservation Project has pulled back the once threatened crocodilians from the brink of extinction and place them on a good path of recovery.
The Project has not just produced a large number of crocodiles, but has contributed towards conservation in a number of related fields as well. Central Crocodile Breeding and Management Training Institute, Hyderabad
PROJECT HANGUL
The Kashmir stag (Cervus affinis hanglu) also called Hangul is a subspecies of Central Asian Red Deer native to northern India. It is the state animal of jammu & kasmir.
This deer lives in groups of two to 18 individual in dense riverine forests, high valleys, and mountains of the Kashmir valley and northern Chamba in Himachal Pradesh. In Kashmir, it's found in Dachigam National Park at elevations of 3,035 meters.
They were threatened, due to habitat destruction, over-grazing by domestic livestock and poaching, captive breeding of lion tailed macaque in Arignar Anna Zoological Park, Chennai and in my sore Zoo.
GANGES DOLPHIN
The Ministry of Environment and Forests notified the Ganges River Dolphin as the National Aquatic Animal
The River Dolphin inhabits the Ganges- Brahmaputra-Meghna and Karnaphuli-Sangu river systems of Nepal, India, and Bangladesh
they are listed in Schedule I of the Wildlife Protection Act (1972).
The Ganges Dolphin is among the four "obligate" freshwater dolphins found in the world - the other three are the 'baiji found in the Yangtze River (China), the bhulan' of the Indus (Pakistan) and the 'boto' of the Amazon River (Latin America).
The Chinese River Dolphin was declared functionally extinct by a team of international scientists in 2006.
SCHEDULE LIST - WPA, 1972
WPA 1972 consists of 6 schedule lists, which give varying degrees of protection
Poaching, smuggling and illegal trade of animals listed Schedule 1 to schedule 4 are prohibited. Animals listed in schedule 1 and part II of schedule 2 have absolute protection- offences under these are prescribed the highest penalties.
Examples of animals listed in schedule 1 are lion tailed macaque, rhinoceros, great Indian bustard, narcondam hornbill, nicobar megapode, black buck, etc.
Examples of animals listed in schedule 2 are rhesus macaque, dhole, Bengal porcupine, king cobra, flying squirrel, himalyan brown bear.
Animals listed in schedule 3 and schedule 4 are also protected, but the penalties are lower compared to schedule 1 and part 2 of schedule Examples of animals listed in schedule 3 are hyaena, hogdeer, nilgai, goral, sponges, barking deer, etc. Examples of animals listed in schedule 4 are mangooses, vultures, etc. Animals listed in schedule 5 are called "vermin" which can be hunted.
Mice, rat, 'common crow and flying fox (fruit eating bats) are the list of animals (only 4 nos) in schedule 5. Cultivation, Collection, extraction, trade, etc. of Plants and its derivatives lisied in schedule 6 are prohibited. Red Vanda, bite Vanda, kuth, pitcher plant, beddomes eye ad and ladies slipper orchid are the list of plants listed in schedule 6.