CARBON SEQUESTRATION
Carbon capture and storage, also known as CCS or carbon sequestration, describes the technologies designed to tackle global warming by capturing cO2 at power stations, industrial sites or even directly from the air and permanently storing it underground.
Carbon sequestration describes long-term storage of carbon dioxide or other forms of carbon
'carbon sinks-an area that absorbs carbon.
(i) Natural sinks - Oceans, forests, soil etc.
(ii) Artificial sinks - Depleted oil reserves, unmineable mines, etc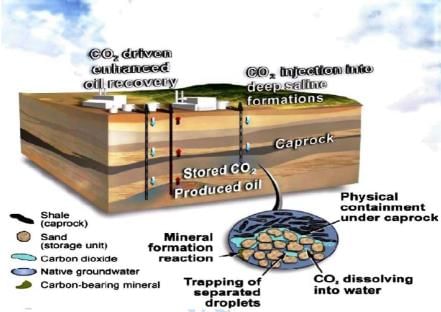 There are three main steps to carbon capture and storage (CCS)
Trapping and separating the CO2 from other gases,
Transporting this captured CO2 to a storage location, and storing that CO2 far away from the atmosphere (underground or deep in the ocean).
Ocean Sequestration: Carbon stored in oceans through direct injection or fertilization.
Geologic Sequestration: Natural pore spaces in geologic formations serve as reservoirs for long-term carbon dioxide storage.
Terrestrial Sequestration: A large amount of carbon is stored in soils and vegetation, which are our natural carbon sinks. Increasing carbon fixation through photosynthesis, slowing down or reducing decomposition of organic matter, and changing land use practices can enhance" carbon uptake in these natural sinks.
Geologic Sequestration is thought to have the largest potential for near-term application
Carbon dioxide can be effectively stored in the earth's subsurface by hydrodynamic trapping and solubility trapping - usually a combination of the two is most effective
Green Carbon
Green carbon is carbon removed by photosynthesis and stored in the plants and soil of natural ecosystems and is a vital part of the global carbon cycle
Blue Carbon
Blue Carbon refers to coastal, aquatic and marine carbon sinks held by the indicative vegetation, marine organism and sediments
These coastal ecosystems are very efficient at sequestering and storing carbon, each square mile of these systems can remove carbon from the atmosphere and oceans at rates higher than each square mile of mature tropical forests.
CARBON CREDITT
A carbon credit is a Tradable certificate or permit representing the right to emit one tonne of carbon or carbon dioxide equivalent (tCO2e),
An organisation which produces one tonne less of carbon or carbon dioxide equivalent than the standard level of carbon emission allowed for its outfit or activity, earns a carbon credit
Countries which are signatories to the Kyoto Protocol under the UNFCCC have laid down gas emission norms for their companies to be met by 2012. In such cases, aa company has two ways to reduce emissions.
(i) It can reduce the GHG (greenhouse gases) by adopting new technology or improving upon the existing technology to attain the new norms for emission of gases.
(ii) It can tie up with developing nations and help them set up new technology that is ecofriendly, thereby helping developing country or its companies 'earn' credits.
This credit becomes a permit for the company to emit GHGs in its own country
Carbon, like any other commodity, has begun to be traded on India's Multi Commodity Exchange.
MCX has become first exchange in Asia to trade carbon credits.
However, only a portion of carbon credits of the company in developing country can be transferred to the company in developed country.
CARBON OFFSETTING:
Are credits for reductions in greenhouse gas emissions made at another location, such as wind farms which create renewable energy and reduce the need for fossil-fuel powered energy are quantified and sold in metric tonnes of carbon dioxide equivalent (C02e)
The fastest way to achieve the deepest reductions within businesses and it also often delivers added benefits at the project site, such as employment opportunities, community development programmes and training and education.
For a Carbon offset to be credible it must meet essential quality criteria, including proof that it is additional (the reduction in emissions would not have occurred without the carbon finance),
that it will be retired from the carbon market so it cannot be double counted, and it addresses issues such as permanence (it delivers the reductions it stated) and leakage (the emission reduce ion in one area doesn't cause an increase in emissions somewhere else)
CARBON TAX
The potential alternative to the 'cap and trade' method currently used by the protocol. The aim of this tax is to cause less fossil fuel use and hopefully cause an incentive to use other sources of energy.

India's Position on carbon tax:
India will bring a WTO challenge against any impose on Indian imports, "carbon taxes" that rich countries
GEO-ENGINEERING
Geo-engineering primarily aims at modifying and cooling Earth's environment, defeating the environmental damage and ensuing climate changes to make the planet more inhabitable.
Geo engineering, at this point, is still only a theoretical Concept Hydrogen sulphide is an even better candidate for atmospheric seeding than sulphur dioxide.