Indian Economy is an interesting topic and as future administrators, UPSC aspirants need to possess a reasonably good understanding of the basic tenets of economics.
What makes a country run, how its finances are managed, the basic terms and definitions frequently in news, basic banking operations, budget, etc. are topics that have to be read about.
Studying Economy has a close association with present-day events. In the recent UPSC Examinations, a majority of economics-related queries were not solely based on facts but were interlinked with current affairs.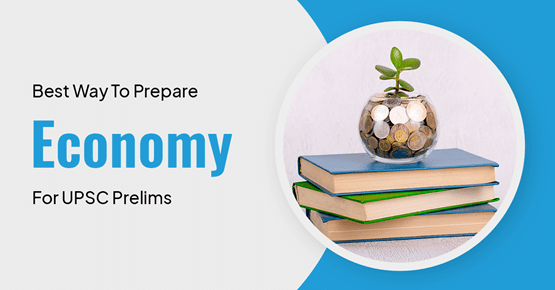 Importance of Economy as a subject
The economy of any country serves as the foundation for its growth and development. As a potential member of the bureaucracy, it is important to have a sound understanding of how the Indian economy works. The GS III paper in UPSC CSE Mains assesses the candidate's knowledge in this regard. Indian economy is also included in the General Studies Paper in Prelims wherein the major focus is on the budget allocation and recently launched schemes.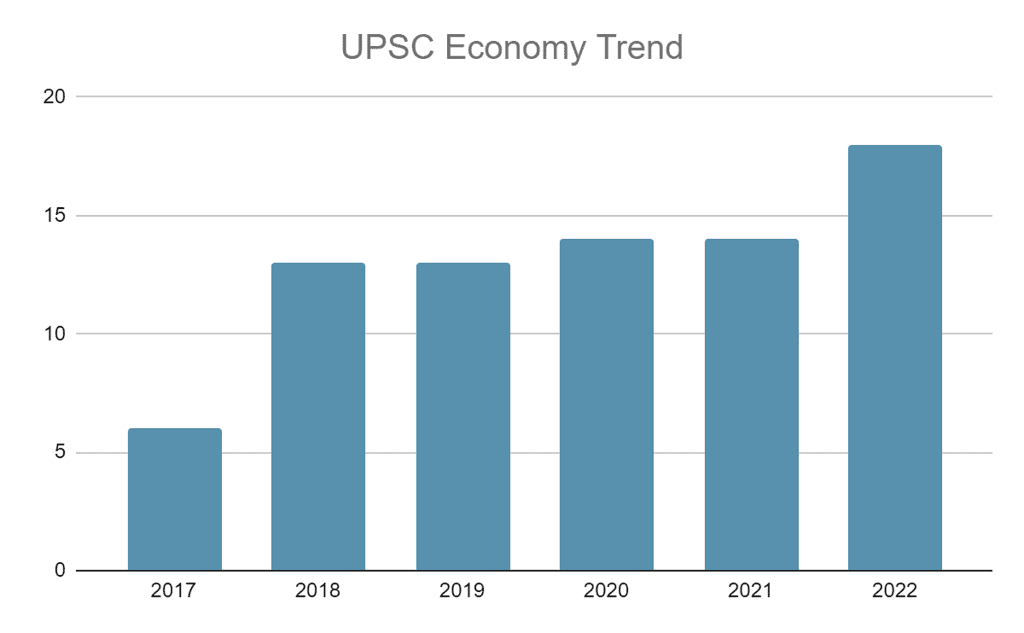 Indian economy is included in all the three stages of the UPSC CSE exam, hence, it is pertinent to prepare it extremely well. Questions related to recent development and growth vis-a-vis industry, agriculture, trade, and transportation are asked in prelims, mains, and even during the interview process.
How to Prepare for the Indian Economy
The teachers of EduRev, who have mentored thousands of students in the last 3-years, including Anudeep Durishetty AIR 1 UPSC CSE 2017, Monica Kishore AIR 41 2018, Swati Sharma AIR 18 2019 & others, and found one thing that was common among all the toppers is the strategy that they had to prepare for the exam. So, keeping that in mind, we wish to provide you with relevant information as a UPSC Aspirant, helping you to devise your strategy, which would save tonnes of your valuable and limited time and ensure that you get great marks in the exam by studying what actually matters in the preparation.
Step 1: Understand the Syllabus of the Indian Economy
The syllabus of Indian Economy in the official notification of UPSC is given as: Economic and Social Development-Sustainable Development, Poverty, Inclusion, Demographics, Social Sector Initiatives, etc.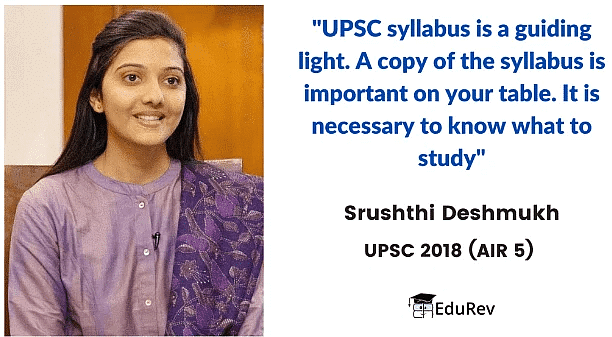 EduRev team has explained the topics for your understanding researching from previous year papers & best books recommended by the toppers:
1. Introduction to Economics: What is Economy?; Macro & Micro Economics; Economic System; Defining Economics
2. Growth, Development, and Happiness: Introduction; Progress; Economic Growth; Economic Development; Happiness; Insights into Human Behaviour; Nudge and Public Policy
3. Evolution of the Indian Economy: The Background; Prime Moving Force: Agriculture vs. Industry; Planned and Mixed Economy; Emphasis on the Public Sector
4. Economic Planning: Introduction; Definition; Origin and Expansion of Planning; Types of Planning
5. Planning in India: Introduction; Background; Major Objectives of Planning; Planning Commission; National Development Council; Central Planning; Multi-Level Planning
Way to Decentralised Planning; The Planning Commission & The Finance Commission; A Critical Evaluation; Inclusive Growth; NITI Aayog; Major Documents of the NITI; NITI Performs
6. Economic Reforms: Introduction; Economic Reforms; Economic Reforms in India; Liberalisation; Privatisation; Globalisation; Generations of Economic Reforms; The Reform Approach
7. Inflation and Business Cycle: Introduction; Types of Inflation; Other Variants of Inflation; Other Important Terms; Wholesale Price Index; Consumer Price Index; Producer Price Index; Housing Price Index; Service Price Index & all.
8. Agriculture and Food Management: Introduction; Green Revolution; Food Management; Farm Subsidies; Food Security; Farm Mechanisation; National Food Security Act & all.
9. Industry and Infrastructure: Introduction; Review Of Industrial Policies Upto 1986; New Industrial Policy, 1991; Disinvestment; MSME Sector; Make In India; Start-Up India & all.
10. Services Sector: Introduction; Overall Performance; Trade-In Services; Sectoral Situation; Offshore Fund Management; Manufacturing Vs. Services; Global Negotiations; Restrictions And Regulations; The Need For Reforms; Outlining FUTURE;
11. Indian Financial Market: Introduction; Indian Money Market; Mutual Funds; Dfhi; Indian Capital Market; Financial Regulation;
12. Banking in India: Introduction; Reserve Bank Of India; Monetary Policy; Nationalisation And Development Of Banking In India; Financial Sector Reforms; Banking Sector Reforms & others
13. Insurance in India: Definition; Insurance Industry; Aicil; Insurance Reforms; Reinsurance; Deposit Insurance And Credit Guarantee Corporation (Dicgc); Export Credit Guarantee Corporation (Ecgc) & all.
14. Security Market in India: Definition; Primary And Secondary Markets; Stock Exchange; Sebi; Commodity Trading & all.
15. External Sector in India: Definition; Forex Reserves; External Debt; Fixed Currency Regime; Floating Currency Regime; Managed Exchange Rates; Foreign Exchange Market; Exchange Rate In India & all.
16. International Economic Organisations & India: International Monetary System; International Monetary Fund; World Bank; Asian Development Bank; Oecd; World Trade Organization (WTO) & all.
17. Tax Structure in India: Tax; Methods Of Taxation; A Good Tax System; Methods Of Expenditure; Value Added Tax; Goods And Services Tax; Commodities Transaction Tax; Securities Transaction Tax; Capital Gains Tax; Minimum Alternate Tax; Corporate Tax Reform & all.
18. Public Finance in India: Introduction; Budget; Deficit Financing; Fiscal Policy; Indian Fiscal Situation: A Summary; Limiting Government Expenditure; Fiscal Consolidation In India; Output-Outcome Framework; Types Of Budgets & all.
19. Sustainability and the Climate Change: India & the World: Introduction; Global Emissions; Sustainable Development Goals & all.
20. Human Development in India: Introduction; Human Development; Gender Issues; Poverty Estimates; Promoting Inclusive Growth; Demographics; Socio-Economic And Caste Census; Education For All; Skill Development & all.
21. Burning Socio-Economic Issues: Economic Impact Of The Covid-19; Exploring A New Economic Model; From Green Revolution To Green Methods; Bad Bank & all.
Step 2: Analyze Previous Year Questions (PYQs)
Once you're through the syllabus, pick up the previous year's papers and skim through them to get an understanding of what is actually asked in the exam.
Solving previous year prelims question papers can aid a candidate in understanding the nature of questions and prepare accordingly.
Understand the type of questions that are being asked in the UPSC exam.
You can get the last 10-years of UPSC Prelims & Mains papers from here - UPSC Previous Year Question Papers.
You can also refer to the topic-wise questions of the Indian Economy from the last 25-years here.
Step 3: Build your Foundation: NCERTs

Read NCERT books thoroughly to build your foundation.

If you are someone with a non-commerce background and finding it difficult to comprehend even the simple economic topics, then it is recommended to start from the basics and refer to Class XI NCERT Economic book.

Must Read NCERTs for Indian Economy:

Class 11 NCERT Indian Economic Development

,

Class 12 Macroeconomics

If you've ample time, you should read all the Class 9 to Class 12 NCERTs for Economics, available here
Step 4: Read Important Reference Books: Ramesh Singh & Others
After you're done with NCERTs, supplement your knowledge by reading IGNOU/NIOS notes. You do not need to read them cover to cover, just read through the relevant chapters that are a part of the UPSC economy syllabus.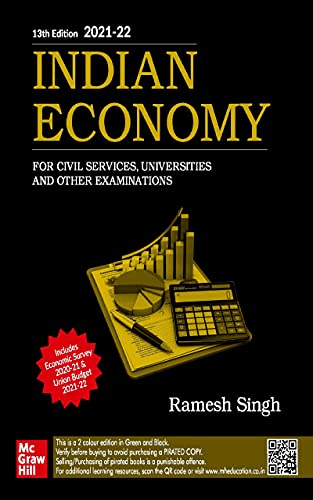 Next, you need to cover basic books like Indian Economy by Ramesh Singh and Indian Economy Key Concepts by Shankar Ganesh.
These books are specifically written for CSE preparation, hence are very helpful in covering the entire syllabus very strategically.
You can find the summaries & MCQ tests of Indian Economy by Ramesh Singh

here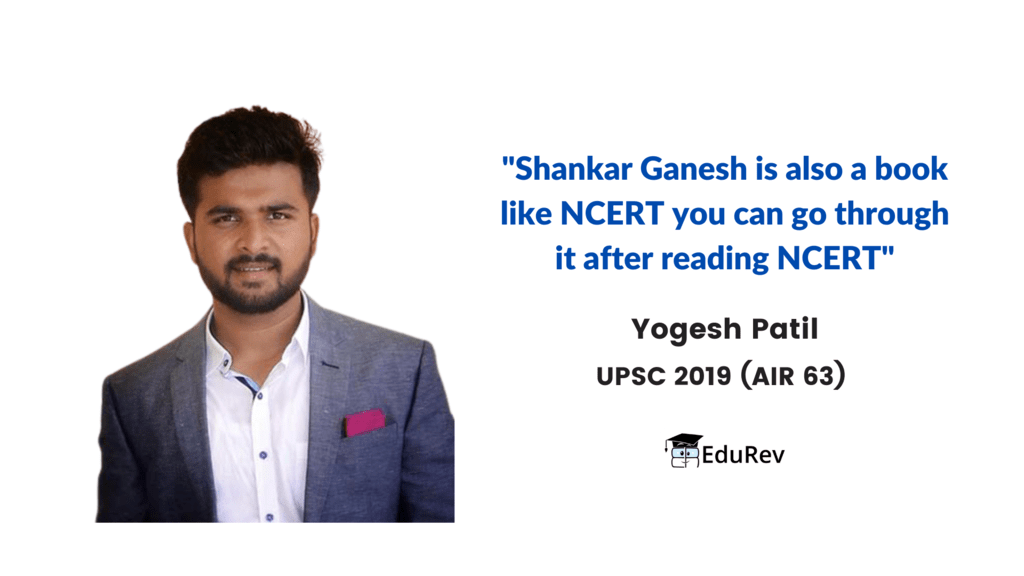 Step 5: Perfect Your Concepts through Video Lectures & Detailed Notes.
Once you've studied all the mentioned books, you should refer to a single source of notes & video lectures which will help you to strengthen the concepts and understand the same topic from a different perspective. And along with that, you should continuously keep attempting topic-wise tests regularly.
This will give you a fair idea of Geography subject and will help you to keep things in mind for a longer period of time.
Regular revisions through notes and video lectures can help strengthen the basics and boost one's confidence in the subject. You can get topic-wise notes & video lectures in the Geography course on EduRev, available on this link
Step 6: Attempt Topicwise Tests

Step 7: Focus on Newspapers, Current Affairs, Budget & Economic Survey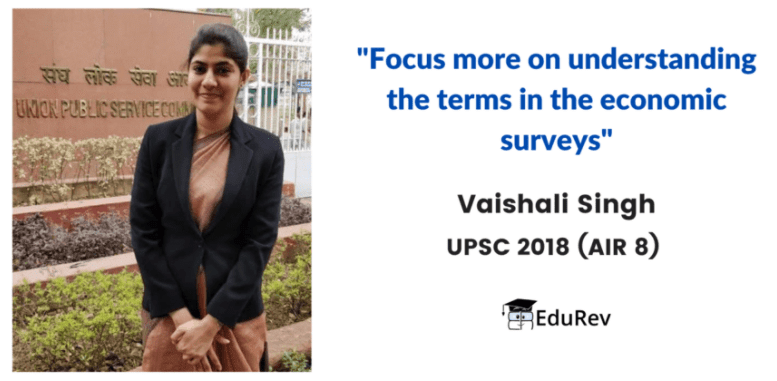 Step 8: Improve your understanding by Answer Writing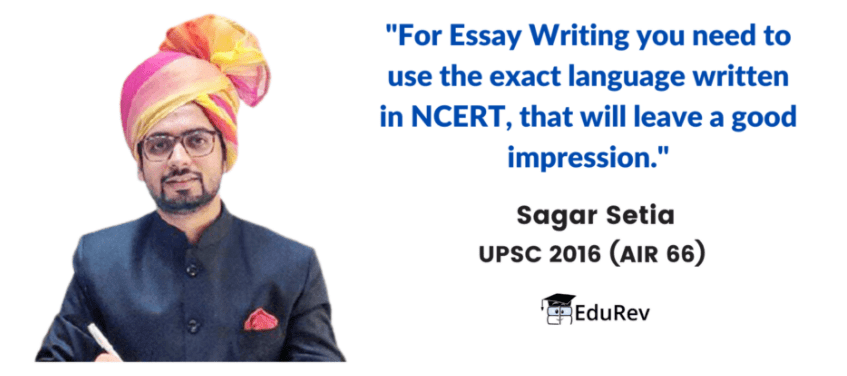 As the pattern of the paper is evolving the candidate's horizontal expansion of the knowledge as well as the vertical limit of understanding of the topic is expected in a balanced proportion.
There are a number of events happening around the year and the candidates have to take a close watch on the current scenario and recommend monthly current affairs for better understanding on the same.
EduRev's course on Essays provides you with sample essays to help you understand the pattern of essays.
You should keep practicing by making your notes around various topics.
Step 9: Mock Tests of Indian Economy
Attempt mock tests to understand your level of preparation and for self-evaluation. You can find subject-wise mock tests of the Indian Economy in the UPSC CSE Prelims Mock Test Series.
EduRev has provided all the study material & tests which matters in your preparation for UPSC, compiled under multiple courses. You can refer to this document "How to study Indian Economy using the EduRev App? " to understand it better & ace the exam smartly.
Other Important Links
1. Courses for all the subjects with detailed notes, video lectures & tests are available on EduRev:
History for UPSC CSE, Geography for UPSC CSE, Indian Polity for UPSC CSE, Science & Technology for UPSC CSE, Economy for UPSC CSE & others.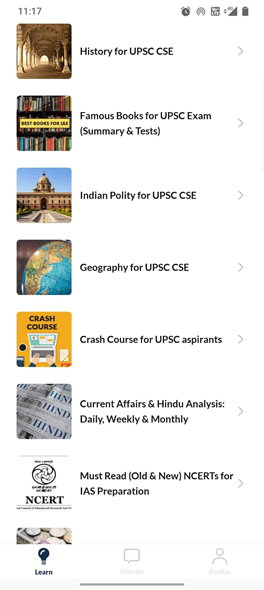 2. Check-Out subject wise Syllabus, Booklist & Strategy from these links:
Happy Learning with EduRev!