KEY CONCEPTS
INTRODUCTION
A molecule will be formed if it is more stable and has lower energy than the individual atom. Normally only electrons in the outermost shell of an atom are involved in forming bonds, and in this process, each atom attains a stable electronic configuration of inert gas.
Types of Bonds:
| | |
| --- | --- |
| Atoms involved | Bonding |
| (I) Metal + Nonmetal | Ionic |
| (II) Nonmetal + Nonmetal | Covalent |
| (III) Metal + Metal | Metallic |
| (IV) Electron deficient molecule or ion (Lewis acid) and electron-rich molecule or ion (Lewis base) | Coordinate |
| (V) H and electronegative elements (N, O, F some times with Cl) | Hydrogen |
Ionic, Covalent and Coordinate bonding
Ionic bonding
An ionic bond is formed when a metal atom transfers one or more electrons to a non-metal atom.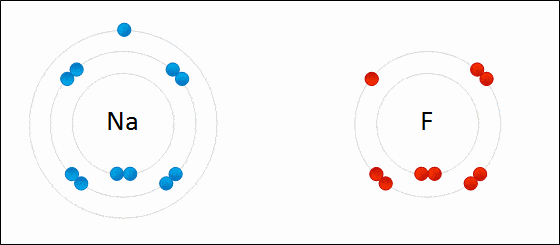 The oppositely charged ions get attracted through electrostatic force of attraction.
Properties of ionic compounds
→ In the solid-state, each cation surrounds itself with anions and each anion with cations. These very large number of ions are arranged in an ordinary network called ionic crystals.
→ They are good conductors of electricity infused state or aqueous solution.
→ They are generally soluble in polar solvents and insoluble in non-polar solvents.
→ Have a high melting point and boiling point than covalent compounds.
→ Have a strong force of attraction between cation and anion (Coulombic force)
F =

Where Z1 and Z2 are charges on the ions, D is the dielectric constant of the medium and r the inner-ionic distance (i.e., bond length).

Factors Influencing the Formation of Ionic Bond:
1. Ionization energy:
It is defined as the amount of energy required to remove the most loosely bound electron from an isolated gaseous atom of an element. The lesser the ionization energy, the greater is the ease of the formation of a cation.
2. Electron affinity:
It is defined as the amount of energy released when an electron is added to an isolated gaseous atom of an element. The higher the energy released during this process, the easier will be the formation of an anion.
Thus, the low ionization energy of a metal atom and high electron affinity of a non-metal atom facilitate the formation of an ionic bond between them.
3. Lattice energy:
It is defined as the amount of energy released when cations and anions are brought from infinity to their respective equilibrium sites in the crystal lattice to form one mole of the ionic compound. The higher the lattice energy, the greater is the tendency of the formation of an ionic bond. The higher the charges on the ions and the smaller the distance between them, the greater is the force of attraction between them.
Born-Haber cycle: It is an indirect method to calculate the lattice energy of an ionic compound. For example, the lattice energy of sodium chloride can be calculated as follows.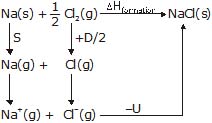 Now, according to Hess's law,

= S + IE1 + D/2 - EA1 - U
Where S is the enthalpy of sublimation of metal (Na), IE1 is the first ionisation energy of sodium, D is the bond dissociation energy of Cl1 molecule, EA1 is the first electron affinity of Cl, U is the lattice energy of NaCl(s) and DHformation is the enthalpy of formation of NaCl.
Covalent Bonding
Whenever Chemical bond is formed by sharing of electrons then it is named as a covalent bond.

Fig: Covalent bond in H2O
Factors Influencing the Formation of Covalent Bond:
1. Electron Affinity:
A covalent bond is generally favoured between the two atoms if both the atoms have high electron affinity.
2. Ionisation Energy:
The ionisation energy of both the atoms participating in bonding should be high.
3. Atomic Size:
Atomic size of the atoms forming covalent bond should be smaller. Smaller the atomic radii of atoms, stronger the covalent bond will be. For example, H-H bond is stronger than the Cl-Cl bond which in tum is stronger than Br-Br bond.
4. Electronegativity:
The electronegativities of both then atoms should be high. The difference in electronegativities between the two atoms should be minimum.

Coordinate Bonding or Dative Bond:
Whenever covalent bond is formed by unequal sharing of a pair of electrons between a Lewis base and Lewis acid is called a coordinate bond.
(I) It is represented as (→) and considered as σ bond.
(II) Atom/ion/molecule donating electron pair is called a donor or Lewis base.
(III) Atom/ion/molecule accepting electron pair is called acceptor or Lewis acid.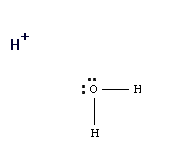 Formation of NH4:
NH3 has three (N - H) bonds and one lone pair. In NH4 formation. This lone pair is donated to H+ ion.
: NH3 + H+ → NH4

Note: In a multiple bond () sign is treated as a pi-covalent bond (Bock bond).
FAQ - Frequently Asked Questions
Ques 1: A molecule of H2 exists while that of the He2 does not. Explain.
Ans: Hydrogen atom (Z = 1) has only one electron present in the s-orbital( 1s1). The two such half-filled atomic orbitals combine to form a molecular orbital which contains both these electrons. But helium (Z = 2) has already a filled orbital (1s2). Therefore, the atomic orbitals of the helium atoms do not combine. Thus, a molecule of H2 exists while that of He2 does not.

Ques 2: What type of chemical bond would you expect in hydrogen fluoride, HF? Draw a diagram to show how this bond is formed.
Ans: Hydrogen and fluorine form covalent bond.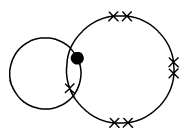 Ques 3: What are the properties of the ionic bond?
Ans: Losing, gaining and sharing of electrons are the properties of an ionic bond.

Ques 4: Why atoms form bonds?
Ans: Atoms undergo bonding to attain stable electronic configuration and to gain energy.