NEET : Types of Muscles and Muscle Fibre NEET Notes | EduRev
The document Types of Muscles and Muscle Fibre NEET Notes | EduRev is a part of the
NEET
Course
Biology Class 11
.
All you need of NEET at this link:
NEET
Musculature of Limbs

Study of muscles known as Myology.
Myology is also known as Sarcology.

Musculature of Limbs
➢ Development of Muscle
Except for Iris & ciliary body, all muscles of the body develop from mesoderm.
The muscle of Iris, ciliary body & myoepithelial cell of sweat gland develops from ectoderm. Conductivity & contractility are the two main characteristics of muscle.
➢ Types of Muscles
Voluntary or skeletal muscles.
Involuntary or smooth muscles.
Cardiac muscles.
Voluntary Muscle
It develops from the epimeric layer of myotome.
Skeletal muscles constitute around 40% of adult body mass in an average healthy person.

Voluntary Muscle

They are related to the skeletal system. So also called skeletal muscles.
Transverse lines are found at regular interval. Hence these muscles are also called as striped or striated muscle.
Their contractions are controlled by the will power of animal so also called voluntary muscle.
Structure of Muscle Fibre
The outer membrane of muscle fibre is called sarcolemma.
This cell membrane contains collagen fibres.
Each muscle fibre contains multinucleated sarcoplasm.

Structure of Muscle Fibre
Nucleus & sarcoplasm are found in the peripheral part.
Myofibril is arranged in a parallel row & form the dark & light line. These lines are found in alternate order. These lines are made up of actin & myosin protein. Both proteins are filamentous proteins.
Actin filaments are thin while myosin filaments are thick.
Light line or band is made up of only actin filament; these bands are mono refractive in polarised light, so it is called Isotropic band (I band).
Actin filaments are connected with a disc of Z–line protein (Actinin) which is called as Z line (Zweichenschiebe) or (Doble's membrane) or (Krause's membrane).
The dark line is made up of actin & myosin filament, so it is double mono refractive in polarised light due to overlapping, so it is called Anisotropic band.
The terminal end of an actin filament is embedded among the myosin filament, so the peripheral part of A band is darker than the middle part of A band called H-Zone or Hensen zone.
A dark line is also found in the central part of the H-zone called M line or mesogramme line. The distance between two Z–lines are called as Sarcomere.
It is a structural unit or functional unit of voluntary muscle fibre.
Sarcomere = 1A band + two half Iband
The Length of Sarcomere is 2.5 µm.
(I band = 1µm, myosin = 1.5 mm)
1 Myosin filament is surrounded by 6 Actin filaments & 1 Actin filament is surrounded by 3 Myosin filaments.
A muscle fibre is covered by a layer of connective tissue which is called Endomysium.
Many muscle fibres are combined to form a group which is called fasciculi.
Each fasciculi is covered by a layer of connective tissue which is called Perimysium.
Many fasciculi combined to form a muscle.
Muscle is also covered by a layer of connective tissue which is called Epimysium.
The muscle fibre is a cylindrical or tubular shape.
The muscle fibres attached to a tough cord of connective tissue called Tendon & Tendon is further attached with a bone.
Force Generating Protein
➢ Actin
The Actin or thin filament is a double helix made up of a protein molecule called G–Actin (Globular actin).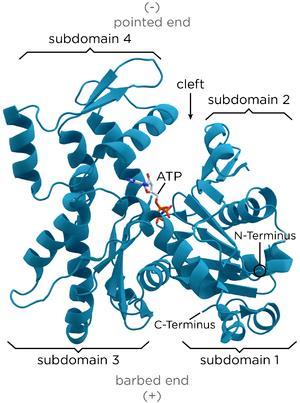 Actin
Many G-actin combined to form a filament-like structure, which is called as filamentous-actin. G-actin contains an active site where myosin head is attached.
➢ Myosin
Each myosin molecule consists of a tail & a head. The tail is made up of two chains intertwined with each other like a double helix.
The myosin head has sites for attachments with
(i) The actin filament
(ii) ATP molecules.
Each myosin (thick) filament is also a polymerised protein.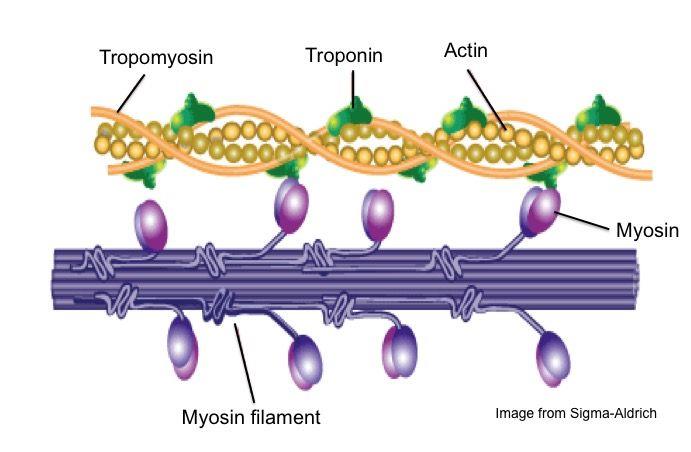 Myosin
Many monomeric proteins called Meromyosins constitute one thick filament. Each meromyosin has two important parts, a globular head with a short arm and a tail, the former being called the heavy meromyosin (HMM) and the latter, the light meromyosin (LMM). The HMM component, i.e., the head and short arm projects outwards at regular filament and is known as a cross arm. The globular head is an active ATPase enzyme and has binding sites for ATP and active sites for actin.
Question 1:Which of the following is the contractile protein of a muscle?
Regulating Protein

➢ Tropomyosin
It is one type of contractile protein. In the relaxed state of the muscle situated in such a way, the active sites remain covered by the tropomyosin & attached at the actin's terminal end.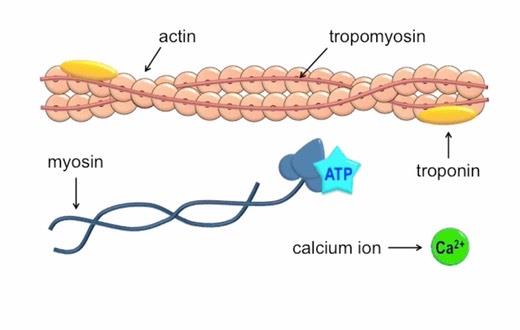 ➢ Troponin
It is one type of protein which attached with one of the ends of the tropomyosin molecules.
Troponin is made up of three subunits:
(a) Troponin I (Inhibitory site)
(b) Troponin T (Tropomyosin site)
(c) Troponin C (Ca+2 binding site)
Structural Protein

➢ Actinin
It is one type of protein which found in Z–line.