Common-Law Admission Test is the only gateway for admission to 22 national law universities. Getting success in CLAT 2022 is not an easy task as it is one of the most competitive law entrance exams in the country.
The CLAT preparation should revolve around covering the given syllabus, making short notes, practicing past year questions, and making strategies for exam day.
EduRev Infinity Package for CLAT offers everything that matters in not just passing the prestigious examination but also helping you secure a decent rank on the CLAT Merit List.
1. Section Wise Preparation for CLAT to help you build the concepts.
EduRev Infinity Package for CLAT offers courses on all the subjects that are asked in CLAT exam. Here are the details of the courses available:
The legal reasoning section in any law entrance exam is specifically designed to test the research aptitude, problem-solving ability of a candidate. EduRev's course of legal reasoning for CLAT includes notes, videos, and tests on:
Reading and understanding all of this and more will help you in understanding the passage easily and at a much faster pace during your final exam.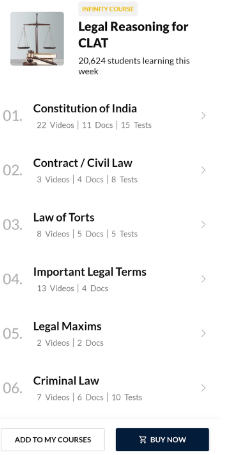 1.2 Quantitative Techniques for CLAT
The Quantitative Techniques section is the decisive component of CLAT and questions based on Algebra, Number System, Geometry and Mensuration, Percentages, and other topics are asked from this section in exam.
1.3 Logical Reasoning for CLAT
The CLAT Logical Reasoning is one section of the exam that requires more practice rather than theoretical knowledge. It can be aced by thorough practice and understanding.
1.4 Current Affairs & General Knowledge
This section is the quickest to solve and carries the most marks. The section helps pacify the otherwise lack of time for solving other sections of the paper.
1.5 Verbal Ability or English for CLAT
This is a predictable section of CLAT and this section can be considered as the most scoring section out of the lot. EduRev's course of English for CLAT covers vocabulary, sentence correction, reading comprehension, and other topics which are relevant for the exam.
2. CLAT Mock Test Series & Past Year Papers to help you master the concepts.
Acing CLAT requires comprehensive preparation of all subjects along with the practice of mock tests. CLAT is a test of reading and analytical skills which can largely be developed by solving mock tests.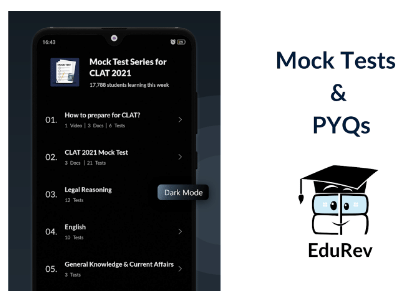 2.1 Mock Test Series for CLAT:
EduRev Infinity Package for CLAT offers Mock Test Series for CLAT that contains 20 plus full-length mock tests and also includes section-wise tests of all the subjects: Legal Reasoning, English, GK & Current Affairs, Quantitative Techniques, and Logical Reasoning
2.2 Daily Tests for Static GK:
The course of Daily Tests for Static GK contains short test of ten minutes which you can practice daily and can improve your knowledge on the subject.
The course on CLAT Past Year Papers contains all previous year exam papers from the year 2008. It contains detailed solutions which will help aspirants to understand the concepts well.
2.4 Mock Test Series for Other Exams:
The course on Mock Test Series for AILET, DU-LLB, SLAT, & PU-LLB covers mock tests of other exams too so that you can get an overall idea of what is asked in other exams too.
3. Additional Courses to help you boost your preparation
Courses on Law Entrance Test (CLAT) Preparation Guide and Preparation for Judicial Services Exam helps you clear all your doubts related to CLAT and provides you certain tips and tricks which can help in cracking CLAT with a good rank.
Wish you happy learning with EduRev Infinity for CLAT :)