A. Flowers add beauty to our world. We should not pluck flowers and leave them for others to enjoy their beauty too. Draw a picture of a flower you would like to see from the window of your classroom.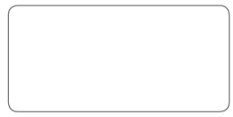 B. Spot and circle the names of objects and animals found in a garden in the word search grid below. Take help from the given pictures.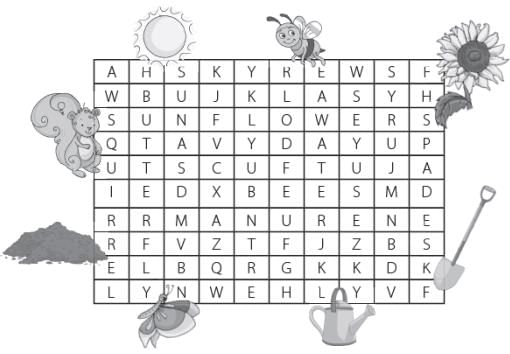 C. Complete the following sentences. You may use words from the word search grid above.
1. From the window of my classroom I want to see ________ .
2. To grow, plants need ________ .
3. The garden tool I would use ________ .
4. Flowers will be visited by ________ .


Comprehension 2
Read the passage given below. Answer the questions that follow.
In a small town of Odisha, a huge tree stood tall and straight in the forest. Its spreading branches were home to many birds. They used the twigs and leaves to make their nest. Squirrels chattered excitedly and the marching ants paused to welcome when the children came. For Risha and Mana, the tree was their playmate. Risha is 12 years old and Mana is 10 years old. Their father had hung an old tyre on one of the branch and made it into a tree swing. After school they would rush to their playmate. First they would leave some seeds and nuts for their animal friends and then eat the fruits that their mother would pack for them. Then they would climb on to the tree swing or sometimes just climb the tree . But that was not all. They had drawn three lines on the trunk of the tree. Can you guess what the lines were for? It was for playing cricket! They practised every day for two hours. Sometimes the neighbours and friends would also bring them food and water. After all nothing should stop them from following their dream of joining the women's Indian cricket team!
A. Answer the following questions.
Q.1. How did the birds make use of the tree?
Ans. ___________
Q.2. How did Risha and Mana make use of the tree?
Ans. ___________
Q.3. What was Risha and Mana's dream?
Ans. ___________

B. Fill in the blanks by choosing the correct word from the brackets.
1. The tree was in the ________ . (garden/forest)
2. The marching of the ants reminds us of ________ . (soldiers/dancers)
3. The three lines were drawn on the ________ . (trunk/stem)
4. You need a bowler and a batsman to play ________ . (cricket/hockey)