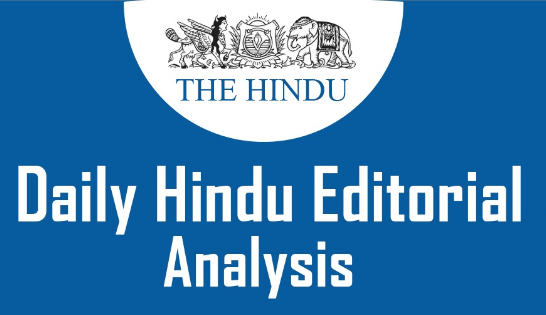 1. MORE THAN A VACCINE, IT IS ABOUT VACCINATION
GS 2- Issues relating to development and management of Social Sector/Services relating to Health
Context
(i) Everyone eagerly asks: will we get a COVID-19 vaccine this year or only next year?
(ii) During a pandemic, expecting vaccines the same year or the next, illustrates the power of technology, human hope and media hype.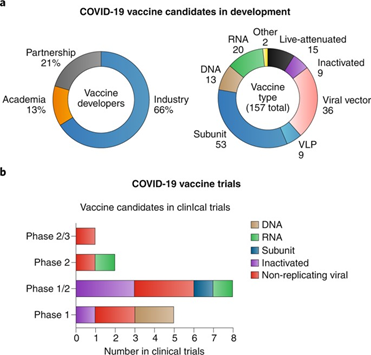 Where India Stands
(i) Globally, innumerable vaccine trials are progressing; in India, two candidates have advanced considerably.
(ii) An inactivated coronavirus vaccine was created by Hyderabad's Bharat Biotech.
(iii) It is safe and immunogenic (stimulates anti-coronavirus antibody) in laboratory animals and humans.
(iv) It is to be re-confirmed in a phase 2 trial; phase 3 will assess the vaccine's safety and protective efficacy against COVID-19.
(v) Pune's Serum Institute of India (SII) is testing Oxford University-AstraZeneca's vaccine.
(vi) Both company-owners have invested heavily, without extramural research support, or advance purchase contract by the government.
(vii) Both seem to have the best interests of fellow Indians first in their hearts; profit comes second. Risks are a part of the game.
(viii) Neither company has all its eggs in one basket — confidence in their flagship antigens is not absolute, both are pursuing alternate vaccine candidates also.
Some wealthy nations made bilateral financial agreements with manufacturers in order to hog(buy) vaccines.

Gavi, the global vaccine alliance, created COVAX

— a funding facility to ensure up-scaling vaccine production and its access to low income countries as soon as regulatory approvals emerge.

COVAX will support the SII with funds to bring down selling-price to $3 per dose.
With good news on supply side, what about the delivery side?

India's Universal Immunisation Programme

is a vaccine-delivery platform for children and pregnant women, funded by the central government but implemented by State governments.

However, the COVID-19 vaccine is for all age groups, necessitating an innovative platform, prioritised on the basis of need.
Define Policy for Clarity
(i) The first step is policy definition leading to a plan of action blueprint. The time to create them is now — it costs nothing, but will save time when a vaccine becomes available.
(ii) Policy emerges from objective(s) for vaccine use in individuals and community.
(iii) Priority for individual need is to protect those at high risk of death (senior citizens and those with medical co-morbidities) and front-line workers who expose themselves to infection while providing health care.
(iv) Children may be vaccinated before schools reopen to protect them and prevent infection from being carried home.
(v) Vaccine availability will be limited at first, when we must ensure that those on the priority list receive it.
(vi) Those who already had COVID-19 or novel coronavirus infection require no vaccination.
(vii) Antibody positives need not be vaccinated (no harm if vaccinated). All data should be saved permanently.
(viii) Area-wise estimates of the numbers who need vaccination on a priority basis are necessary. Now is the time for State governments to capture all such data.
(ix) A community's need for vaccination is two-fold. All those who must rebuild essential activities, i.e. economic, educational, trade, transport, sociocultural and religious, must be protected.
(x) A more ambitious aim is to break the novel coronavirus transmission and eradicate(end) the disease altogether.
(xi) With India's notable representation in decision-making bodies of the World Health Organization, India is uniquely positioned to play a crucial role in advocating global eradication of COVID-19.

Getting A Plan Ready
(i) We need a vaccine-delivery platform to fulfil all such needs.
(ii) A practical method is vaccination camps, supervised by a medical officer, staffed by health management and local government, and having the list of people who need vaccination.
(iii) Information should be updated regularly, deleting those who got infected recently. Enumeration and registration of eligible persons can be started now.
(iv) Vaccination by appointments will ensure that vaccination is without overcrowding and with minimum waiting time.
(v) Post-injection, vaccinated subjects should wait for half-an-hour in case of immediate side effects; emergency drugs to tackle side effects should be readily available.
(vi) Vaccine trials document the absence of serious side effects. Minor and inconsequential reactions are self-limiting fever, pain and swelling at the injection site.
(vii) As it would be a new vaccine, all side effects must be documented for first and second doses.
(viii) Medical events during the month following each dose must be captured through phone calls, and analysed to check full safety of the vaccine.
(ix) Phase 3 trial is usually in healthy volunteers, hence efficacy and safety profile in others will not be available when a vaccine is rolled out.
(x) However, senior citizens and those with co-morbidities(illness) must be vaccinated by/on priority.
(xi) Some countries require that a proportion of volunteers should be the elderly and the vulnerable.
(xii) In India, careful documentation of all side effects in all individuals, senior citizens, those with co-morbidities, and children must supplement trial data on vaccine safety.
(xiii) This 'post-marketing surveillance' must be built into the vaccine roll-out.

Conclusion
(i) The vaccine regulatory agency should take a call on the special question of vaccine safety during pregnancy.
(ii) One vaccine is an inactivated virus and the second is a live virus but non-infectious.
(iii) Both may be assumed to be safe; yet safety in pregnancy must be ascertained in bridge studies that must be conducted as soon as possible.

2. SHUTTING THE DOOR ON HUAWEI
GS 2- Effect of policies and politics of developed and developing countries on India's interests
Context
(i) In a dramatic reversal of its decision in January allowing Huawei to have a limited role in its telecommunications network, the U.K. has finally decided to ban the Chinese company.
(ii) This entails banning U.K. mobile providers from buying new Huawei 5G equipment after the end of this year as well as removing all of Huawei's 5G kit from their networks by 2027.
(iii) For its part, China "strongly opposed" the U.K.'s "groundless" ban and warned that it would "take measures to safeguard" the "legitimate interests" of Chinese companies as "any decisions and actions must come at a cost".
(iv) The British government has been forthright about the delay in 5G's roll-out as a consequence of its policy shift and the costs of its decision.
(v) At a time when London is looking to engage with major global powers in a post-Brexit to enhance its trade ties, this decision, which is likely to alienate(isolate) China, will come with some serious strategic costs as well.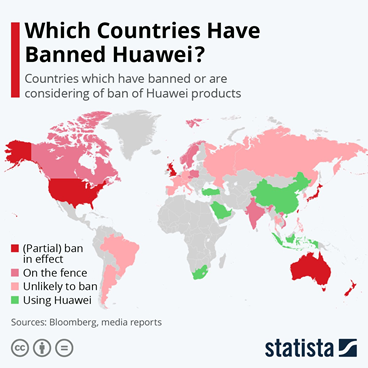 A Domino Effect Across Europe
(i) The U.S.'s imposition of sanctions on Huawei in May, which disrupted the company's global supply of semiconductors, altered(changed) the cost calculus for the U.K.
(ii) The U.K. government had to go in for another round of security review which resulted in the National Security Council's decision to finally phase off Huawei's involvement in the country's 5G network.
(iii) But the U.S.-U.K. relationship was also facing a moment of reckoning(calculation) after the U.K.'s January decision to allow Huawei.
(iv) At a time when the U.S.-China relationship is entering a phase of Cold War 2.0, the Trump administration had made it clear that the U.K.'s "special relationship" with the U.S. was under the scanner(observation).
(v) Not only would their security and intelligence ties have been in jeopardy(risk) but crucial trade negotiations would have been hampered too.
(vi) For the Trump administration, the U.K.'s change of stance is a major diplomatic win as it might also convince fence sitters to make a final decision.

Domino Effect
(i) For Huawei, a domino effect(chain reaction) across Europe might pose a serious challenge given that almost a quarter of its sales come from the European market.
(ii) France also decided to limit the use of Huawei's 5G kit by issuing limited term licences.
(iii) This is widely seen as a ban on the Chinese company though the French government has not said it in so many words.
(iv) Germany too is reducing its reliance on Huawei as the mood against China has soured across Europe.
(v) After years of kowtowing(bowing down) to the Chinese, the European Union is becoming more explicit than ever in challenging China.
(vi) The issues range from China's initial mishandling of COVID-19 and Beijing's disinformation campaign in Europe to the new national security law in Hong Kong.
(vii) China is viewed as a "systemic rival" that is hell bent on challenging the extant global order with all its concomitant(according) treaties, norms and institutions.
(viii) And Huawei is the latest flashpoint with individual countries shunning(avoiding) the company.

Awaiting India's Response
(i) So what once looked like a battle which the U.S. was waging on its own has suddenly been joined by a number of other players.
(ii) The Indian response is being closely watched. Last year, India had allowed Huawei to participate in 5G trials which could not happen because of the disruptions caused by the pandemic.
(iii) Today, India-China ties have altered due to the border crisis and Chinese insensitivity to Indian concerns.
(iv) New Delhi is toughening its posture across domains and it looks rather unlikely that Huawei would get to participate in the 5G network roll-out in India.
(v) India is signalling that it is willing to bear economic and technological costs if it means limiting Chinese involvement in critical infrastructure.
(vi) But what would not be lost on Beijing is that losing such a large market might be a devastating blow to Huawei as well.
(vii) It is becoming increasingly clear that the decision on Huawei is not merely a technological or economic decision but a fundamentally political decision for most countries.

Conclusion
China's decision to weaponise trade and technology ties might now come back to haunt(trouble) it as other nations begin to pay back in the same coin.

3. A SELF-RELIANT FOREIGN POLICY
GS 2- Bilateral, regional and global groupings and agreements involving India and/or affecting India's interests
Context
(i) Self-reliance is the theme of India's 74th Independence Day.
(ii) This concept is commonly associated with the economy and production of key goods and services within the country in light of the global 'supply shock' caused by the pandemic.
(iii) But it also has a parallel dimension in the domain of foreign policy.
(iv) If the domestic goal is to reduce dependence on imports for critical commodities, the foreign policy corollary(implication) is to recalibrate(calculate) the time-tested axiom of 'strategic autonomy'.
(v) India has historically prided itself as an independent developing country which does not take orders from or succumb(surrender) to pressure from great powers.
(vi) Whether the world order was bipolar (1947 to 1991), unipolar (1991 to 2008 or multipolar (present times), the need for autonomy in making foreign policy choices has remained constant.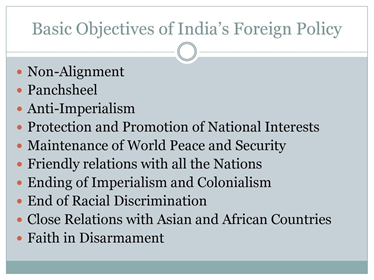 Showing Flexibility
(i) Yet, strategic autonomy has often been adjusted in India's history as per the changing milieu(atmosphere).
(ii) In moments of crisis, India has reinterpreted freedom and shown flexibility for survival.
(iii) During the 1962 war with China, the high priest of non-alignment, PM Nehru, had to appeal to the U.S. for emergency military aid to stave off the Chinese from "taking over the whole of Eastern India."
(iv) In the build-up to the 1971 war with Pakistan, PM Indira Gandhi had to enter a Treaty of Peace, Friendship and Cooperation with the Soviet Union to ward off both China and the U.S.
(v) And in Kargil in 1999, India welcomed a direct intervention by the U.S. to force Pakistan to back down.
(vi) In all the above examples, India did not become any less autonomous when geopolitical circumstances compelled it to enter into de facto alliance-like cooperation with major powers.
(vii) Rather, India secured its freedom, sovereignty and territorial integrity by manoeuvering the great power equations and playing the realpolitik game.
(viii) Today, although there is no prospect of an outright war with China in the wake of its incursions across the Line of Actual Control, India is at an inflection point with regard to strategic autonomy.
(ix) Non-alignment 2.0 with China and the U.S., as they slide into a new Cold War, makes little sense when India's security and sovereignty are being challenged primarily by the former rather than the latter.
(x) Fears in some quarters that proximity to the U.S. will lead to loss of India's strategic autonomy are overblown because independent India has never been subordinated to a foreign hegemon(domination).

The Essence of Self-Reliance
(i) India should aim to have the American support as well as stay as an independent power centre by means of intensified cooperation with middle powers in Asia and around the world.
(ii) For India, which values freedom, placing all its eggs in the U.S. basket to counterbalance China would be an error.
(iii) Getting too close to the U.S. can constrict India's options in other theatres of national interest such as its ties with Iran and Russia and efforts to speed up indigenous defence modernisation.
(iv) Diversification is the essence of self-reliance.
(v) A wide basket of strategic partners, including the U.S., with a sharper focus on constraining China, is the only viable diplomatic way forward in the current emerging multipolar world order.
(vi) It is no longer a question of picking one out of two titans or oscillating between them.
(vii) In an era of dense networks, India must reconfigure autonomy to mean what the American scholar Joseph Nye calls 'power with others' to accomplish joint goals.

Conclusion
(i) We are free and self-reliant not through isolation or alliance with one great power, but only in variable combinations with several like-minded partners.
(ii) India is familiar with the phrase 'multi-vector' foreign policy. It is