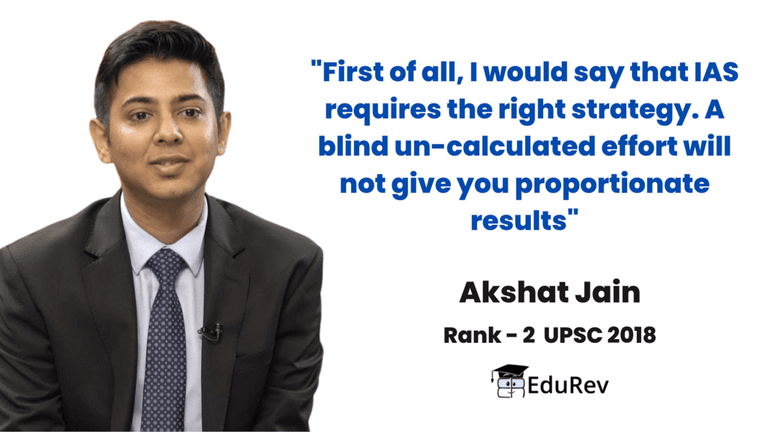 Our team has mentored thousands of students in the last 3-years, including Anudeep Durishetty AIR 1 UPSC CSE 2017, and one thing that was common among all the toppers is the strategy that they had to prepare for the exam. So, keeping that in mind, we wish to provide you with relevant information as a UPSC Aspirant, helping you devise your strategy, which would save tons of your time and ensure that you get great marks in the exam.
Weightage in both Prelims and Mains examination
History as a module in General Studies has the most weightage in UPSC ranging around 20 to 25% in prelims and 40% weightage in GS PAPER 1 in mains examination. It would help if you prepare this topic properly as such weightage gives a good chance for your selection in the exam.
History can be divided into 6 parts for both Prelims and Mains examination. Please refer to the table to know which topic is exclusive to Prelims and Mains, respectively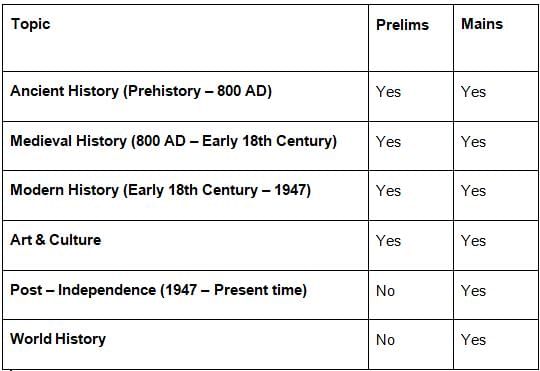 Note: In this EduRev document, you will learn about the first 4 parts of History(Ancient, Medieval, Modern, Art & Culture). Post- Independence and World History will be dealt in a separate document as they are exclusive to Mains examination.
EduRev Tip: Time management is important during the preparation and it is advisable to stick to minimal resources as far as possible.
Purpose of this EduRev document is to understand how to read History as a subject for both Preliminary and Mains phases of UPSC civil services examination. By the end of this EduRev document, you will have clarity on how to tackle General Studies History. We at EduRev believe in 3R – Read, Revise and Repeat and we strongly recommend this strategy should be used all along during your preparation.
How and where to start?
Before starting the History module, it is mandatory that you should go through the syllabus. We suggest you get familiar with the syllabus as having syllabus at your fingertips is 20% of the preparation done. For syllabus, click the link:
UPSC Syllabus for History Prelims
UPSC Syllabus for History Optional
Once you are familiar with the syllabus. We suggest you go through the previous year's questions and topics of which questions were asked. Understanding the language and topics covered in the exam and how the questions were framed will give you a heads up about what you will be going to deal with in the examination. For previous year questions:
Previous Year Questions: Ancient History
Previous Year Questions: Medieval History
Previous Year Questions: Modern History
Previous Year Questions: Art & Culture
What books to read and how to read them?
Ancient History
Medieval History
Modern History
You can find all these Old & New NCERTs in this EduRev course Must Read (Old & New) NCERTs for IAS Preparation
How to read: You should read this topic in a story format to recollect things easily in the further phase of the preparation. No need to remember all the facts as only important points are meant to be remembered. Read both the books once and for next reading choose the book which is easy for you to read language wise as both has more or less the same information. To make your preparations easy, we have made the gist of these books.
Standard Books For Modern History
A Brief History of Modern India – Spectrum Publications: Once you are done reading the NCERTs, this book is a must-read. This book is written by an IPS officer who has written the bookkeeping the demand of the exam. This book is not in a story format but arranged chronologically and good for revision. To make your preparation easier we have made a different EduRev course:

Spectrum for Modern History (Summary & Tests)

From Plassey to Partition by Shekhar Bandyopadhyay: This book is made by the author by referring to books written by multiple authors. In recent times, questions are asked from this book directly apart from the above-mentioned standard book (Spectrum). You have to read the book after reading Spectrum and NCERTs. No need to revise this book multiple times.
ART & Culture:
Basic Concepts of Art and Culture Syllabus for UPSC
History textbooks of Class VI (NCERT Class 6 ) and VII (NCERT Class 7) and XI (NCERT Class 11 ) and XII (NCERT Class 12 ) cover ancient and medieval history that should be studied for building a strong foundation. Apart from that fine arts textbook of Class XI should be studied in detail for the art forms specifically. All the NCERTs are available in these EduRev courses:
Class 11 & 12 NCERTs of Art & Culture
Class 6 to 12 NCERTs of History
Once you are done with NCERTs, read Indian Art & Culture by Nitin Singhania and revise it multiple times to have the names at your fingertips. Rote learning is an important part of the preparation strategy for Art & Culture. We have made a special EduRev course:

Nitin Singhania: Indian Art & Culture (Summary & Tests)

to make your preparation easier.
Leverage Online resources For Preparing Art and Culture For UPSC
Follow the official website of CCRT: http://ccrtindia.gov.in/
(Centre for Cultural Resources & Training) for all the important updates, PIB website for information on GI tags, and other important information on recent cultural festivals and programs.
Difference between old NCERT and new NCERT books
The old NCERTs are text-heavy. They contain more facts and figures.
The old textbooks are generally to the point. Emphasis is on the material and not the explanation.
The new textbooks have a more narrative style to the material contained.
The topics are explained with a build-up to the concept. They are generally less heavy on factual details.
Also, it is observed that the new NCERTs contain fewer errors as compared to the old ones.
The hard copies of the new NCERT textbooks are easier to get hold of for obvious reasons.
There are more illustrations and diagrams in the new NCERTs than in the old textbooks.
The new books have a subjective approach with long-drawn explanations.
The new textbooks, like any new edition of a book, contain the latest and updated information.
Why are NCERT books important?
Being the most basic books and written in simple language, lucid and neutral perspective makes NCERTs as the base for the entire preparation.
One will get most of their basic cover for the geography and history from these books.
Secondly, mains answer writing language should be similar to the writing style of these books which make them as the fundamental element while preparing for the Mains examination.
Note: Any other queries/doubts that will arise during your preparation are dealt in a separate EduRev document: Frequently Asked Questions (FAQs): History
Here are few previous year questions for your practice and start with UPSC preparation:
Question for Advice to the Aspirants: History (Must Read)
Try yourself:Question 1. The Montague-Chelmsford Proposals were related to (UPSC CSE 2015)
Question for Advice to the Aspirants: History (Must Read)
Try yourself:In 1920, which of the following changed its name to "Swarajya Sabha"? (UPSC CSE 2017)