Allotropes of carbon:
The phenomenon of existence of allotropic forms of an element is called allotropy. Allotropes are the different forms of the same element having different physical properties but almost similar chemical properties due to different arrangements of atoms. There are three allotropes of carbon these are diamond, graphite and fullerene.
Diamond: Diamond is a crystalline allotrope of carbon. Its atomic symbol & empirical formula is 'C'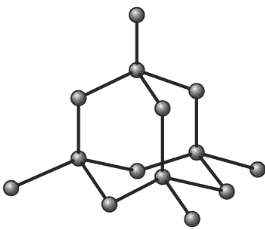 Fig: Structure of DiamondStructure: In diamond, each carbon atom is covalently bonded to four other carbon atoms in a tetrahedral arrangement. This tetrahedral arrangement of carbon atoms gives a rigid, three dimensional structure to diamond. It is due to this rigid structure that diamond.
Is very hard crystalline structure.

Has high melting point.

Is non conductor of heat and electricity.
Properties: Pure diamond is a transparent and colourless solid.
Polished diamond sparkles brightly because it reflects most of the light (refractive index of diamond is 2.4175)

Diamond is not attacked by acids, alkalis and solvents like water, ether, benzene or carbon tetrachloride but diamond is attacked by fluorine at 750°C.

The density of diamond is 3.51 g per cm3 at 20°C.
Uses:
A saw fitted with diamond is used for sawing marbles.

A chip of diamond is used for glass cutting.

Black diamonds are used in making drills.

Diamonds are used for making dice for drawing very thin wires of harder metals.

Diamonds are also used for making high precision tools for use in surgery such as for the removal of cataract.

Diamonds are used for making precision thermometers and protective windows for space crafts.
Graphite:
Graphite is also known as black lead, it marks paper black. The name graphite has been taken from the greek word ''graphein" (which means to write) in reference to its uses as 'lead' in lead pencils.
Structure:
Graphite is an opaque and dark grey solid. In a crystal of graphite, the carbon atoms are arranged in hexagonal patterns in parallel planes. In a layer of graphite each carbon atom is strongly bonded to three carbon atoms by covalent bonds. Thus, one valence electron of each carbon atom is free in every layer of graphite crystal. The free electron makes graphite a good conductor of electricity.
Each layer is bonded to the adjacent layers by weak Vander waal forces. As a result, each layer can easily slide over the other.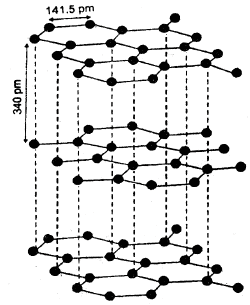 Fig: Graphite structure

Properties:
Graphite is greyish -black, opaque material having metallic (shiny) lustre.

It is soft and slippery.

Graphite is lighter than diamond. The density of graphite is 2.26 g per cm3 at 20°C.
Graphite is a good conductor of heat and electricity.
Graphite has a very high melting point.
Graphite is insoluble in all common solvents.
Uses:
For making electrodes in dry cells and electric arc furnaces.

Graphite is a good dry lubricant for those parts of machines where grease and oil cannot be used.

For making crucibles for melting metals.

For manufacturing lead pencils.

Graphite is used as a neutron moderator in nuclear reactors.

For the manufacture of gramophone records and in electrotyping.

For the manufacture of artificial diamond.

For the manufacture of black dye and paints.
Fullerene:
Types of fullerene:
C60, C70, C74 and C78 are the members of the fullerene family. But C60 is the most stable and most studied form of fullerenes.
Structure of fullerene: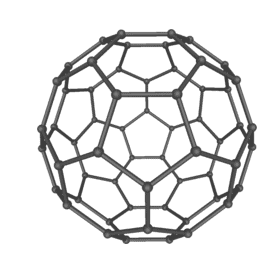 Fig: Structure of fullerene
Preparation:
By electrically heating a graphite rod in atmosphere of helium.

By vaporising graphite by using laser.
Properties:
Fullerene is soluble in benzene and forms deep violet colour solution.

Crystalline fullerene has semiconductor properties.

Compounds of fullerene with alkali metals are called fullerides and they are superconductors.
Uses:
As a superconductor.

As a semiconductor.

As a lubricant and catalyst.

As fibres to reinforce plastics.
Versatile Nature of Carbon:
About three million (or thirty lakh) compounds of carbon are known. The existence of such a large number of organic compounds is due to the following characteristic features of carbon.
(1) CATENATION: Tendency to form Carbon-Carbon bond:
The self linking ability of carbon to combine with other atoms of carbon to form long chain, branched chain and closed ring structures is called catenation.
Carbon has the maximum tendency for catenation in the periodic table. This is because of strong carbon-carbon bonds as compared to other atoms and its small size.
When two or more carbon atoms combine with one another, they form different types of chain such as
(i) Straight chains
(ii) Branched chains
(iii) Closed chain or ring chains

Fig: Types of Carbon chain(2) Tetravalency of Carbon:
The atomic number of carbon is 6.

The electronic configuration of carbon atom is 2, 4.

It has four electrons in the outermost shell, therefore its valency is four. Thus, carbon forms four covalent bonds in its compounds.

Fig: Formation of methane molecule

(3) Tendency to form multiple bonds:
Due to small size, carbon can easily form double or triple bonds (called multiple bonds) with itself and with the atoms of other elements such as nitrogen, oxygen, sulphur etc.
(4) Isomerism:
Compounds having the same molecular formula but different structural formulae are known as isomers and the phenomenon of existence of isomers is termed as isomerism.
Example: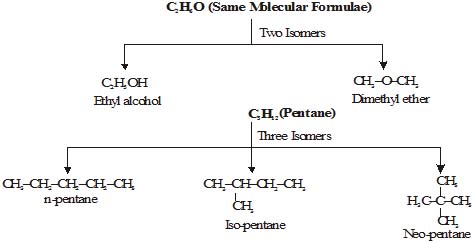 Hydrocarbon:
Compounds formed by combination of carbon and hydrogen atoms only are known as hydrocarbons. Hydrocarbons are classified as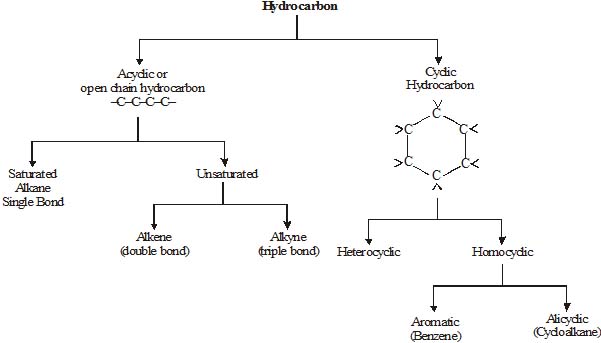 Saturated and unsaturated hydrocarbon:
(1) Saturated Hydrocarbon:
The hydrocarbons which contain only single carbon-carbon covalent bonds are called saturated hydrocarbons.
They are also called alkanes.
General formula for alkanes is CnH2n+2 where 'n' is the number of carbon atoms.
General formula of saturated hydrocarbon (CnH2n+2)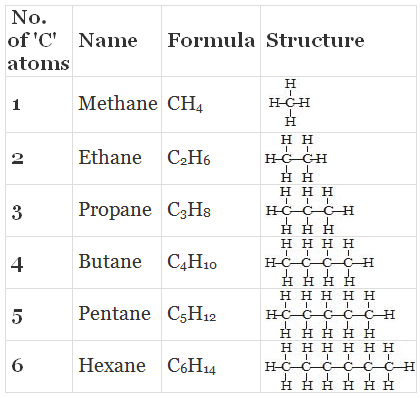 (2) Unsaturated hydrocarbons:
The hydrocarbon in which two carbon atoms are bonded to each other by a double (=) or a triple (≡) bond is called an unsaturated hydrocarbon.
Unsaturated hydrocarbons are of two types viz. alkenes and alkynes.
(I) Alkenes:


The hydrocarbon in which the two carbon atoms are bonded by a double bond are called alkenes.
Their general formula is CnH2n where "n" is the number of carbon atoms.
General formula of alkenes: CnH2n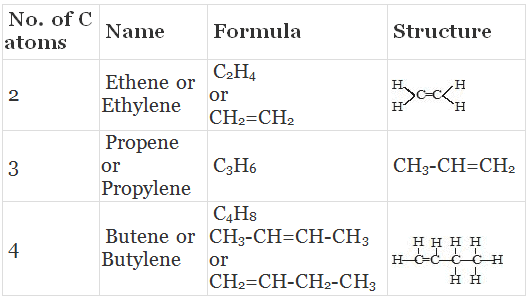 (II) Alkyne (-C≡C-)
The hydrocarbons in which two carbon atoms are bonded by a triple bond are called alkynes.
Their general formula is CnH2n-2 where 'n' is the number of carbon atoms.
General formula of alkynes: CnH2n-2