1. BASIC NATURE OF AMINES
1. Aniline is less basic than ammonia. The phenyl group exerts- I (inductive effect, i.e., it withdraw electrons. This results in the lower availability of electrons on nitrogen for protonation.
2. Ethylamine and acetamide both contain an amino group but acetamide does not show basic nature. This is because lone pair of electrons on nitrogen is delocalized by resonance with the carbonyl group which makes it less available for protonation.

3. The compound with least `s' character (sp3 hydrolized) is most basic and with more `s' character (sp-hydrilized) is least basic. Examples in decreasing order of basicity are :
(i)

(ii) CH3CH2CH2NH2 > H2C = CHCH2NH2 > HC ≡ CCH2NH2
(iii) (CH3)2NH > CH3NH2>NH3 > C6H5NH2
Electron withdrawing (C6H5—) groups cause decrease in electron density on nitrogen atom and there by decreasing basicity.
(v) CH3CH2NH2 > C6H5CONH2 > CH3CONH2
2. METHODS OF PREPARATION
1. Hafmann's bromamide reaction : Amines (only primary) can also be prepared by Hoffmann degradation. In this method the amine will have one carbon atom less than the amide. The reaction proceeds via formation of nitrene.

Mechanism of above reaction has been proposed as given below :
Br2 + KOH

K+O-Br + HBr
Mechanism
2NaOH + Br2

NaOBr + NaBr + H2O
(a)

(b)

R — NH2 + CO2

R — N = C = O (Isocyanate)
2. Curtius, Schmidt and Lossen Rearrangment : These reaction are basically rearrangement reactions in which carbon migrates from carbon to nitrogen with the formation of an isocyanate. In these migration i.e., 1, 2 shift, migrating group is an alkyl or aryl group and leaving group may be
— Br in Hoffmann rearrangement.
— N2 in Curtius and Schmidt rearrangement.

The isocyanate formed on hydrolysis gives amine.
(a) Curtius Reaction : Acid chloride on treatment with sodium azide give acid azides which on pyrolysis gives isocyanates on hydrolysis gives corresponding amines.
RCOCl + NaN3

RCON3 + NaCl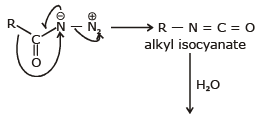 (b) Schmidt Reaction : Carboxylic acid reacts with hydrozoic acid in presence of concentrated H2SO4 to give isocyanates.


(c) Lossen Reaction : Hydroxylamine on treatement with acid chloride gives acyl derivatives of hydroxyl amine the acyl derivatives exist in two tautomeric form keto form called hydroxamic form and enol form called hydroximic acid.


The hydroxamic form (keto form) forms o-acyl derivatives of hydroxamic form which on heating with bases forms isocyanates and finally amines upon hydrolysis.

3. By reduction of nitroethane :
4. By reduction of methyl cyanide :

5. By reduction of acetamide : Ethylamine is obtained by reduction of acetamide with sodium and absolute alcohol or LiAlH4 in ether or hydrogen in presence of nickel catalyst.
6. By reduction of aldoxime : Aldoxime on reduction with hydrogen and nickel catalyst or sodium and absolute alcohol or LiAlH4 in ether yields ethylamine.

7. By the hydrolysis of ethyl isocyanate : Ethyl isocyanate on heating with caustic potash solution undergoes hydrolysis forming ethylamine.

8. By the acid hydrolysis of ethyl isocyanide : Ethyl isocyanide undergoes hydrolysis with a mineral acid and forms ethylamine.

9. By Schmidt reaction :

In this reaction the acyl azide (RCON)2 and alkyl isocyanate (R —NCO) are formed as an intermediate.
10. By the action of chloramine on Grignard reagent : When chloramine reacts with ethyl magnesium iodide, the formation of ethylmine occurs.

11. By Gabriel's phthalimide reaction :


12. Laboratory preparation of ethylamine : Ethylamine is prepared in the laboratory by Hoffmann's bromide reaction. Propionamides are heated with bromine and potassium hydroxide solution.