To begin with, we first need to chart out the difference between Macro and Micro economic analysis. So, lets begin by looking at the questions that are inquired into for a Macroeconomic analysis.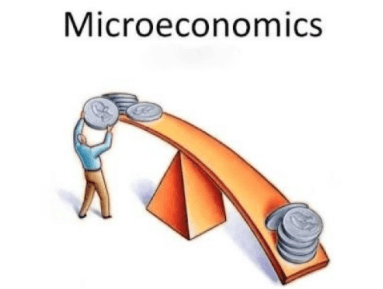 Questions asked during a Macroeconomic Analysis
How are prices as a whole influenced in an economy?
Is the employment situation on the whole getting better or worse?
What are the reasonable indicators to measure the overall health of the economy?
What steps should be taken to improve the economy? (Policy imperatives)
To give you an idea of how Microeconomics analysis is qualitatively different from the above mentioned questions, lets take a brief look at the path of enquiry followed in Microeconomics.
Questions asked during a Microeconomics Analysis
(i) How price of a particular good or service is influenced? (Not price as a whole, but one or a group of commodities)
(ii) Which factors determine the price of factors of production [land, labour, capital etc.]?
(iii) Which factors influence the productivity of a single or a group of firms? [Not productivity of the entire economy]
In Macroeconomics, the focus of attention is on the entire economy, which is constituted by various economic agents.
Economic Agents - Individuals or institutions that take economic decisions.
Example: a consumer, a firm, an economic sector [coal, steel etc] etc.
In Microeconomics, the attention is focused more on economic agents, and not the entire system which is constituted by these economic agents.
So now that you know the basic difference between Macro and Micro, lets begin with the "Basics of Microeconomics"
Important Concepts one needs to be familiar with
The allocation of scarce resources and the distribution of final goods and services are the central problems of any economy.
To be honest, that's the problem we all face at various points in our lives.
Your parents, for so long, while budgeting the expenses of your household, have faced this problem of "limited resources, unlimited demands".
A successful household budgeting exercise is the one that satisfies maximum possible wants, from limited resources.
Economy as a field of enquiry or an academic subject starts when one wants to satisfy their desires within the constraint of limited resources.
Therefore, economy involves the efficient allocation of scarce resources and the distribution of final goods and services to yield maximum possible satisfaction.
Now, everyone has a limited set of resources, and there are various possible combinations of goods and services that can be created out this limited set of resources. It is the job of an economist to choose the best possible combination that yields maximum satisfaction or that has the maximum utility.
To understand the above point, lets take a look at the concept of "Production Possibility Set".
Production Possibility Set
The collection of all possible combinations of goods and services that can be produced from a given amount of resources and a given stock of technological know how is called a Production Possibility Set.
Suppose a producer has 100 Kgs of wood and has a good number of wood craftsmen at its disposal.
Therefore, with this resource of 100 Kgs of wood, the producer can produce following things:
(i) 10 tables
(ii) 10 chairs
(iii) 5 tables + 5 chairs
And so on…….[assuming 1 table or chair requires 10 kg of wood]
Now all these options available to the producer forms a "Production Possibility Set".
Thus, for the producer, there is always a cost of having a little more of one good [table or a chair] in terms of the amount of other good that has to be foregone. This is cost is known as the "Opportunity Cost" [ we will further elaborate on the concept of opportunity cost in the later part of this chapter]

So like the producer in the above mentioned example, the entire economy of a country too has a certain "Production Possibility Set", because every country has a limited set of resources.

Therefore, it is the job of the policymakers to create appropriate conditions for the choice of the best possible combinations.

Policymakers solve this problem by choosing one of the two approaches to economic planning:
(i) Central Planned Economy — In such a system, the government takes all the major decisions like, what goods should be produced, how to distribute those goods, how to produce those goods etc.
(ii) Market Economy — In such a system, it is not the government but private businesses and rational consumers that through the forces of market, have an influence over major economic decisions.

Though currently, no government follows either approach in its pure form. Every economy has certain areas that are market driven and certain areas that are controlled by the government. The only difference between countries is that of degrees. In some countries market forces are dominant and the government as a limited role, while there are countries have charted out a dominant role for the government within their economy.
How does a Market Economy work?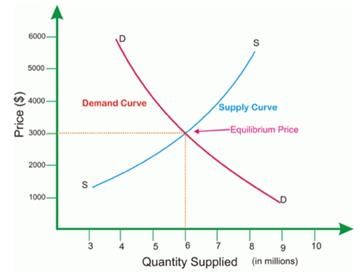 Price determination
So, at Market Equilibrium, 6 million quantity of goods shall be supplied at $3000.
This equilibrium shall yield maximum satisfaction as only that much amount is produced that people demanded, unlike in a government controlled economy, where supply is entirely regulated by the government.
The advantage of following a market economy approach is that it is the best possible way of achieving "Economic efficiency".
Economic Efficiency - It implies the use of production process or resource combination which ensures minimization of cost incurred on using resources to produce a given level of output.
Adam Smith called it the "Invisible Hand".
Invisible Hand - The unobservable market forces causing unintended social benefits from self-interested actions of individuals in a free market economy.
It is the invisible hand of the market that ensures that only that much amount of goods or services are supplied, that is demanded.
Demand Side Analysis of Economy
Law of Demand - Conditional on all else being equal, as the price of a good increases, quantity demanded decreases; and conversely, as the price of a good decreases, quantity demanded decreases. [Assumption - Consumer is rational]
Therefore, the law of demand describes an inverse relation between demand and price.

Though there are some exceptions to this law of demand. These exceptions are as following
Veblen Goods - These are types of luxury goods for with quantity demanded increases as the price increases, an apparent contradiction of the law of demand. A higher price of may make a product desirable as a status symbol in the practice of conspicuous consumption.
Example - Luxury cars, Luxury paintings, Swiss watches, expensive wines and spirits, luxury handbags etc. Chances are that a Veblen good is a positional good [possession of which determines high status in society] too.
Giffen Good or Giffen Paradox - It is a low income, non-luxury, inferior good, that defies the consumer demand theory. Its demand is directly proportional to its price. Generally, inferior goods with very few close substitutes show "Giffen Paradox".
Example - Giffen Goods include inferior staple goods like rice, wheat etc. Giffen paradox is so rare that some economists doubt its existence and call it a phenomenon that exists in theory only.
Some other types of goods
Normal Goods - A good whose quantity demanded is directly proportional to the income of the consumer.
Inferior Good - A good whose demand moves in the opposite direction of the income of the consumer.
Example - inferior quality rice, low grade food items etc. When a consumer becomes rich, he/she stops consuming inferior goods and thus their demand falls.
Complimentary Goods - A good whose use is related to the use of an associated or paired good. Two goods [A and B] are complimentary if using more of good A requires the use of more of good B.
Example - Printer & Ink Cartridge, Car & Petrol, Pencil and Eraser etc. If price of one compliment increases, the demand for the other component decreases. [and vice versa].
Substitute Goods - A substitute is that good which can be used to replace another good for a similar purpose. Goods A and B are substitutes if they both can be used interchangeably for an almost identical purpose.
Example - Pepsi & Coke, McDonalds & Burger King, Tata Tea & Red Label Tea etc. If price of a substitute increases, the demand for the other substitute increases [and vice versa]
Price Elasticity of Demand
Price elasticity of demand or elasticity, is the degree to which the effective demand for something changes as its price changes.
It actually measures the responsiveness of consumers to a change in a product's price.
The formula for calculation of price elasticity of demand is the percentage change in the quantity demanded divided by the percentage change in the price.
Ep = Percentage change in quantity demanded/Percentage change in Price
Ep > 1, elastic

Ep < 1, Inelastic
Ep = 1, Unit Elastic
Demand for a necessary good is generally price inelastic, while demand for a luxury good is price elastic.
Elasticity is also influenced by the availability of substitutes. If close substitutes are available, then that particular good will be highly elastic.